It is very difficult in today's time to fret about a wedding hair updo that you'd wanted to have since you were all of sixteen and imagined walking down the aisle to the man who'd be looking at you with the promise of undying love in his eyes! After all, stylists today can spin straw into gold. However, it is always advisable to pick your wedding updo and sync it with your bridal gown, your accessories, veil, and perhaps, even the theme of your wedding! After all, you do not want to be donning pompadours for laid-back beach side nuptials, right?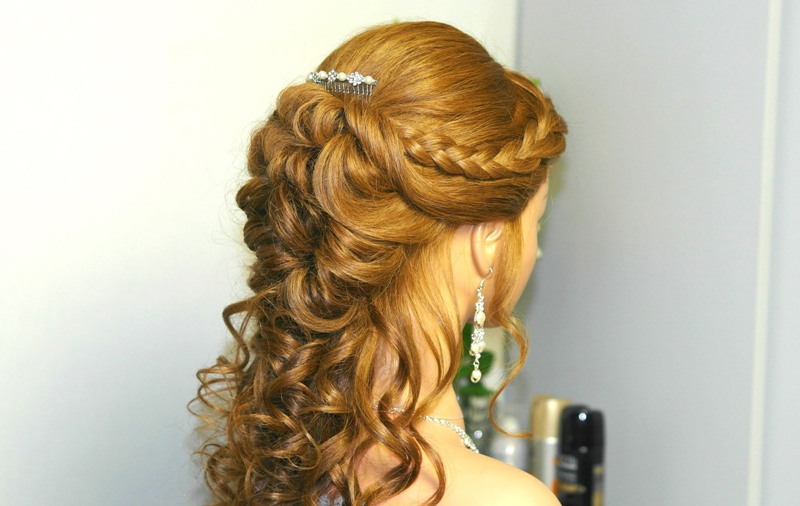 Image source: Google, copyright-free image under Creative Commons License
And while I mentioned that it isn't quite impossible to work out a wedding updo you have set your heart on in today's age and time, it is always better to work with what you have! Beating your hair into submission to be something it's not might give you an imposed and unnatural look that you might regret forever! Your wedding day is one of the most special days of your life and you should assess realistic options from among wedding hair updos that suit your hair type and texture. Forcing your stylist to give you a sleek, skinny hair style when you have an abundance of naturally curly tresses on your head might make things trickier. And if you still do not like the final result – whoops! So be flexible, pick a few wedding hair updos along with your stylist that are in sync with your hair type and texture and ensure that they complement your hair accessories, veil, gown, and jewelry.
---
Suggested read: Veil speak: which wedding veil should you choose?
---
For your help, we have collated the perfect guide of wedding updos that'd suit your hair type and texture, whilst also chipping in pointers about the kind of wedding gown and jewelry it would match. Enjoy:
Curly hair
A woman with curly tresses needs to tame her locks into a dazzling updo. Such taming is possible vis-à-vis braided hairstyles – waterfall braid, the romantic fishtail braid, the half crown braid or via some options for tously curls – like a twist-tuck, loose bun with side-swept curls or a messy roll-down! Either way, your hair may need some styling products to keep frizz at bay and play up your curls. Use some firm hold hair spray and befriend a lot of bobby pins. Pick an updo which is comfortable and place your pins well to keep your wild mane in its styled place!
Straight hair
You are a blessed bride. You can either keep your hair down or go for Hollywood waves (rollers) or opt for any wedding updo hairstyles available – the whole set is your playground. From chignons, ballerina buns, braided styles, sock buns, half-ups, bouffant, and hair-bows to knotted buns, hair-twists, looped fishtails to even a Kate Middleton – you can pick any style that syncs in well with your choice of gown, veil, jewelry, and accessories! Just make sure that you do not go bouffant on a strapless or go for a side fishtail braid with a juliet cap or birdcage! Steer clear of these fatal faux pas, and you will be good. Also, keep the jewelry subtle if your updo is elegant, while you can opt for those chandelier earrings if you have an understated bun sitting on your head!
Fine hair
Simple updos are your haven. "If you choose to wear your hair up, you don't have to worry about it going limp on you," says celebrity stylist Brian Magallones. "Go for an updo that's anything but everyday: Think about adding in twists, loops, baby braids, and hair accessories." Adding fullness and texture to fine hair is a must before setting about the desired updo. Just washed hair may be too soft and fine to hold pins.
Thick hair
You have a lush mane and twisted half updos might be your best bet. Of course, there's the classic chignon, but you can experiment with French braid, bouffant, side-swept buns, half-ups, braid buns, twist-tucks, and more! All you need to take care of is to prevent flyaways, and therefore, use a dime-size drop of pomade on your tresses.
Oily hair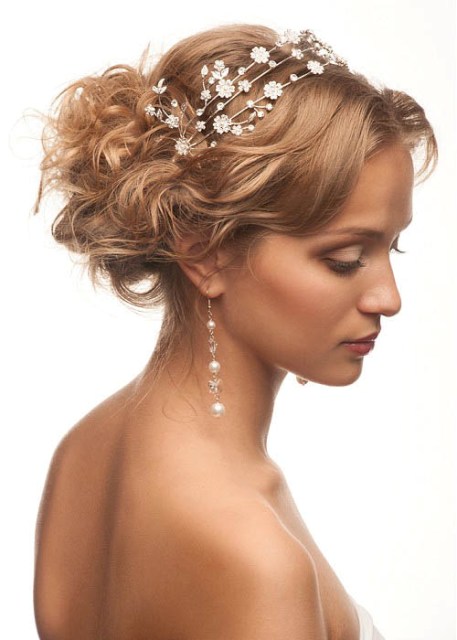 Image source: Google, copyright-free image under Creative Commons License
If your hair is grease-prone, you may do well to opt for chignon. Throw in an eye-catching leaf pin or some dazzling accessory to up the look. Wearing your hair down isn't an option. You may even opt for a low bun with a veil or a braided bun with a flower!
---
Suggested read: 15 out-of-the-box bridal shower themes
---
Long hair
Braided styles are your best bet! There are so many ways to infuse braids in your wedding updo – a romantic waterfall braid with bohemian waves, a smooth and sleek braided bun, simply a voluminous grungy understated low-fold bun with twisted strands, the game of thrones braid or even the heart bun – are all wedding updos for long hair that would suit you. Long tresses are a boon and you can work almost any style into it. If romantic flowing gowns or simple A-lines are your pick for a fairy-tale wedding or laid-back beach nuptials, any style from our list will do. Make sure you lock your braids in place, though!
Short hair
You do not have to opt for hair extensions. Don't get me wrong – I am pro-extensions but why'd you want to be something you are not when your husband-to-be wants to see you as the woman he fell in love with! Style your short hair with a roll updo, messy tuck or simply as you wear it. These are all the wedding updos for short hair that would suit you. If you are a winter bride, team it up with a vintage birdcage, and if summer and spring adorn your nuptials, opt for fresh or silk blooms as hair accessories. Plus, you can show off the backs of gowns with intricate detail. Forgo a strapless dress and opt for one with a sexy illusion or keyhole back. Also, skip long veils, which can overwhelm brides with short locks.
Chemically treated hair
Image source: Google, copyright-free image under Creative Commons License
Use pomade again to smoothen your breakage-prone strands and add shine. Opt for a style that conceals damaged ends – a twisted braid, looped fishtail or knotted bun are all good ways to go!
And that's all for the lovely brides-to-be for today! See you soon!
Featured image source: Google, copyright-free image under Creative Commons License
Summary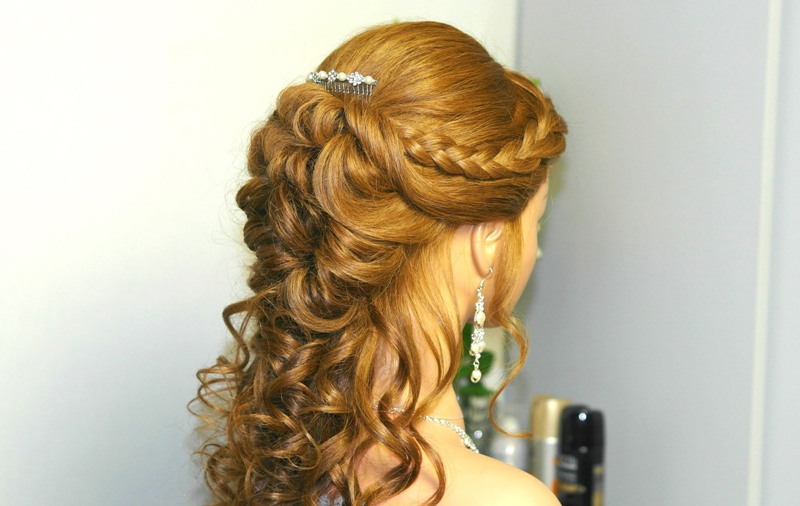 Article Name
Best Wedding Updos That Suit Your Hair Texture
Author
Description
Wedding updos need to be synced with your hair texture and type! And this does not mean being restricted in your choice of updos for your special day!