From rustic to glam and vintage to modern and everything in between, there is something so magically alluring about blossoms in tresses. There could be no better way to be 'tressed to impress' than work those blooms in your long flowing mane. Whether you are blessed with beautiful, bouncy curls or have straight hair, whether your hair sprouts right up until your waist or ends right below your shoulder, whether you are iffy about the pixie cut or like to be a Rapunzel, there are a million ways flowers can be worked in your hairstyle to give you that natural verve of a spring's delicate darling.
From a tiny bud tucked behind your delicate ears to a full floral wreath to bring out your inner flower child, there are a million ways to create striking updos with flowers and another million to create fancy flower headpieces for that chic, urban, glam look! And what season can be better to bring Nature's lush treasure- whether from manicured gardens or the realms of the wild- than spring! To that end, this one's for all you gorgeous ladies who love flowers and flower hairstyles.
---
Suggested read: Bridal hairstyles for those long tressed brides!
---
Check out our heart-picked range of the best flower hairstyles trending this wedding season:
1. Single bloom bold look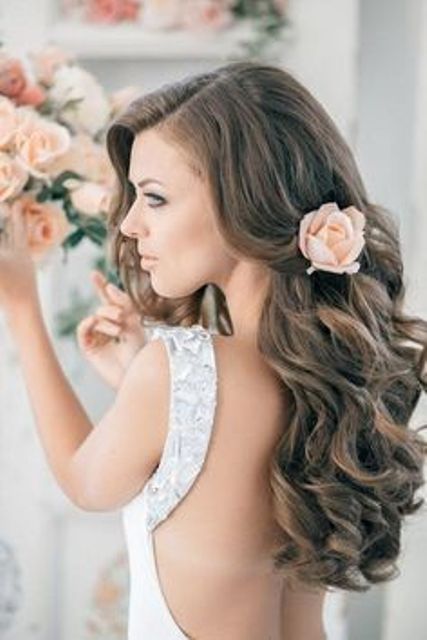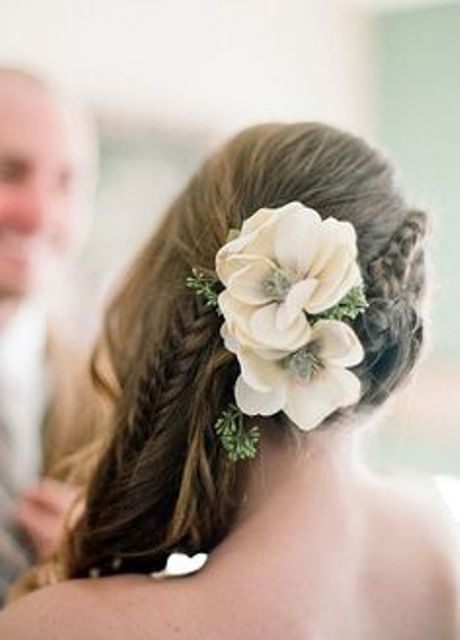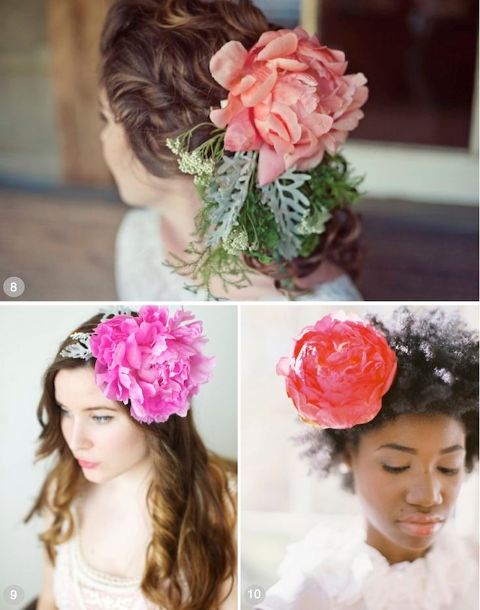 Image source: Pinterest
Make a statement with one single, bold blossom tucked in your tresses. Opt for bright, larger blossoms like peonies, dahlias cabbage roses or Japanese ranunculuses. Garden roses can also make for a good pick. Rely on ivy for mixing some greens or simply wear the single flower in a bun, a half-pulled back flowing style, a twisted and tied wavy updo, a chignon or a messy roll or bun. The fluffy flowers are going to make a stunning statement and this would work perfectly well for being the focal point of your look.
2. Braided in blooms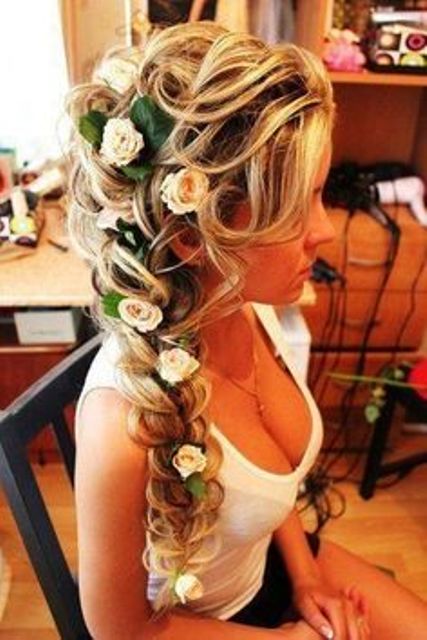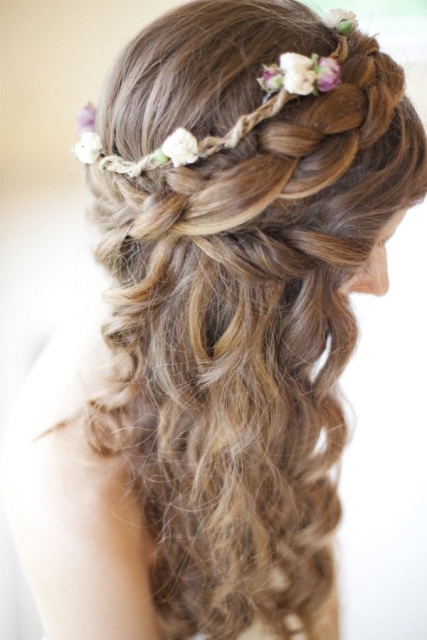 Image source: Pinterest
Any intricate or delicate braided updo like a waterfall braid or a princess braid, crown braid which leaves most of the weight of the hair either hanging loose or rolled and tucked in a messy updo will work for this arrangement. All one has to do is string together clusters of petite flowers like spray roses or mini orchids and slip them through the braid by winding them around a wire or band. A braided crown with flowers or a half-floral crown with baby's breath or around a twisted rope style braid are also spectacular options. The good part about working flowers into braided hairstyles is that they lend a mystical vibe of romance, bathed in sensuality to your person! Wear the romance and roll!
3. Tropical dressed tresses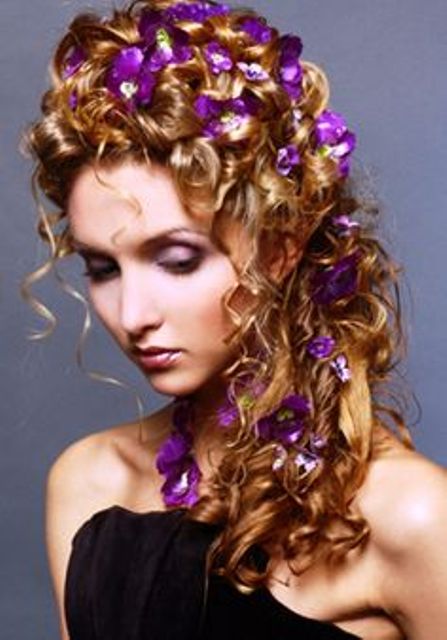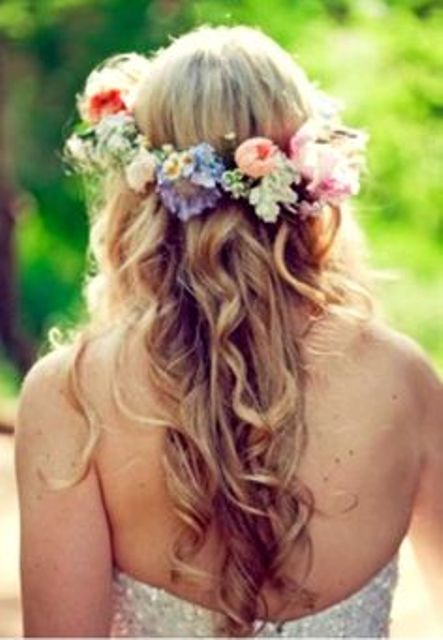 Image source: Pinterest
This one works well with simple, understated hairstyles such as boho updos or a plain pulled back style or soft, flowing beach waves as flowers from the Southern hemisphere are often large and make for thicker, fuller headpieces. Mixing king protea with waxy greens like Italian ruscus or slick gardenia leaves with bits of podocarpus or Australia's zigzag wattle is what makes this one a perfect summer-y delight!
---
Suggested read: 15 vintage wedding hairstyles for that classic look
---
4. Whimsy wreath look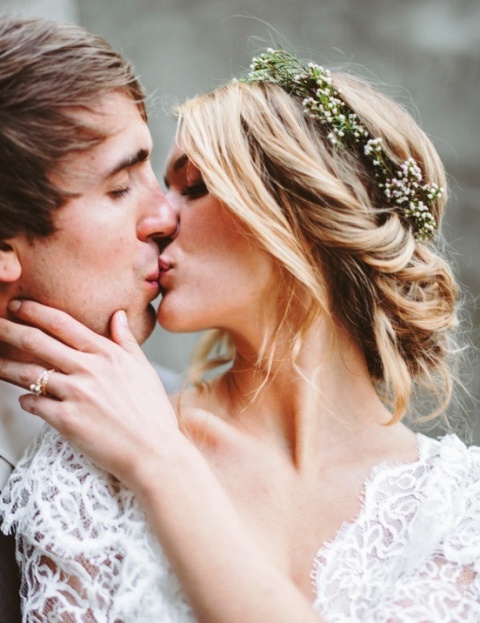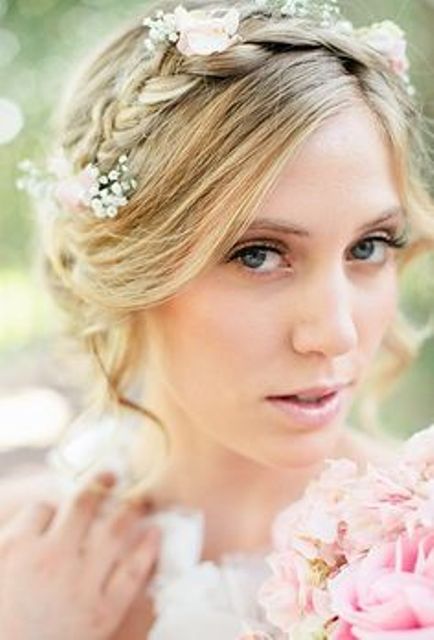 Image source: Pinterest
Use some out-of-the-box hairstyles like a wispy fishtail braid or a whacky half-rolled, half-loose updo and team it up with some blooms on a bark wire for a whimsy wreath look. All you'd need is some hanging amaranthus or tiny, white Japanese pieris japonica buds wrapped in olive branches with added berries or feathers for texture and setting it on the braid for a trailing, asymmetric look! You may also try tugging at the length of the braid or roll for some volume and a natural, organic appearance.
5. The halo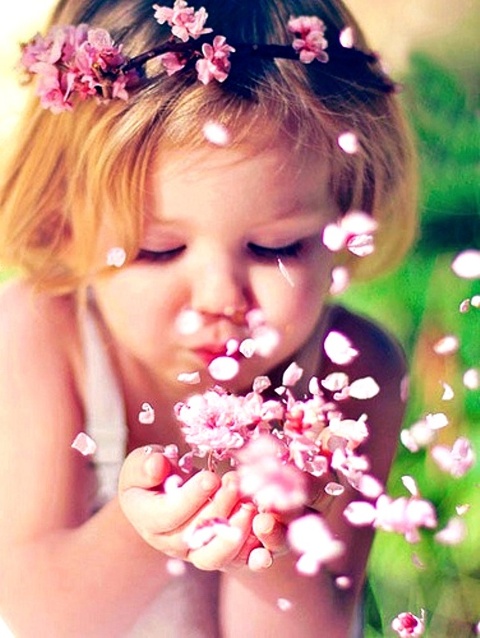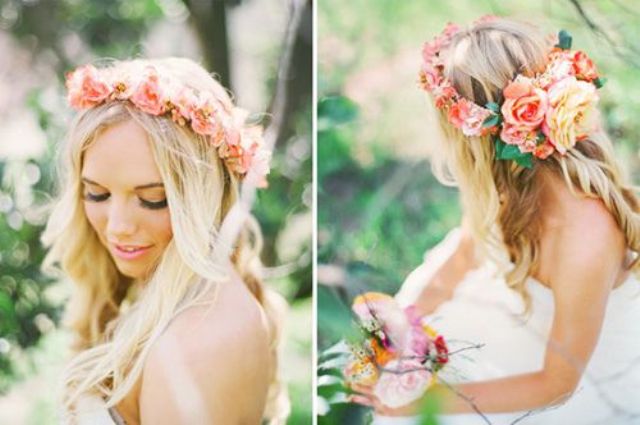 Image source: Pinterest
The floral crown trend never goes out of style. Variations keep getting added to the list- with several elements like freshwater pearls, crystals, feathers, ribbons and more deployed to simulate the look. Whether worn on loose wavy tresses, pulled-up dos or a simple low chignon- the look is always reflective of an ethereal charm and an organic beauty that could only be lent by flower crowns.
6. The delicate flower style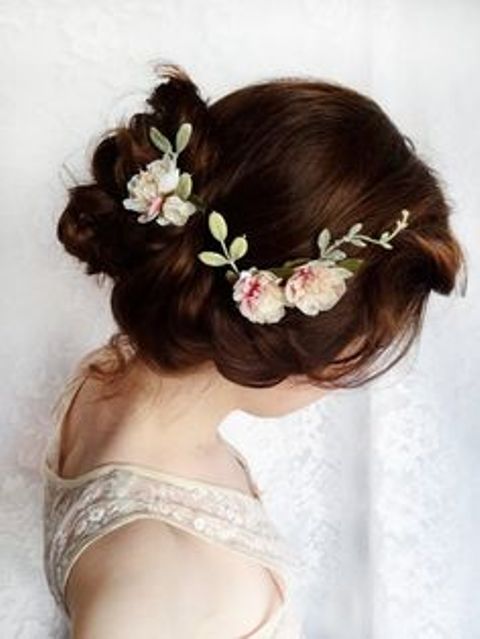 Image source: Pinterest
For a more dainty look, pair your hairstyle- braids, chignons, buns, bouffant ponytails, bouffant buns, half-up, half-downs, loose tresses or anything at all with wisps of baby breath, spray roses or limonium- any small, petite bloom that will sit on your tresses as if adorning the style in a delicate pattern of its own. You may create a pattern or simply cluster them on the updo or let them be tucked behind your ear with a few strands of hair playfully floating about your face as if to add the final touch to the softness of an updo that is reflective of a garden or forest.
---
Suggested read: Short hair? You can still look gorgeous on your D-day!
---
7. Waves in flowers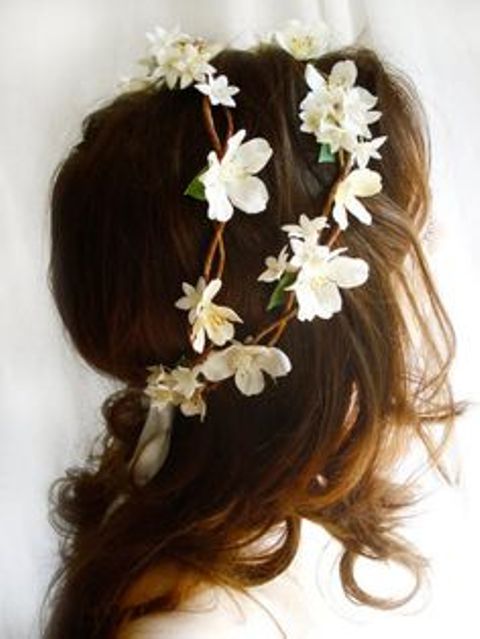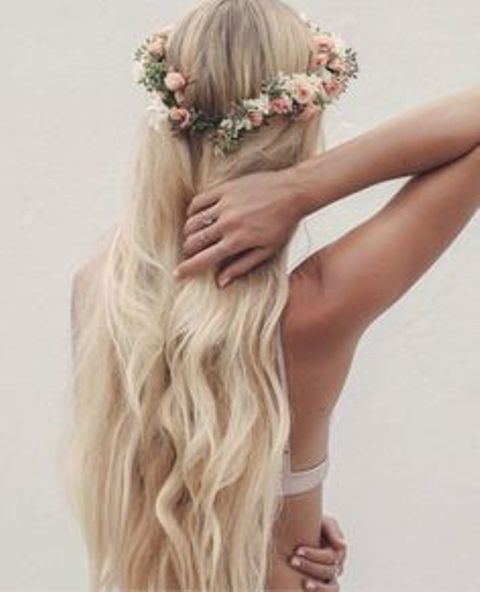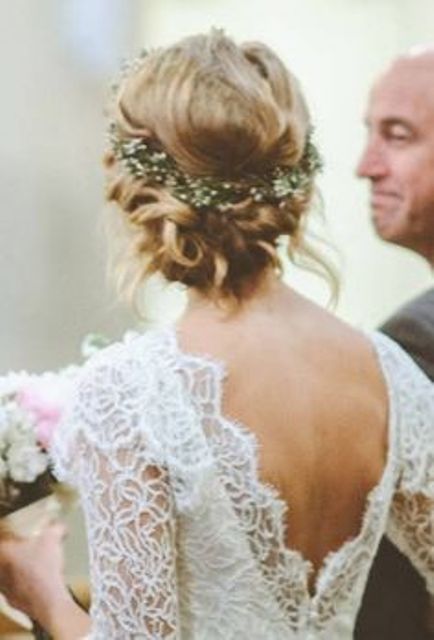 Image source: Pinterest
Waves are usually let loose with flowers adorning them on the sides, in a wreath, as strings lined in an asymmetrical fashion or as loose individual pieces pinned up. However, waves can also be worn in a mid-way bun with loose tresses, a wavy side braid with loose strands, a side-swept parting and several combinations of the twist-and-tuck hairstyles. As such, several flowers ranging from bold, statement pieces to delicate, petite blooms can be teamed up with wavy hairstyles to lend credence to the earthy vibe of a wavy-tressed girl and accentuate her sensual appeal.
8. Half up, half down look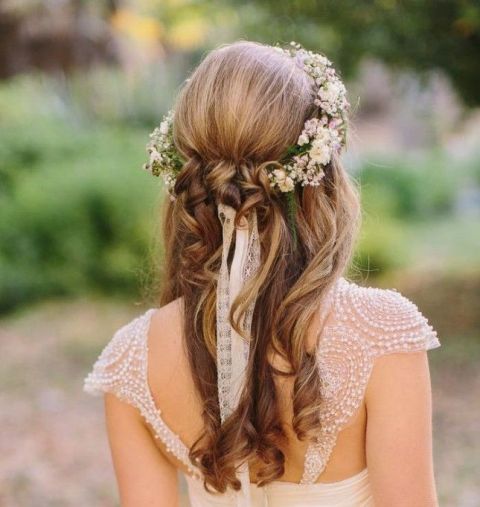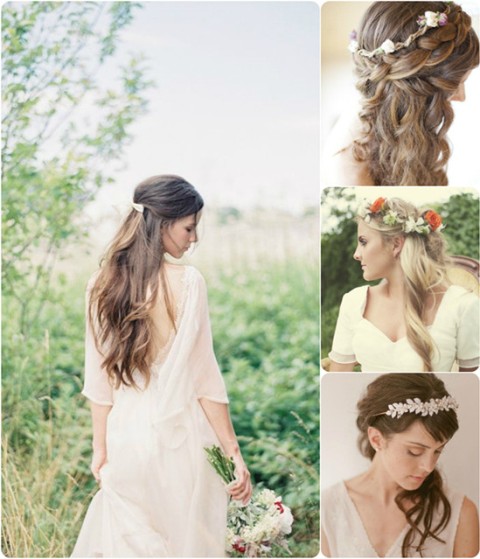 Image source: Pinterest
A classic hairstyle that involves putting up half of the hair to make a crown section and sweep the rest over the shoulder is a perfect updo to flower combs, bands, half-wreaths, buds, pinned headpieces and a mix garland with pearls and other jewels. A braid added on one side with flowers lining the braid section is also a good way to highlight the style.
9. Bohemian blooms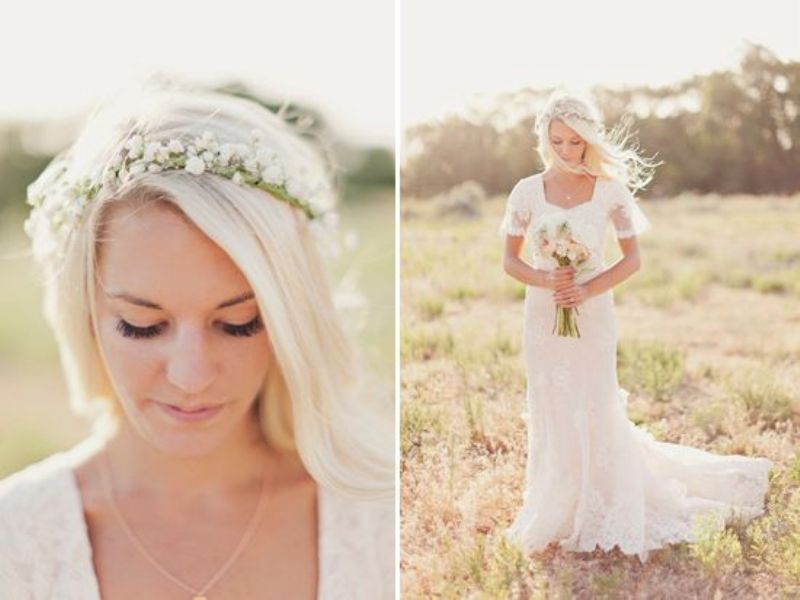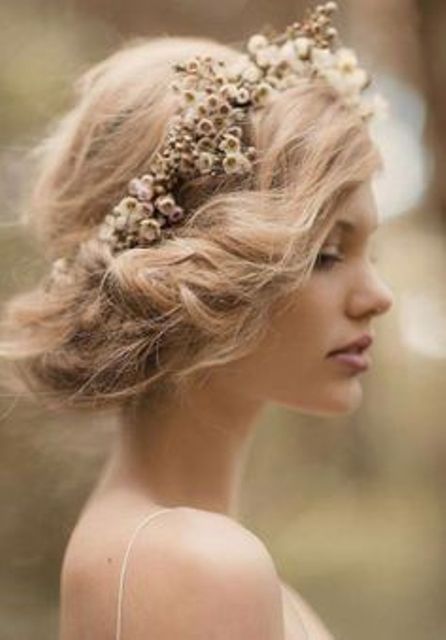 Image source: Pinterest
A loose French hairstyle with acacia and roses strewn in or a simple braid, side-braid or fishbraid with spray roses or baby's breath will give you the perfect boho look. Alternatively, a high bun or bouffant worn with a cluster of roses shall lend an elegant mix to the boho-chic vibe.
10. Tucked and rolled with blooms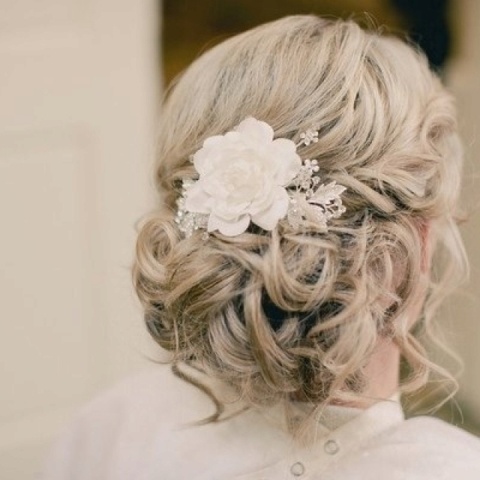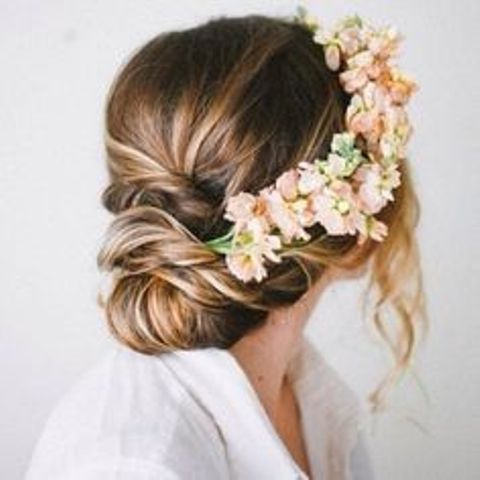 Image source: Pinterest
Twisting hair on either side and pinning it at the back, with creation of two rope braids, both of which are twisted into buns and secured into the former twists, thereby creating a subtle allusion to flowers and then, dotted with actual blooms is the best way to actualize a floral hairstyle. This one's the perfect way we could round up 'flower power' for giving your tresses the ability to impress! Have fun!
Tell us about your favorite among these flower hairstyles, now!
Featured image source: Pinterest
Summary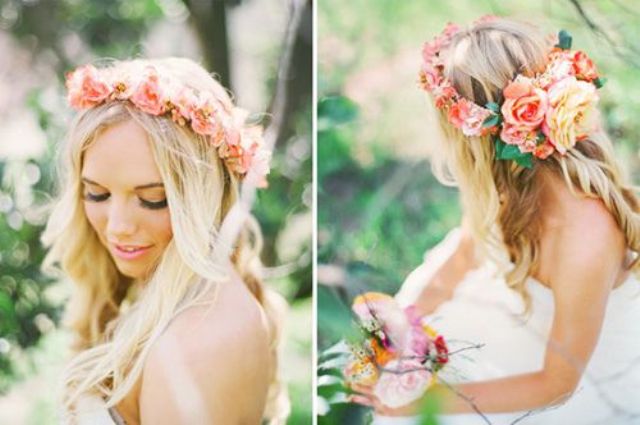 Article Name
10 Creative Flower Hairstyles For A Spring Bride
Author
Description
Coz we cannot let you NOT be 'tressed to impress' when Nature itself, wants those blossoms in your mane. Check out these flower hairstyles made for you.