Attention, all you gorgeous brides-to-be blessed with long tresses! If you are still searching for the perfect do for your D-day, stop right here. Not only do we have an amazing range of wedding hairstyles for long hair gathered under one roof, but we have added tips and techniques to team it up with any accessory or jewelry you'd need to win the day!
So, no fretting, no fussing, coz we, at NLT, have managed to bring exquisite and elegant wedding hairstyles for long hair right at your fingertips, so you only have to direct your stylist here and well, you'll be 'tressed' to impress!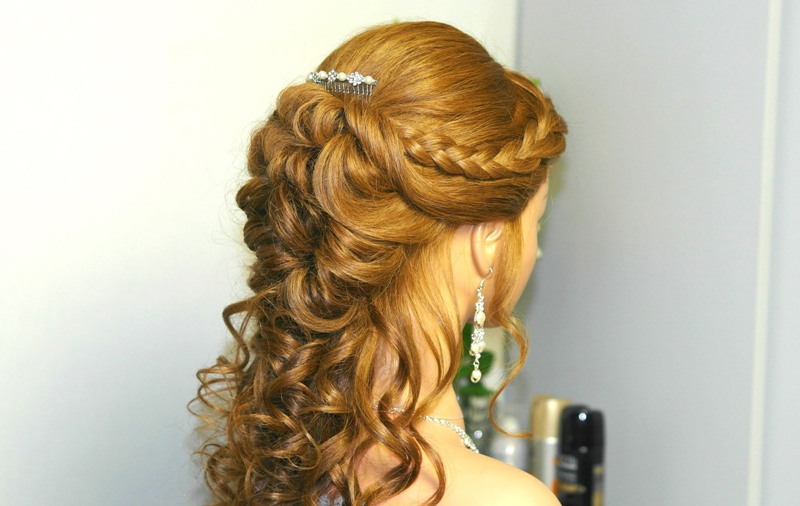 Image source: Google, copyright-free image under Creative Commons License
As for the groom, he will not take his eyes off you for a single tick of the clock – it's a promise … he might lean in to touch a playful curl and whisper 'I love you,' though! 😉
---
Suggested read: Wedding hairstyles for short hair
---
So, without further ado, check out our heart-picked list of wedding hairstyles for long hair:
1. Princess Braid Updo
Image source: Youtube
A classic pick, this one is pretty and practical. Showering you with the princess-look with its exquisite braided multi-component section, it also manages to keep you cool, syncs in perfectly with most veil styles, and stays on for throughout the day! Check out how to achieve this look here:
2. Twist and Pin Updo
Image source: Youtube
A delightful pick for your big day, this wedding bridal hairstyle for long hair is a perfect way to keep those tresses 'tressed to impress' in a tasteful and elegant way. Tacking on those fresh flowers is a bonus, for you will not only look ethereal but smell like an angel too! Check out the detailed tutorial here:
3. Twisted Low Roll
This one is one of those easy, breezy bridal hairstyles for long hair, which manages to retain all the 'look of complexity' that befits a bridal updo. A twist (puns intended) on a rolled bun creates a half-crown Victorian form that graces the updo with understated elegance and a charming touch of femininity. A winner look, all the way!
4. Rope Braid Chignon
A perfect blend of chic, casual and formal elegant,- this rather unique updo combines the relaxed vibes of the braided section with the elegance awarded by the chignon to elevate it to a 'perfect bridal updo' pedestal.
5. Upside Down Braid and Bun
Now this one is as difficult as it can get, but we promise the final result is worth every ounce of effort. Braiding your hair upward from the nape of your neck to round it up in a bun can be pretty challenging – but chip in the effort and time, and reap the right returns from your investment. Adding a hair accessory or flower might complete the pretty picture you will be!
6. French twist
Image source: Youtube
One of the most classic and elegant choices of all times, this evergreen style is always a hit. Wear your tresses in French fashion and forge your way to a fabulous bridal look!
---
Suggested read: Vintage wedding hairstyles for your special day
---
7. Double Braided Wrap
Image source: Youtube
This one isn't going to be difficult to achieve if you know to French braid. Simply braid the sides of your hair and pin them at the back of your head in a sort of headband. Then, tuck the locks in the nape, behind the achieved headband, wrapping it and pinning the wrap where needed. Tada … you look stunning!
8. Lacy Curly Bun
Boho brides will appreciate this updo which is surprisingly simple in structure but amazes all onlookers with its seemingly baffling complexity and textural elements. A very loose bun, styled from curls, which are highlighted can create the stunning dimensional effect that you notice here. Your hubby-to-be will fall more in love with you while all others shall be raving about your trendy updo for days!
9. Romantic Updo With Floral Elements
Your voluminous waves, styled into a loose bun (sideswept or otherwise) and adorned with flowers makes for an excellent romantic look. Suitable for a wedding dress of any silhouette, you may opt to go in for an asymmetric style for a sophisticated, refined look or a symmetric style for a more traditional vintage look.
10. Low Knot Angelic Look
A low-knot bun, adorned with a stylish hair clip or some glitzy hair accessory makes for a perfect updo for brides who have chosen to wear angel-cut wedding veils that will sit low on their head. Simple and sophisticated, this one adds just the right tints of subtle romantic vibes and an ethereal charm to your wedding day look.
11. Messy Bun With Bouffant
My personal favorite on the list, this one is as beautiful as it gets. Evocative of an individual style statement, this one is unconventional, cutting-edge, and fashion forward. Combining the messy bun with a graceful bouffant and completing the look with stunner white roses, this one is THE look you need for your D-day. In case you want to give the flowers a skip, you may opt for a chunky braid or a twisted curl weave in its place! All-so good, I am trying it now!
12. Romantic Flowered And Braided Bun
If an au naturel look is what you prefer most, flowers are the way to go. Include the tender blossoms in this exquisite hair updo, and watch its simplicity transform into something magical and enchanting. Watch how to achieve this look here:
13. Rolled Chignon
This is one of those wedding hairstyles for long hair that is so easy I screamed in delight when I chanced upon it. And despite its simplicity of make, it lends the tasteful and refined look of a vintage bride but also ensures that some playful vibes of coquetry can peek on from the sides. Check out how to achieve this rolled chignon look here:
14. Twisted Pulled Back Style With Gilded Barrette
Image source: jimstyle / vk.com
This pulled-back look with its curly and twisted locks locked in at the nape of the neck give this look the glint of timeless elegance. Unlike a large low bun that maximizes the traditional quotient, this one is unconventional, sassy, and yet radiates a refined elegance. A gilded accessory will add the final finish.
---
Suggested read: 15 chic vintage wedding dresses for the modern bride
---
15. Platinum Bouffant With Side Locks
Image source: vk.com
A gorgeous bouffant with delicate wispy side bangs is an amazing wedding updo option. A curly, messy low bun on the side or mid section works well with the style, and the updo is apt for the brides who have voluminous long tresses as well as those with thinner hair. Teaming it up with chandelier earrings or danglers of the glitzy kind will be the cherry on top.
16. Side Bun With Delicate Flowers
If you have natural curls, then you can gather your tendrils into a low side bun with some of your curls to play loose on your face. Pair them with some sweet regal hued-flowers that complement a colored wedding attire well and feel the magical bliss of being in a stretch of fragrant blossoms, with your beloved by your side!
17. French Roll In Flowers
A French roll is simple and elegant and has a timeless appeal that is hard to ignore. Teamed up with some white flowers with sunshine at the centre can make for an eye-catching accent in the updo. Try it out, now!
18. Braided Hair Updo In Curled Bun
Image source: Youtube
Keep this formal updo from appearing too subtle by adding an interesting braided detail. Flatten the curls into creative coils and gather them into a low voluminous bun for a slightly updated take on the expected look. This is a worthy option for brides who like minimalist options!
19. Bulky Bun With Striking Hair Jewelry
A high bun isn't a new updo. But a rope braid around it with a striking hair accessory elevates it to another level altogether.
20. Messy Waves With Floral Pearl Hairband
Effortless and carefree waves are given a posh boost when paired with a glamorous pearl headband. This could take the place of a traditional veil on your wedding day and lend you a crown you needn't make visible!
21. Low Curly Roll With Bling
Image source: jimstyle / vk.com
Instead of opting for a tight bun, opt for a low roll, that's larger, loose, and makes use of your gorgeous curls to maximize the dimensional effect. Finish off with a dazzler piece to coronate the updo.
22. Mid Curl Bun With Sparkly Comb
Image source: tkudina / vk.com
Gathering curls neither too low nor high but somewhere in the middle creates the most endearing fullness and a ponytail-like effect. Let the tendrils hang for a loose and lush look, leaving a few out around the front to frame the face. A small comb adds visual interest and makes this the perfect look for your big day!
---
Suggested read: Wedding nail art for your D-day
---
23. Braided Hairband With Rolled Bun
Image source: jimstyle / vk.com
A braided crown can either be casually fun or elegant depending on how you style the rest of the hair. By wrapping the ends and rolling them into a bun you create a chic vintage look. For something more casual, you could opt for a simple knot. Either way, the result is fabulous!
24. Fishtailed Halo Updo
Image source: Pinterest
A stunning version of the braided hairstyle on the base of a fishtail braid – this updo is the answer to all your chic vintage questions whilst nailing the look with its classic back-look and the modish vibes lent by the cutesy flyaways.
25. Retro-Inspired Roll
For a vintage lover who wants to experience a head-turning moment when she walks down the aisle, this is the updo! Beautiful curvy waves accent this dramatic roll inspired by Old Hollywood. You will never regret this timeless pick!
Tell us which among our selection of wedding hairstyles for long hair clicks with you? There's a comments section right below.
Summary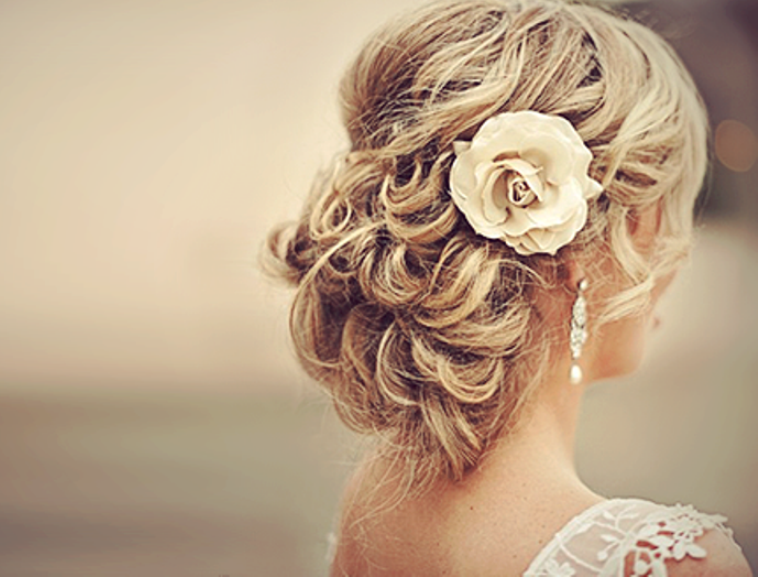 Article Name
25 Graceful Wedding Hairstyles For Long Hair
Author
Description
A bride blessed with beautiful, long waves has no dearth of options to be 'tressed to impress.' Here are some amazing wedding hairstyles for long hair.