"Art is not what you see, but what you make others see." 

― Edgar Degas
On 15th April, 2018, Narrative Movements celebrated World Art Day through an unconventional public exhibition, held within a public space, meant totally for promoting peace & harmony through art – "The World Post Contemporary Wave".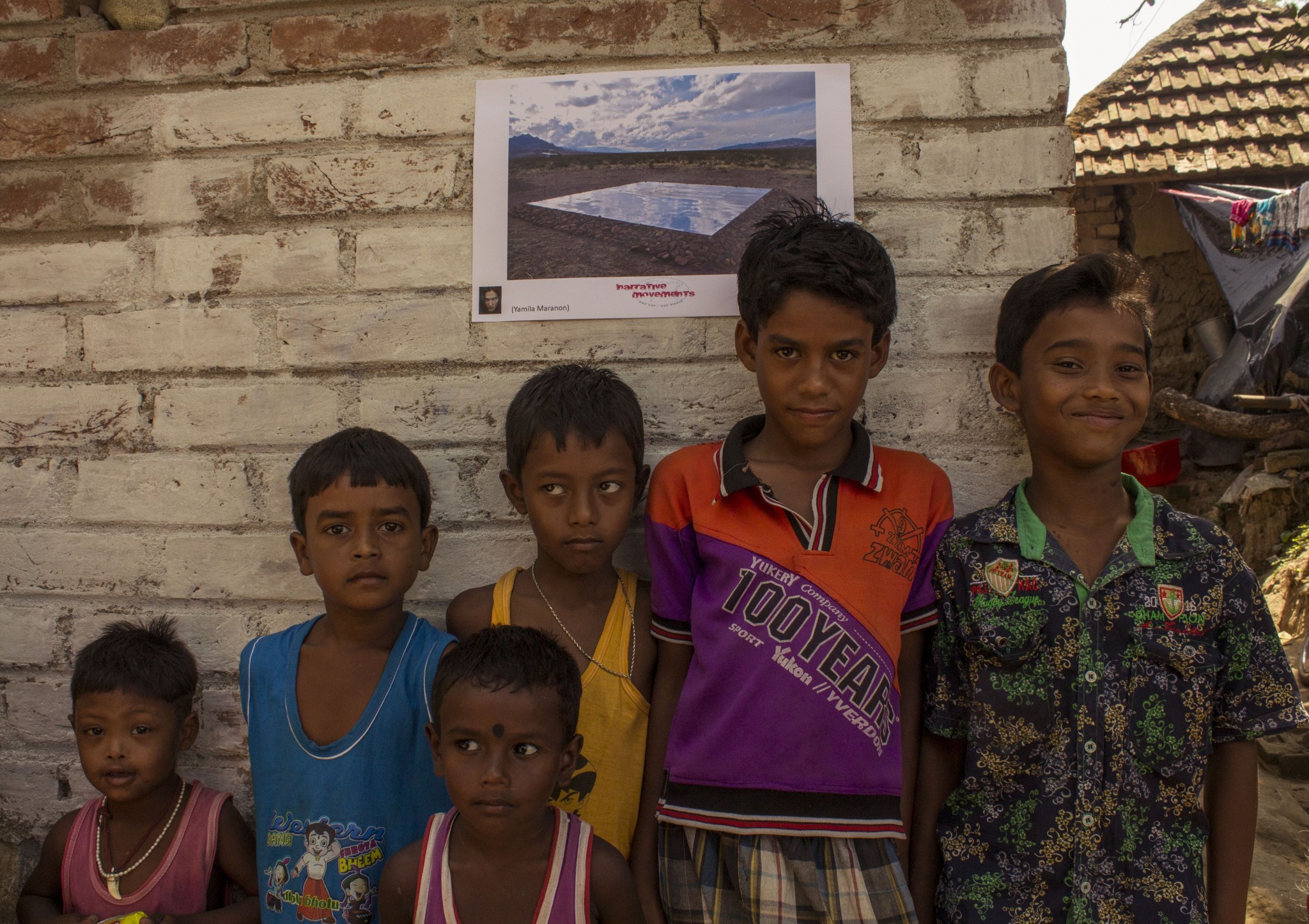 Image source: Ritam Talukdar, India
It was the first of its kind which happened simultaneously in 40 places all over the world (India, Turkey, Spain, Italy, Bangladesh, Germany, Netherlands, Austria, Romania, Poland, Iraq, Switzerland, Tunisia, Nigeria, and Greece) on the same day and saw participation of 200 national and international artists. It was an attempt to create a healthy atmosphere through the spread of art, but also one to create art awareness within the upcoming generations.
---
Suggested read: A POWerful Art Event, Agapi 2, Takes Calcutta By A Storm Of Compassion
---
Narrative Movements is a group of international artists, who are trying to bring art back to the people. According to them, for great public art, art has to be brought to the public. When we talk about seeing art, we generally head to a gallery or a theatre or even a museum, and that's amazing, but when art is displayed in unconventional environments, its horizon is broadened. Artists get an opportunity to connect with communities in ways that aren't quite possible in dedicated art spaces. Also, when you find yourself walking down a street that's showcasing art, you are no longer a spectator, but a participant, and that is absolutely amazing.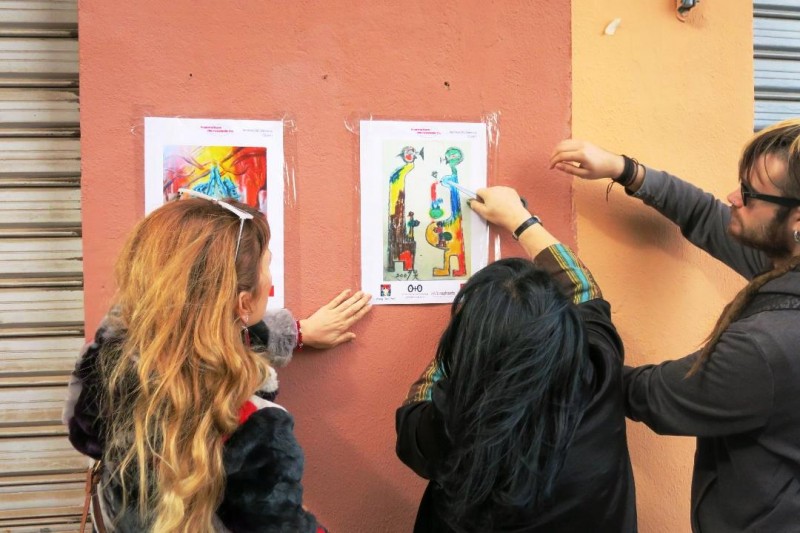 Image source: Enriqueta Hueso Martinez, Spain 
Speaking about the art of the narrative, Bibekananda Santra, the Director of Narrative Movements, tells us,
"Contemporary art is allegorical, autobiographical, symbolic, narrative and metaphor-based, powering the creative expressions for the artist, offering perceptions of their experiences intuited through line, colors, texture, space, light, which suggest to them the possibility of conceptually situating the viewer to access and understand their visual language.

While abstract, minimalist and conceptual art have arguably dominated the continuously returned to narrative either allegorically or metaphorically as both a source and form for new expression. The art of the narrative is one of the strongest threads running through our society and culture, and is in many respects one of the defining traits of humanity."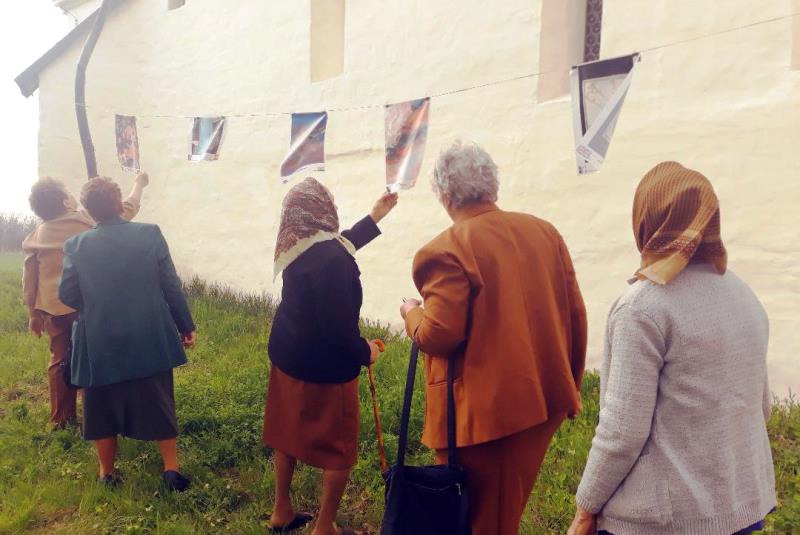 Image source: Cătălina Moș, Romania
One month after the success of the World Art Day event, we spoke to Ritam Talukdar, one of the artists at Narrative Movements, who along with Dibakar Das, curated the artworks that were exhibited in Komdhara, West Bengal, as part of the Post Contemporary Wave. Talking about Komdhara, he says,
"Komdhara has always been a place where artists from all over the country gather to work on several artistic genres and mediums. Moreover, this is the place, from where my journey started in the year 2017 when the first ever International Land Art Residency was held. At that time, I was merely documenting events as a freelancer. Slowly things changed and I became a part of the Narrative Movements Family. And this is the place where my heart resides at the present moment. I find a strange bliss, whenever I visit this place as if it has a strong connection with my soul. I have always felt this, but this is the first time I am giving the emotions a structure through words."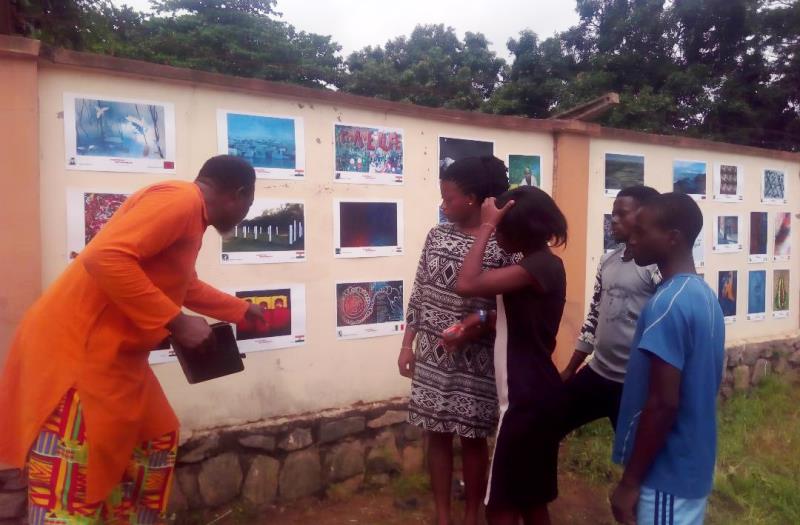 Image source: Ellis Oyekola, Nigeria
Speaking about The Art Day exhibit held on the 15th, he said,

"I and Indian Contemporary Artist, Dibakar Das, became the curators for the spreading of an Art Awareness Program on this very auspicious day. We also had the presence of Indian Contemporary Artist, Nandini Das, an active member of our family from a very long time. The artworks of 86 artists from all over the world were displayed all over the village in an unconventional setup, so that art can penetrate the grassroots of the society. No one can explain the joy of doing a large scale artwork here, along with the enthusiastic village people of this area. And it is a real joy to see the children and elderly people, doing artworks along with the professionals even though they have no touch with the literature of creative activity.

Indian Artists like Prosanta Kumar Basu, SK Anjuman and Rangajib Roy were also there to help us with this noble cause. From my experience this Art Awareness Caravan Program couldn't have been better."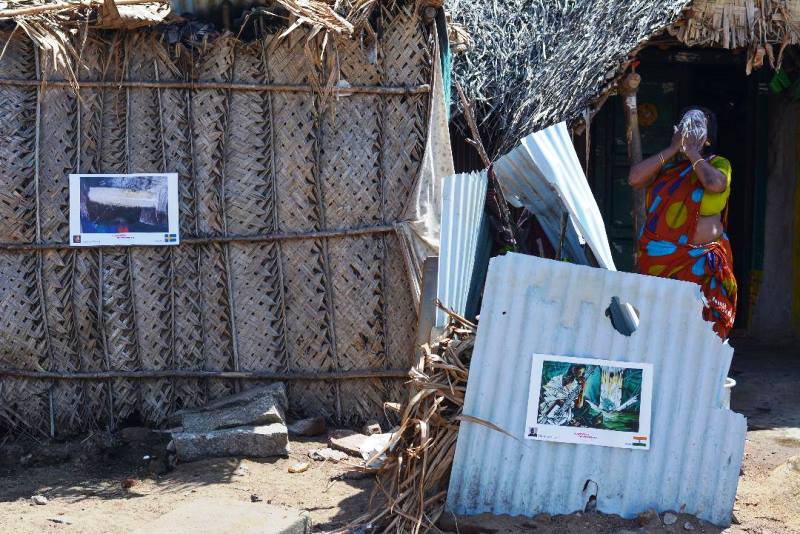 Image source: Sreeman Santra, Pondicherry
After the success of the World Art Day event, Narrative Movements is planning to take their initiative to the next level. They have announcing their next Art Awareness event – "NARRATIVE WAVE", scheduled on 15th July, 2018 to celebrate World Youth Skill Day. It will be a Public Art Fiesta throughout the World to spread the message for peace & international integrity through art and culture.
---
Suggested read: Shamsia Hassani, Afghanistan's First Female Street Artist, Is Painting The City Walls In Colors Of Hope And Strength
---
We wish them the best of luck for all their future endeavors.
Featured image source: Ritam Talukdar 
Summary
Article Name
World Art Day: The Most Unconventional Exhibition Of Art By Narrative Movements
Author
Description
On 15th April, 2018, Narrative Movements celebrated World Art Day through an unconventional public exhibition, "The World Post Contemporary Wave".