The International Association of Athletics Federation (IAAF) has ensured that human athletics, as it has grown and evolved from its antiquated forms, is continually adapted to reflect the dynamism and development of an ever-changing and ever-shifting professional sporting world, wherein maximal participation from people around the globe is not only encouraged but given its fair space to attain its potential. As such, the space to participate has not just been molded to include teens and children (for whom the drop-off rate is maximum), but also opened to women so they can prove their mettle and establish their hold in what had hithertofore been the male preserve of universal physical expression.
---
Suggested read: World Athletics Championships 2015: 5 Men To Watch out for
---
Women athletes have been posting quite some impressive figures on the scene of the World Athletics Championships throughout its century old runs. And the World Athletics Championships 2015 is no exception. Women athletes are increasingly adapting themselves to the innovative and changing demands of athletic excellence and there are quite some faces to watch out for at the World Athletics Championships 2015:
1. Dafne Schippers (Netherlands, 100 and 200 metres)
Image source: Youtube
A bronze winner in the heptathlon last year, the 23-year-old is up for sprints this season. Tall – at 1.72 metres – for the race, the woman has quite some raw pace but needs an improvement in her start. Having swept both sprint titles at the European Championships last year, she has posted some impressive times this season, particularly in the 200 metres.
2. Shaunae Miller (Bahamas, 200 and 400 metres)
Image source: Youtube
A former world youth and junior champion in the one-lap race, the 21-year-old ran a personal best time of 49.92 to win the Lausanne Diamond league last month. With comparisons drawn to her hero – the Caribbean-born French athlete Marie-Jose Perec looming large, Miller, who finished fourth in 200 metres at the last World Championships in Moscow, will be disappointed to return from Beijing without a medal, even if her exclusive focus is the longer distance.
3. Shamier Little (United States, 400 metres hurdles)
Image source: Youtube
You can spot her because of the horn-rimmed glasses, the bleached hair, and the flowers blooming in 'em. But the world's almost exclusively focusing on her searing pace and indomitable technique. A former world junior champion, this twenty-year-old has had a phenomenal start to the year with a second straight American collegiate title at 53.74 seconds and then, gold in the pan-American and US Nationals. Yet to taste defeat, this storm sprint-stress is sure giving those in the top echelons a hard time! She is one helluva competitor to watch out for at the World Athletics Championships 2015.
---
Suggested read: The 'Pit'falls of FormulaOne: Hell-down-under for women drivers…
---
4. Caterine Ibarguen (Colombia, triple jump)
Image source: Google, copyright-free image under Creative Commons License
Unbeaten 28 times since the silver she claimed at the London Olympics, Ibarguen is a strong favorite for the triple-jump gold. Ibarguen has 6 of the top 10 jumps this year, with a slight disappointment in being unable to get over 15 metres – something she had achieved in Monaco last year. After representing her country in the high jump at the 2004 Athens Olympics, the 31-year-old considered retiring after failing to qualify for the 2008 Games but was persuaded to persevere with the triple jump by Cuban coach Ubaldo Duany. And nobody is questioning why!
5. Katarina Johnson-Thompson (Britain, heptathlon and long jump)
Image source: Flickr
Having proved her mettle again and again, Johnson-Thompson, has only to bag a gold in Beijing after topping her fifth position in Moscow in 2013 with a top score in the world last year and a 13-mark miss at the European Indoor Championships in March. Despite quadriceps and knee injuries perturbing her preparations, the 22-year-old is determined to claim her place in the multi-discipline event and has serious medal hopes. Well, with Ennis-Hill's return after pregnancy, the competition would sure be one to look out for.
If any of these amazing female athletes are running/jumping with your hearts, give us a hoot. There's a comments section below.
Featured image source: Youtube
Summary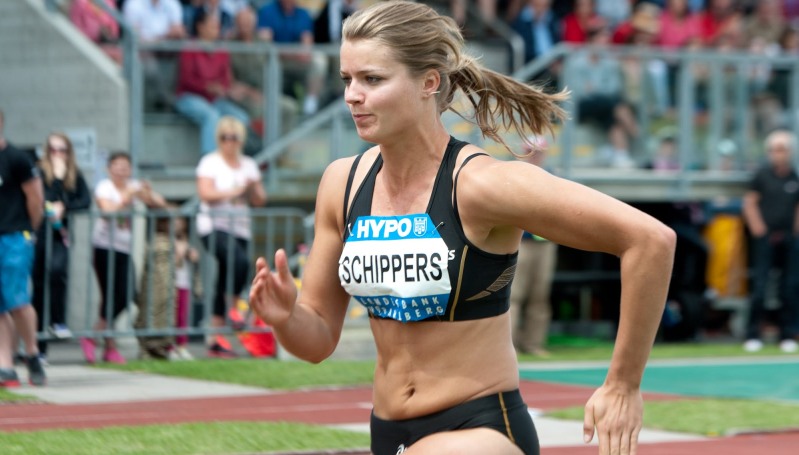 Article Name
World Athletics Championships 2015: Five Women Athletes To Watch Out For
Author
Description
Women athletes are taking the 'run-jump-throw' aggression to a new high at the World Athletics Championships 2015. Take a look at the most promising faces.