Brock Turner, the rapist, and also, a former student-swimmer at Stanford University, was released from a county jail last Friday. He was serving jail sentence for sexually assaulting an unconscious woman behind a dumpster in January, last year. When Yana Mazurkevich, a 20-year-old junior photography major, studying at Ithaca College, saw Turner being released after serving only three-months of his already flimsy six-month sentence, she, like many of us, wanted to give him a middle finger. But rather than just shouting at the Idiot Box and flipping it off thereafter, she spun her rage into art.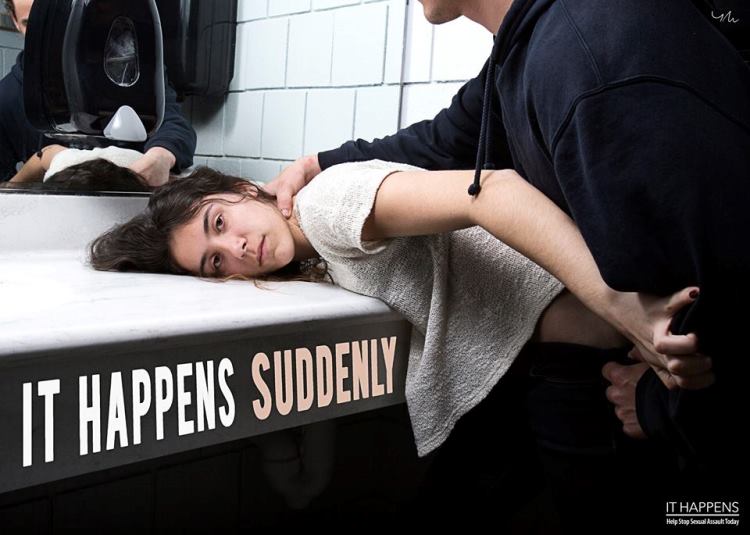 Image source: Facebook/Yana Mazurkevich Photography 
---
Suggested read: Why the Stanford Rape judgment is an insult to ALL women
---
Yana has created a photo-series, "It happens," inspired by Turner's release, for Current Solutions, a sexual assault awareness media platform. It Happens was originally posted on the media platform's Facebook page, and later shared on Tumblr, where it gathered about 110,000 notes. On Facebook, the series has already received 50,000 shares.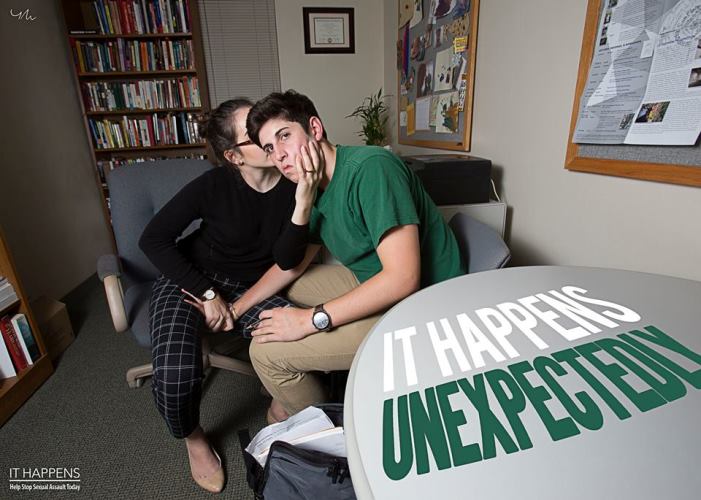 Image source: Facebook/Yana Mazurkevich Photography 
The series gives pictures of rape in some of the settings where it frequently occurs, like, in the classroom, the locker room, in a dark alley, and to conclude, behind a dumpster.
Yana's photos are extremely realistic, as they clearly bring out the fact that 85 per cent of the victims are acquainted with their assaulters. As such, she has chosen private and everyday spaces to showcase how frat basements and nightclubs aren't the only typical environment of sexual assault.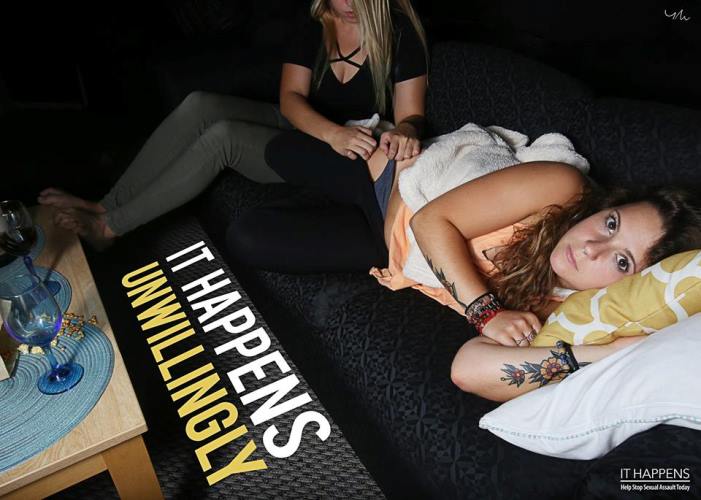 Image source: Facebook/Yana Mazurkevich Photography 
In all the photos, Yana has made her victims look straight into the lens. What does that say? According to her, "The photos are asking you to put yourself in their shoes. They're making eye contact with the viewers and it's really a cry for help."
Apart from being so truthful, the other reason why people are applauding it is that the series embodies a range of genders, sexual orientations, and races.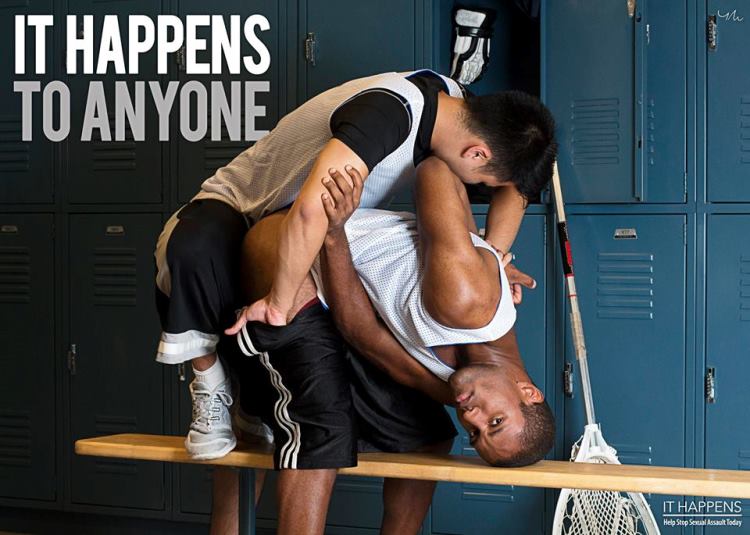 Image source: Facebook/Yana Mazurkevich Photography 
The It Happens series by Yana Mazurkevich is a follow-up to another project she had carried out in April after Turner was convicted on the 30th of March, 2016. The series was called "Dear Brock Turner." It presented pictures of six women, striped down to their bras, with arms groping them from behind. In the images, they are holding on to boards that reel off phrases sexual assault survivors often hear:
"You shouldn't have been walking alone,";
"You should have expected this to happen";
"I should know how to protect myself"
"My skirt was too short"
And other common accusations that rape victims are blamed of.
Image source: Facebook/Yana Mazurkevich Photography 
Harping on about Brock Turner, and the lenient sentence he received, making him the cover boy of white male privilege and also the flawed criminal justice system around the world, would have been easy for Yana. But she wanted to broaden the scope of dialog. She says, while referring to the last photo of her series It Happens, "If it weren't for that last image, it wouldn't have anything to do with Brock Turner — it'd just be about sexual assault in general."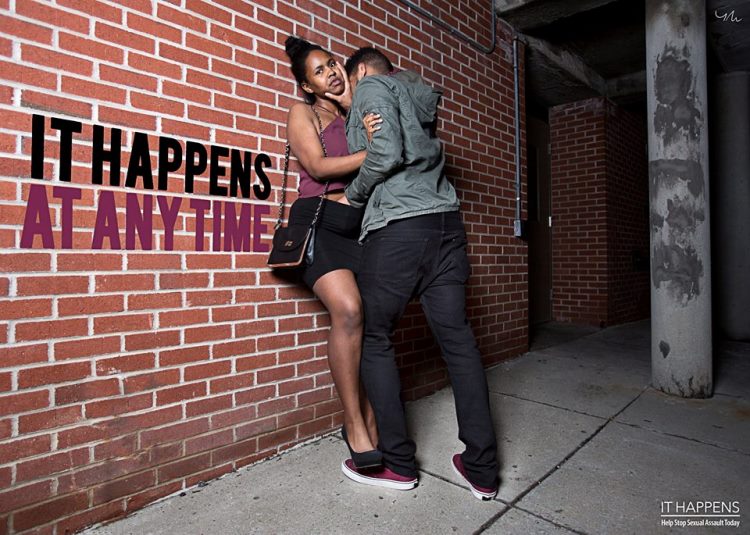 Image source: Facebook/Yana Mazurkevich Photography 
She carries on, saying, "There are so many other court cases people don't know about and they happen every single day. I wanted the series to speak on its own and show that it happens with anyone, anywhere, any time."
Yana Mazurkevich is a sexual assault survivor herself. She says that there was a compelling need for her to come up with something that had never been done before. She wanted to think like the perpetrator, get into his or her mindset. She says she asked herself a number of questions before picking up that camera and finishing the shoot. Where would an assaulter sexually abuse someone? How would he or she exert their power? How would they confirm that the victim has no escape? How would they be certain that no one will witness the assault?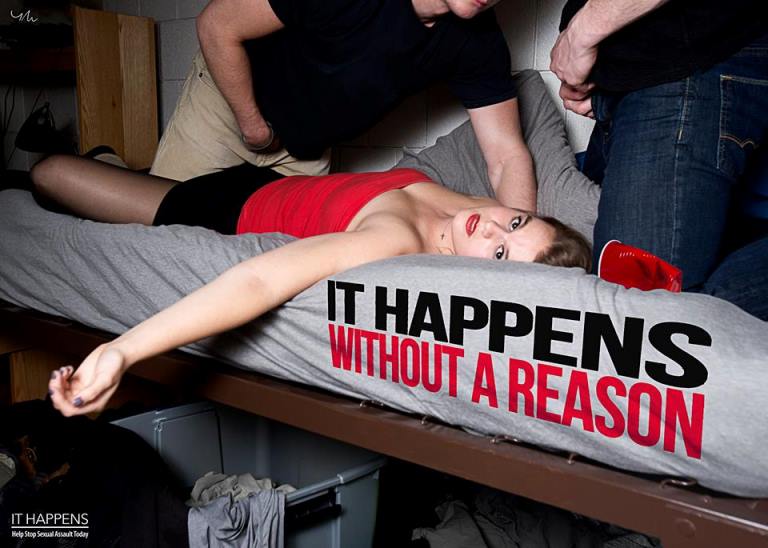 Image source: Facebook/Yana Mazurkevich Photography 
Yana was also very careful to not give in to stereotypes. She made sure that in her photos she did not portray people of colour alone as the offenders, as is done in most exposés. She also wanted to remind the viewers that rape is not a problem restricted to straight relationships.  As a final point, she, through the images, tried to ensure that the models sitting as sufferers of sexual assault did not feel victimized themselves.
Mazurkevich says,
"Staging the photos made me think, 'I've been through this, I made sure the models were comfortable and then I told them, 'Imagine yourself in that position. Empathize with that position.'"
The last picture in the series shows a woman behind a dumpster, without an accoster, and the dumpster reads "It Happened". Yana says she wanted this to be a "wake up call" for her viewers.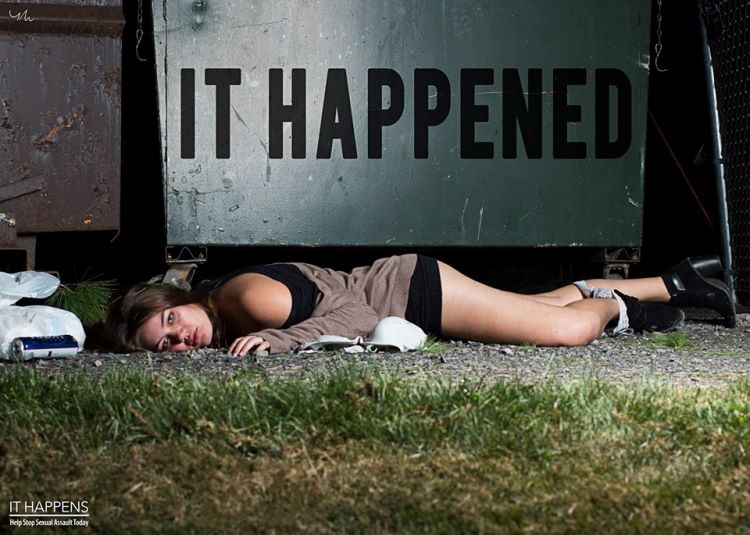 Image source: Facebook/Yana Mazurkevich Photography 
The series, according to Yana, is incomplete in a way, and will stay that way.
"I depicted what I could, and I could have continued to portray even more scenarios, but that would be thousands more to photograph. The reason? There are countless sexual assaults all over the world that it would be impossible to depict each and every one of them."
---
Suggested read: Oxford University rape victim pens a defiant open letter to her assaulter
---
Miss Mazurkevich's photo series is a critical attachment to the conversation on rape and sexual assault. Though words are powerful, images can factually show people the reality, because as she says,
"Words are one thing, but actions, especially actions shown through images are another thing."
For more updates, sign up for our newsletter today.
Featured image source: Facebook/Yana Mazurkevich Photography 
Summary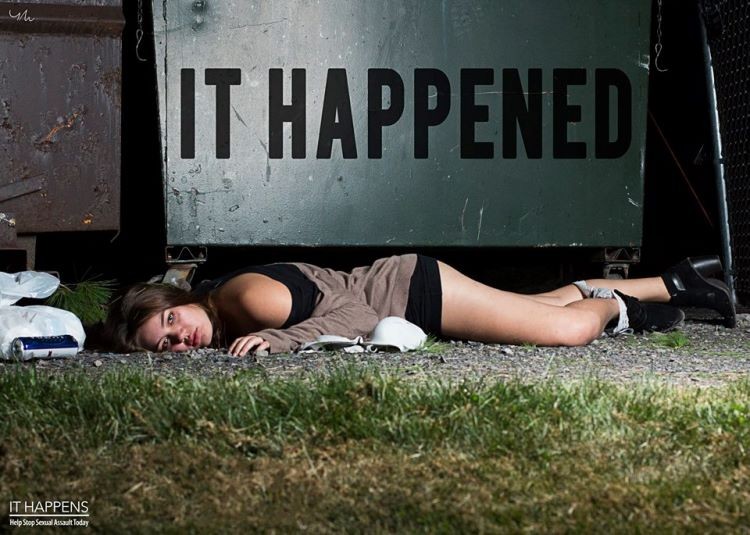 Article Name
Yana Mazurkevich Creates Powerful Sexual Assault Photo Series After Brock Turner's Jail Release
Author
Description
Yana Mazurkevich, a 20-year-old, creates a photo series "It Happens" on sexual assault after Brock Turner's jail release. Though the images are graphic, you must not look away. Here's why.