"What is this country that I live in?

That takes away her right to love

Brutalises her with an iron glove

Rapes her without fear

of there being justice for her tear…

…what do I tell my daughter?

That she's growing up to be lamb for the slaughter

we've got to make a change

Reboot, reformat, rearrange,

and never give in

no matter how much our head may spin

Just keep asking the question

What is this country that I live in?"
---
Suggested read: Oxford University rape victim pens a defiant open letter to her assaulter
---
#Let'sTalkAboutRape is an initiative taken by Hindustan Times, in which, we will be seeing 8 eminent Indians scribble open letters, hammering out the cruel reality of rape and sexual assault in India. Talking about rape is something that Indian parents shy away from, though they tell us to "be cautious". Also, they tell their children to "stay safe", but never to "not rape or not harass." I say "children", because men are raped too, but that again isn't made public since it will be treated as a joke, and is also, a threat to the patriarchal system that professes men can never be subjugated by women.
Farhan Akhtar liftoffs the series with his open letter to his elder daughter, Shakya Akhtar. Farhan is a proud father of two daughters, Shakya (16) and Akira (13). The above heart wrenching poem is what he begins his open letter with, a poem that he had composed a few years ago, when a lawyer in his team was brutally murdered in 2013.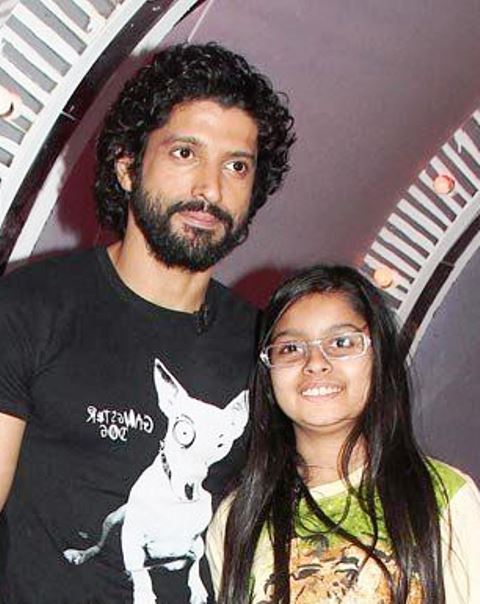 Image source: Pinterest 
In Farhan Akhtar's open letter, we can easily sense a father's love, emotion, and his fear that flows through the entire letter. This note is not just Farhan writing to his daughter, but the voice of every father, around the globe, who has wants to speak his heart out about rape to his daughter, but has no idea how.
Farhan, in his letter, tells his daughter about the double-standards in the definition of freedom, between what she has been taught and what is the actual truth of the society we call ours. He says,
"I know your head spins. I know your young mind grapples with how we treat our women. We've tried, as parents should do, of teaching you the importance of equality, of never ever making a distinction between boys and girls, of introducing you to the concept of choice; of even talking to you about 'good touch' and 'bad touch'."
He further adds,
"We live in an unsafe, largely unequal world."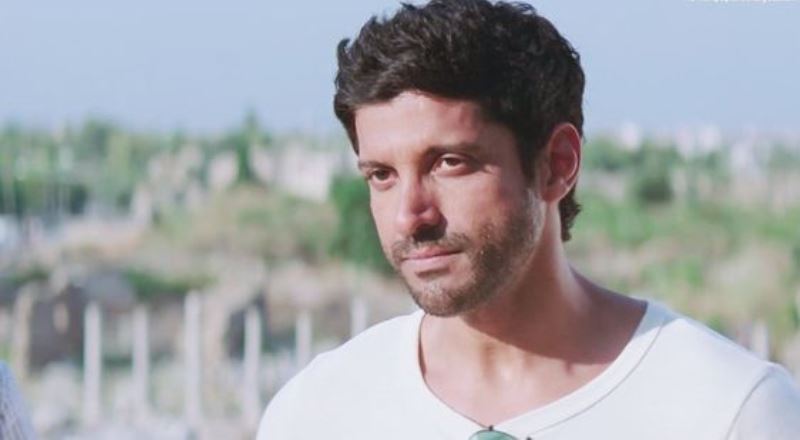 Image source: Pinterest
Farhan, then, does something which needs real courage. Instead of being a hypocrite, which is definitely the easiest way out, and something most people in his line of work cling on to, he lashes out on Bollywood's fascination with the objectification of women. It is saddening how even today Bollywood's idea of love is identical to the practice of stalking the female lead, disregarding her NO, until she gives in! He says,
"You must also have seen movies in which the entire supporting cast conspires to help the 'hero' know the girl he's interested in. They get together to help him (not her); they block her path wherever she goes. They conspire to bring them face to face, to the point where he'll hold her, catch her dress, even jump on top of her in some instances. Such behaviour — which flies in the face of consent that I've always tried to talk to you about — has been normalised by movies"
---
Suggested read: The problematic connection between Bollywood 'Masala' movies and misogyny
---
When films glorify stalking (a form of harassment) as simply wooing the woman, there is a problem. In India, the public worship the hero of Hindi movies, they ape what he does, his style, his dance moves, his dialogues, everything. As such, when this hero-obsessed crowd sees stalking as just a form of pursuing the woman, they mimic that too. They believe that by pursuing the girl hard enough, they will make her realize how much they love her, and since love is nothing, but madness, she will finally 'give in'!
Whether the stalking hero gets the girl or not in the end, he is glorified as the 'Majnu' of that generation. But in reality, does a woman like her stalker? NO. But who cares about woman's no, right? Coz in the end, there is a hidden yes in a woman's no!
Remember the song, "koi hassena jab rooth jati hain toh", from Sholay? Well, that's a stalking serenade, if you ask me! Believe it or not, in school, I was harassed by a rickshaw puller, who while stalking me, was whistling to this very tune! Now in the movie, we see Dharmendra jump on Hema Malini's horse carriage, grab her from behind, and much to her annoyance. She knocks him off her tonga, but he climbs right up, and starts crooning this song! And what happens at the end of the song? They fall in love! Sadly, this didn't work out for my Rickshaw walla, since my NO was loud if not clear to him!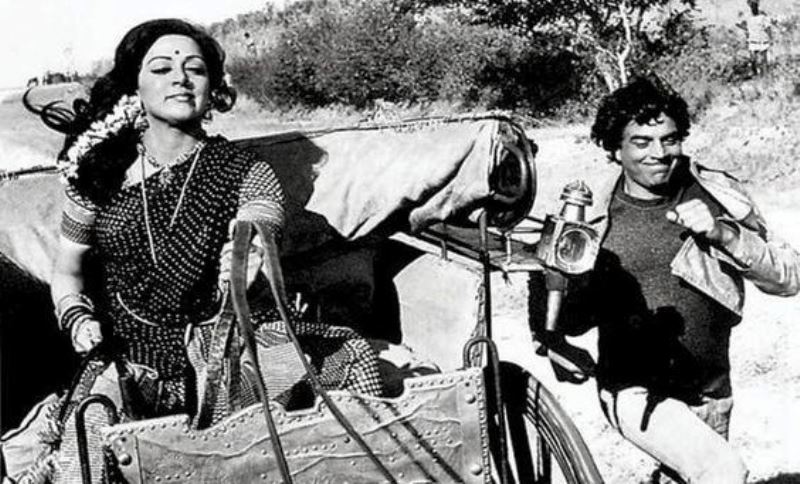 Image source: Pinterest 
Such songs and scenes (the water tank act!) from Sholay (a movie co-written by Akhtar's father), tell the viewer that when a woman gets mad at you she becomes more beautiful, and when you make threats of killing yourself, she will marry you!
A year ago, I came across a piece of news that a 32-year-old Indian security guard had escaped a prison term when his attorney argued that the guard's harassment of women, through unwelcome text messages and also annoying advances in person, were just a side-effect of his Hindi movie fanaticism, since in Bollywood, stalking is "regular and normal behavior". Rejection is something Indian men cannot bear, and Hindi movies provide fodder to this fragile ego of theirs!
Rachel Dwyer, who is a professor at SOAS, University of London, teaches Indian cinema. She emphasizes the "often relentless" nature of the protagonist's pursuit, and gives several examples to illustrate that it can be tracked through the years. In the 60s, Shammi Kapoor, for example,
"would flirt and dance in front of the heroine, who initially rejected him but was won over when she found out his real worth."
This peacocking has metamorphosed into something creepy, lately, and what's horrible is that it is still in the mainstream. Let's take the case of Darr: A Violent Love Story, directed by Yash Chopra, which released in 1993. In the movie, Rahul (Shah Rukh Khan) is passionately obsessed with Kiran (Juhi Chawla). Kiran who is engaged to Sunil (Sunny Deol), makes it very clear to Rahul that it is a NO from her. But that doesn't stop Rahul from carving Kiran's name on his chest with a knife, adorning his room with her pictures (taken without her permission), and talking about her with his dead mother. Eventually, Rahul kidnaps Kiran and forces her to marry him, but is shot by Sunil.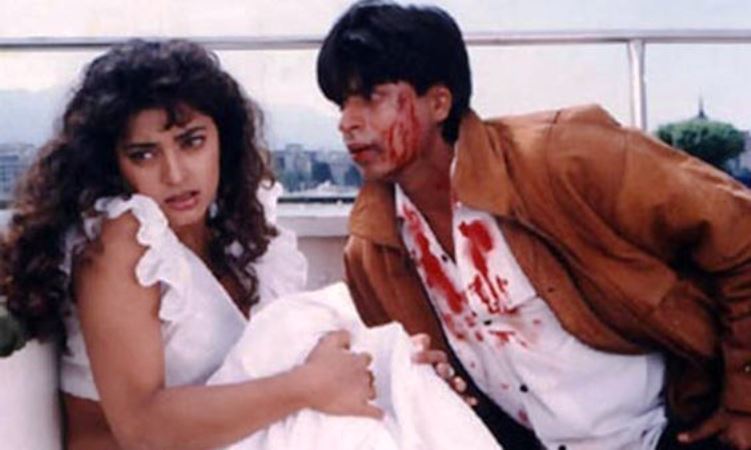 Image source: Pinterest 
This movie was made before Shah Rukh Khan transformed into the "Badshah" that he is today. Darr was one of the very reasons how he vaulted into stardom, not just because of his portrayal of the character, but also because the audiences loved him; they actually loved Rahul so much that they were even championing his cause. Movie halls saw people cheer for Rahul and not Sunil during the fight scenes. They supported Rahul so much that it fast-tracked Shah Rukh into the A-list actors.
In the last 20 years, the Bollywood stalker (Isn't deranged and disillusioned, implicit?)  has advanced from a villain to a hero! In 2013, the movie Raanjhanaa, exhibited how Kundan, the leading man, stalks his "affectionate" Zoya, cuts his wrists because she rejects him, and breaks up her wedding, beating her fiancé to death. When Kundan eventually dies himself, he tells Zoya that he will be born again to "love her".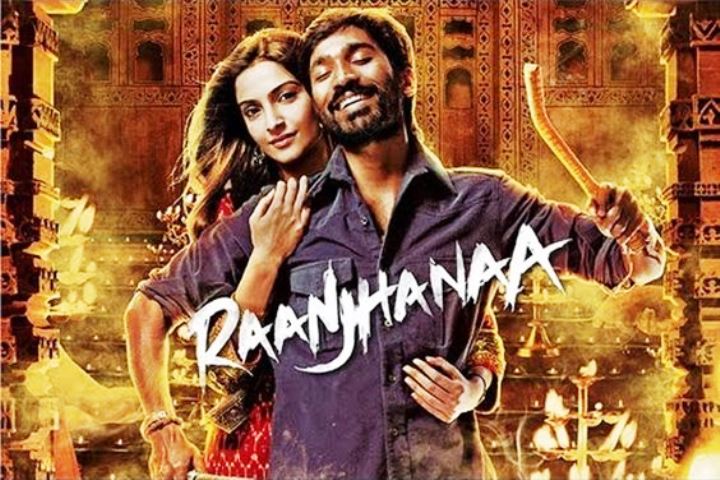 Image source: Pinterest
Such stories predictably affect the audience and their assumption about what steps they can take if faced with such situations. Dwyer says,
 "While Hindi cinema is not realistic, some may see this behavior, which is admired by viewers, as acceptable, and follow it in real life where practices such as 'Eve-teasing' (sexual harassment) are widespread."
---
Suggested read: Why the Stanford rape judgment is an insult to ALL women
---
Did you watch Happy Ending? Kanika Gahlaut, who is a journalist in New Delhi, says that she enjoyed the movie, but that the relentless-lover theme was played out in this, otherwise progressive, contemporary movie too. Happy Ending tries to suggest that since good girls don't like sex (wh-a-a-a-t?!), guys have to push for it!  Though a hip movie about freewheeling urbanites, the movie puts the sexual responsibility on the man, alone, since good girls cannot be spontaneous between the sheets. This way, Bollywood is suggesting that when a woman says no, she actually means yes, but is too shy to speak out loud!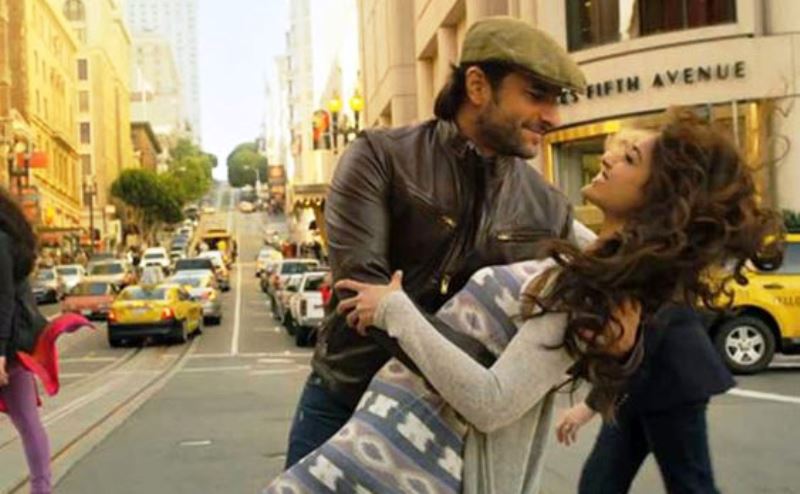 Image source: Pinterest
Today someone might contradict me with an example of Pink, the Movie, but hey! We all know that such movies, even in 2016, are just a handful!
In such a situation, Farhan Akhtar's open letter is a very important step towards addressing this gap between what actors profess, and what the movies they work in, put on view. The relationship between cinema and society, as we all know, is symbiotic; and the arrogant leading male is an echo of Indian men, in general. Gahlaut says,
 "They have an unusually high sense of entitlement; a sense that they are a star in the relationship, even if it's a misplaced sense, and feel a woman is to look after their mental, emotional, physical needs." 
According to both the ladies, Bollywood thrives on its stalkers, and as Akhtar writes in his letter,
"Stalking, unfortunately, has become a mutated form of cinematic romance." 
Do you agree with this contention? Did you read Farhan Akhtar's open letter? Have you spoken to your children about rape and sexual assault? If no, why? Rant and Rave in the comment section below! Bye until next time!
Featured image source: Pinterest
Summary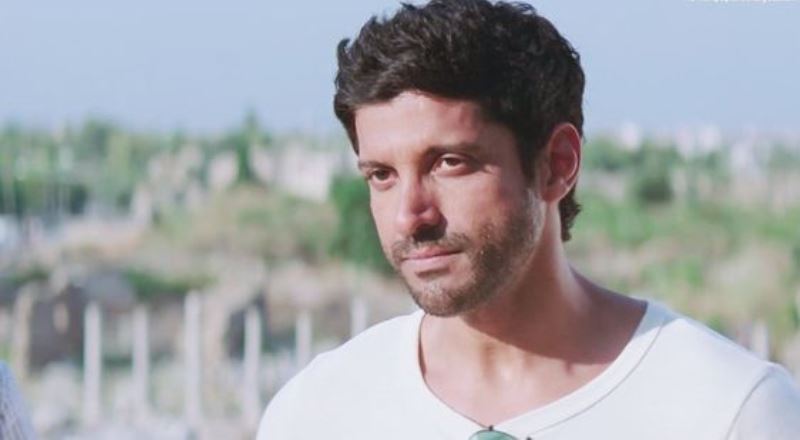 Article Name
Farhan Akhtar's Open Letter Bares The Truth About Bollywood's Stalker Culture
Author
Description
Farhan Akhtar's open letter to his daughter not only talks about rape & sexual assault, but also reveals how stalking has become a mutated form of cinematic romance.