The best thing about any celebration is often the food, but when it comes to Thanksgiving, food is always the first thing that comes to our mind. What about the feeling of gratitude? Well logically, when you gobble down delicious food, you are happier. When you are happier, you will naturally be more thankful! Simple. For this very reason, NLT brings to you the 10 best Thanksgiving recipes to try this holiday season. The fact that these are non-traditional dishes, makes them more appealing and easier to pull off. Spoiler Alert: You are sure to have multiple foodgasms!
You may find some foods that you already know and love in a new form or discover others that you had not even heard of. The bottom line is that you MUST try these this season!
---
Suggested read: Why is Thanksgiving celebrated – past and present
---
1. Sweet potato casserole
Image source: Pinterest
The list of the best Thanksgiving recipes had to start with this simple yet tasty holiday favorite dish! Before everything else, preheat the oven to 400 degrees Fahrenheit.
Preparing the filling: The sweet potatoes need to be roasted on a baking sheet until tender. Cut them in half and let them cool. Now peel and mash them with a fork.
In one bowl, mix the mashed potatoes with sugar, butter, eggs, a little bit of milk, cinnamon, nutmeg, and a teaspoon of vanilla essence. Beat the mixture until smooth. Now fill it into a lightly buttered casserole dish.
To make the streusel topping: Mix brown sugar and flour in a bowl and use a pastry whizzer to cut and drop some butter into the mixture of brown sugar. Stir some walnuts in and then sprinkle the streusel over the mixture of sweet potatoes. Bake the casserole for 35 to 40 minutes.
Tips: You can assemble the casserole a day before and keep it in the fridge until it is time to cook.
2. Roasted acorn squash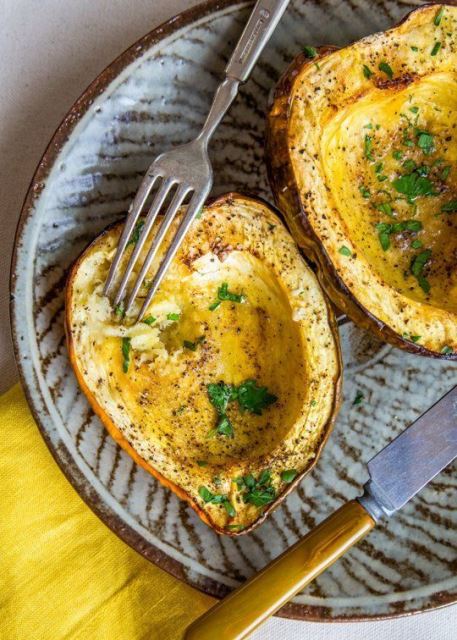 Image source: Pinterest
A vegetable dish that could easily masquerade as dessert! First, preheat your oven to 350 degrees Fahrenheit. Then, cut the squash in half and scoop out the seeds. Now place the halves on a baking sheet after sprinkling some salt and pepper over them. Drizzle some extra-virgin olive oil, if you want.
Now, in a bowl, mix butter, sugar, and some almond liqueur. Coat the halves of the squash with this butter mixture. Place two sage leaves over the squash halves. Crush some cookies and sprinkle them on too. Bake it until it is tender, for about 35 minutes. Don't forget to baste every 15 minutes with the leftover butter.
3. Chipotle smashed sweet potatoes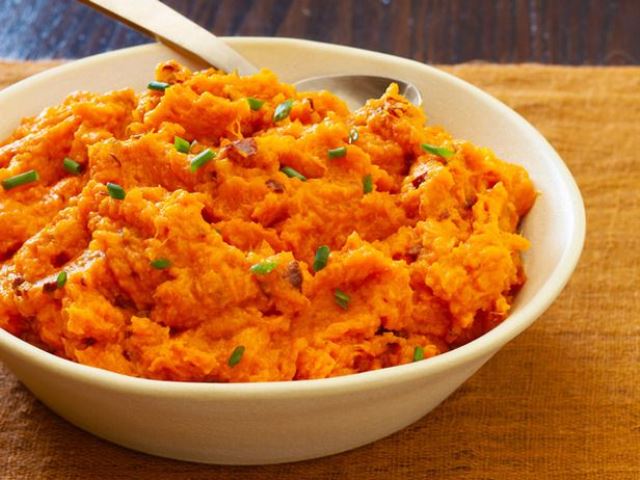 Image source: Pinterest
Sweet and savory, the chipotle peppers dipped in adobo sauce will make your smashed potato recipe a super hit! Place cubed potatoes in a steamer basket. Put the steamer into one big vessel of simmering water, which should not be closer than two inches from the basket's bottom. You should let the potatoes steam for 20 minutes. Now mash the potatoes and add butter. Enhance the taste by sprinkling pepper, the sauce and salt. Mix again. Make sure that you serve immediately. Isn't this simple yet tempting?!
4. Pork pie stuffed squash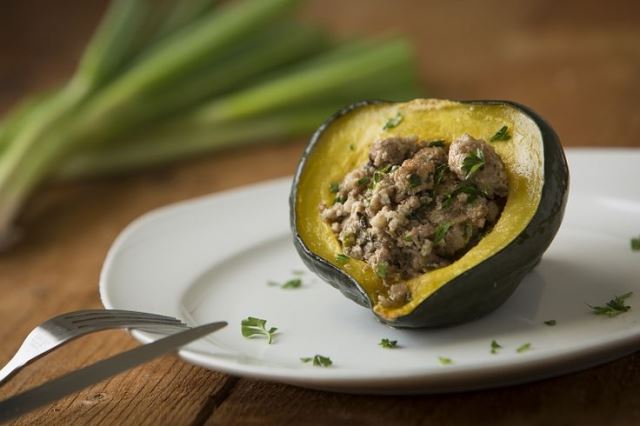 Image source: Pinterest
This tasty recipe is my family's favorite, and as such, I had to include it in the list of 10 best Thanksgiving recipes. You need to first preheat your oven to 400 degrees Fahrenheit. Then, cut the top off both the acorn squashes and get rid of the seeds. You may also cut off a small portion of the squashes from the bottom so that they stand up straight. Fill each cavity with butter. Place them on a sheet pan and set aside.
Take a large sauté pan and place it over medium heat. You need to turn the pork pieces brown and then remove them from the pan. Now add some olive oil and deep fry the onions, carrots, and the celery. You can deglaze your pan using white wine.
Now, place the pork back on the pan again with some cooked rice, a few pine nuts, spinach, and oregano. Add salt and pepper to taste. Stir for 2-3 minutes. Now pour this mixture into the squash cavity to the brim. Bake it for one hour, and voila!
5. Fresh corn spoon bread puff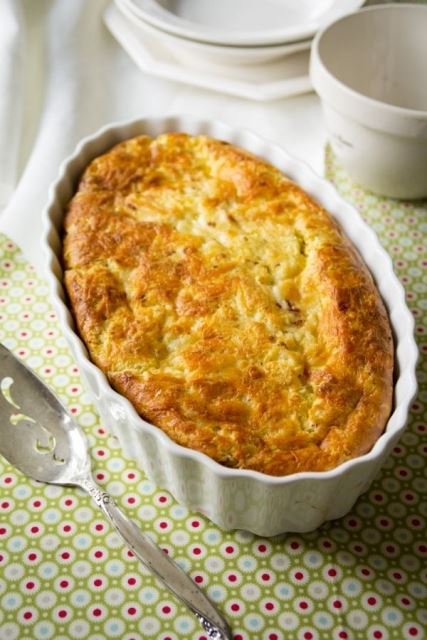 Image source: Pinterest
After preheating your oven to 350 degree F, butter the 6-ounce ramekins and place them on a rimmed baking sheet. Once you slice the kernel from the cobs, scrape each cob, and pour milk into the bowl. Melt butter and empty in the corn. Sprinkle some salt and let it cook. Add milk and cream and allow it to heat. Whisk in some cornmeal, sugar, a spoonful of baking powder, and pepper together. Also, whisk the hot corn and the milk mixture and pour them into the cornmeal. Beat egg yolks and ladle half cups of the corn mix into these yolks. Pour this mixture into the rest of the corn mixture. Now, fold the egg whites into your corn mixture and spoon in the ramekins. Bake the whole thing for 30 minutes. Serve immediately.
---
Suggested read: 15 best Thanksgiving quotes to make your gratitude a little more special
---
6. Brussels sprouts, kale, and celery root gratin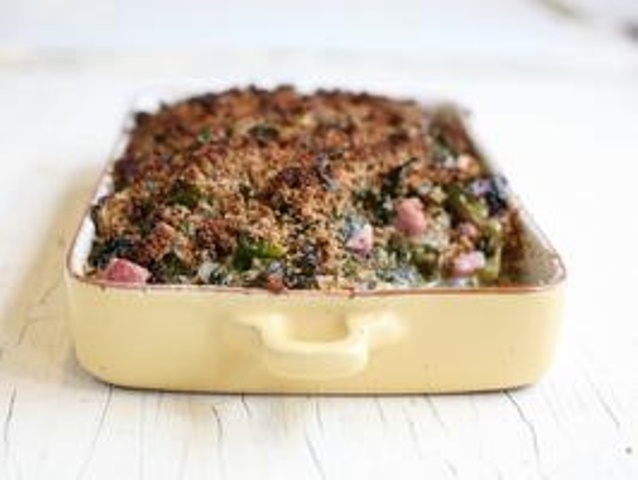 Image source: Pinterest
Wait, Brussels sprouts for a Thanksgiving dinner? Well, yes! And I can guarantee you that this is one of the best Thanksgiving recipes you will ever come across.
Preheat your oven to around 350 degrees F. Now grease a 9-by-13-inch baking dish with butter. The remaining butter must be whisked with mustard and then mixed with breadcrumbs, chives, salt, pepper, and parsley. Now toss it and set aside.
Take a saucepan and heat the stock and the cream together. Add some celery roots and cook until tender.
In the meantime, heat extra-virgin olive oil in a Dutch oven. Add ham and cook until slightly brown. Now stir in some shallots. Before it starts wilting, add kale. Now pour in some apple cider vinegar and let it cook until the vinegar is absorbed.
Layer your baking dish with the celery root slices and then spread your Brussels sprouts mixture on it. Bake until the gratin starts browning. Remove it from the oven and scatter the breadcrumb mixture. Bake it again and serve after letting it rest for about 15 minutes.
7. Garlic and sun dried tomato corn muffin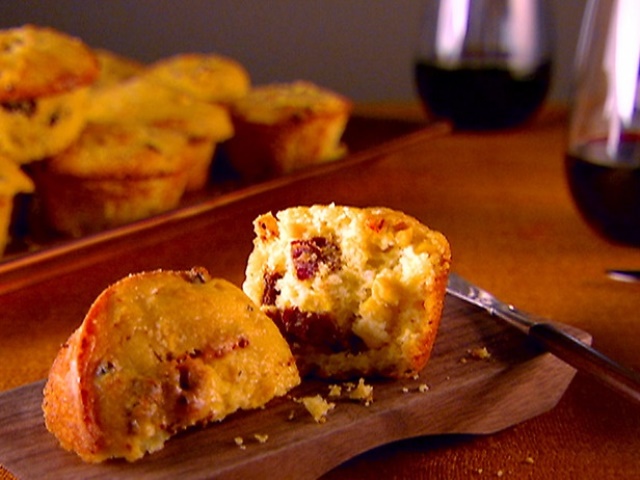 Image source: Pinterest
Once you preheat your oven to 375 degrees F, butter the two muffin tins. Now in one big bowl, mix the muffin mixture, some corn, garlic, and a few sun-dried tomatoes. In one smaller vessel, whisk the buttermilk, eggs, and the sour cream together. Pour the buttermilk mixture into your muffin tins about halfway. Bake for 15 minutes until it is golden brown at the crest.
8. Three-tier candied-pecan cake with brown-butter pears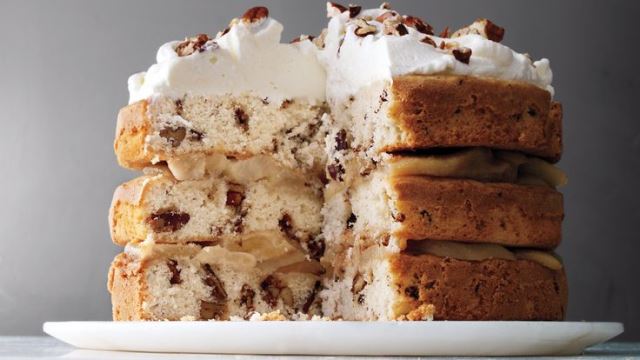 Image source: Pinterest
Preheat your oven to 400 degrees F. Toss the toasted pecans with some butter and brown sugar. Also add vanilla, brown sugar, nutmeg, and cinnamon. Roast it for 10 minutes. Now bring the temperature down to 350 degrees. Next, bake a traditional cake using flour, butter, granulated sugar, and milk. Also stir in some candied pecans. Beat the egg whites until frothy. Bake it again until stiff peaks form. Remember to add flour in three additions.
Divide the batter among the pans and bake until the layers are set. Let them cool on wire racks.
For the pear filling, heat brown butter over a skillet. Cook the pears by stirring occasionally. To make the bourbon whipped cream, use confectioners' sugar other than cream and bourbon. Place the first cake on a solid surface and spread half the pears on it. Do the same for the second tier of cake. The top tier must be spread with the bourbon whipped cream and garnished with chopped pecans.
9. Individual cinnamon-apple tarts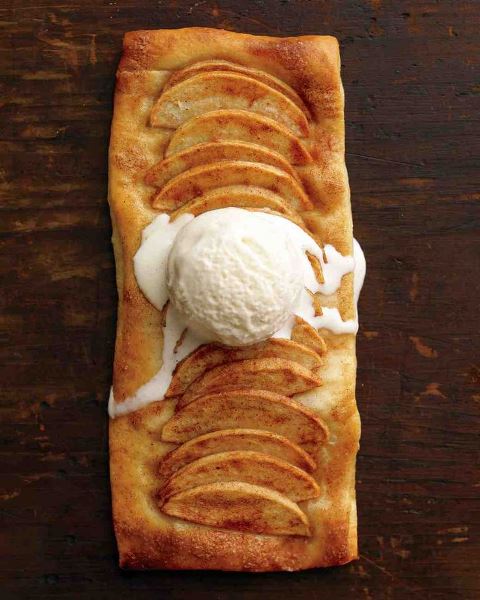 Image source: Pinterest
Rolling in the 'dough' of 6-by-14 inches, dot its upper portion with butter. Fold the dough in thirds. Now roll it again into a 6-by-14 inch rectangle. Place it on a baking sheet and put it in the fridge. Cut it into 4 pieces. Preheat your oven to 375 degrees Fahrenheit.
In one big bowl, mix some lime juice, brown sugar, a fair quantity of flour, salt to taste, cinnamon, and apples. Leaving about ½ inch from the edge, place the apples on the dough. They may overlap slightly. In one small bowl, mix egg yolk and a teaspoon of water. Take another small bowl to mix sugar and some cinnamon. Brush the left out edges on the dough with egg whites and sprinkle some of the cinnamon sugar mixture. Bake until the apples are soft. Serve while warm and top it up with some ice cream if you desire.
---
Suggested read: 20 easy Thanksgiving decoration ideas to make your day special
---
10. Pear streusel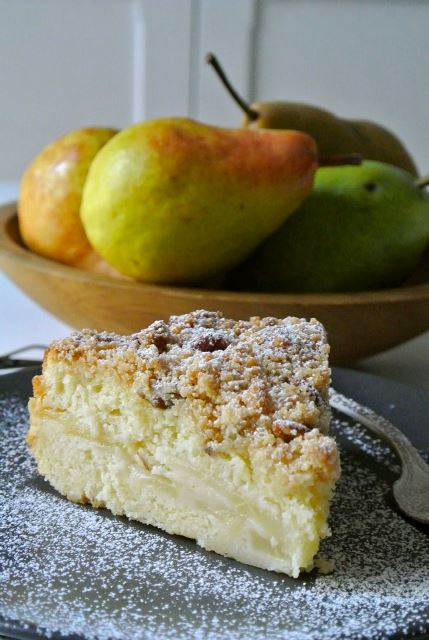 Image source: Pinterest
To make the crust: You need to roll out one ball of dough to one-eighth inch width. Now place it on a pie plate. Freeze it for approximately 30 minutes.
To make the cranberry sauce: Boil cranberries, granulated sugar, cinnamon sticks, and some water in a pot. The cranberries will start bursting. Let the sauce thicken. Remove the cinnamon sticks and let the mixture cool.
To make the streusel: Whisk some flour with brown sugar and oats. Add cinnamon and some salt. Drop in some butter.
To make the filling: Mix some pears, sugar, lime juice, flour, and salt together. Drain them into the cranberry sauce.
To transfer the filling into the crust: Top it with the streusel. Bake the whole thing until the top is golden. Now let it cool.
Thanksgiving food can be fun, easy, and delicious if you try to be a little innovative. Let us know if you liked these recipes and also if there are other recipes that you want to share. If so, feel free to drop them in the comment section below. Happy cooking!
Featured image source: Pinterest
Summary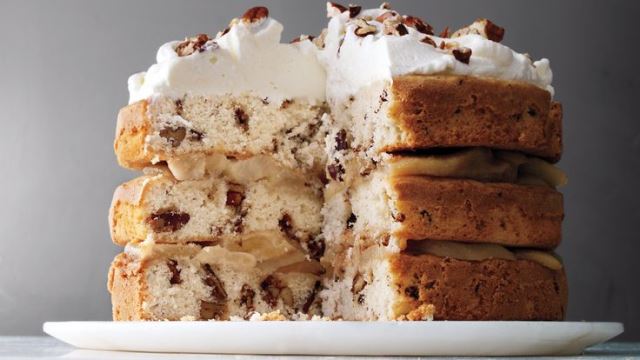 Article Name
10 Best Thanksgiving Recipes You MUST Try This Festive Season
Author
Description
Thanksgiving always brings to mind some great food! Here are 10 best Thanksgiving recipes you must try this holiday season. You won't regret it! ;)