This Thanksgiving, NLT brings you some of the best Thanksgiving decoration ideas that will surely make your day even more special. Setting an absolutely stylish table to serve your feast and buying or making some decorative centerpieces not only keeps the little ones entertained and involved, but also keeps the adults happy! This season, these easy Thanksgiving decoration ideas will first light up your mood and soon light up the room around you!
It does not matter whether your taste is vintage or modern when it comes to centerpieces, the following ideas will cover everything! The table setting is another important part of Thanksgiving decorations. That's the action scene, man! An elegantly set table can make any meal look good and instantly create a festive vibe. It will make the dinner more appealing and there is no dinner more important than Thanksgiving, right?! I suggest that you pull out all stops to set a perfect table dressed to 'feed'!
---
Suggested read: 12 things to be thankful for this Thanksgiving
---
1. 'Board' of love
As your guests pour in for Thanksgiving, you can have them write down what they are grateful for on a piece of paper cut in the form of a maple leaf and pin it up. To make the board, you can use a linen-covered piece of foam with an old frame. The paper maple leaves can be easily cut out from scrap books or even old useless books. Make sure they are in all different shades to make it look vibrant.
2. Glow 'warm'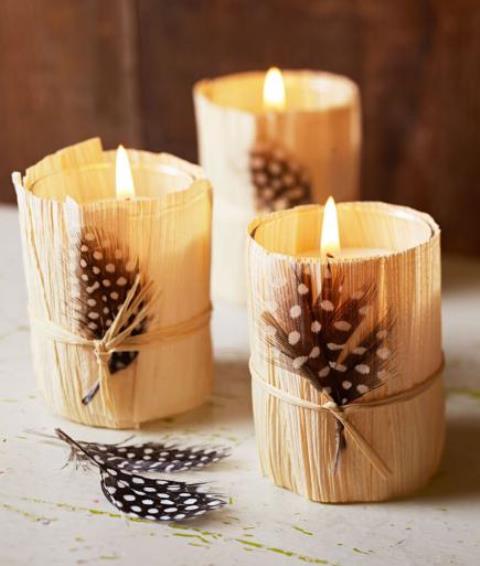 Image source: Midwestliving
To create the 'glow warm,' you can wrap a few glass votive holders in some texturized paper. Take around four corn husks and tie them up so that they overlap each other. Now add a spotted guinea fowl feather to it. You can buy the feather from any of the craft stores.
3. Light touches
In the middle of an eclectic mix of lavish wooden pieces and fancy crystals, a tall vase with deep rosy leaves is bound to draw the eye. The delicacies on the Thanksgiving table can be complemented by baby blue stripes on the chairs while small white pumpkins here and there can help complete the feel.
4. Cornucopia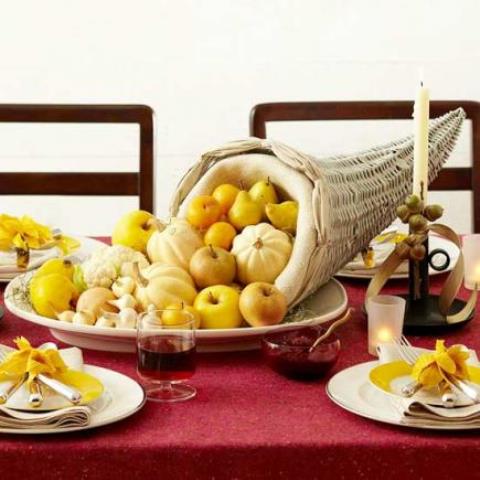 Image source: Midwestliving
A cornucopia spilling with mini pumpkins and gourds looks lush and amazing on anybody's table top. How do you create a cornucopia? Use an ice cream cone to get the look! These Thanksgiving decoration ideas are really simple, didn't I tell you?
5. Candle holders
Repurposed candle holders may be used to decorate the sitting area. Look for cheaper holders of different heights to make it look more fun. Now spray them black and then place some pumpkins alongside them!
6. The 'pardoned' turkey, like literally!
Image source: Midwestliving
A thankful turkey?! Yes, this turkey can be created using a large pinecone. Then, you have to cut the feather shapes from pages of old books and crease each one of them length-wise. Use scissors to create fringes along the edges. For the turkey's head, cut an oval out and add circular googly eyes for it. Now all you need is a beak, which you can create using scrap papers. Ask your guests to write what they are glad for on the paper feathers and tuck them into the pinecone. These kinds of Thanksgiving decoration ideas turn out to be more like a game!
7. The welcoming wreath
When you have a "give thanks" wreath at your main entrance, it sets the festive season tone right. You can decorate a homemade wreath with some red roses, pinecones, and champagne grapes. You can also add various berries while making the wreath.
8. Harvest mantle
Image source: Midwestliving
If we go back to its roots, Thanksgiving is a celebration of the season's harvest. So I thought, what better way to depict this than displaying the harvest on the mantle? This mantle can be a collection of low-cost melamine plates stuck to the wall with adhesive disc hangers. You can coolly arrange some gourds and mini pumpkins amidst the bundles of dried wheat. If you want to make it even more fun, you can include a black board behind the mantle and write some funny Thanksgiving quotes on it. You will find some on our website 😉
9. Cold frame encounter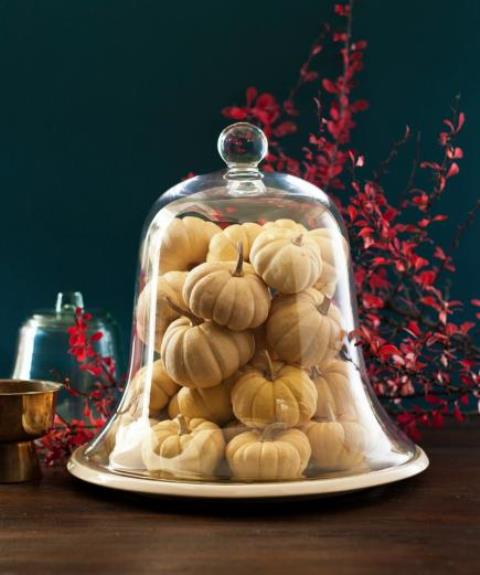 Image source: Midwestliving
All you need to do is pile up mini white pumpkins into a bell jar and then cover it with a plate. Now you can turn the whole thing over so that the plate is placed on the table top. It will look simple yet sophisticated!
10. Autumn tones
Glass containers with ribbons around the rims look beautiful. You can fill them with beans and nuts to showcase the hues of autumn with this Thanksgiving décor. A copper tray will add to the sophistication and make the whole decoration portable too.
---
Suggested read: 15 best Thanksgiving quotes to make your gratitude a little more special
---
11. Acorn votive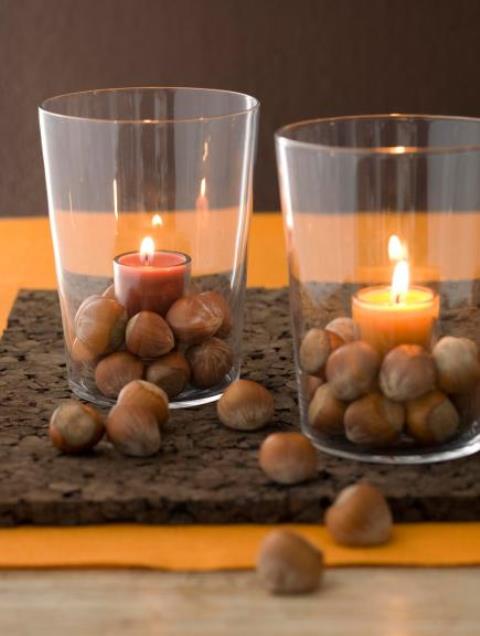 Image source: Midwestliving
A pretty votive can be used as Thanksgiving table decorations. You can even place them on your coffee table. All you need to do it collect some acorns and layer them in a small cup placed around a candle. The remaining acorns can be scattered around the decoration.
12. Bucket of tint
If you are planning a more casual affair, you can mix and match. Take some deep-tone, long-living plants and place them in a vintage style pitcher. Dark red carnations can be a good choice, and juniper branches, lilies, and ornamental grass may create a lovely fall display too.
13. A tiered Thanksgiving centerpiece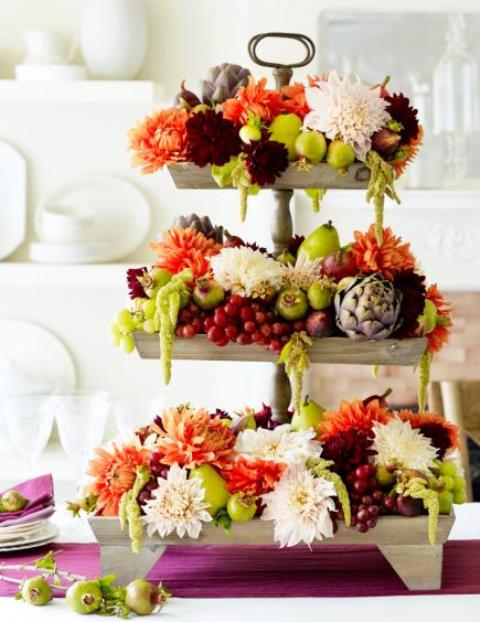 Image source: Midwestliving
To create a tiered bounty, press a few dahlias, fruits, and selected vegetables into a drenched florist foam, which is basically a water-absorbing foam that holds stems and plants, on a tiered basket of fruits or even a cake stand. The centerpiece will also include figs, grapes, and some pomegranates.
14. The message tray
This is one of the easiest Thanksgiving decoration ideas. You need some simple cards with a seasonal message in each. They can also be used to identify where each guest will sit. The DIY part is quite basic. Cut cardstock and decorate it with rubber stamp designs as a sealer, like in Game of Thrones. Choose metallic ink for the card but choose red for the GoT-inspired seal.
15. The Ances-tree!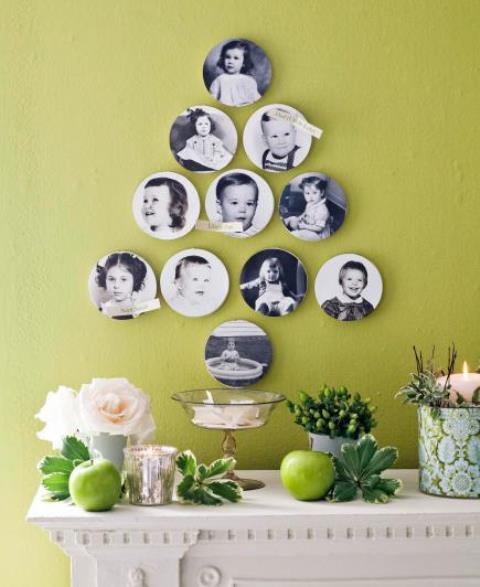 Image source: Midwestliving
You can appreciate your ancestry with this Thanksgiving decoration idea. This is the perfect way to introduce the young ones to their roots. Cut out vintage baby photos of the family members (old copies, of course!) and stick them on the wall in the form of a family tree. You can make it an activity and play who's who!
16. Moss and rocks
This is a perfect Thanksgiving decoration idea! Arrange some rocks with a bit of moss on them around small candles placed in flowerpots. Enhance it further with some tiny ornaments and keep it on the table for your Thanksgiving dinner!
17. Flower rings
Image source: Midwestliving
You can create your own napkin rings this season. Make flowers out of corn husks to create the rings. First, cut a spiral from a corn husk soaked in water. Make sure the spiral has four rings. Now roll up your spiral inside out. It will form the shape of a rose. Let it dry while the rose holds its shape loosely. You can even secure it with some adhesive. Glue a circle to its base. Now for the ring, you will have to cut out one rectangle and fold it so that it forms a loop. The ends need to be hot-glued. Glue the flower on top, and its ready to go!
18. Pumpkin basket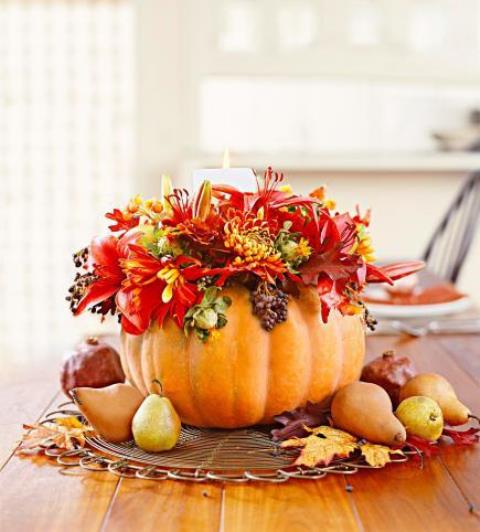 Image source: Midwestliving
Now, a pumpkin basket will never fail you on Halloween or Thanksgiving (If your Thanksgiving decorations aren't good enough, it will turn into quite a Halloween!). Hollow out your pumpkin and then keep it on a block that has wet floral foam in it. Place a pillar candle in this foam. Now encircle it with berries to finish.
19. The layers
You can create a beautiful centerpiece this Thanksgiving by layering the various seasonal supplies in clear cylindrical vases. You can begin with corn kernels like we did last Thanksgiving, and then add burgundy celosia, brown oak leaves, and orange bittersweet. On the top, use a rust-coloured candle. In case you fear the candle flame might burn the dry leaves, you can make use of a battery-operated artificial candle.
20. Acorn-adorn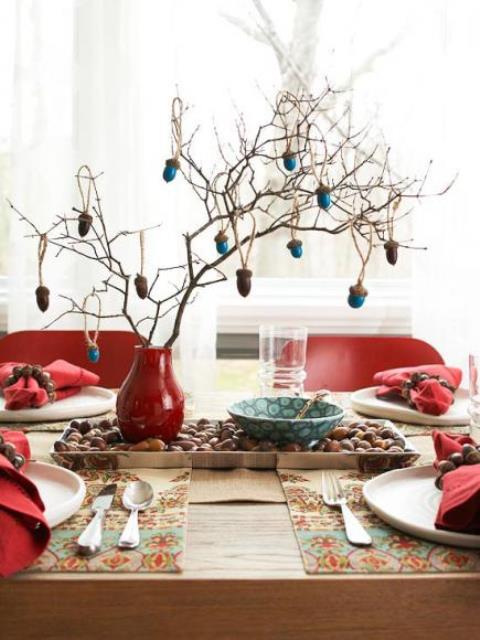 Image source: Midwestliving
A hint of tint can turn acorns into ornaments. You can hang them from branches with twine loops. The serving tray, filled with some more acorns and a dish, provides a visual balance of display. You can match the colors of your paint with your table linens.
---
Suggested read: 10 best Thanksgiving recipes you MUST try this festive season
---
No matter how delightful a feast you prepare, your dinner table is incomplete until you apply some of the above Thanksgiving decoration ideas. If you have some more décor ideas to share, maybe something that you and your mommy did to beautify the house as a tradition, do let us know in the comment section below.
If you have any queries regarding these beautifications too, shoot us your questions in the same space. We promise to help you have the best Thanksgiving ever! You can thank us later. 😉
Featured image source: Midwestliving
Summary
Article Name
20 Easy Thanksgiving Decoration Ideas To Make Your Day Special
Author
Description
With these Thanksgiving decoration ideas, you can make this holiday a truly special one. We promise!