Want to tell your wife that you are falling in love with her all over again? Or simply want to spice it up a little bit? A nice romantic dinner will do the job like none other. Here are the 10 steps you need to follow to impress your wife with a night that will impress her no end!
1. Cook for her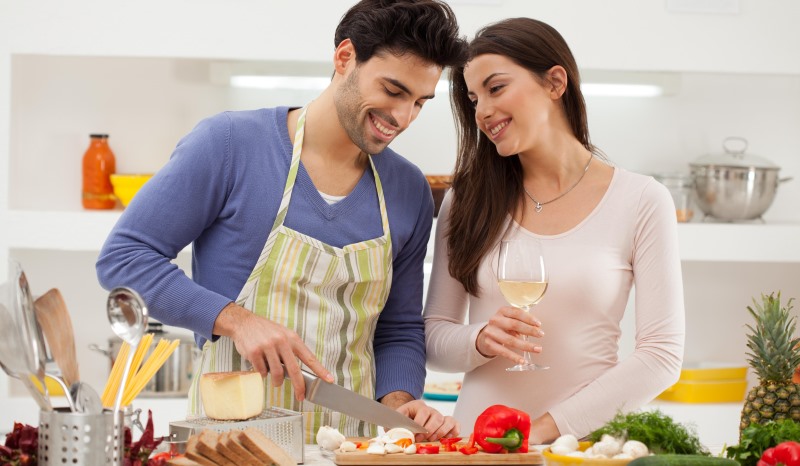 Image source: Shutterstock
Nothing spells love like the effort that goes into a home-cooked meal. If you have cooked it yourself, she is going to love it even before she smells it. If you don't even know how to boil a glass of water, fikar not, for it's the effort and thought behind the gesture that counts rather than the gesture itself. You can learn to do something small, like a simple dessert to accompany the hotel-ordered meal. Technology has grown so much that you can get videos and step-by-step instructions on pretty much any kind of dish out there. All you need to do is to follow through with it.
2. The menu
Decide on a smart and classy menu: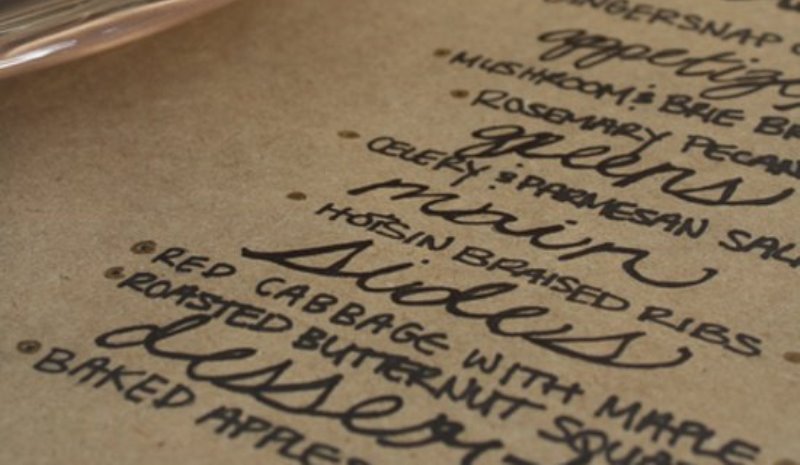 Image source: Google, copyright-free under Creative Commons License
Drinks are a must to start your meal. Wine is the most romantic choice. Red wine for the meaty meal, and white for the summery light food.
Keep some really simple appetizers for the time she's sitting with you in the kitchen, or while you two are lazing on the couch before the feast. Tortillas, pita chips, hummus, even fresh salad for the wife who loves it.
For the main course, select something that does not require too much time before serving, or to clean up later. Include aphrodisiacs in your meal, avoid onions and garlic obviously, and even anything too creamy or too heavy that will make you feel bloated later.
Dessert is mandatory to make a woman smile. But if you have done a good job with the other courses, keep it light here. Cupcakes and ice-creams are great options.
3. Decorate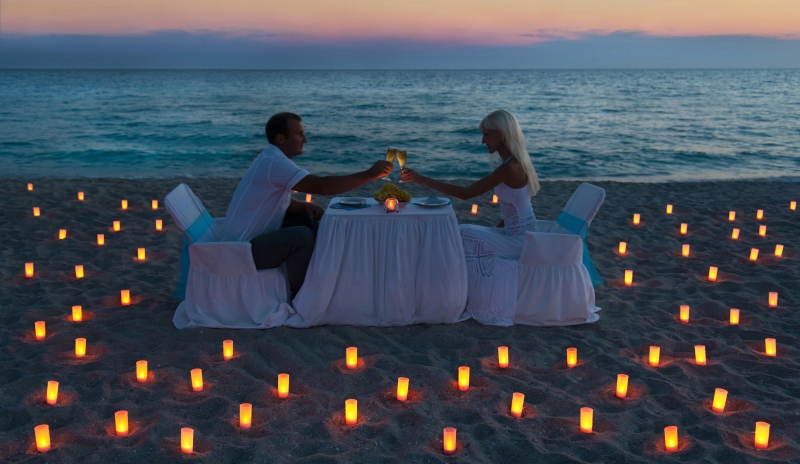 Image source: Shutterstock
Wherever the dinner is, ensure a romantic set-up. Tea-lights, twinkle-lights are most beautiful in an outdoor set-up. If you're planning on an informal on-the-ground seating arrangement, cushions in abundance along with a comfortable blanket are necessary, or simply "build a floor out of sheets" (Katy Perry). Arrange for fireworks or a personal violinist. Soft background music is a necessary element to create the right ambiance. Include keepsakes from your many years of relationship. Flowers, scented candles, floating candles are other stand-ins for abovementioned lights.
4. Location
Image source: Shutterstock
Keep it romantic and private. At home, you could use the terrace or the front yard or the backyard, or even sit by the pool, if you have one. Or have dinner in bed. Go to bed early; switch off your phones! Note, there is no mention of "sleep," but just go to bed early for some under-the-sheets fun.
As for a dinner outside, choose a restaurant with a view of the city skyline or a riverfront, a scenic resort or getaway, helicopter tour of the town or a nearby area, re-visit a place that gave significant memories, go camping, or book a shikhara. Probably take a short walk before dinner.
5. Pick up
Pick her from work or go to the airport to receive her if she's been traveling and surprise her. Get the chauffeur to lead her to the car, while you wait inside with cake/cupcakes and champagne/wine. If the distance from home to the dining area is short, book a horse-drawn carriage, if available.
6. The dress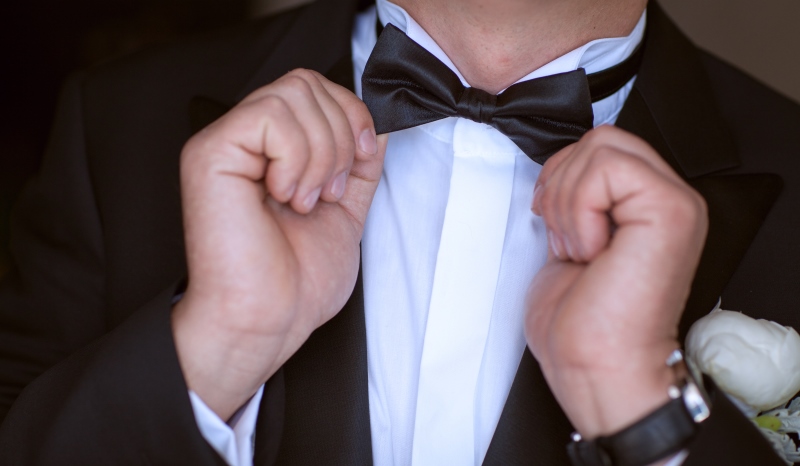 Image source: Shutterstock
Gift her a dress for the special evening. As clichéd as it sounds, it must be done at least once in their lifetime by every man! If it's a formal outing, your suit or blazer with a tie is absolutely required. Else, put on something casual but nice. Take a good bath, don an attractive perfume, she will be joyfully flattered by the effort.
7. Etiquette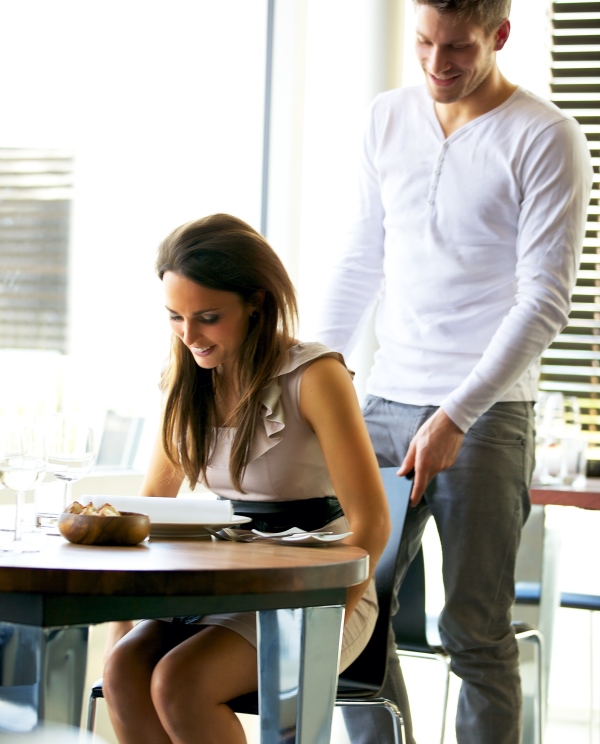 Image source: Shutterstock
Do not skip any dinner-date etiquette. Stand up when your wife gets up or leaves to powder her nose. Hold the door for her, pull out the chair for her to sit, and smile. Most guys do all these only when someone is looking or if it's a special occasion. In fact, men need to imbibe these qualities and practice them in their everyday lives too. Good etiquette and chivalry are two things that most women value in a man, regardless of how empowered they are.
8. A personal touch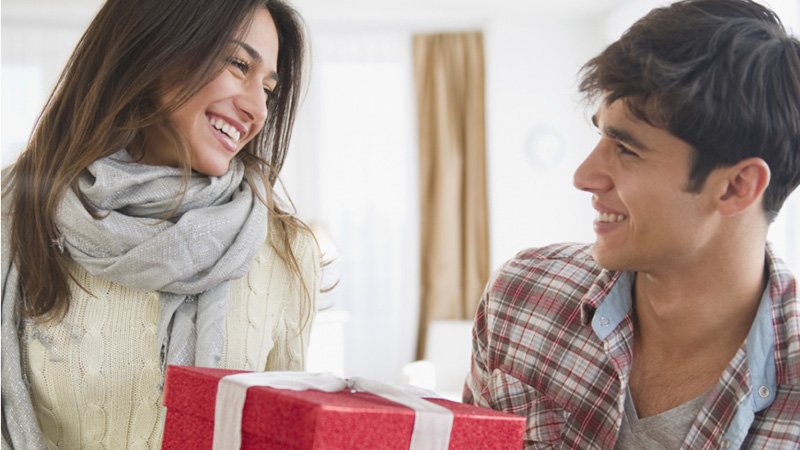 Image source: Shutterstock
Gift her something. Make a photo-book/video/slide-show of your time together. Dostana-style, you can add an instantly-clicked picture on the last page of the book. Or write her a love-letter; don't hold back. Play a song that holds meaning in your lives and ask her to dance with you. If you are brave enough and have the voice for it, sing to her!
9. Selfless, eh?
To make it a special evening for her, do something that she likes but you do not. Be it attending a musical, or going for a typical YRF-produced rom-com. Make it an enjoyable evening for that special woman in your life.
10. How to inform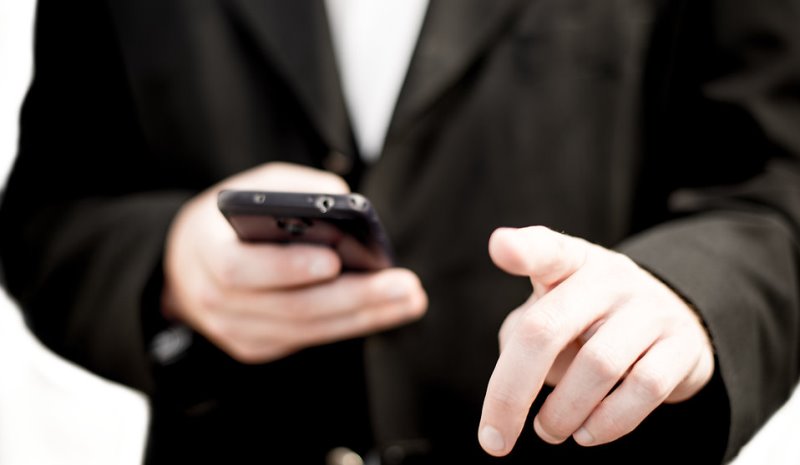 Image source: Google, copyright-free image under Creative Commons License
Keep it a surprise as far as possible. We all love surprises! (Well, normal humans do.) Leave a note in the post-box if she checks it as a habit on returning home. Or a dress on the bed (yes, clichéd, but no less romantic) with a note. Or send her mysterious step-by-step texts, leading up to the actual dinner date. Or just show up outside her office to pick her up.
So go all out, and make it a very special evening for the beautiful lady in your life. And express your love to her uninhibitedly, for women love grand gestures, however clichéd or embarrassing they might think they are.
Featured image source: Shutterstock
Summary
Article Name
10 easy steps to impress your wife with a romantic dinner
Author
Description
There is always the need to keep the romance alive in a relationship. What better way than to arrange a romantic dinner for your wife? Follow these 10 easy steps.