Chafing between the thighs is undoubtedly the worst. But, we already know that, right?! So let's talk about how to prevent thigh chafing. And trust me, you do not need a thigh gap for the same! In case you are already at the slightly uncomfortable point, and your thighs have begun chafing, we have spelt out ways of treating the damage done in the last section of this article on how to prevent thigh chafing.
Before we try solving any issue, health-related or otherwise, it is important we understand the problem that is. So let us first look into what cause thighs to chafe. We have narrowed the reasons to 3 most commonly occurring ones.
---
Suggested read: 10 easy exercise tips on how to get slimmer thighs
---
a. Chafing due to excessive friction
The rubbing between the thighs could be because of jogging, working out or even wearing a tight pair of jeans. These activities make the skin around the thighs weak, and that is when they start to chafe.
b. Chafing due to excessive sweating
Even sweating profusely results in thigh chafing. Moisture erodes the top layer of the skin, or the epidermis, leaving it irritated and upset.
c. Inconvenient workout gear
Not donning the right kind of exercise clothing makes your thighs pay in a real bad way! All those rep moves will only add to the chafing of the thighs. You, of course, do not want to spend an hour on the treadmill if it leaves you with raw and red skin, right?!
Now that we are clear about the causes, let us focus our attention on how to prevent thigh chafing. Here are 10 ways you can go about that.
1. By using a super-lubricating balm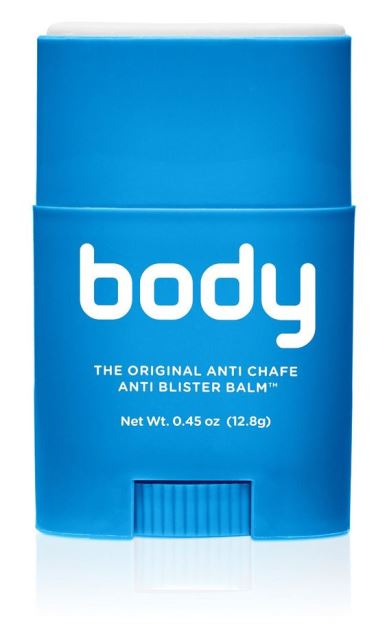 Image source: Pinterest
Speaking of anti-chafing balms for the thighs, Body brings us the best product. It is made of organic, plant-derived constituent elements. These ingredients are completely hypoallergenic. They also prevent the pores from clogging. Nonetheless, they are extremely effective when it comes to moisturizing and lubricating the skin. They come in an easy-to-apply stick arrangement, which prevents any kind of mess or hassle of any sort. These reasons also make them the best if and when you are traveling. Reviewers suggest that they have tried it on everything, from their thighs to their feet. With this balm, chafing becomes no issue at all, and so you won't be discouraged from undertaking any kind of outdoor activity.
2. Avoid thighs from touching!
Image source: Pinterest
Did that sound strange? Well, let me explain. The best solution when it comes to preventing thighs from chafing is to make certain that you stop them from touching or rubbing against each other. Slipshorts like these are made from smooth fabric, which easily and painlessly glides over itself. Also, since they are stretchable, and will not roll down or ride up, you will not even realize you are wearing them! You can also wear them under dresses or skirts, as they smooth the panty lines. They come in a plethora of colors, so you have nothing to worry about.
3. For waterproof protection, spray a skin lubricant on your thighs!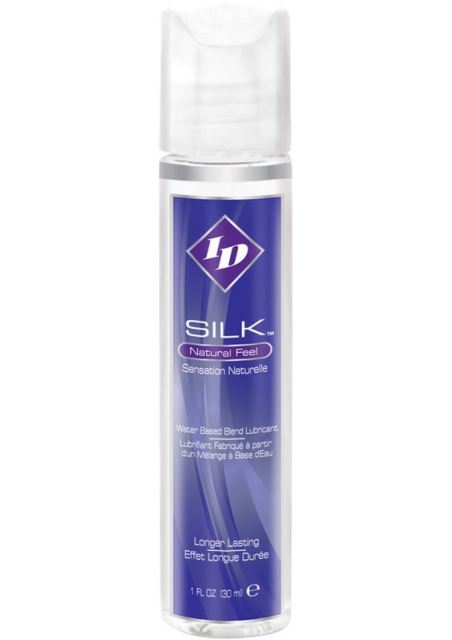 Image source: Pinterest
If you are looking for a solution which is both convenient and waterproof, this is it! A non-chafing spray is a non-greasy option to the other outdated anti-chafing methods. These formulae stand up to both moisture and sweat, and since they are non-staining, you need not worry about any mess. You can also spray these on your underarms and on your heels. Once you spray it, let it settle for a sec, and you are equipped to avoid rashes completely!
4. Donning a comfy fabric that allows the skin to breathe!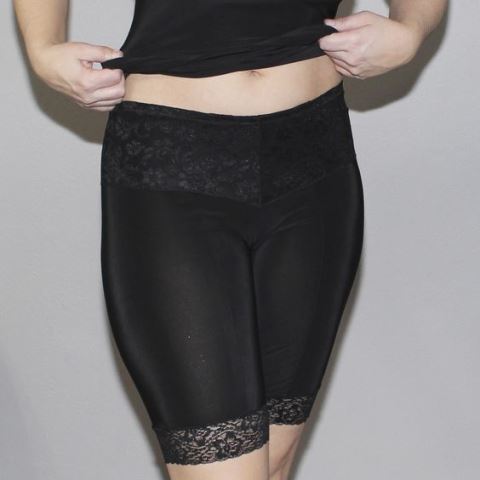 Image source: Pinterest
Lace shortlettes are brilliant when it comes to preventing your thighs from chafing. They are not only lightweight, but also very comfortable. Not pressing too much on your stomach, they check the cutting off of blood circulation. Its quick-drying fabric makes certain it stays put. These shortlettes come in various sizes, from 2X to 4X. They are machine washable, which makes them durable. No wonder they have got such awesome reviews! Someone even mentioned that she wore a pair of these under her wedding dress.
---
Suggested read: 15 stunningly stylish ways to wear thigh high leather boots
---
5. Keeping your workout gear comfortable using an anti-chafe spray!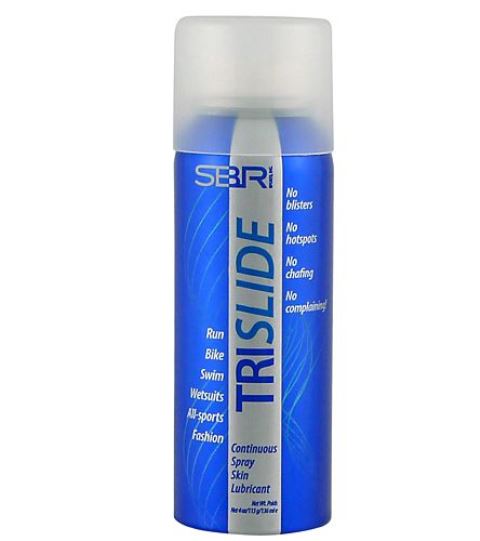 Image source: Pinterest
So you want something that meshes well with your workout wear? You need not look any further since these anti-chafe sprays work wonders with bicycle shorts and even wetsuits. They are generally made for people who bicycle a lot. As they are super gentle and also safe for neoprene, they won't destroy your clothing. These are available in easy-to-apply bottles. As they are mess-free they help you avoid build-ups, offering great protection. Once you start using these sprays, you will not apply anything else.
6. Non-greasy coconut oil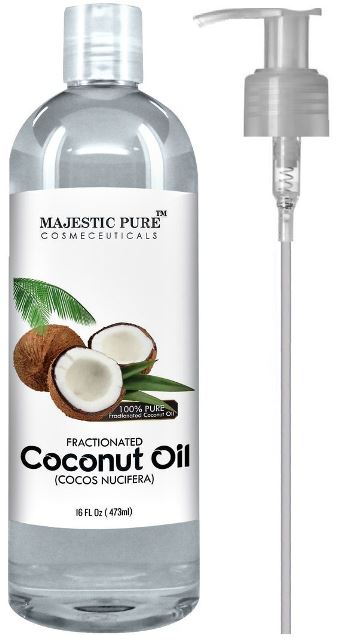 Image source: Pinterest
Coconut oil is a magic potion because of its antibacterial properties. It also contains proteins and fatty acids which heal the skin, leaving it nourished. In its natural form, coconut oil is great for preventing the thighs from chafing. However, as coconut oil hardens at room temperature, it becomes very messy to apply. It is also excessively greasy on the skin. The fractionated coconut oil takes the long chain triglycerides out and is, thus, non-greasy and also in liquid state. It maintains it healing and lubricating qualities, in case you were worried! As it comes in a pump bottle, you can easily apply it. It is also non-staining because the skin absorbs it almost immediately. Since the oil is odorless, it is very safe for irritated skin.
7. Diaper rash cream for adults!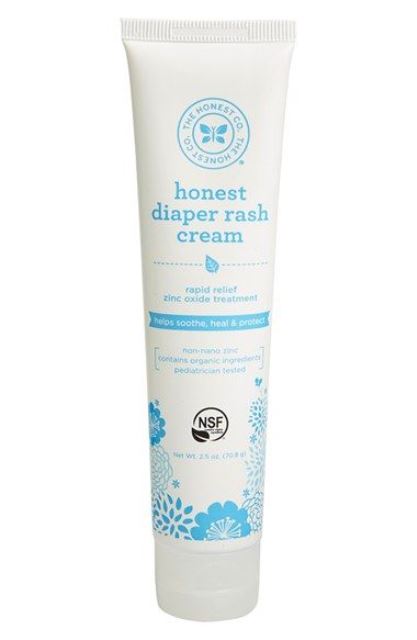 Image source: Pinterest
Don't get perplexed! You read that right. Though diaper rash cream is actually for toddlers, it also works unbelievably in preventing thigh chafing, the reason being that it is constituted of all organic elements like cocoa butter, olive oil, coconut oil, chamomile, and beeswax. It not only prevents chafing of all kinds, but also is hypoallergenic and extremely gentle. If you have sensitive skin, like mine, this is your wonder drug!
8.  Adjustable bandelettes for higher hemlines!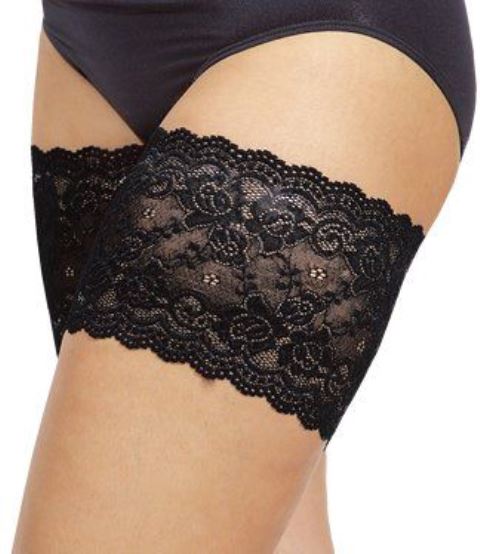 Image source: Pinterest
Adjustable fabric swatches are great if you wear higher hemlines. These allow you to tailor where they fit on the thigh. The bandelettes are lacy which make them really pretty, and are also available in as many as 13 colors. The dual silicone lines at both the top and the bottom make them an anti-chafe band. They stay put right where you place them.
9. Shea butter for lubrication and nourishment of the skin!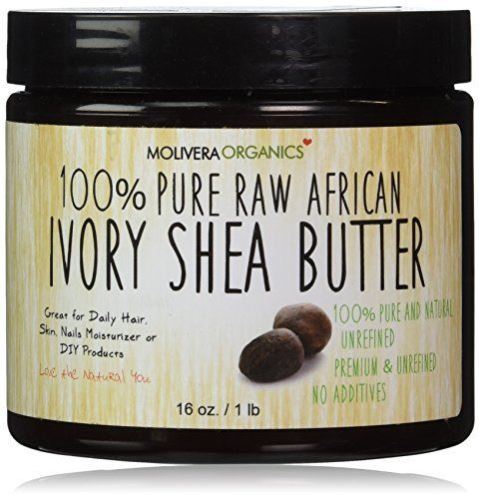 Image source: Pinterest
Pure shea butter is another amazing all-organic remedy. It is cent percent natural, rich in vitamins A, D, E, and F. It soothes irritated patches and helps moisturize the affected thighs, by lubricating the skin around it and prevent chafing in the future. You can easily find unrefined shea butter from Molivera Organics. It has health-lending properties because of its antioxidants and necessary fatty acids and other nutrients. It comes in the form of cream, but stays totally intact after application. It is awesome for skin of all types, but absolutely recommended for sensitive skin in particular. The lovely fragrance and silky texture make it my personal favorite!
10. Organic aloe vera for moisturizing and also healing the skin!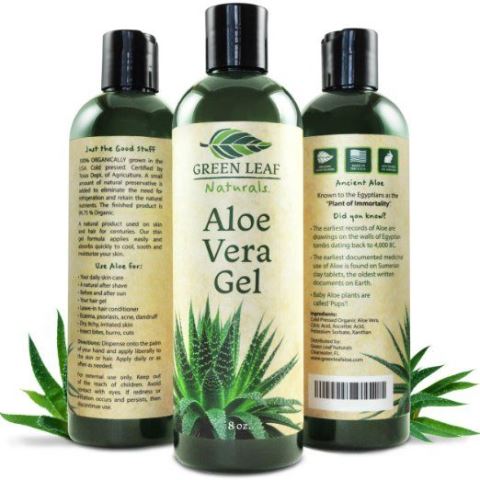 Image source: Pinterest
Aloe vera, as we all know, has soothing properties as it is anti-inflammatory. These qualities make it great for the purpose of chafe prevention. Also, if your thighs have already chaffed, aloe vera heals it real quick! Organic aloe vera is a fantastic solution because more than almost 100 percent of it is aloe. No chemicals, alcohol, added colors, synthetic fragrances or other harsh chemicals are used in its production. As it is available in squeeze bottles, the gel can be applied easily on your skin. It is smooth and is effortlessly absorbed by the skin. The area is naturally lubricated and turned chafe-free!
---
Suggested read: 6 easy ways to get rid of stretch marks on visible areas of arms, thighs, and waist
---
The above ten products help prevent your thighs from chafing. But what if the damage is already done? Here are some tricks to help you heal the affected area.
a. Use a mild cleanser on your chaffed thighs. Avoid scrubs at all cost. Also, harsh soaps do more damage and no good. They aggravate the skin and make the situation down there ten times worse. Use lukewarm water to wash yourself. A bar with neutral pH and moisturizing qualities will be great.
b. If your thighs have already chafed, make sure you wear only breathable cotton clothes. Opt for cotton pyjamas, both during the day and also at night time. A nightgown can also be a good option, provided it is cotton too, according to Dr. Kavita Mariwalla, who is a dermatologic surgeon at Stony Brook Hospital, New York.
c. Vaseline, the plain and not perfumed one, will help you comfort, protect, and heal your chafed skin. Avoid any cream that has artificial fragrance because it will irritate the skin more.
d. Go to a skin specialist. If you think things don't look that good, we suggest you see a doctor. We don't want the rash to spread, do we? A medicated cream would do the trick.
That is a wrap from us on how to prevent thigh chafing. For more on health, beauty, and fitness, subscribe to our daily newsletter today!
Featured image source: Pinterest
Summary

Article Name
12 Effective Tips On How To Prevent Thigh Chafing
Author
Description
How to prevent thigh chafing is an important hack to keep in your arsenal of basic skin care.