Thigh high leather boots, surprisingly, are the more versatile ones in the category of boots. They look amazing with jeans and add a layer of style to your everyday casual attire with their contrasting colors and their tight fit, that enhances your leg length. Another great thing about thigh high boots is that they can be worn all through the year! Come rain or shine, you can trust your pair of thigh high boots to amp up your style quotient and look like an absolute diva.
Whether it's a pair of cut-off shorts or a mini dress, thigh high leather boots go hand in hand with all of these outfits. For those of you out there who are still hesitant about trying on this much-adored fashion trend, fret not for we have compiled a list-after hours of work and research to help you change your mind.
---
Suggested read: 24 amazing suede ankle boots we are dying to wear
---
Get ready to turn heads the next time you walk out the door flaunting your thigh high boots. Here are 15 uber stylish ways you can wear your thigh high leather boots:
1. With an LBD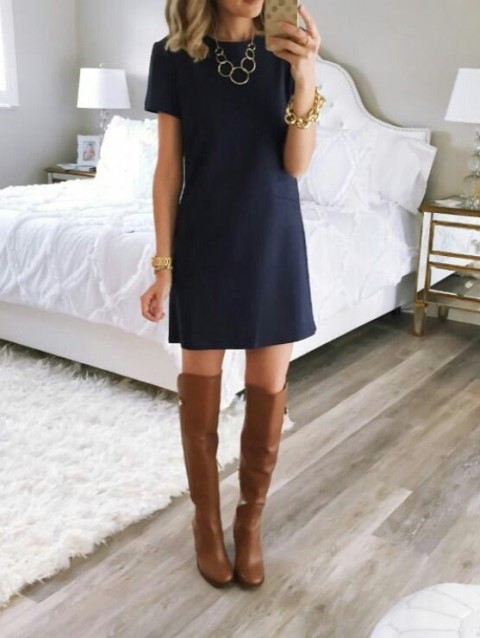 Image source: Pinterest
Pair your favorite LBD with a pair of tan thigh high boots. You get to kill two birds with one stone by sporting two favorite evergreen trends at the same time. Wear some chunky jewelry to spice things up, and you're ready to hit the Friday night scenes with this top-notch outfit. Try this outfit to look fun and sophisticated at the same time.
2. With an oversized sweater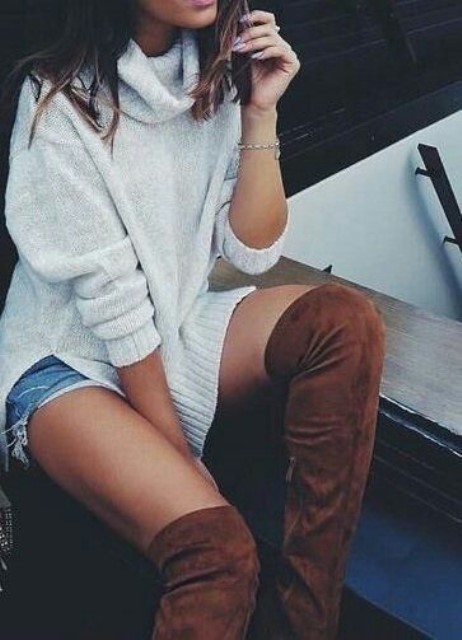 Image source: Pinterest
We are absolutely in love with this outfit! A snug oversized sweater with distressed hemline shorts and brown suede thigh high boots is that perfect fall outfit we've all been dying to show off. It's comfortable, casual chic, and a perfect ten on style levels. This outfit is perfect for a lazy day in a café or at the park while Instagramming those beautiful autumn leaves. Street style at its very best, don't you think?
3. With a graphic tee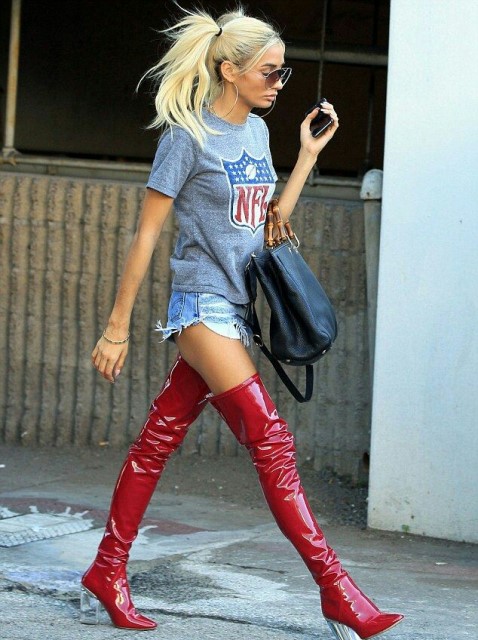 Image source: Pinterest
This one is for all you bravehearts out there who're willing to try this rather precarious style. A pair of chili red latex boots could easily spell a horrendous fashion faux pas; but if done right, it can do wonders and how! Wear them with very short shorts and a casual graphic tee. The boots should be the highlight, the eye-catcher of your outfit; nothing else. This makes you look edgy and you come off as someone who's not afraid to take a few risks in order to nail their outfit. Rest assured you're going to make a lot of other fashion lovers jealous who play it too safe to try something new!
4. With a military jacket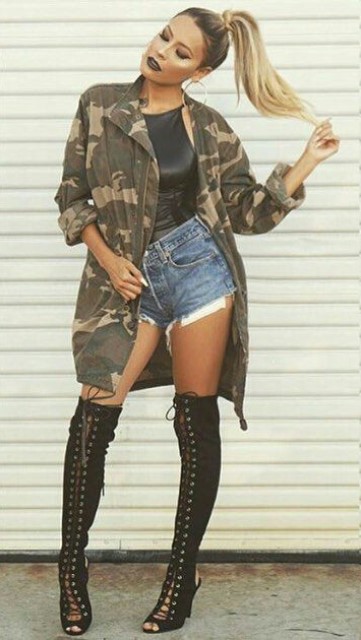 Image source: Pinterest
Go grunge with these black laced up, peep toe thigh high booties. They're oozing with glamour and look unprecedentedly sexy. Denim shorts and a figure-hugging top are a perfect match for these boots. What elevates the outfit further and sets it apart from the rest is that military style jacket, and we so love it! Wear a dark lipstick and heavy eye makeup to seal the deal.
5. With high-waisted skinny jeans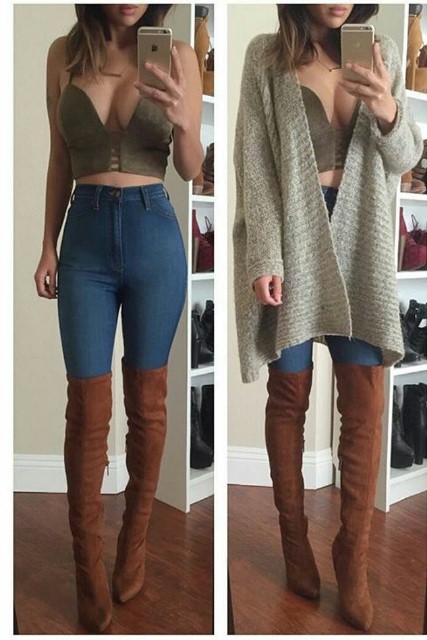 Image source: Pinterest
We've already established that thigh high boots and denims are a match made in heaven; and this outfit just goes on to prove us right. A tan pair of thigh boots looks so very smart with a pair of high-waisted skinny jeans like the one shown in the image. Bonus points if the jeans are dark washed! Pair them with a midriff baring tight top and put on a snug, oversized woolen shrug, in case there's a nip in the air. This is a perfect casual chic outfit to make you look your best as you step out into the world.
6. With a mini dress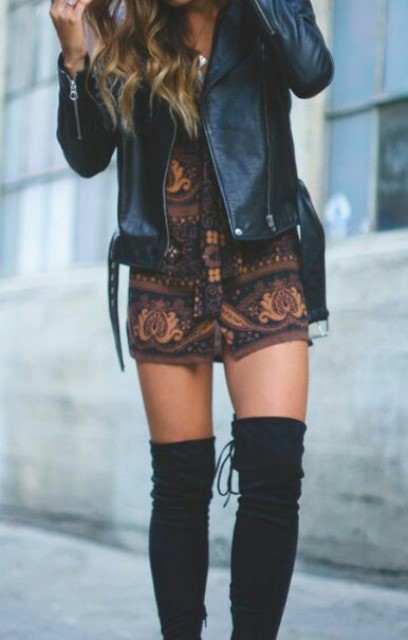 Image source: Pinterest
We're forever obsessing over boho chic trends, and this next outfit idea just goes on to further this obsession. Boho printed mini dress. Check. Leather jacket which adds a tinge of badassery to this otherwise flirty outfit? Check. Black suede thigh high boots? Check. Now tell us, what could possibly be better than this? This attire will leave you feeling confident and ready to carpe that diem! We promise.
7. With an oversized sweater dress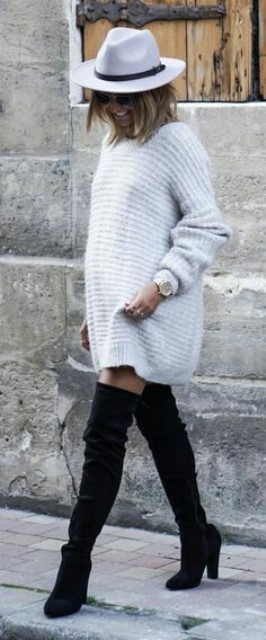 Image source: Pinterest
Thigh high boots are ideal for when it gets chilly but you're unable to resist flaunting a bit of skin. These black heeled thigh high boots can be worn with an oversized sweater dress to nail that winter look. This outfit is comfortable and enables you to rock the off-duty look. Instead of making it look plain and boring, wear a cute hat and a sparkly watch to add that much-needed spunk to your attire.
---
Suggested read: 15 stunning tips and tricks to wear boyfriend jeans with panache
---
8. With a faux fur dress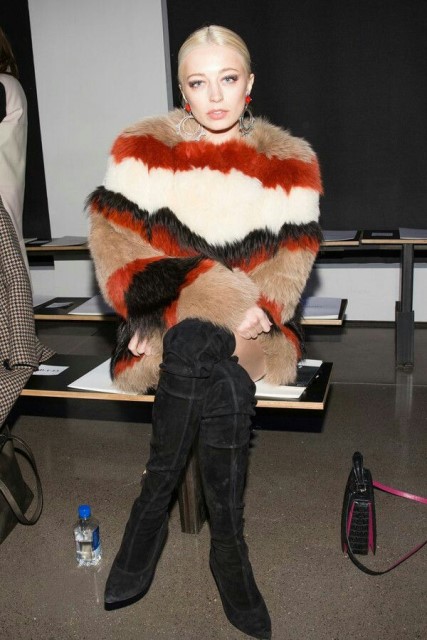 Image source: Pinterest
Take a cue from New York Fashion Week 2016, and wear your thigh high boots with a faux fur dress like this one that model Caroline Vreeland is effortlessly pulling off. Minimal makeup is key in order to highlight the dress and the boots (whose colors have been cleverly contrasted), and to pull off that "straight off the runway" look we all wish for.
9. With a poncho dress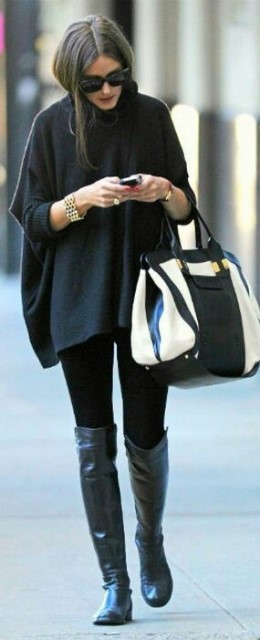 Image source: Pinterest
We are truly, madly, deeply in love with the way socialite and style icon, Olivia Palermo, has styled her outfit. This all-black outfit looks resplendent thanks to the oversized poncho dress, black tights, and obviously, her thigh high leather boots. She's smartly broken the monotony of the outfit with her massive tote in white and black.
10. With a shirt dress

Image source: Pinterest
Shirt dresses and thigh high boots are a flattering combination, and this is one such outfit style which is easy to pull off. Pair up grey thigh high boots with soft pastel shaded dresses to get those peppy summer vibes going.
11. With a woolen coat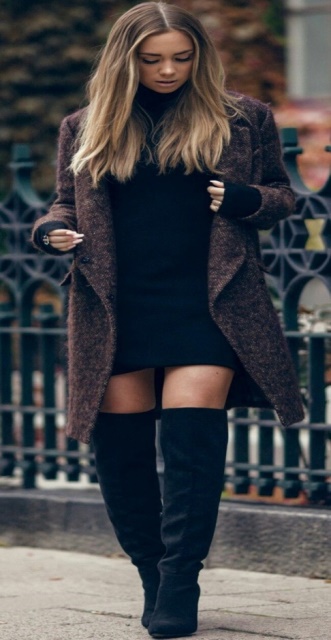 Image source: Pinterest
Here's another LBD and thigh high boots combination that we are swooning over. This one looks even more elegant and classy all thanks to this woolen coat and the fingerless gloves. Keep yourself warm in winter days and make a bold fashion statement at the same time with this attire. This outfit is perfect for those informal office meetings or dinner parties.
12. With a floral print mini dress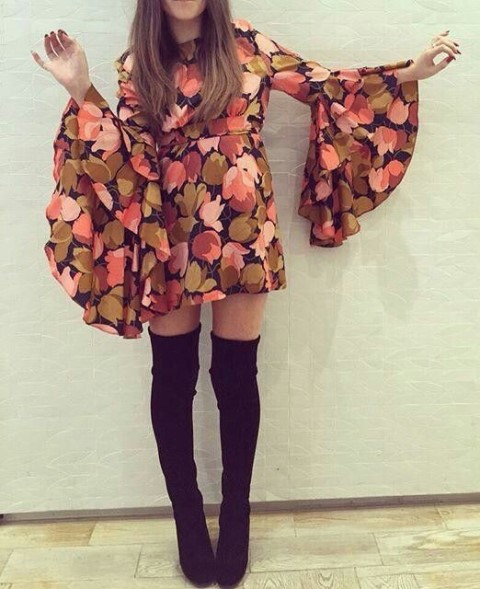 Image source: Pinterest
This outfit is unabashedly flirty and fun; and we love it. Floral prints have this ability to brighten up our day, and that is exactly what this dress does. The umbrella sleeves are super fun and boho. Wear floral mini dresses with flat or heeled thigh high boots in order to look like Spring personified.
13. With a leather mini skirt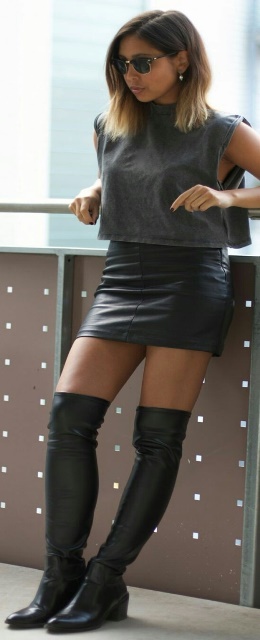 Image source: Pinterest
This one's for all you leather lovers. This black-on-black outfit consisting of leather thigh high boots along with a muscle tee and leather mini skirt is a representation of not just your dark, dead soul, but also is fantastically biker chic and bold. We'd recommend aviator sunglasses to get those heads turning as you step out. We hope you're taking notes!
14. With skinny jeans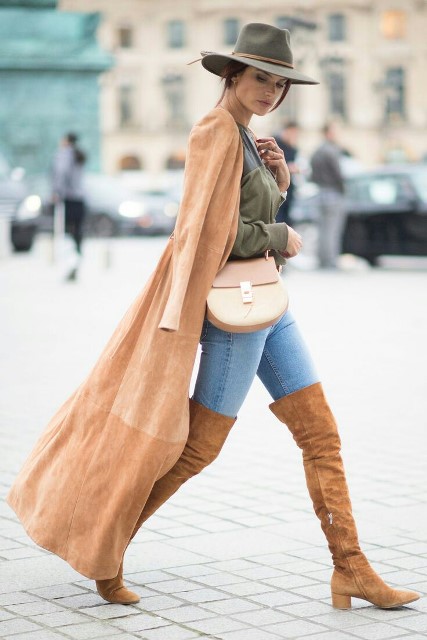 Image source: Pinterest
We love, love, love how insanely classy and elegant this attire looks. Like we've said earlier, tan thigh high boots and a pair of skinny jeans look supremely stylish when paired together. Add to that a smart, dark colored shirt and a maxi shrug. The combination of the maxi shrug and boots greatly enhance your leg length, giving you the happy illusion of feeling and looking tall. Accessorize with a nude satchel purse and you're runway ready, my friend.
---
Suggested read: 12 must-have fashion apps to have on your phone
---
15. With a turtleneck

Image source: Pinterest
We're guessing that you've already noticed how biased and obsessed with all-black outfits we are. But we're not even sorry, because look. At. This. Outfit. Trust Gigi Hadid to pull off a high-low hemline skirt with thigh high boots. That black turtle neck sweater couldn't get more glamorous and stylish either. We're totally in love with every bit of this attire, if that's what you were wondering.
So, there we go! I'm sure these 15 style tips will get you through your dark days and give you the courage you need to carry those thigh high boots with confidence and elan. Shorts, dresses, oversized sweaters… the list of outfits that you could pair with your beloved over-the-knee boots is endless, and so are the possibilities. Wishing you luck and encouragement for your endeavors in fashion!
Summary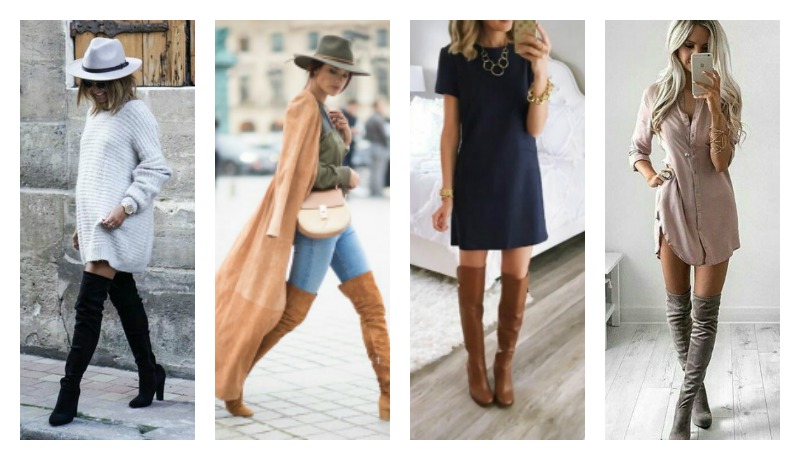 Article Name
15 Stunningly Stylish Ways To Wear Thigh High Leather Boots
Author
Description
Thigh high leather boots are THE hottest trend you need to follow this season!