The winter season is invigorating, isn't it? I love it, because finally, I can team my favorite pair of leather boots and skinny jeans, with the red hi-neck I bought 4 months back! But though fall and winter are a fashionista's much-adored seasons, they, especially the latter, can wreak havoc on the skin, by absorbing all the moisture away!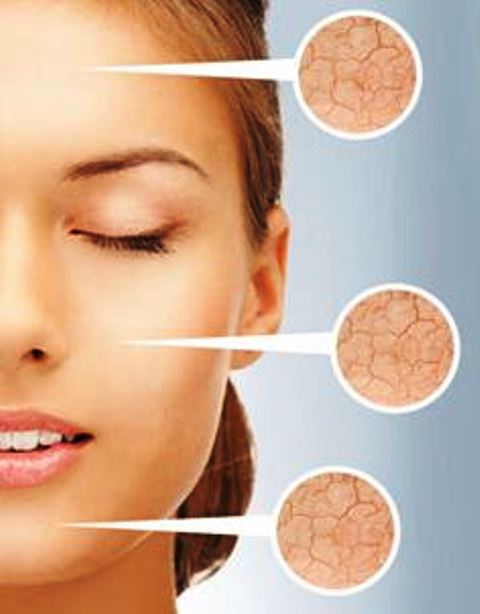 Image source: Pinterest 
But that's me in the winters. Do you feel like that throughout the year? Well then, your skin is in need of a drink, and we are here with what you crave the most right now: A carefully designed skin care routine for dry skin. Remember, Winter is Coming!
---
Suggested read: 6 must-know winter skin care tips for dry skin
---
Signs you have a dry skin
You have some flaky patches on your skin that disappear when you apply rich moisturizers.
The pores on your skin are not visible since your skin is light-textured.
You have fine expression lines along the corners of your eyes. These lines seem to have come to stay as they don't disappear, no matter what you do.
Your skin around the neck area and cheeks give you the creeps.
For your skin to breathe in the oxygen, which is very vital for it to be healthy, it is essential you keep it clean all through. The cells of your skin have high content of moisture and water, which decreases gradually with age because of various hormonal and nutritional deficiencies. As the moisture glands of our skin become weak, our skin wrinkles very early. We hardly realize this but our dry skin requires water more than it needs oil.
If your skin is excessively dry, you need a skin routine particularly designed to lend your skin the moisture it has lost. In addition to this, you also need to make sure you pledge to a balanced diet, sleep around 7-8 hours a day, and exercise for at least 45 minutes a day in fresh air, to stop your skin from drying up further.
Skin care routine for dry skin
1. Cleansing
The first thing on your skin care routine has to be cleansing. Most of us use some or the other cosmetic on our skin, and so, this step becomes crucial. To remove any kind of debris that is clogging your pores and stopping them from breathing, you need a proper cleanser. However, make sure it does not leave your skin drier and rid it of all its natural protective mantle.
Pro-tip: Go for a cactus cleanser, which has a lemon base.
Cactus is the best for hydrating dry skin since it has one of highest water and moisture retaining capacities. It is also a complete onslaught on the wrinkles and the fine lines. Massage the cactus cleanser lightly into your skin. Use a cotton pad to draw upward and outward strokes while massaging. Pay extra attention to areas like the crinkles of the nose, the neck, the ear lobes, and the section under the chin.
It is very important that the cotton wool you use is wet, or else it will absorb all the moisture from your skin, in return. Follow this routine twice a day, once in the morning, and once before you go to sleep. The lemon base of the cleanser will not only enhance the cleansing process, but since lemon is a natural bleach, the skin after a couple of days of the routine, will start looking clearer.
2. Exfoliating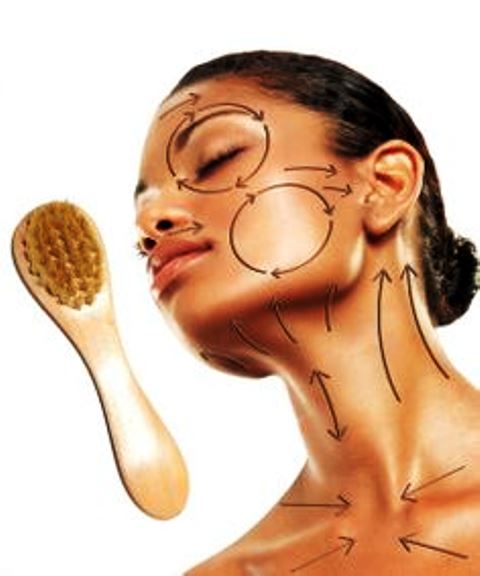 Image source: Pinterest 
For dry skin, exfoliation is very important since patches of dead skin cells not only make you look less pretty than you are, but they also prevent any moisturizer from penetrating deep into your skin, and if that does not happen, you can never hydrate your it, right? Therefore, you need to give your skin its daily dose of scrubbing without overdoing it. Use an electric face brush that oscillates to exfoliate.
According to the skin expert, Mariwalla,
"It (a face brush) makes for a more thorough cleanse, but also gently buffs off dead skin cells. By using it every day, you're preventing the build-up of dry skin."
For an extra dose of hydration use a cream or a non-soap cleanser.
3. Toning
Toning, the third step in the skin care routine, is usually most neglected, and wrongly so! It is, to say the least, a critical follow-up to the process of cleansing and exfoliating. Toning helps you get rid of the scrub residue, if any, and allows to melt away dirt. It also kindles surface circulation. Use a skin tonic lotion for the toning process.
In a dish, pour half a bottle of skin tonic. Now take a few pads of cotton wool, and soak them in the tonic dish. Then keep the dish in the refrigerator. This way, the cotton pads will always be there in your fridge, chilled and ready to be patted onto the face.
Before you throw away the cotton pad, press it and roll upward on your face and your neck.
A skin tonic having a mint and honey base is excellent when it comes to parched but delicate skin. The toning process is done to support the skin. It also helps tighten the skin, especially, around the eyes and along the jawline.
---
Suggested read: A complete guide on how to apply makeup for pale skin
---
4. Nourishing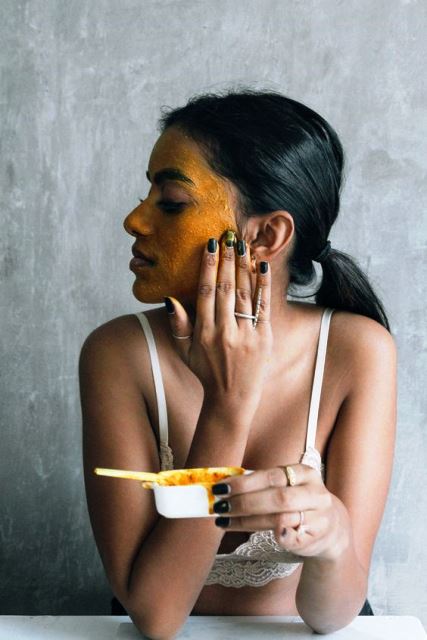 Image source: Pinterest 
 To prevent dryness of the skin, nourishing becomes a very vital part of the skin care regime. When we sleep, our skin works hard to replace the dead skin cells with brand new ones. So, sleeping is very important not only to de-stress yourself, but also for your skin, because at night there are no UV-rays or even dust to bother you. Your dermal tissues also need relaxation so that it can be nourished and topped off without any outside disturbances.
Every night, before you hit the sack, apply a nourishing cream, if possible, with an orange base. Smooth it upwards over your face. From the chin onwards, go down with your strokes. It will not only relax the tense muscles but will also improve blood circulation. A nurturing cream, with Vitamin E in it, is also very good for dry skin care.
The area around your eyes require special attention. We do not have sebaceous glands in the area around our eyes, and so, there is no supply of oil to the skin cells there. Hence, this section of our face suffers badly, in terms of dryness, and is often the first to develop fine lines and wrinkles. It also grows dark very fast. To avoid this, use an almond-lanolin cream. Apply it around the corners of the eyes, inwards and outwards, very lightly.
Before you go off to sleep, remove the cream around your eyes carefully. If you keep it on through the night, you are sure to have puffy and swollen lids the next time, because the eyes should not be masked with cream for more than 8 hours. Since almond is a natural bleach, like lemon, it will help lighten your dark circles, if any. The lanolin in the nourishing cream will offer the necessary oils to the skin around your eyes. The cream is also brilliant for dry and/or dark lips.
Last of all, you need to keep in mind that harsh soaps and cleansing elements, such as chlorine in water have horrible drying effects on the skin. To cope with this and have nourished, beautiful skin, you have to indulge in a special pre-bath cream. A cream that has turmeric would be a great pick. Apply it on your face before you have your bath, or wash your face. This will help you wash away the damaging and drying effects of chlorinated water and soap.
A mild vanishing cream will go a long way in defending our skin from getting dry and dehydrated during the day.
Things to keep in mind if you have dry skin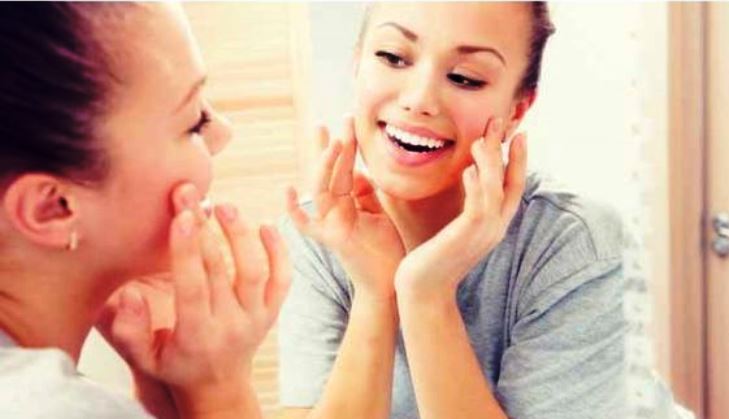 Image source: Pinterest 
In winters, use a humidifier. Setting it to about 60 per cent should be good enough to replenish your skin.
Don't shower longer than 10 minutes. When you bathe more than that, there is a chance you will strip away your skin's oil layer. Also, always use lukewarm water and not hot water for your bath, if you don't want your natural oils to be washed away.
Stop using harsh soaps. Rather consider soap-free cleaning agents like Cetaphil and Aquanil. Also avoid perfumed soaps and products with alcohol in them.
Avoid bath scrubs and washcloths. If you are skeptical about giving that up totally, use a light touch alone. Likewise, pat and blot, but never rub when drying your body with a towel.
Apply a moisturizing cream immediately after you have a bath. The cream will plug the space in your skin cells and will seal the moisture while the skin is still a little wet.
NEVER SCRATCH! A moisturizer will help you control the itching. If that doesn't work, use a cold pack to relieve yourself.
---
Suggested read: 12 superb home remedies to get rid of uneven skin tone
---
This skin care routine for dry skin will help you rehydrate that beautiful skin of yours, and make sure you do not become the victim of seasonal change. With all these tips, you can easily make the best of the upcoming fall and winter. Before ending I would like to hark on one point again, and that is, always remember, hydrated skin is happy skin!
Next up in this space is the skin care routine for oily skin. So, stay tuned. Also, if you have the FOMO, subscribe to our daily newsletter today! Bye-bye!
Featured image source: Pinterest 
Summary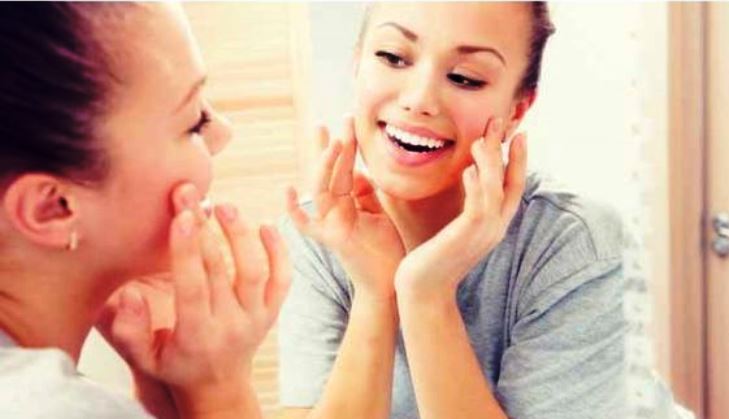 Article Name
The Perfect Skin Care Routine For Dry Skin
Author
Description
Does your skin feel dry and stripped of its natural oils? With our skin care routine for dry skin, you can give yourself the gift of moisture this season!