In my quest for the most fun bridal shower games, I scoured through millions of ideas for games that would be apt for all the guests at Emily's bridal shower. Breaking the ice in an all-ages group, with a bunch of people who haven't known of each other's existence until before the party is a herculean feat. So skipping the games for some drab introductions or forced conversations – nah! Fun bridal shower games that have all guests laughing until their stomachs hurt or share anecdotes about the bride and groom-to-be that have the whole party break into animated conversation were the right way to go.
But choosing an eclectic mix of classic, fun, and unique bridal shower games with a personalized spin and a way of syncing-in with all the guests didn't come easy! In fact, my own hyperactive mind and brilliant organizational skills came back to bite me in the rear, as I sat down to shortlist the top five games from the list of over fifty fun bridal shower games ideas that I had noted in my jumbo binder! :/
Nonetheless, I did manage to pick five and boy, was the shower a popular party! I still run into acquaintances who cannot stop raving about the shower – and the games!
---
Suggested read: Amazing bridal shower themes for one helluva popular shower
---
Since I already handed down some amazing bridal shower ideas last week, I decided that some fun bridal shower games would make the perfect follow-up. So here's a list of my favorite bridal shower games or hen-do games – whatever name you wanna call it:
1. Bridal pictionary
This is simple and fun. Pen down the wedding related phrases on slips of paper and put them in a bowl. Then, divide the guests into two teams. Each team – and team member – takes turns pulling a piece of paper from the bowl. The person who pulls must be the artist for that round. He or she draws the image (without writing words or letters) within a 60-second time limit. If the artist's team doesn't guess the correct answer, the other team gets a shot. The team who guesses the most sayings correctly wins.
2. Couple's roast
Image source: Google, copyright-free image under Creative Commons License
This one is really really fun! For couples who are each other's best friends and have a good hold on laughing with each other whilst being able to laugh at themselves are the perfect contestants for the game! While you may ask every guest to prepare their roasts in advance, the hilarity that would ensue would be the REAL fun of the roast! Of course, one may try variations and surprise add-ons like asking guests to act out scenarios as the couple would – say, in a situation where the bride tells the groom that her mother is coming over for three months or that the groom cannot take her shopping as he has plans with the guys! When the couple's quirky tics and mannerisms come off well, the couple can rate the performing duo on a scale of 1-10. The highest scoring duo wins!
3. Two truths and a lie
A great ice-breaker, this shall help people get to know each other. Have your guests narrate anecdotes about the couple, two of which will be true while one will be a lie! You wouldn't believe the number of unbelievable instances that turn out to be true! 😉
4. The scavenger hunt
A twist on the classic hunt, this can really be zany, raunchy, romantic or however you like it! 😉 For example, have a honeymoon hunt planned for the couple. Hide sexy items like fuzzy handcuffs, body paint, and lacy panties all over (or in a specific area). Divide guests into teams, give them a list and set a time limit for them to try to find all the items. Whichever team finds the most items, wins! For a tricky twist, give guests a list of clues, rather than items. And, if you're in a smaller space, just play the game with blindfolds. Clear the area of breakables and have everyone feel around the room to find the sexy objects. Inevitably, guests end up feeling each other as much as the items. The person who 'feels up' the most items wins. Maybe, we can allow the couple some other kind of *feeling* 😉
---
Suggested read: Things to keep in mind while finding the perfect wedding venue
---
5. He Says, She says
You will have to do some homework to have this one at the party. Ask the bride and groom their thoughts on love, marriage, and their relationship. Then, have the guests guess whose quote it must have been! For a fun twist, you may have guests raise mustache or lip pops based on their guess!  Of course, the one with the most correct guesses takes home a prize!
6. I have never…
Now, this is a game we've all played so many times! And yet, there is something about this one that never gets old! Maybe it is because the conversation keeps flowing as more and more alcohol flows! In either case, it is a game that unfolds quite some surprising facts about who has done what! A good game for any day and anytime – even for a hen-do!
7. Wedding movie charade
Label the slips with wedding movie names. Classics, chick-flicks or even obscure ones! Divide the guests into teams and have them pick a slip and act out the movie name! Each team must guess the movie within three minutes or else the other team gets the chance. The team with maximum correct guesses is the winner!
8. Memory
Have the bride narrate her love story through a video or in person. Then, chip in other games or open presents. After the presents are opened, stump your guests on the 'love story.' Ask questions and do not hesitate to throw in curveballs like how many times did she name her husband-to-be! See whose memory ticks the most! The person who answers the most questions correctly gets a prize!
9. Pass the love story
Each guest gets their chance to exaggerate the "story" of how the couple met and fell in love. All you need is pen and paper for this one! Write out the first line, say where the couple met and then, pass on the paper and pen! Let every guest make his/her quirky addition and then, read out the final output!
---
Suggested read: 14 wedding etiquette dos and don'ts to tide you over the ceremony
---
10. Pin the groom
Have a life-sized poster of the groom fitted on a wall. And then have each guest blindfolded while picking up pushpins from a bowl, which have all been marked with some naughty dares and a lacy confection. Ask the ladies to pin the groom and have fun learning of the several combinations (and raunchy ideas) you have gifted the bride, over and above the underwear! Fun-much? Thought so! 😉
That's all for now. Until another time! Ta!
Featured image source: Google, copyright-free image under Creative Commons License
Summary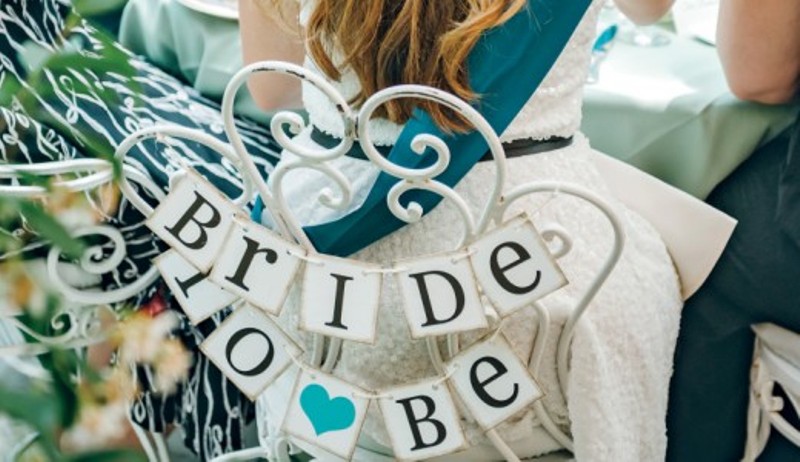 Article Name
10 Fun Bridal Shower Games / Hen-Do Activities
Author
Description
Finding fun bridal shower games that has an all-age group of guests ticking is no longer difficult - with our list of unique bridal shower games!