Shahrukh Khan is one of the biggest superstars that the Hindi film industry has produced. His numerous titles of King Khan, Baadshah of Bollywood, King of Romance, et al are all justified due to his charisma, his acting abilities, and his ability to move and inspire an entire generation of moviegoers with his films. His charm is inimitable, and he is unique in his disposition as the biggest romantic hero to have ever graced the Indian movie screen. Scores of people have grown up watching his films and admiring him as an excellent actor. Shahrukh's onscreen persona is marked by his charms. He is famous for his depiction of the romantic hero. But very few people seem aware of his  funny side, as his comic timing is impeccable.
---
Suggested read: 10 worst SRK movies which were truly terrible but for his charisma
---
To showcase his funny side, here are a few of his funniest dialogues:
1. "Oh ji jhappiyan tak te theek hai … par pappiyan bhi marte rhende hai mainu" from Kabhi Khushi Kabhi Gham, 2001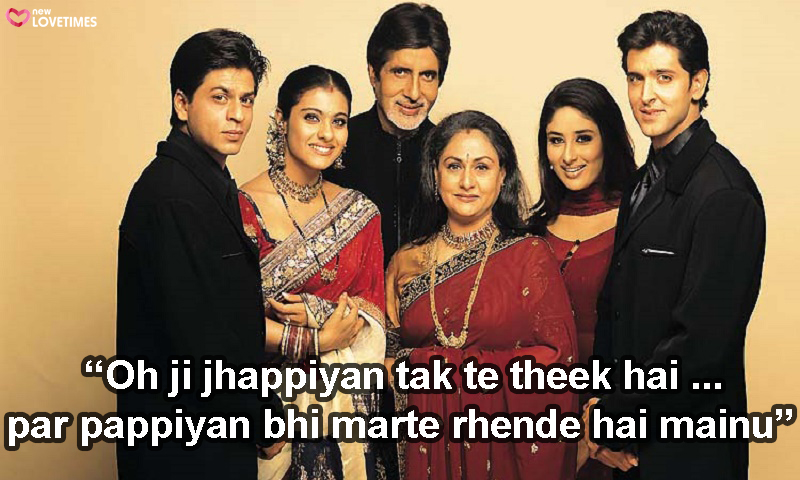 When Mr. Chaddha starts kissing him, Rahul expresses his discomfort with this limerick. Quite witty!
2. "Subah subah shuru ho gayi Madonna" from Kabhi Khushi Kabhi Gham, 2001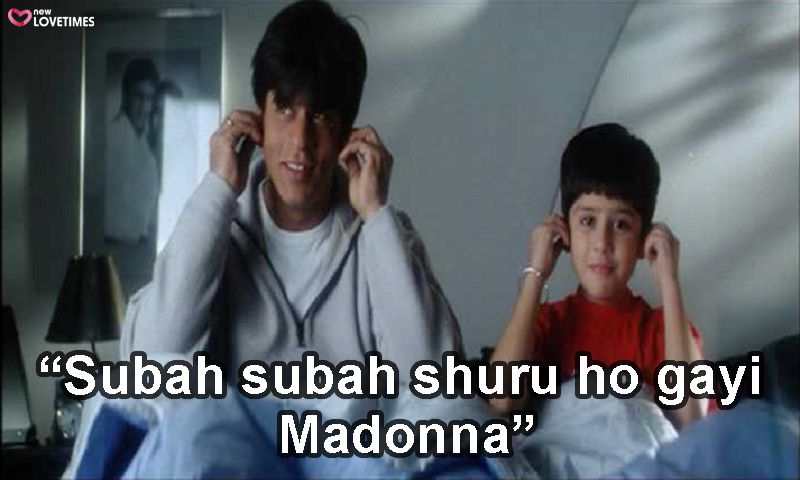 SRK's comic timing is once again on point as he mocks the bhajan which he hears in the morning, once again reiterating his fantastic chemistry with Kajol.
3. "Mein kya karu sweetu agar mein ney Dil Chahta Hai nahi dekhi toh… mujhe hair styles key baarey mein kuchh nahi maaloom" from Kal Ho Na Ho, 2003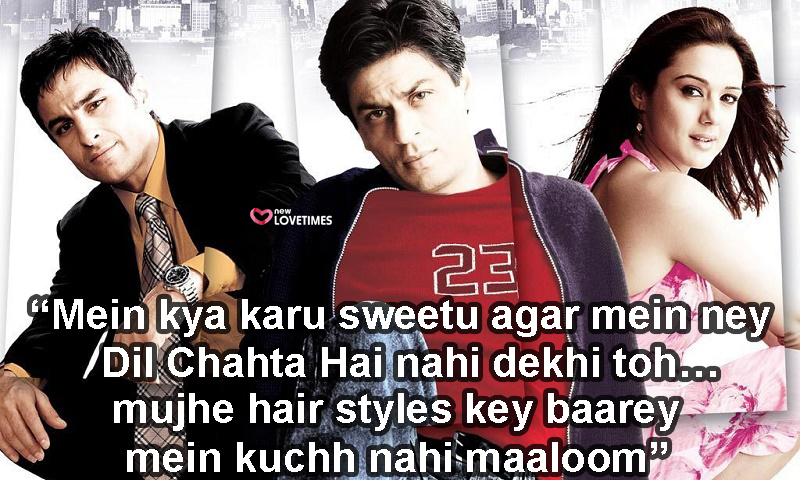 In this hilarious scene, Shahrukh is seen to be slightly satirical about Dil Chahta Hai's style statements and makes a dig at the film.
4. "Tu don ki nahi … donkey ki ladki hai" from Chennai Express, 2013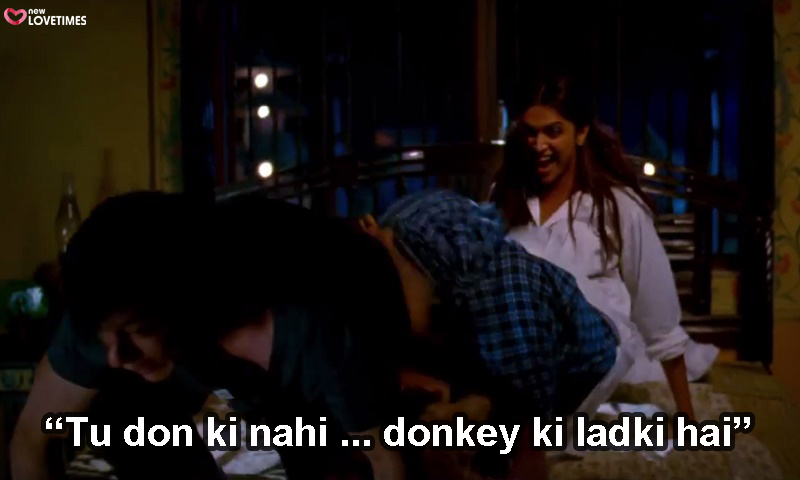 Shahrukh proves that he is a punny man with this witty pun when Deepika kicks him in her sleep in Chennai Express.
5. "Aye hanger pe tange huye kaale kapde" from Chennai Express, 2013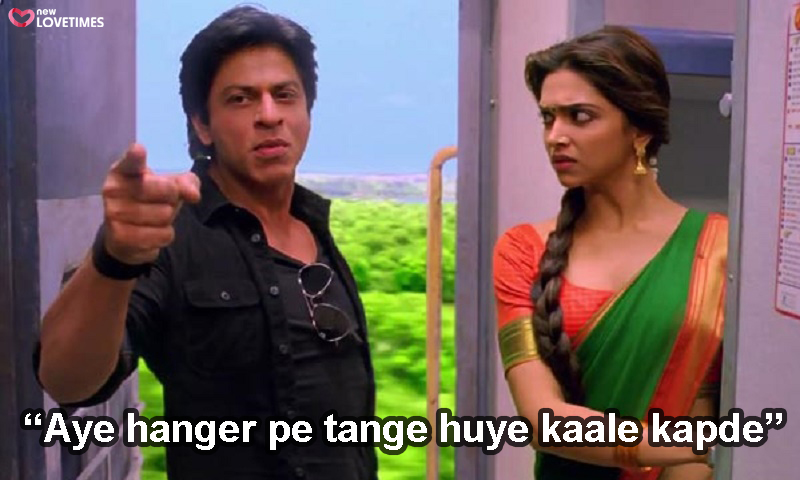 SRK does not hold back on the humor with this hilarious insult.
6. Aman: "Naina, say aaaaa."
Naina: "Aaaa."
Aman: "Kuchh kam hai?"
Naina: "Haan, namak."
Aman: "Tumhari bhi yehi problem hai." from Kal Ho Naa Ho, 2003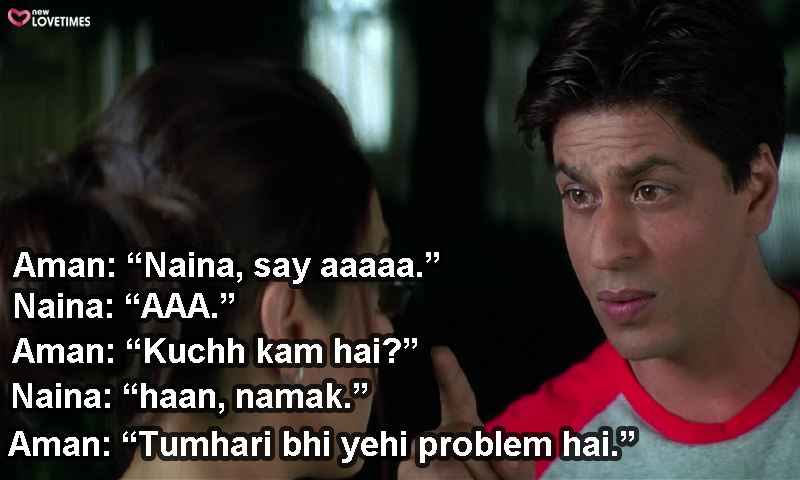 Only someone as witty as Shahrukh can mock an advertisement tagline and deliver it flawlessly in in a movie as a dialogue.
7. "Agar madhubala ke jagah tum hoti toh woh Mughal-e-Azam  nahi flop-e-azam hoti maa FLOP-E-AZAM!" from Om Shanti Om, 2006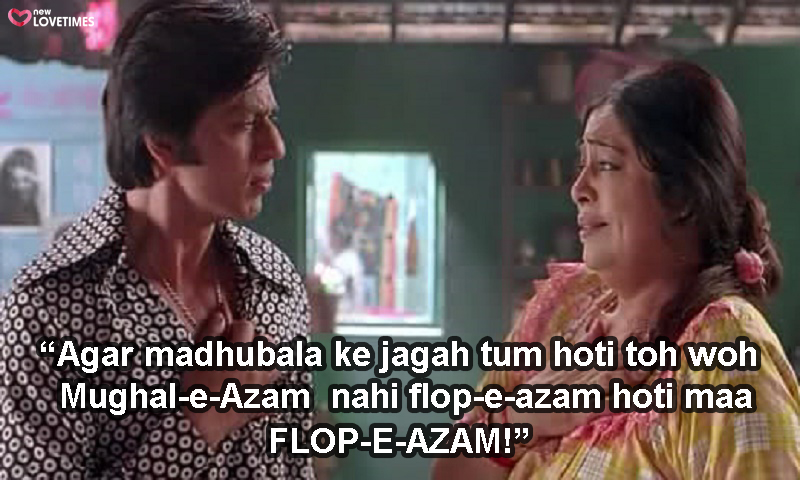 Shahrukh's wit definitely helped Om Shanti Om in becoming a super hit!
8. "Itni badi gaadi hai toh yahi pe soya karo na, humare ghar pe kyun rehte ho?!!" from Kabhi Khushi Kabhi Gham, 2001


Shahrukh's digs at people get funnier, as he makes fun of Hrithik's sports car.
9. "Shove it up your nooooose shuvvvitupyour noooose! Good good! Next time we'll try different holes." from Om Shanti Om, 2007

Even angry Shahrukh is a funny Shahrukh! The superstar left the audiences in splits with this dialogue from Om Shanti Om.
---
Suggested read: 7 most underrated SRK movies you must watch today!
---
10. "Tumhe pata hai Bharat ki abaadi kitni hai?! Sab ko ghar le aaoon toh hum kaha soyenge?!!! Nahi, nahi, main ek kaam karta hoon, main Heathrow chala jaata hoon. Waha jaa key sabko bolunga, 'bhaiya humare ghar pe aajao, humari biwi pagal hai!" from Kabhi Khushi Kabhi Gham, 2001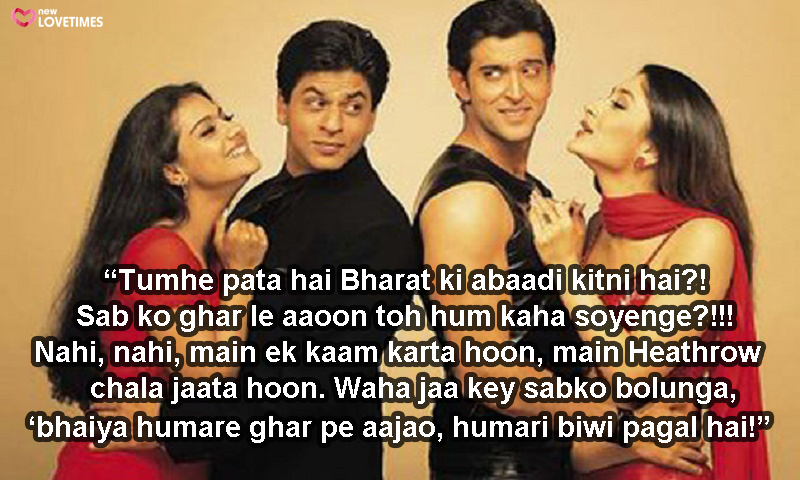 This is probably Shahrukh at his comic best. His rant to Kajol is one of the most famous and iconic scenes from the movie, and proves how funny King Khan can be, even when he is being sarcastic.
Which one of these funny Shahrukh Khan dialogues is your favorite? Tell us in the comments below.
Featured image source: Google, copyright-free image under Creative Commons License
Summary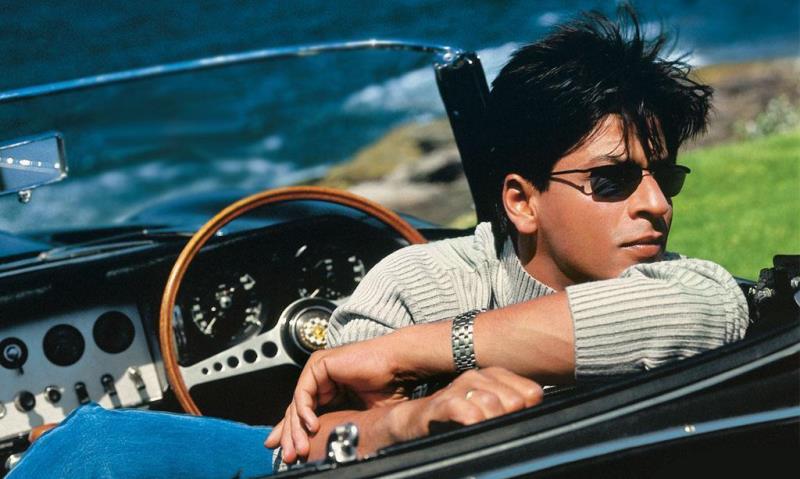 Article Name
10 Funny Shahrukh Khan Dialogues That Show His Comic Timing
Author
Description
Shahrukh Khan is known as the quintessential romantic hero. But he also has an impeccable comic timing. Check out these funny Shahrukh Khan dialogues.