Shahrukh Khan, the King of Romance, has wooed many a gorgeous woman onscreen and off! Charmer that he is, many women drool over him, quite literally! However, the man, who millions of women, in India and abroad, consider their "Baadshah," is truly, madly, deeply, in love with his Begum, Gauri Khan! Though the marriage faced different kinds of gossips and controversies over the years, the two endured each one of them, hand in hand, emerging more in love than ever! As they celebrated 24 years of marriage last week, and have embarked on their silver, NLT plans to cherish the love that has been, through pictures – old and new! These rare Shahrukh Khan photos will speak more than a million words of the couple's journey so far!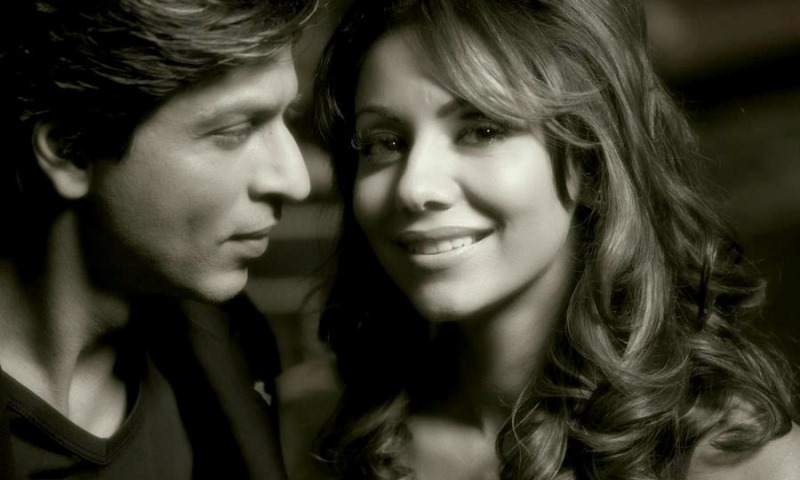 Image source: Google, copyright-free image under Creative Commons License
Shahrukh Khan revealed on a show about how he first met Gauri and how he asked her to dance with him. He confessed that Gauri was the first girl he had ever danced with! Awww, right? After they waltzed together, Shahrukh mustered all his courage to ask for her phone number. To his surprise, she gave it to him. The actor says that he hadn't expected that! "I felt that she is the one for me, as she has not told me 'no' for now," he said of his then-thoughts.
You would not believe me if I told you that when the king of hearts popped the BIG question, there were no heart-shaped balloons or candles or champagne and a diamond ring, would you? However, this is the truth. In the superstar's own words:
"I had a Fiat back then and I was dropping her home. That is when I asked her if she will marry me and went off. I didn't even wait for her to say 'yes' or 'no'. She must have said a 'yes' only, because then we were married off!"
---
Suggested read: 12 times King Khan made us go all fuzzy as a true family man
---
Even before Shahrukh became the star we know him today as, Gauri was a part of his life. She has weathered all storms that a Bollywood wife has to endure, standing by her man's side no matter what. The couple is proud parents to three amazing children, Aryan, Suhana, and AbRam, and the five of them look really adorable together!
NLT wishes Shahrukh Khan and Gauri Khan a happier ever after!
1. "Children waiting for the day they feel good,
Happy Birthday! Happy Birthday!"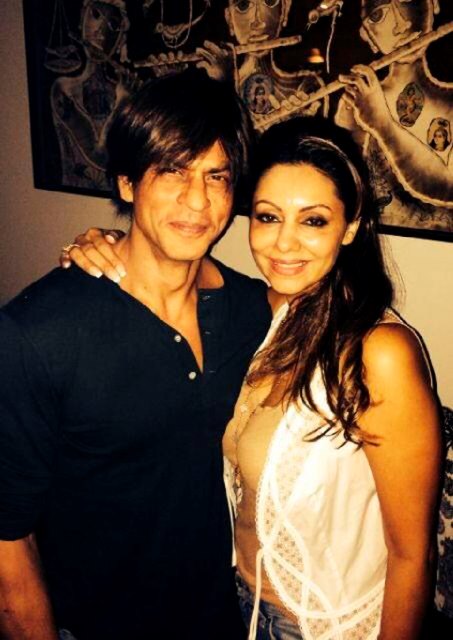 Image source: Twitter
This picture is from Gauri Khan's birthday bash earlier this month. Shahrukh apparently stalled Dilwale's shoot at Hyderabad and rushed to Mumbai to be with his wifey for her birthday. Best husband? No doubt about that!
2. "The meaning of my life is She!"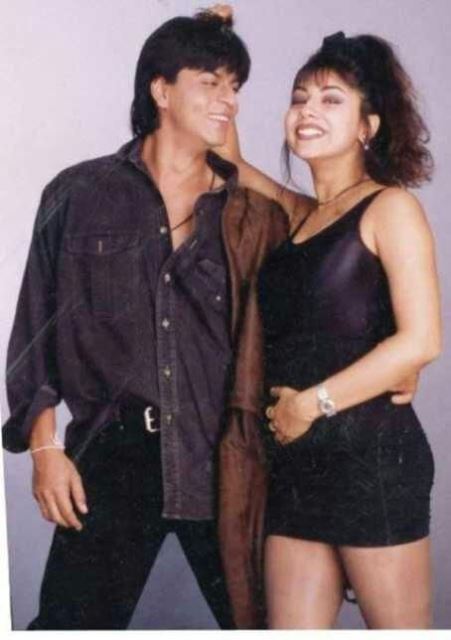 Image source: Pinterest
What looks best on Shahrukh is Gauri on his arm! In this picture, Gauri seems to be goofing around with Shahrukh's 'bear hair'! Couldn't get adorable-r!
3. "Darling, darling, stand by me!"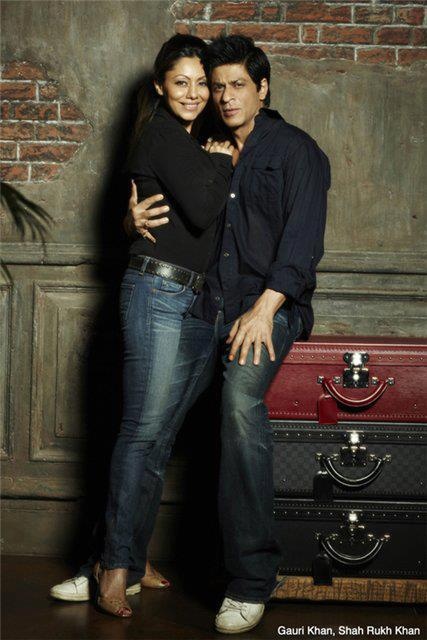 Image source: Pinterest
This picture is from a shoot campaign that the two starred in. Blue jeans, the King, and his queen; they look stunning! Shahrukh likes flaunting his lady love by his side every now and then!
4. Trending since 1991!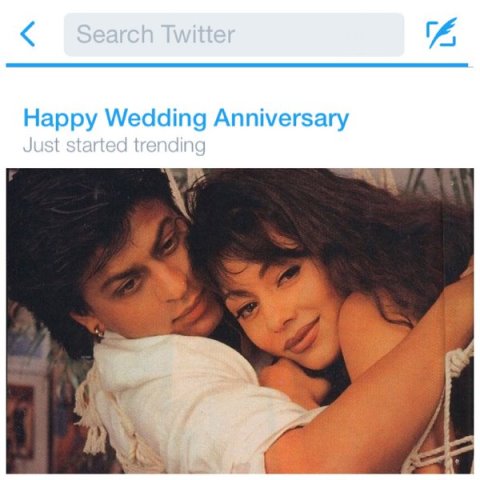 Image source: Twitter
Of all the rare Shahrukh Khan photos with his wife Gauri Khan, I love this the most! He shared this pic on his Twitter handle earlier this month, wishing his bride a Happy 24th Anniversary!
5. "Tum hi dekhona, yeh kya ho gaya. Tumhara hoon main aur tum meri"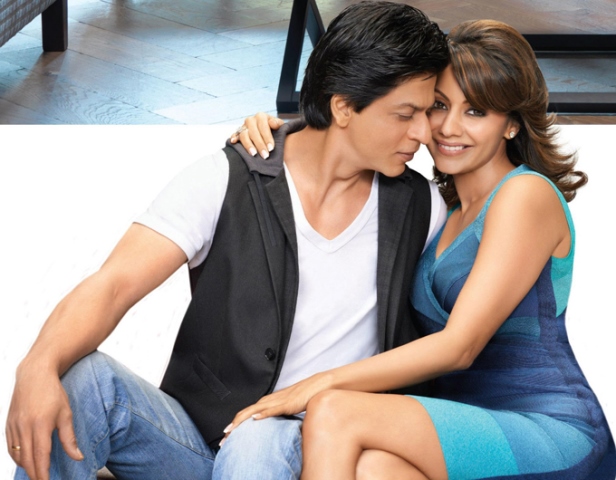 Image source: Facebook
That 'I have nothing to fear coz I have you by my side' look on both their faces; anyone who has been in love, knows that look very well! Sigh!
6. "Do dil mil rahe hain but not chupke chupke!" 😉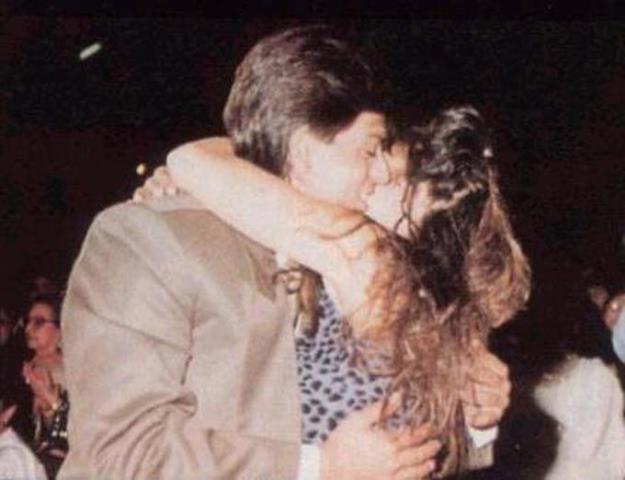 Image source: Twitter
Need I say anything? "Too in love to let her go," right, Mr. Khan? 😉
7. One for the good times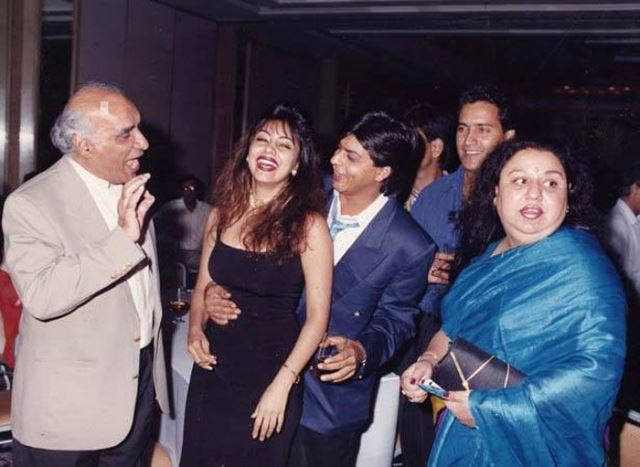 Image source: Pinterest
A little tipsy, I guess, or is the couple high on love? Don't bother answering. It's rhetorical!
8. "Aakhon mein teri, ajab si ajab si aadayein hain!"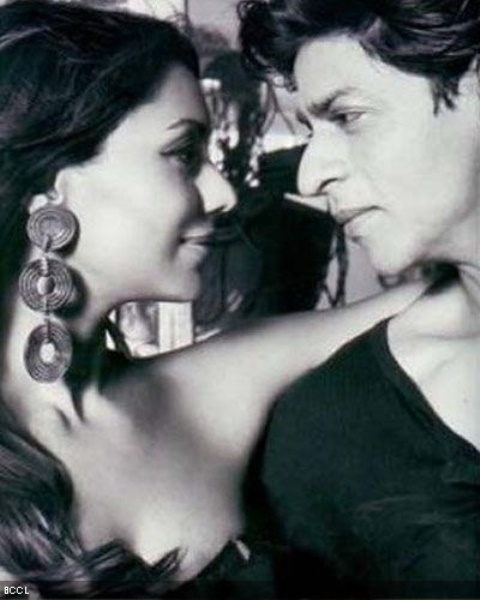 Image source: Pinterest
… dil ko banade jo patang, saanse yeh teri jo hawayee hain!
I have to mention that the danglers are absolutely striking! Gauri seems to be very comfortable through the shoot or is it the magic of the Baadshah himself?!
9. Shahrukh with the two most beautiful women in his life!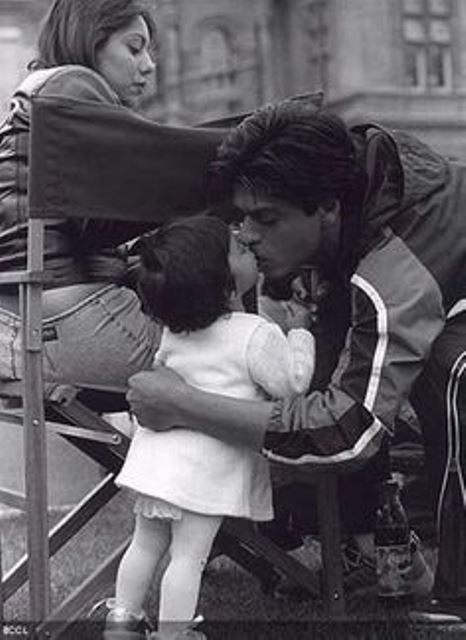 Image source: Pinterest
Shahrukh is a doting father to his children. However, he's admitted on a talk show that he thought Gauri had no motherly instincts. But then, the lady surprised him big time by proving to be such an amazing mom! In his own words,
"Surprisingly I never thought that Gauri would be a good mother. She doesn't come across as a children-friendly lady. She is not a typical one; I was pleasantly surprised that she is an absolutely wonderful mother." Their elder son Aryan is abroad, completing his schooling, and their daughter, Suhana, lives with them. More than a year ago, the couple became surrogate parents to a son and the little bundle of joy is called AbRam.
10. Shahrukh, the family man!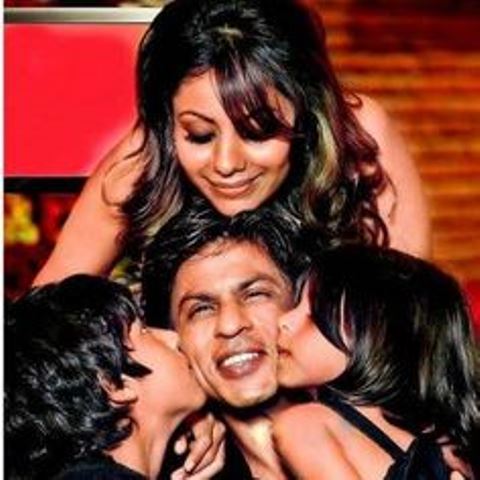 Image source: Pinterest
The much loved King Khan! While the babies shower their love on Papa Khan, his baby looks on from above!
11. "You are still the one"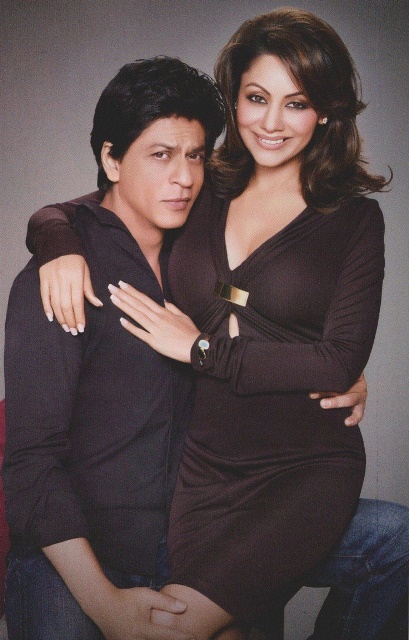 Image source: Pinterest
She keeps him on his 'knees' all the time, and yes, no one's complaining! Shahrukh is a knight in shining armor to Gauri and she says that the love between them is only growing with each passing moment!
12. The "Yeh hum aagaye hain kaha!" moment
Image source: Twitter
One of the rarest Shahrukh Khan photos (on vacayay!) with wifey Gauri Khan; the look on their faces speaks for the love between them! In the cute pink Tibetan dress, Gauri looks awwwmazing and Shahrukh rocks the Nepali 'topi' like a crown!
---
Suggested read: 15 Shahrukh Khan songs that are oh so romantic!
---
13. "Love never felt so good!"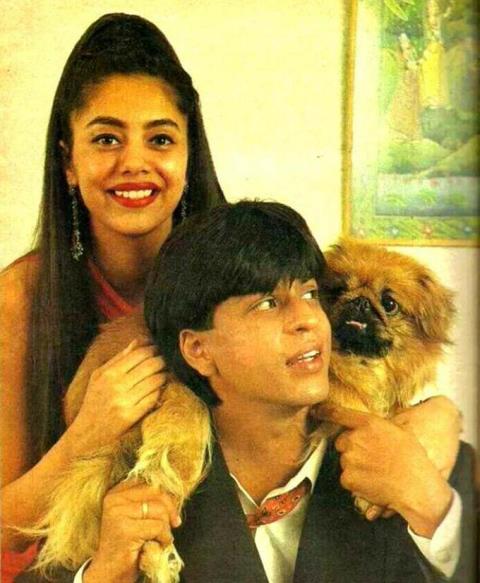 Image source: Pinterest
Such a happy family! Shahrukh is said to be a pet lover, who treats animals like family members. A man of substance indeed.
14. "I love the way you love me!"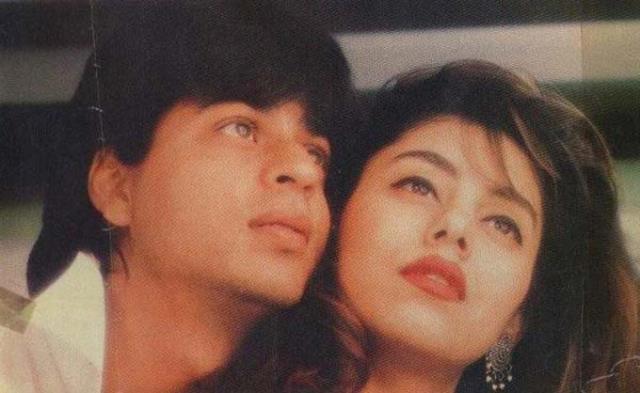 Image source: Pinterest
Doesn't Gauri look absolutely mesmerizing? Well, yep, Shahrukh is enchanted, isn't he?! While people may fight about the fact that Shahrukh blazes the silver screen with Kajol or Juhi or more recently, Deepika, I would always say that the 'real' couple have no competition at all! No wonder, Gauri isn't insecure!
15. Dilwale dulhaniya le hi gaye!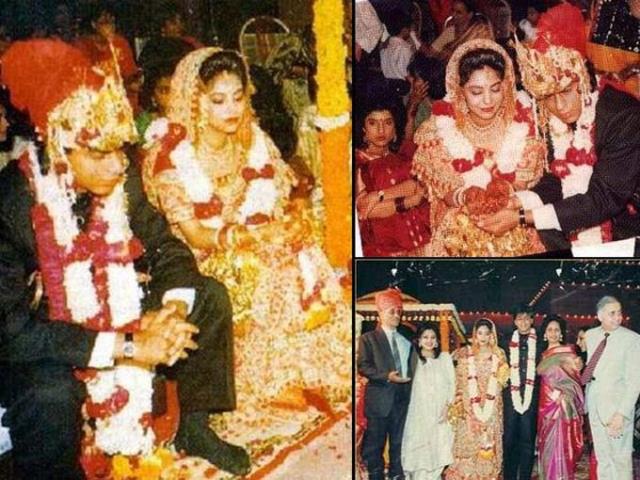 Image source: Pinterest
The moment that broke a million hearts! Anyway, we are happy coz you are happy, Shahrukh! An inter-faith marriage, that too when Shahrukh was as 'Aam' an 'Admi' as you and I. True love is unconditional!
16. Mr. Khan looks stumped!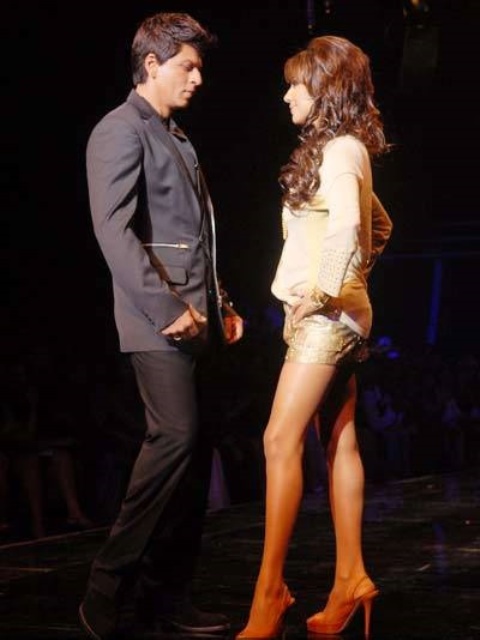 Image source: Pinterest
Looking that great … "It's criminal!"
Walking the runway for a friend, appearing elegant as usual, the Khan couple set fire to the ramp! "How to make a public appearance with bae" – Khan should tutor some celebrities on that!
17. Chak dhoom dhoom!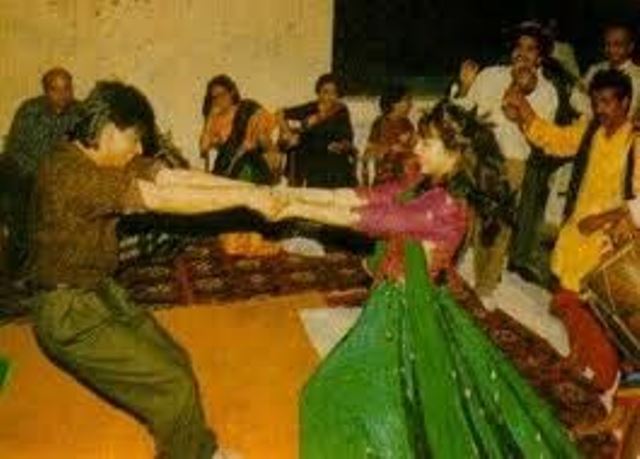 Image source: Pinterest
"It is a frightening thought, that in one fraction of a moment you can fall in the kind of love that takes a lifetime to get over," quoted Beau Taplin which aptly describes this couple don't you think?
18. Denim babes!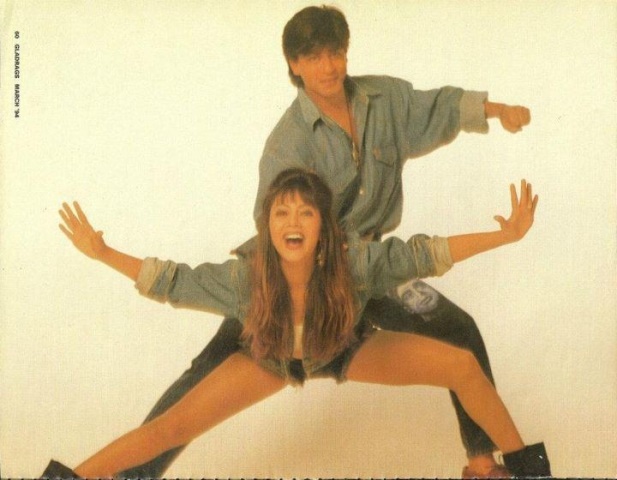 Image source: Pinterest
The crazy little thing called love! Gauri looks super happy in this one. But she has every reason to be so; the King has her back!
19. The Scorpio is quite possessive about his Begum!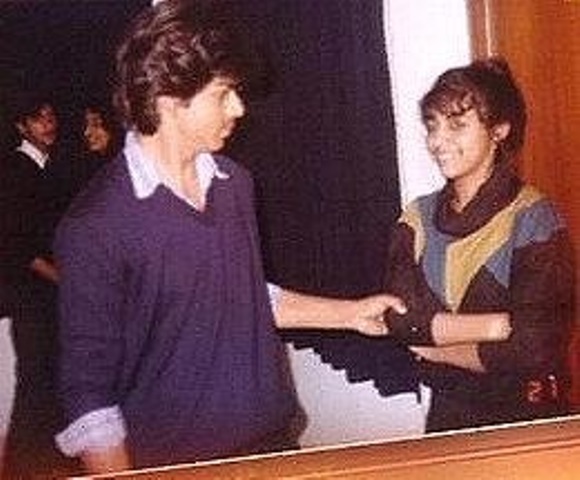 Image source: Pinterest
Is this when Shahrukh asked Gauri for that dance? Not as shy as he claims to be, eh! 😉
20. "You'd be like heaven to touch!"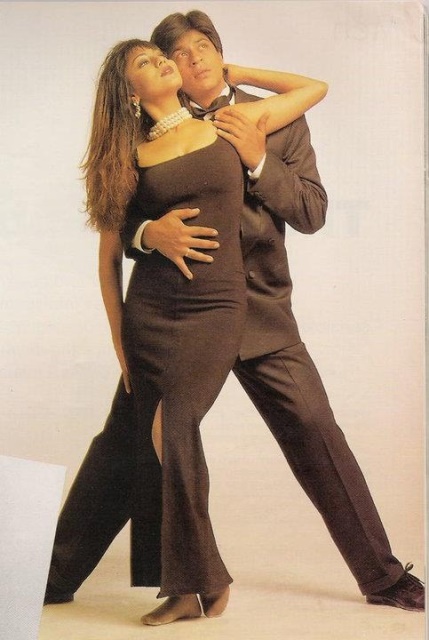 Image source: Pinterest
"We have a wild, loud, screaming romance going on in the house all day long!" From the horse's mouth!
21. "Ain't no mountain high enough!"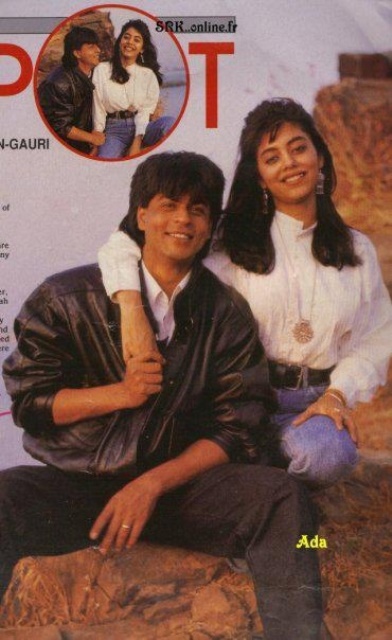 Image source: Pinterest
The couple appeared again for a magazine cover shoot in the 1990s. As effortless as ever, SRK doesn't have to fake his love, when Gauri is by his side!
22. Passion is their Play!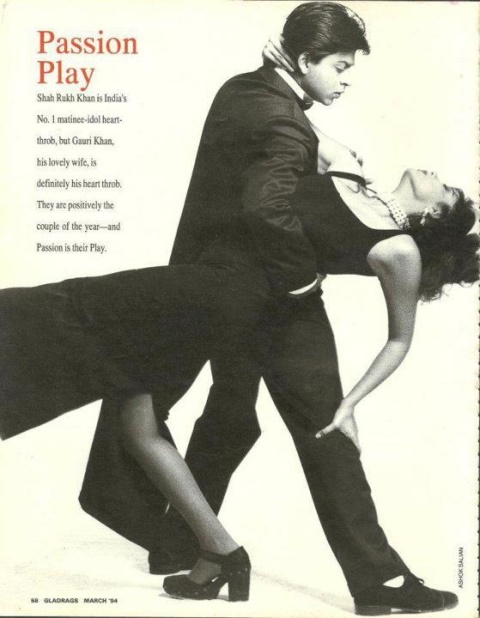 Image source: Pinterest
I can hear 'Careless Whisper' playing in the background!
23. "Jin ke sar ho ishq ki chau, pao ke niche 'mannat' hogi! 😉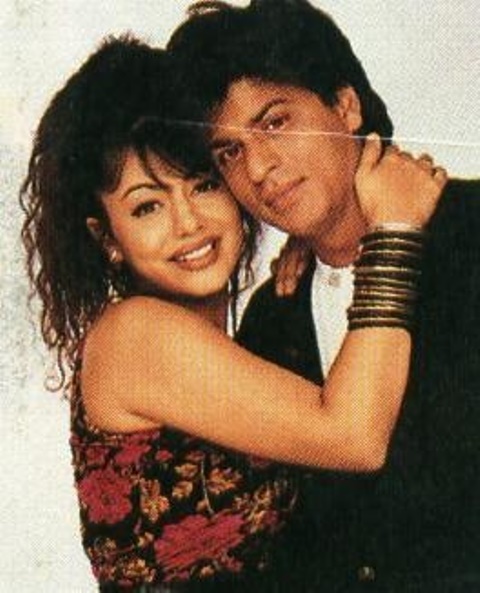 Image source: Pinterest
Holding on forever and always!
24. A 'holi' love! 😉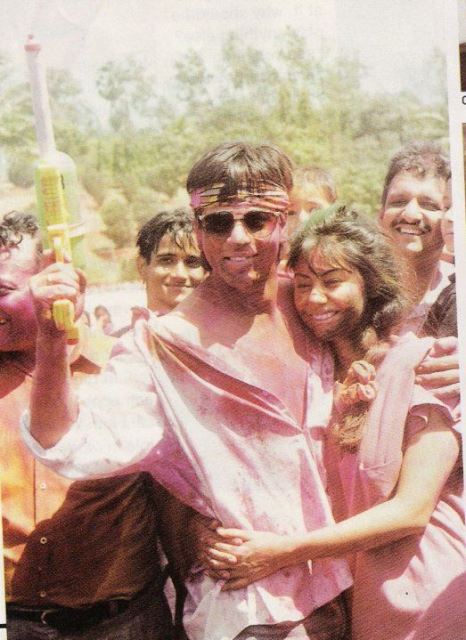 Image source: Pinterest
"Ang se ang lagana, sajan mohe aise rang lagana!"
25. "What you 'choose,' the right choice!" To the t!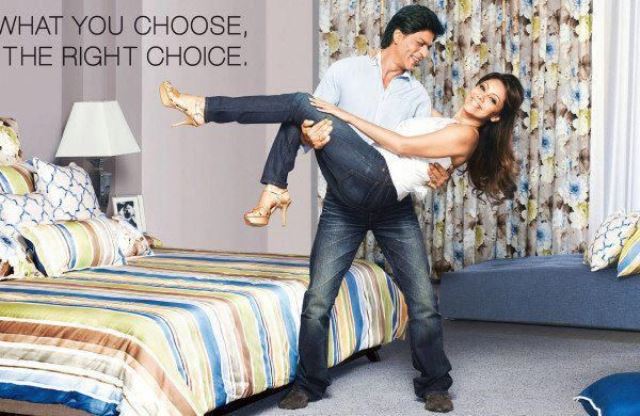 Image source: Pinterest
"Hum ek bar jeete hain, ek bar marte hain, shaadi bhi ek hi baar hoti hai, aur pyaar… woh bhi ek bar hi hota hai!"
Shahrukh Khan, true to his words!
---
Suggested read: 11 unknown stories of Shahrukh Khan and Kajol movies
---
These Shahrukh Khan photos with wife Gauri are rare and speak volumes of the relationship that the two share. They are, however, not stupid in love, because they are each other's staunchest critics, wanting one another to grow into their best selves!
According to the King of Hearts, he and his wife have passed a stage in romance which is an effing stage of awesomeness! He says, "We don't need to sit under a moonlit night. I think just passing each other across from the bedroom to the living room is romantic. Love is in the air!"
We hope this isn't it all, and 'picture abhi baki hain' in the love affair of the royal couple!
Featured image source: Pinterest
Summary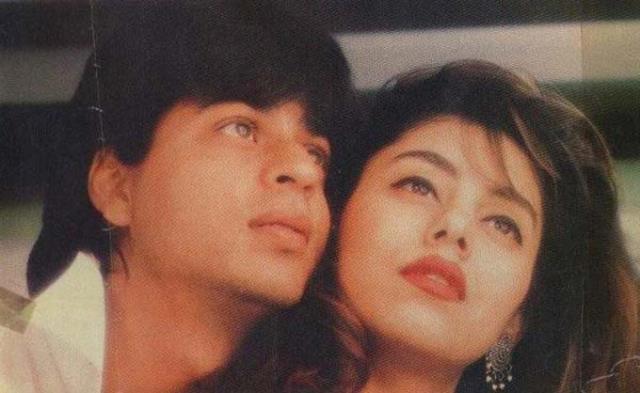 Article Name
25 Rare Shahrukh Khan Photos With Wife Gauri Khan
Author
Description
King Khan is still very much in love with his begum, Gauri. Check out these rare and absolutely adorable Shahrukh Khan photos with his queen, Gauri.