Flowers are considered lucky and a symbol of goodness in India. They are used for occasions such as pujas, festive occasions as well as for weddings. While there are several thousand varieties of flowers – both indigenous and exotic – some of the best floral arrangements are seen in the form of a gajra. Especially a staple for South Indians – as a daily accessory or as a bridal must-have, gajras have gained popularity even among other communities over time. While there is no end to the permutations and combinations possible for floral gajras, here are the top gajra hairstyles to flaunt on your D-Day as a bride.
1. Single stranded gajra  
Image source: Pinterest
The simple single stranded bun hairstyle with jasmine gajra is a classic. It never goes out of fashion and can add a fresh look to a bride. The makeup needs to be kept bold while you need to contrast the white with blingy hair accessories. Given its simplicity and elegance, you can flaunt this gajra style on any given day.
---
Suggested read: 12 simple yet gorgeous looks for the Indian bride who dares to wear white
---
2. Double stranded gajra
Image source: Pinterest
The double strand gajra is very similar to the one mentioned above. Just that this is peppier and adds more dimension to your hairstyle. You may flaunt a low bun and cover the upper and lower ends with a medium-thick gajra. Jasmine or any cream-colored flower can be apt picks for this gajra hairstyle for your wedding day. Go light on your maatha patta when flaunting this gajra style.
3. Orchid gajra
Image source: Pinterest
Add a touch of exotica with this orchid gajra. An ideal blend of Western style with an Indian touch, this gajra can be flaunted by brides who love to experiment with traditions. What is better is that you need not wear a saree necessarily since this exotic gajra looks equally good on a lehenga too.
4. Heavy gajra
Image source: Pinterest
This gajra is fuller and heavier than most others. It can be prepped up by adding strands of glittery threads. The crux of this gajra-based look is that the makeup is minimal. Therefore, the hairstyle is focused on the gajra exclusively. Best fit for brides who can handle a heavy saree, say, a Kanjeevaram or a Banarasi weave.
5. Multi-colored gajra
Image source: Pinterest
The gajra here is multi-faceted, thanks to the interesting mix of flowers. Marigold, rose, and jasmine can be an ideal combination. The main target is to flaunt three deep contrasts in hues for a color block effect. Who knew that something as basic as a floral gajra for your wedding could be used to create a bold fashion statement?
6. White orchid gajra
Image source: Pinterest
East meets West in this gajra style. A peppy airhostess bun is adorned by a strand of orchids in white while the traditional white gajra graces the top. It's a perfect color contrast that can put the most glammed up salon-style to shame. The tip here is to match the saree or lehenga work either with this combo or pick colors that block the effect. The idea here is to create a bridal gajra hairstyle that is experimental without being grandiose.
7. Teardrop gajra
Image source: Pinterest
This gajra is fluffed in  the center while its ends are slimmer. Use white or cream-colored flowers here. The idea is to underline a shimmery look for the bride. Go bold in terms of ear jewelry. Try this if you are not much of a dresser and like to tone things down.
8. Inverted gajra
Image source: Pinterest
This is an inverted style of gajra over the traditional gajra picks for brides. A very Greek floral hair band like color palette that is tuned up in the form of a gajra. This is for coy brides who love to get dressy without the mess of looking dolled up. Team it up with lehenga sarees or even a Pakistani suit. The bun can be low or medium.
9. Yellow gajra
Image source: Pinterest
The twisted low bun is puffed up and the gajra here is made of yellow flowers. The idea is to twist the gajra along the contours of the bun twists. The bride will look graceful thanks to the sober color palette while the small trinkets scattered across the bun will add some much needed spunk. A clever bridal hairdo that is simple but sparkly. And all this with so little investment!
---
Suggested read: 12 gorgeous choli designs for today's bride
---
10. Pink orchid gajra
Image source: Pinterest
We wrap up the gajra styles with a very European Midlands-style gajra for Indian brides. The dominant color is pink, and it sharply contrasts against the dark-haired bun. The gajra hairstyle that would result is one that is carefree and casual. The bride can go big on the jewelry or accessorizing areas.
Wedding hairstyles with gajra are back in fashion. Once, these were considered basic but now these represent an optimal sense of fashion. The trick for acing the gajra-based bridal hairstyle game is to use tradition in combination with the latest style. Once you begin to do that, the sky is your limit. The effects are mesmerizing to say the least!
Summary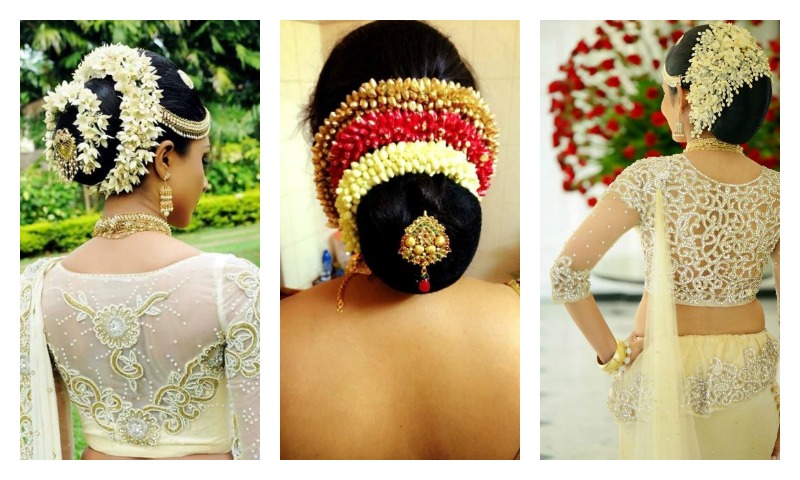 Article Name
10 Gajra Styles You Can Try On Your Wedding Day
Author
Description
Gajras are all the rage in the wedding industry. If you want to go for hairstyle with gajra, here are 10 elegant gajra styles you can choose from.