"The funny thing is that although we place so much energy and importance on our wedding day, it isn't the biggest day of our life. The biggest day of your life is every day thereafter. Because it's not the pledge to love someone that matters, but the act of fulfilling that pledge that is most important. In other words, it's only just begun." 

― Laura Wolf, Diary of a Mad Bride
I agree with you, Laura, but since it is the beginning of something that fantastic, it should be celebrated, right?!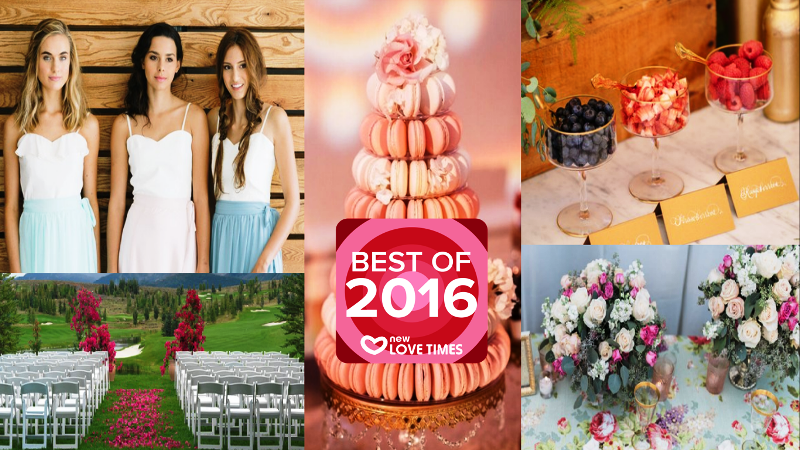 If you got married in 2016, your wedding planning must have been super fun, considering the fact that 2016 was the year of the hottest wedding trends! We saw some really awesome wedding styles and fashions popping up every now and then. While bright and peppy wedding themes were the thing of 2015, 2016 saw muted and mellow top the charts. Here are 10 of our favorite wedding trends from this year.
1. Off-shoulder wedding dresses
This year, the brides channeled their inner bohemian goddesses with some gorgeous off-shoulder wedding gowns. A combination that spread like wild fire was cream or blush-color wedding gowns with bouquets of tender flowers and wild blossoms in the hair!
---
Suggested read: #BestOf2016 Blink and miss: The most underrated movies of 2016
---
2. Mismatched bridesmaids
Remember the time when it was mandatory for bridesmaids to wear the same gowns or should I say wedding uniforms? Well, that was till 2015! In 2016, we saw the brides get a little generous. They allowed their bridesmaids to don dresses in hues and styles that complimented their bodies and best mirrored their personalities. Also, matched bridesmaid outfits are not worn more than once. So if you wear something of your choice and liking, you can slip into it again! In mismatched ensembles the whole wedding crew looked stunning! I hope this trend is not going away anytime soon!
3. Desserts that are not cake!
Cakes are definitely wedding clichés, and someone had to come up with something new! This year, we saw couples opt for desserts other than cake. They experimented with a plethora of sweets and treats, and lots and pots of ice-cream!
4. Separates for bridesmaids
2016 was the year of the bridesmaids, it seems! We saw women next to the bride, don separates, which gave them a great break to subtly showcase a different look within a bridal party. This was also their chance to play a little with the color palette. They could go for pastels of different hues for their tops and skirts. Plus, separates can be re-worn after the wedding, that too as a part of other combinations with pieces already in their closets!
5. Wooden particulars
2016 was all about wood, wood and more wood! I guess that is because people are refocusing in the direction of natural wedding elements, which is, undoubtedly, an absolute departure from glossy and sparkly niceties! You can either go real big with wooden barrels as chairs for your guests, or start small with handmade wooden place cards.
6. Printed floral gowns
Everyone seems to have gone non-traditional this year, with floral gowns replacing conventional plain white or lacy white wedding gowns. Amongst the floral prints, rose designs were most popular, this year.
7. DIY beauty!
Women have stopped enjoying spending hours on makeup and grooming on their wedding eves. 2016 therefore, saw brides embrace looks that were a blend of effortless, in terms of makeup and hair, and detailed & glam, in terms of dresses!
8. Vibrant colors popped out once in a while!
You cannot get rid of colors when it comes to weddings, or anything for that matter. Life after all is about: Too many colors, too little time! We saw use of some real vibrant hues that was, surprisingly, refreshing, as most people opted for muted tones, this wedding season!
9. Adventure weddings!
When you marry, you are signing up for an adventure of a lifetime. So why not add some fun elements of exploration and exploit in the wedding itself? With the boom in adventure photography and the idea of living authentic, there has been an invigorating shift in wedding locales. In 2016, we saw people go outdoor, and choose travel-themed locations!
10. Catering that is sustainable!
People used organic and natural foods that are locally produced, at their weddings. This was a priority, when it came to wedding catering!
---
Suggested read: #BestOf2016 The best celebrity photo shoots of 2016
---
That's a wrap from us on the top 10 hottest wedding trends of 2016. Did you get married in 2016? Which of these trends did you follow? Let us know in the comments below. You can also send us your wedding photographs, coz what is joy if not shared!
To get regular updates from us on love and everything happy, sign up for our daily newsletter now! 
Summary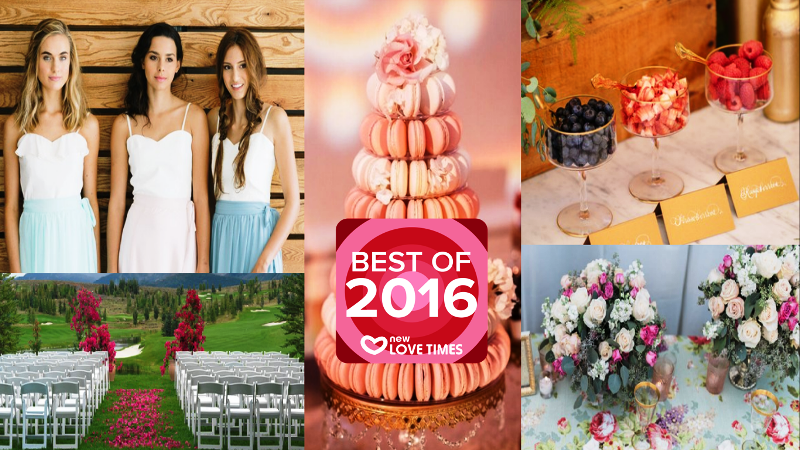 Article Name
#BestOf2016 10 Hottest Wedding Trends of 2016
Author
Description
While bright, peppy wedding themes were the thing of 2015, 2016 saw muted & mellow top the charts. Here are 10 of the hottest wedding trends from this year.