A new season is an excellent time for you to change your look. As we go into the New Year, you can try to welcome it with a brand new style! In the winter of 2018, we were inspired by the many different haircuts and hairstyles!
Winter haircuts 2018 embraced the shorter hair trend. Although there are a few great haircuts in the list for longer hair, and really, you can alter any the looks to make it suit your hair length, short hair seems to be predominant in the winter time. We do not mind it since short hair can look chic, elegant and require as little maintenance as possible!
During the winter it becomes extra important to take care of your hair and keep it nourished and hydrated. During this time hair is prone to become dry, and it can look frizzy which is not the desired looks (perhaps why everyone is so eager to chop off their mane).
---
Suggested read: Who Took The Fashion World By A Storm in 2018? Let's Find Out!
---
In this dry weather, it becomes essential to take care of your scalp and hair since dry hair can often grow brittle and prone to breakage. Make sure that you oil your scalp with some olive oil to help it retain moisture and keep it from flaking. In the winter it is also vital to use deep conditioning treatments at least once a week to help your hair stay shiny and soft.
Since frizziness can be a problem for everyone during the winter, it is essential for you to care for your hair while it dries. Using a towel, or putting your hair in a bun while it is still damp can cause you to aggravate frizz problem further. Not to mention, tying up your hair while it is still wet can make it break, and be prone to damage.
Finally, the most crucial step in helping you maintain the shine and bounce of your hair is the hardest of all: showering in lukewarm water rather than hot water. We know that in the winter you do not want anything more than just stand under the shower with almost boiling hot water. But, hot water can strip off the good oils and moisture present on the scalp and hair and result in it drying out even faster. Hence, in the winter it is essential that you shower using only lukewarm water to help the moisture stay locked in!
---
Suggested read: The Top 10 Hair Stylists In The World
---
Now let us take a look at some of the haircuts that we fell in love with during this winter:
Messy Bob: Want to say goodbye to your long hair? Then this is the way to do it! Bob is a low maintenance haircut that can still make you look elegant there is not much that you need to do when taking care of a bob haircut. The haircut is short and simple, yet you can add some complexity to it by adding some wavy curls and a little bit of mousse to make it look like you just came from a trip to the beach! The bob ads volume to your hair and looks fluffy and cozy, which is perfect for the winter time. The best part is that the shorter your hair is, the easier it is to take care of it, and who does not like that?
Smooth Hair: I know you must be thinking, since when is smooth hair not popular? But we saw a significant rise in the smooth, sleek and straight hair thanks to Kim Kardashian. Just as with every trend that Kin K starts, this smooth hair look was an instant hit. People were eager to get on this trend as soon as possible. The best part about it is that no matter what your present hair length is, you will be able to rock this look. Keeping your hair nourished and moisturized is a significant component in helping you achieve this look. You may be in need of some oil and balsams to help you lock in the effortless sleek and shiny look. In order to achieve this look all you need to is make sure that your hair is well moisturized and hydrated and then use a roller brush and your hair dryer to help you fall in smooth lines. If you would like the cutting–edge looks that Kim Kardashian sports, all you will need to do is straighten your hair so that it falls to the same length. It is comfortable, and hassle-free, everything that we want our hairstyle to be!
Waterfall Haircut: Not ready to let go of your luscious locks yet? We understand completely. After taking care of your hair for so long, it is not easy to let go of it completely, even knowing that it will grow back soon. But that does not mean that you cannot have fun this winter season. You can still get a new look, without having to get rid of all the length. A waterfall haircut, where your hair is cut in different layers (each longer in length than the previous one creating a waterfall effect), is an excellent way for you to change up your style. This haircut also gives you the opportunity to create an array of exciting new hairstyles. The beauty of hairstyles such as an intricate braid is elevated with the help of this hairstyle since it adds more volume to the hairstyle and gives it a new texture. If you are someone who likes highlights in their hair, or an ombre effect, then this haircut is perfect for you!
Short bangs: For those who thought that bangs could never be stylish, well, you are about to be proven wrong! Short bangs made a comeback as one of the most popular winter haircuts 2018. Bangs help you look young wild and carefree. But do not be fooled, you can style it in many different ways to help you achieve the look that you desire. Short bangs that fall just to the middle of the forehead help highlight the contours of the face; and looks good with hair of many different lengths. Whether you opt to pair your short bangs with short hair, or with long hair, you cannot go wrong. With short bangs, it is essential to embrace a fierce eyebrow look to help accentuate them.
One length: Nothing screams classy and elegant than this haircut. For years now, people have been flocking towards layered haircuts to add a little bit of flair to their hair. The same length hair was thought to be boring, and it did not add any useful texture to the hair. However, as more and more celebrities are embracing the same length haircuts, people are starting to see just how stylish it can look. It helps you give your hair a new and healthy life. Now, you can get rid of all those split, and damaged tips all at one go and make your hair look healthy, fresh and more voluminous at the same time. With the same length hair cut it is important to make sure that it is smooth, and frizz-free to help you achieve a classy look. The same length haircut is suitable for any length; whether you want it long or short, you can embrace this hairstyle. Additionally, this haircut is an excellent way for you to try out a new look, while also making sure that you have a brand new canvas to experiment with in the next season.
Elongated bob: You do not have to let go of the bob hairstyle just because you do not want to opt for a short hair length. The beauty of the bob is that it can adapt to a hair of any length and still make the look effortlessly stylish. With an elongate bob, you can opt for n asymmetrical, diagonal or a middle parting to give it that extra edge. Big earring, such as giant hoops mix well with this haircut, and perhaps that is the reason why they have grown in popularity recently.
No matter which haircut you decide to go for, styling your hair the correct way is instrumental in making your haircut look good. In the winter people often go for an effortlessly messy look (which probably takes more time to achieve than if you actually let your hair fall messily!) which is achieved with the help of a few loose waves in your hair and a little bit of product.
---
Suggested read: Let's Have A Look At The Best Beauty Product of 2018
---
However, this winter we also saw a rise in the sharp and chic hairstyle. More and more people embraced the same length hairstyle and made sure that their locks were shiny, smooth and straight. The tips of the hair looked sharp as a knife, and it was a fierce look as some would say.
This is all that we have for the winter haircuts 2018 list! Are there any haircuts that you are dying to try out? Be sure to let us know your thoughts, and which of these haircuts you liked the best!
Featured image source: Instagram 
Summary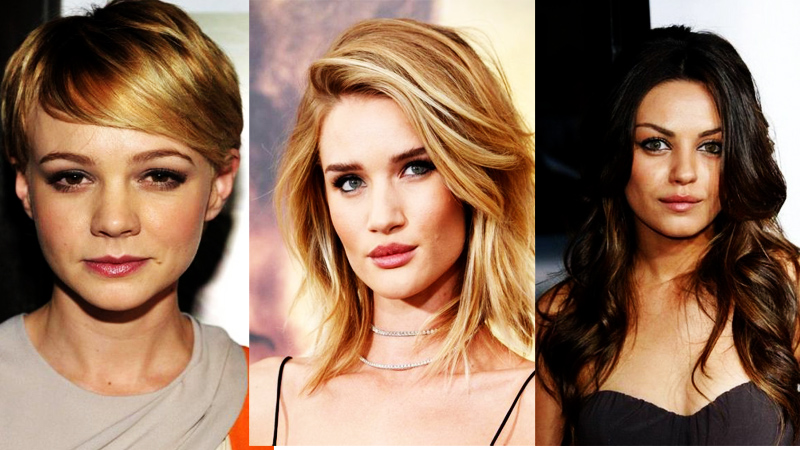 Article Name
Here Are The Best Winter Haircuts 2018
Author
Description
Winter haircuts 2018 embraced the shorter hair trend. However, you can alter these looks to make it suit your hair length.