In 2018 we saw the launch of some great beauty products. The Glass Skin trend of 2017 continued its way well into 2018 as people's appreciation for skin care grew. While skincare has always been essential, more and more people started investing their time in making sure that their skin looked the best that it could.
Trying out new skin care products can be challenging; you have to wait for weeks and months in order to be able to see any results at all. With skin care growing so popular, you have an abundance of options, but not enough time to try them all and see which one is the best for you. Thankfully we have curated a list of some of the best beauty products 2018 to make sure that you only spend your time on the best.
---
Suggested read: Bad Beauty Habits You Should Steer Clear Off
---
What does a "perfect" skincare routine look like?
A good skin care regime involves toners, cleansing oil, moisturizers, and face masks, but the perfect routine depends on what you like, what your skin type is and what works for you!
Your skin care routine should consist of three main steps:
Cleansing or washing your skin to get rid of any dirt and impurities
Toning your skin to help balance out your complexion
Moisturizing your face to help it stay hydrated and create a healthy skin barrier
During the morning it is imperative that you apply a good sunscreen as the last step on your routine to protect your skin from the harsh rays of the sun. Additionally, if you want to work on the problem areas of your skin, you should use those products in the morning before you use a moisturizer on your face. The moisturizer on top of your active ingredient products will help seal them in and absorb them deep into your skin.
During the night the most important thing to do is remove all of your makeup. Even if you are too tired to go through the rest of your routine, make sure that you at least clean every last bit of makeup off of your skin. Apart from that, make sure that you use an eye cream and a thicker moisturizer than you would during the day so as to help your skin heal itself during the night.
On the weekends you can chose to treat yourself to a little TLC. Sundays are a great day for you to exfoliate your skin and apply a face mask to help your skin prepare for the week ahead. It will help your skin feel rejuvenated, and help strengthen the barrier f your skin!
The Best Beauty Products 2018:
Now, let us take a look at some of the best beauty products 2018 that won our hearts!
---
Suggested read: Stop Hiding Your Tired Eyes with Makeup, Instead, Try These Beauty Tips
---
Garnier SkinActive Soothing Milk Face Wash with Rose Water
What is there to not love about this product? Not only will it give you amazing results, but it also comes with a dreamy fragrance. The product has a 100% Vegan formula and 96% of its ingredient has been derived naturally. This is a soothing face wash that helps remove makeup as well as any other impurities from your skin! It is the perfect product for those with sensitive skin, and has been made without using any dyes, parabens, sulfate or silicones. It does not hurt that it is quite a pocket-friendly face wash as well.
2. Burt's Bees Micellar Cleansing Towelettes
Another affordable product on the list is the Burt's Bees Micellar Cleansing Towelettes. These cleaning wipes are perfect for those days when you are feeling too lazy to go through your entire makeup routine, or if you are sleeping over at a friend's and do not have your usual array of products with you! These wipes will help you remove every trace of makeup form your skin, while helping you moisturize your face at the same time! The wipes contain cypress oil which helps you removes even the most stubborn makeup product and have been made using repurposed cotton. They are vegan and cruelty free, and have been made without using parabens, sulfate, phthalates and other ingredients which are not so good for your skin.
3. Lumene Valo Glow Lumenessence Brightening Beauty Lotion
This toner is all that you need to help balance your complexion and help make it glow at the same time. It is enriched with artic berries that are rich in Vitamin C and the answer to all of your skin care prayers. It has natural exfoliating ingredients such as fruit acids and berries, along with hyaluronic acid which helps attract moisture to the skin. This toner helps purify your skin, as well as moisturize it. With this product, your skin will be ready for the next step in your skincare routine!
4. Paula's Choice Resist Omega+ Complex Serum
If you are looking for a serum to help hydrate your skin, then this product is for you! It is enriched with ceramides and fatty acids o help impart a glow to your skin. It helps in repairing your skin barrier, and rejuvenates a dull and dry skin. With regular use, you will see your skin become softer, smoother and supple. For those who want to fight signs of aging, this product will help soften any lines on your face. It has a lightweight texture and can act as a moisturizer in the morning to help protect your skin from environmental pollutants. The lightweight formula of h product helps in giving you a dewy and hydrated look.
---
Suggested read: 8 Eco-Friendly Beauty Products To Invest In Right Now
---
5. Olay Luminous Whip
Sometimes moisturizers can leave your face looking a little greasy rather than glow. Nobody is ever going for the greasy look and Olay understand that. Their product has a whipped texture (hence, the name!) which feels almost like a meringue against your skin! It helps in blurring the appearance of your pore, and creates a beautiful base for your makeup. It has a fast absorbing formula that helps in delivering radiance to your skin, without making it appear shiny. You will have a smooth and matte skin that looks radiant.
6. Rodan + Fields Enhancements Active Hydration Bright Eye Complex
It can be a bit of a struggle to find the perfect eye-cream that will not mess with the formula of your concealer. This product helps in hydrating your skin, and acts as the perfect base for your concealer to go on! This eye cream tackles puffy eyes as well as dark circles and helps deliver the delicate skin under your eyes the care that it needs! Although this product is on the pricier end of the spectrum, it is definitely worth every penny that you spend on it. It will help enhance your makeup routine like never before!
7. Dior Hydra Life Glow Better Fresh Jelly Mask
Do you want to add a bit of life to your skin? Then this face mask is the one for you. This is a unique mask which is suspended in a bouncy gel formula. It has citrus fruit extract along with the power of apricot seed powder that helps in bringing luminosity to the skin. You skin will feel fresh and hydrated. It is a 3 minute mask that so refreshing and also exfoliates the skin gently. It will absorb into the skin in no time and also has a micro peel effect. This product is perfect for the weekends when you want to give your skin a little bit of extra love!
8. Supergoop Unseen Sunscreen Broad Spectrum SPF 40
This best beauty product 2018 would not be complete without mentioning a sun protection product. If you have been struggling to find the perfect sunscreen that will help protect your skin from the harsh rays of the sun without creating a visible film on top your skin, then this product is the one for you! It has skin-soothing ingredients that to only help you protect your skin from the sun, but also the blue light which is emitted from your computer screen. Thus, this lightweight product offers you an all-round protection, while also leaving your skin looking glowy, without being seen this is perfect for days when you want to wear makeup and perfect for the days when you don't!
When it comes to trying out a skin care product, experts say that you should at least give it six weeks before you make a final decision. You have to be consistent with its use, and in order to see the effects of a product, you must try to use it once or twice a day over a period of six weeks.
---
Suggested read: 10 MUST-Have Huda Beauty Products You Can't Do Without
---
Another tip to keep in mind when you are building your sin routine is t apply your products in ascending order f consistency. This means that the thinnest product, your cleanser, goes on first and the thickest product, your moisturizer goes on last! This will help you create layers of barriers to protect your skin from any harm!
This is all that we have for our list of the best beauty products that stole the show in 2018! If there is something that you think we have missed out on, be sure to let us know!
Featured image source: Instagram 
Summary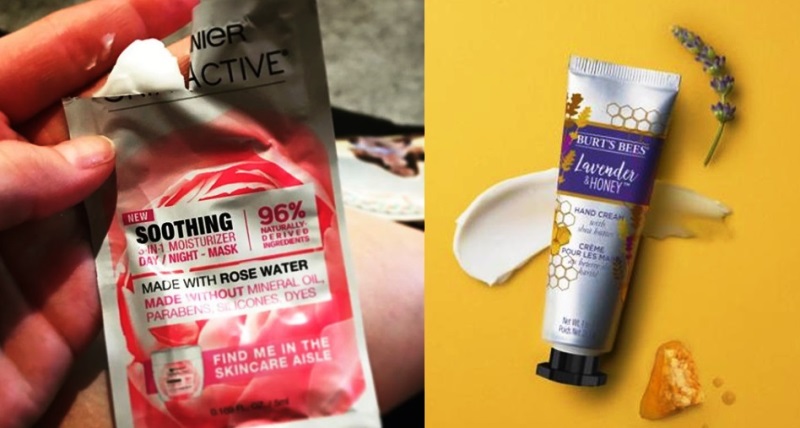 Article Name
Let's Have A Look At The Best Beauty Product of 2018
Author
Description
Let us take a look at some of the best beauty products 2018 that won our hearts!