As 2017 bid us goodbye a few days ago, we are very happy to bid good riddance to these fashion trends, which, according to us, are the ugliest of styles we noticed last year. These fashion faux pas got flaunted everywhere from the runways to the streets, and made a mockery of the fashion world.
---
Suggested read: Here Are The Nail Art Accessories That Will Make Your Nails Sexy AF In 2018
---
Worst fashion trends 2017
1. Nose hair extensions
The first awful fashion trend that comes to my mind is definitely nose hair extensions. I have no clue who started this, and why, but this was one of the factors that turned me into a misanthrope.
While we saw makeup bloggers stick false eyelashes inside their nostrils, and others marvel on how cute and creative the look was, we couldn't stop thinking if everything was medically okay with these 'creators'.
2. Designer Crocs
This ugly footwear fetish became the trendiest of shoes last year. The tragedy happened when Balenciaga presented a pair of platform-soled crocs gown the 2018 Spring runway. Soon the hideous design was used by designer Christopher Kane to produce a crystal-studded version of it. Did you know, Maison Margiela sold a pair at 1,200 dollars?! Yes, the world is coming to an end indeed!
3. Deranged denim
Last year, we found it hard to access if the distressed denim was more deranged or the people wearing them!? We saw mom jeans in a new (need I say ugly!?) avatar, when plastic panels were inserted at the knees. We also say Levis rework a denim so that is zips all the way to one's backside!
However, the lunacy broke all records when we saw Japanese label Thibaut launch a pair of "thong jeans". The pair had nothing but a strip of denim covering the wearer's *ss! *Facepalm*
4. Lollipop lips
Next up are lollipop lips! For those who aren't aware of this (which rock do you live under?!), this catwalk trend got its name from the fact that it resembled the lips of someone who's lipstick had been smudged by enjoying a lolli.
We saw tutorials flood our Facebook and Instagram wall. I must admit that the trend looked good on social media; however, in real life it looked lame.
5. Unicorn everything
The unicorn in us decided to go crazy last year. Well, initially, it was very cute with the unicorn phone covers and unicorn filters on Snapchat, but soon the trend exploded and it was everywhere. We saw rainbow pastel hair colors and unicorn nail paints… Thinking about it makes me sick to the gut!
---
Suggested read: 10 Makeup Products We Fell In Love With In 2017
---
6. Colored highlighters
I love highlighters, personally, but I didn't imagine that one-day people would come up with blue and purple and black highlighters for their face! I guess they tool silhouettes too seriously.
I hope this year people do away with their colored highlighters. Maybe, you can save them for Halloween!
7. Flare nails
We have seen selfie nails, and vagina nails, and nails with built-in pens, but last year, we saw the ugliest of manicure fads: The Flare Nails. People decorated their talons in different colors and created a horribly psychedelic mess on their nails.
8. Fake freckles
What is with us people wanting what we don't have, even if the thing in question here are freckles!? Last year, we saw people tattooing freckles onto their faces while others who weren't soooo out of their minds, used tricks and techniques to create them with makeup. Whatever be the mode, this was undoubtedly one of the worst fashion trends 2017 offered.
9. T-shirts with b**bs on them
Are you kidding me!? Last year, Christian Dior pasted "We Should All Be Feminists" on plain white tees and sold them for 710 dollars each. These boob t-shirts were worn by influencers on Instagram with a feminist caption to go with it. Where did we go wrong?!
10. The Romper for men
No one likes to grow up, I know that, but someday you got to accept the reality and move on, right? Last year, however, some Peter Pans wore a male romper in an attempt to keep their childhood intact, and in the process, lost their sanity!
11. Ridiculously shaped eyebrows
Instagram in 2017 became a platform for the worst fashion trends in the history of worstness. We saw women play with their eyebrows and give them some hilarious shapes. There were squiggles and slits and shapes that sent us into a horrid dizzy.
12. Facial topiary hair
In case you didn't know, topiary is a way of shaping bushes. However, this art was applied in a different landscape last year. We saw men shape their beards and hair in ways that gravity does not approve of because it threatens its existence. We are so happy to find out that this trend has lost its fire, and is being dropped this year. Phew!
---
Suggested read: Check Out The Best Swimwear Collection 2017
---
That is all we have on today's post on the 10 worst fashion trends 2017 offered us. Did we miss out on any of them? If yes, then do mention them in the comment section. For other 2017 reviews stay glued to this space! J
See you soon(est).
Featured image source: Instagram 
Summary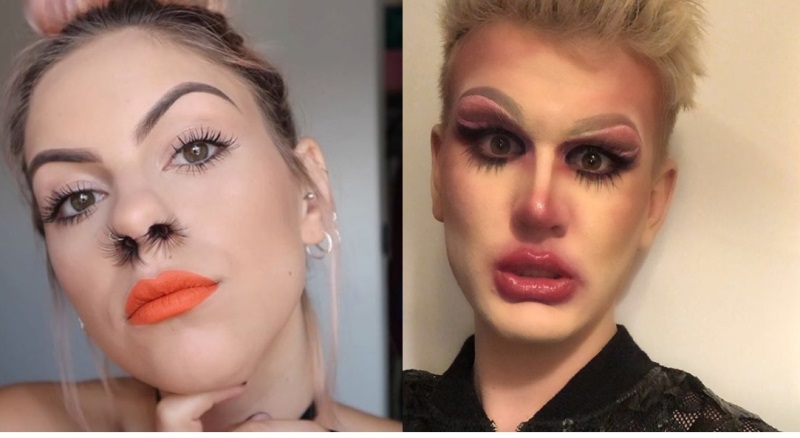 Article Name
The Worst Fashion Trends 2017 Offered Us!
Author
Description
Here are the worst fashion trends 2017 tried to kill us with. We sincerely hope we won't have to tolerate these bloopers in 2018!