Fashion and style mean different things to different people. Timeless fashion is more appreciated as time goes on, however many prefer to create statement with their clothes. Whether you love to follow the latest fashion trends, or prefer to make your own, fashion is something that you cannot ignore.
When you are famous, these become of the utmost importance. Celebrities have the ability to start new trends, shut them down, or give them a new twist. Even if you do not take an active interest in the red carpet outfits, you cannot deny that some of them generate enough of a buzz, that you are bound to notice them. But in order to land on this best dressed list, it is not just about generating a buzz, but about the way the outfit looks as a whole! Many celebrities decided to push boundaries this year, and created some memorable outfits (some may even call them outlandish). They have inspired us to be bolder when it comes to making fashion choices, and have inspired some exciting outfits.
---
Suggested read: 16 Best Dressed Celebs At Cannes Film Festival 2018
---
During 2018 we had quite a few memorable fashion moments. Some celebrities were more daring than ever before with their red carpet outfits, while some showed us that timeless fashion is a beauty to behold. Either way, we were graced with some elegant outfits that we are not likely to forget any time soon. Let us take a look at some of the well-dressed celebrities who wowed us with their amazing sense of fashion this year on as well as off the red carpet.
Best dressed celebrities 2018 
Diane Kruger in Valentino
Diane Kruger lands on this list because of her German Film Award Festival outfit. She wore a floral Valentino dress that was voluminous and stole the show. When asked to talk about her take on fashion and style, Kruger told InStyle that her secret to creating a look that was memorable was to have a great fitting outfit.
"I'm never unsure about an outfit once I made my final decision. If it's altered to perfection, I always feel strong and beautiful."
This helpful tip can help you be more confident when you are going out. A good fitting outfit can help you achieve the silhouette that you desire! Well-tailored does not always have to mean that something should be form fitting; rather, it should fit your body the way you desire! Whether you like a loose and comfy top or not!
Sarah Paulson in Prada
Not only did Sarah Paulson create a buzz for her performance in the all-female lead movie Ocean's 8, but she also won hearts with her choice of outfits throughout the award season! In particular she made the list because of her bright neon Prada gown. About the gown she said, "I felt like an extra-terrestrial in couture". Her outfit was definitely eye-catching, even more so than the rest of the bright colored outfits that she had chosen to wear during the rest of the season. Naturally, people wanted to learn more about her sense of style, and speaking to InStyle, she said "When you are trying too hard to make a mark, it doesn't feel as authentic. Style should be dictated by your mood — it's a way of expressing yourself without words." Her words could not be truer, and her way of looking at fashion is definitely inspiring.
---
Suggested read: 16 Manish Malhotra Wedding Dresses Which Are Drop Dead Gorgeous
---
3. Rihanna in Gianvito Rossi
These best dressed celebrities 2018 could never be finished without mentioning Rihanna. She has been a style icon for several years, and with her new foray into the make-up industry, we are able to get a better glimpse into her sense of style. Riana told Vogue, "For me there aren't many boundaries with fashion, really". Rihanna is not afraid to put her own twist to a new trend, and she proved that when she tried out the naked shoe trend. Instead of wearing clear plastic lined shoes Rihanna chose to put on a pair of pump heels by Gianvito Rossi which had PVC tinted in pink, as well as a slim ankle strap. Needless to say, Rihanna looked fabulous, especially since she paired her shoes with a simple form fitting black dress with a zipper running a quarter of the way down the front. She also donned on a silky black jacket that had a bright neon orange lining along with a mini black purse. She was the picture of sophistication. She added her fair to an otherwise simple outfit, and showed us yet again why she is a fashion icon that many look up to.
4. Priyanka Chopra in Ralph Lauren
2018 seemed to be a big year for Priyanka Chopra! She dominated the all fashion lists with her choice of outfits, especially her Met Gala outfit which fit the theme of "Heavenly Bodies: Fashion and the Catholic Imagination". The Marsala colored embroidered gown by Ralph Lauren impressed everyone in the room, and the bejeweled hood added additional flair to the gown. Her outfit created quite the buzz, and for all the right reasons, she definitely fulfilled the part of being "heavenly" for the Met Gala.
Priyanka Chopra told PEOPLE that when it comes to fashion "you can't overthink it" and we could not agree more. 2018 was definitely not the first time that she made our list of best dressed celebrities, and we are sure that this will not be the last time either!
Gemma Chan in Oscar de la Renta
The film Crazy Rich Asians broke the box office records, along with the internet. It was one of the most celebrated movies of the year and rightly so. Gemma Chan who plays Astrid Leong-Teo floored everyone with her outfit choices.
She told Vogue that she wanted to make a statement with her fashion choices. She paired up with her stylist Rebecca Corbin-Murray to plan out outfits which were undoubtedly gorgeous. She told Vogue that wanted her outfits for the promotional tour of Crazy Rich Asian to "reflect the values of the film".
"We tried to design it in the spirit of diversity and inclusivity", this was her main goal during the promotional tour, and she surely achieved it by donning outfits designed by famous fashion designers all over the world. He landed on our list for her strapless and sequined Oscar de la Renta dress along with metallic shoes that she wore for premiere of Crazy rich Asians in L.A.
Michelle Obama in Balenciaga
The former First Lady has always had an exquisite style, which was reflective of her personality. As she had started her Book Tour in 2018, we were able to see more of her style emerge. Although she had some amazing outfits throughout the tour, the most memorable outfit that she wore was definitely when she was clad head to toe in Balenciaga. She wore a neon yellow draped dress along with thigh high boots that were glittery, and even more eye-catching than the neon of her dress! The outfit definitely showed us her fun and experimental side, and we loved every second of it! The confidence with she wore her outfit gives us all the courage to be able get a little wild with our outfits.
Cara Delevigne in Emporio Armani and Chanel
It is not hard to guess which outfit landed Cara Delevigne on our list! During a Royal Wedding, it is an unspoken rule that ladies must wear fascinators along with dresses to match them. However, Delevigne broke all of those rules during Princess Eugenie's wedding when she wore a stunning Emporio Armani suit along with a Chanel hat. She stunned everyone with her outfit, and made several lists for her daring outfit. It is safe to say that she pulled of the suit very well, and makes us all want to bend barriers when it comes to fashion. She told POPSUGAR Magazine that her style was inspired by wanting to "Just make people laugh", but we think what she really meant was to make people stare in awe, and needless to say, she nailed it!
---
Suggested read: Find Out Which Are The Hottest Sequin Cocktail Dresses Of 2018
---
These best dressed celebrities 2018 comprised of outfits that ranged from timeless to daring. Hopefully it will help more people see just how diverse fashion can truly. When it comes to nailing a look, the key is to be as confident as you can because it reflects on the outside as well!
In 2018, celebrities showed us that it is okay to be adventurous when it comes to your style, and it is also okay to embrace a timeless fashion which will look good years down the line as well. Fashion is all about embracing your unique personality. We hope that in the coming year we are able to see this continue, and help more people be confident in what they wear.
Is there anyone that we missed out on? What were the outfits that left you speechless in 2018? Be sure to let us know your thoughts in the comment section below!
Featured image source: Instagram 
Summary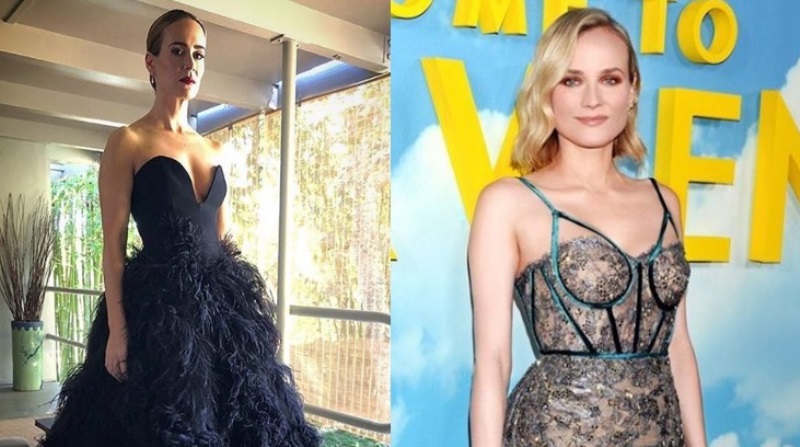 Article Name
Who Took The Fashion World By A Storm in 2018? Here Are The Best Dressed Celebrities 2018
Author
Description
Who wowed us with their fashion sense in 2018? Let us have a look at the best dressed celebrities 2018.