'I couldn't understand a word she was saying, but I felt I had in my possession all the Italian I'd ever need to know: Dolce, Dolce, Dolce.' – Carrie Bradshaw on Sex and the City
Carrie Bradshaw's style has always been an inspiration for thousands of women around the world, be it for her immaculate eye for fashion or her liberating principles to live life to the fullest. The fact that Carrie is a writer has played a major role in deciding her wardrobe, as she can don any outfit, because nothing is inappropriate for the free spirit of an author. Carrie's eye for fashion and skill to pull off any look has continued to amaze us throughout the six seasons of SATC.
Let's take a look at 10 of the most iconic examples from Carrie Bradshaw style from the show:
---
Suggested read: 35 Carrie Bradshaw quotes that are lessons on how to live, love, laugh
---
1. The evergreen dresses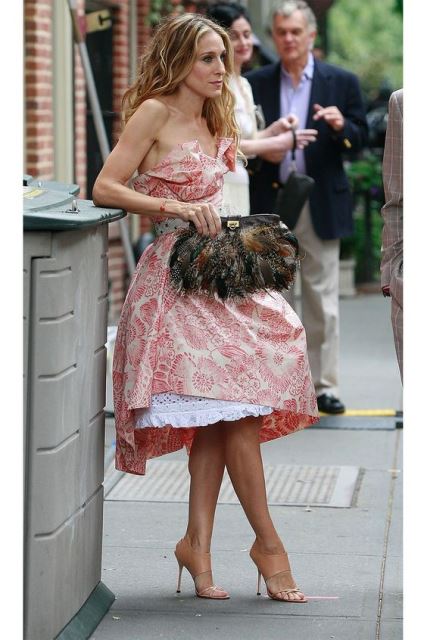 Image source: Pinterest
Carrie has always had a thing for dresses. They are colorful, flamboyant, and showcase her unique feminine qualities. Carrie Bradshaw is not a person who hides behind the comfort and convenience of the little black dress. She is a lover of embellishments, frills, and layers. We have seen her rock plain dresses, florals, peplums, and even shimmer. It is not what Carrie wears that is fashionable but how she wears that defines the inimitable Carrie Bradshaw style.
2. The once obsolete tube top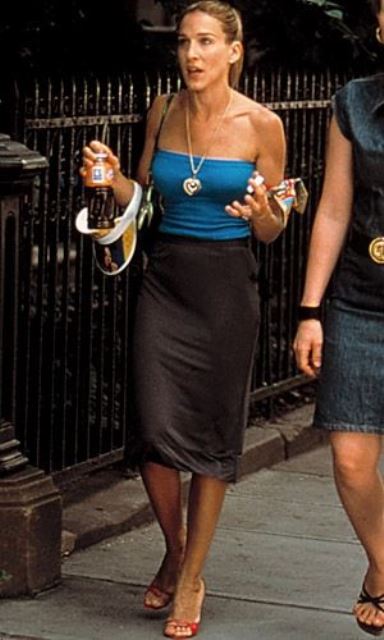 Image source: Pinterest
Tube tops had been long forgotten ever since the trend died out decades ago. But Carrie wore it with such panache that once again, women started seeing the numerous possibilities of experimenting with the tube top. They make the perfect summer wear, especially if you couple it with a regular skirt or a wrap-around. Of course, having shoulder-length hair and a toned body like Carrie wouldn't hurt either. Carrie sure knew how to work magic with this trend. The fact that she knew how to accessorize this well is worth applause. Broad-brimmed hats and chunky bracelets, Carrie knew how to carry the best of all fashion picks at once.
3. The faux fur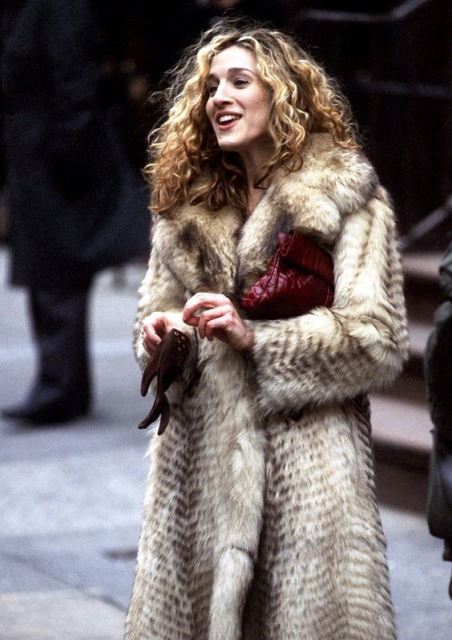 Image source: Pinterest
Nothing can top the luxurious aura that fur can lend a woman. But it was Carrie who taught us through Sex and the City, how to rock the casual look with fur coats, and still look classy as hell. She has them all; the real furs and the faux furs. More importantly, she has the unique Carrie Bradshaw style that makes her stand out in any crowd. The one thing to take note of here is that you must never go OTT with fur. Play it safe but play it right!
4. The ever-so-smart pinstripes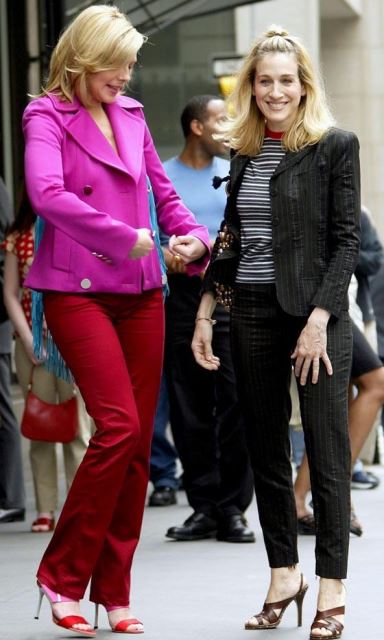 Image source: Pinterest
Though Carrie is usually spotted in dresses and other sensual outfits, she can carry out the executive look like a pro, as she has proved now and again through her elegant and smart pinstriped suits. Look how chic she looks in this simple black suit, complete with chocolate brown high heels.
5. Halters and crops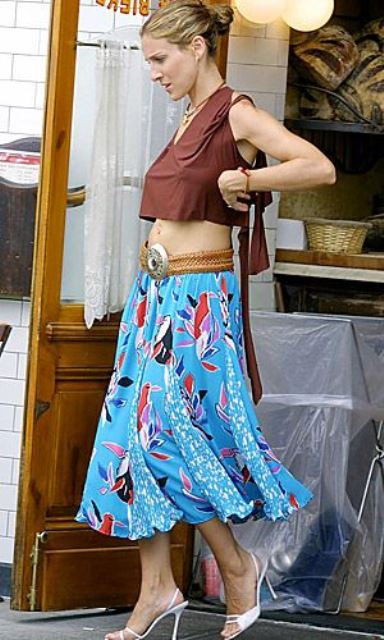 Image source: Pinterest
Even the halter neck tops and crop tops looked good on Carrie, making one wonder how she pulled all these styles off so flawlessly. Though the midriff baring style is not for everyone, Carrie Bradshaw made it seem like a piece of cake on SATC. It is safe to assume that Carrie encouraged women to once again embrace crop tops and halter neck tops and dresses, encouraging them to flaunt their beauty with confidence.
6. The floral fever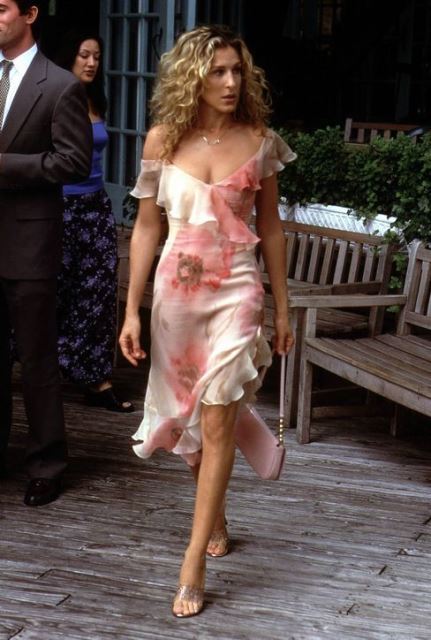 Image source: Pinterest
Another piece of Sex and the City fashion that created ripples is the flowery, ruffled dresses that Carrie draped with perfection. They are simple, elegant, and sensual, and cling to all the right places. Pair it with a chic handbag and high heels, and you are good to go. Here, Carrie sports a peach-toned ruffled frock, her curls bouncing around freely, and a simple golden necklace clinging to her throat.
7. The spaghetti gowns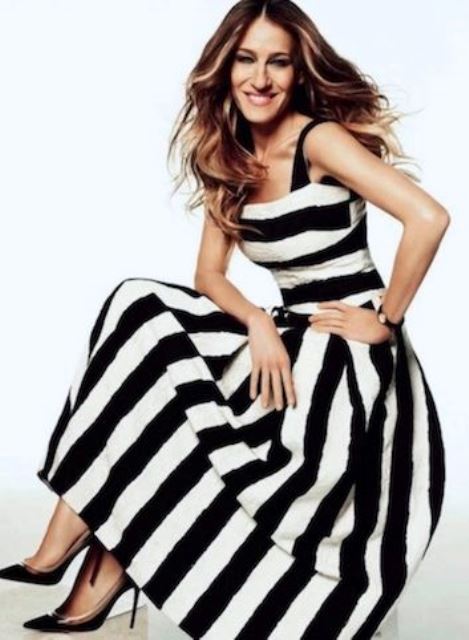 Image source: Pinterest
Yet another Carrie Bradshaw style that grabbed eyeballs and hearts is the figure-hugging spaghetti gown. These gowns will almost fit in with every event, be it a date, a get together with friends, or a party. Here, Carrie seems picture perfect in the black and white gown paired with the black stilettos.
8. The lazy casuals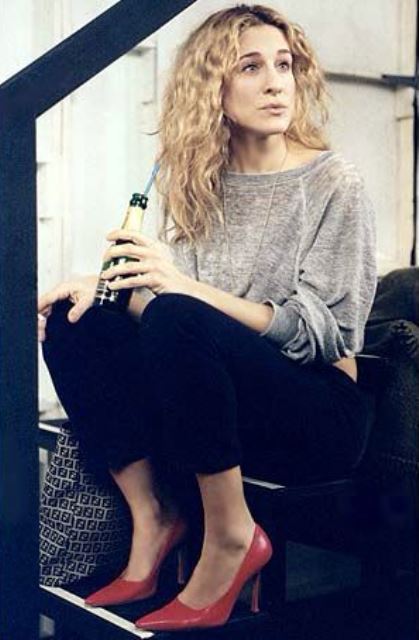 Image source: Pinterest
As mentioned many times before, Carrie Bradshaw can flaunt any outfit with confidence and class. Look how incredibly smart she looks even in this simple, baggy grey sweater, paired up with ankle-length trousers and a matching handbag.
9. The pioneer boho chic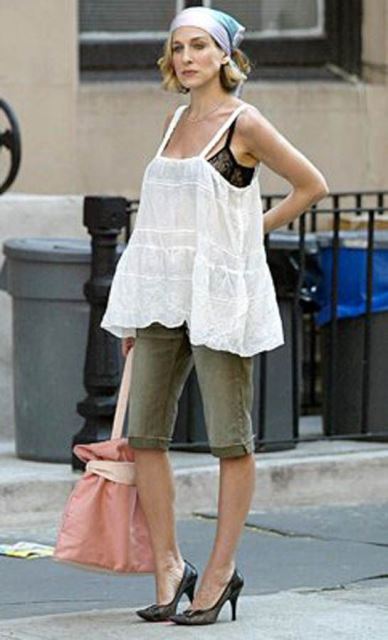 Image source: Pinterest
Yes, the Bohemian trend was not born yet when Carrie was already seen on the silver screen with a scarf wrapped around her hair, wearing an airy white top, and high heels.
---
Suggested read: 15 awesome life lessons I learnt from Sex and the City
---
10. Plaid played well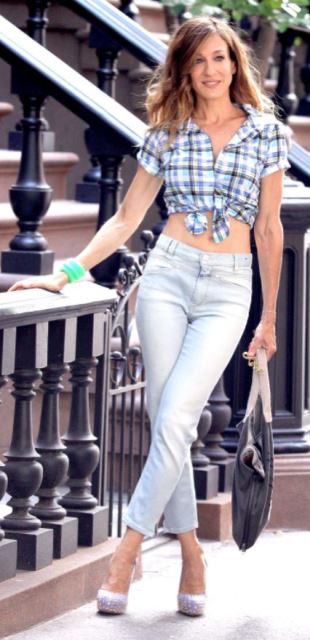 Image source: Pinterest
Carrie Bradshaw took plaid to a whole new level through SATC. Once she was seen wearing it on the show, plaids were never considered mediocre again. Look how casual and sexy she looks in the light blue, plaid shirt tied up above her midriff. The faded denims and the high heels certainly make a fashion statement!
Ladies, if you are in the pursuit of the perfect fashion icon, then your search comes to an end here. When it comes to clothes and shoes, Carrie Bradshaw knows it all. You should never forget her golden words, "I like my money right where I can see it…hanging in my closet."
Summary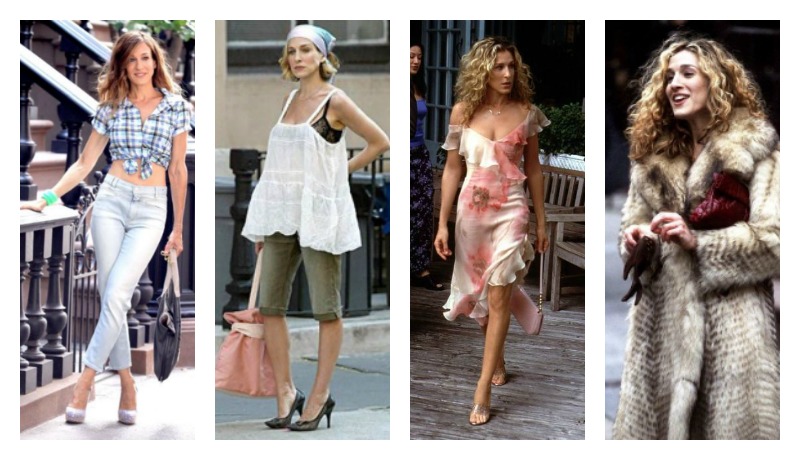 Article Name
Carrie Bradshaw Style Diaries: 10 Iconic Looks We Would Love To Replicate
Author
Description
Who wouldn't want to take a leaf out of Carrie Bradshaw style diaries and become the fashion icon that she is, even today? We all do, of course! ;)