"There is never a wrong time for a polka dot." – Marc Jacobs
Polka dots have bounced in and out of fashion since the early 70's. And this time, it's back for good. No, polka dots aren't only for little children and for people who like the whole pin-up girl aesthetic. Polka dots are cute, fun, and can actually be pulled off in a very chic manner. Here are a few times people wore the polka dot in a super fashionable manner, to inspire you.
---
Suggested read: 19 Superb Tips On How To Style A Trench Coat To Look Like A Total Diva
---
Julia Roberts in Pretty Woman
Marilyn Monroe in a polka dot bikini
Georgia Fowler
If you're a polka dot newbie, and aren't very comfortable with wearing a full polka-outfit, then we've got just the thing for you – polka dot tights. These tights are fun, quirky and require very little commitment, because you can wear them in a bazillion different ways, depending on your personal style.
You can pair it with denim for a hipster-chic look. You can pair it with leather or vinyl for a more edgy look. Or you can pair it with lace or bright washes of color for a casual but pretty outfit. Here are 13 ways to wear polka dotted tights that will make you look hella cute and totally on trend.
1. With chic booties 
Wear a classic pair of polka dotted tights with a trendy skirt (in this case, an emerald green umbrella skirt, which is soooo on trend), and a pair of stylish booties. It is the perfect fall ensemble, since you get the flowy, feminine vibe from the skirt, which is balanced out by the edgy element provided by the booties. And finally, your tights complete the look, adding a fun and flirty element to it.
2. With wellies 
Who said Wellingtons had to be ugly and a fashion no-no? Pair your polka dotted tights with a cute pair of wellies for a cute outfit, which is hella practical as well. This look is a great autumn-to-winter transition outfit. While in autumn you can wear cute boots and look like a total babe, in winter that becomes a bit difficult, since the weather gets all rainy and muddy and gross.
Simply swap your regular boots for a pair of wellies, and voila! You are winter-ready! Also, we are DIGGING the sock-over-tight thing. Not only is this super useful (since it will keep your legs from freezing and FALLING OFF), it is crazy cute too, since the second set of polka dot knee-high socks adds some color and fun to the entire outfit.
3. With studs
For those of you wondering how you're swanky new Valentino's are going to fit into this trend, well, we've got your back. You can pair sexy studded shoes like these Valentino Rock-stud Leather Sling-backs with a cute pair of polka dotted tights to up the risqué-chic quotient of your total look.
---
Suggested read: 15 Gorgeous Pairs Of Chunky Heel Boots That Will Get You Pumped Up For Fall
---
4. Oversized polka dots 
If you like taking fashion risks then ditch the basic tiny polka dots and opt for oversized ones for a high-fashion look. You can draw inspiration from this outfit by Kemono Japan (Vancouver Fashion Week SS/18) and opt for a layered outfit for a very relaxed but high fashion look.
Alternatively, simply pair your oversized polka dots with a classic solid-color shirt-dress and heels or plimsolls, for a far more casual street-style-worthy look.
5. Under your jeans
If you're as obsessed with the ripped denim trend as we are, then surely you understand why we couldn't possibly leave that out of our list. Wear your polka dot tights under your favorite pair of ripped denims for a super super cash yet stylish look. You can wear this to college or for drinks with friends, or just for a trip to the mall. It's comfortable, cute AF and you can bet your bottom that you'll have at least 5 people using you as their fashion inspo within the week!
Summary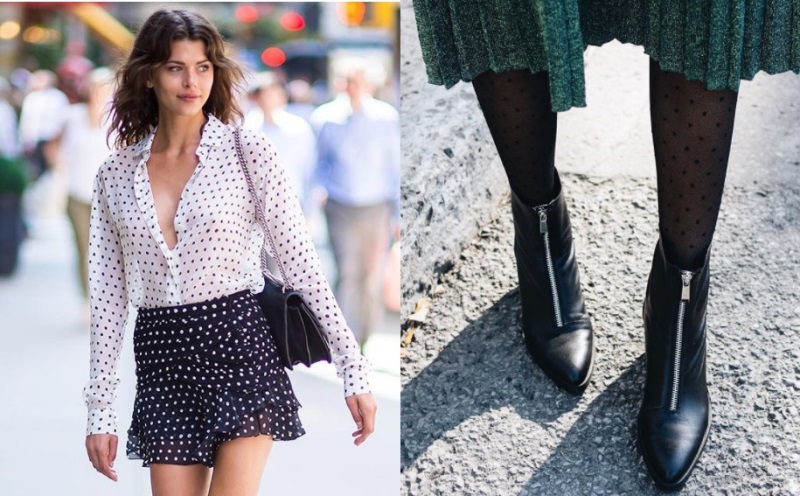 Article Name
13 Kickass Ways To Wear Polka Dot Tights
Author
Description
Here are 13 ways to wear polka dot tights that will make you look hella cute and totally on trend.
Read the rest of the article:
Next