Baking cookies is a Christmas tradition for many families, and my family is no exception. It is definitely one of many holiday activities we look forward to every year. Whether it's some Gingerbread cookies or a dozen red velvet crackle cookies, your Christmas isn't complete without something to munch on. Keeping this in mind, we have compiled a list of 10 mouth-watering and delicious Christmas cookie recipes for you that are sure to make your Christmas merrier! Check them out!
---
Suggested read: 10 amazing Christmas drinks recipes you MUST try this festive season
---
1. Gingerbread trio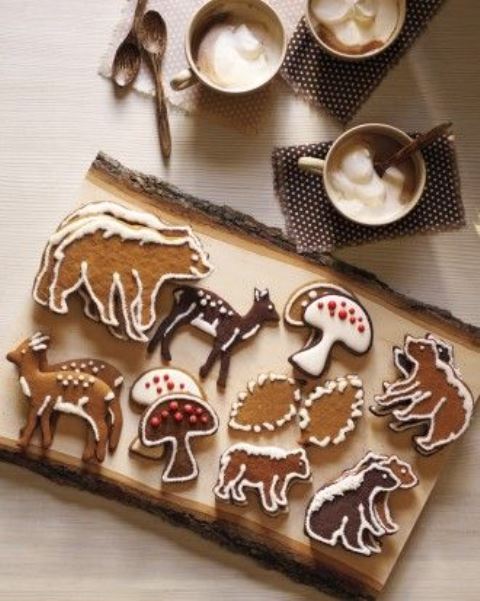 Image source: Pinterest
Whisk flour, salt, and baking soda together in one bowl. Beat the butter and sugar using a mixer. Once fluffy, beat in the eggs and then pour the honey and molasses in. Now gradually add the flour mixture and mix them well. Divide the dough into three parts and wrap each of the thirds using a plastic wrap. Place them in the fridge for an hour.
Now preheat the oven to around 350 degrees Fahrenheit. Roll the dough to 1/4–inch thickness on a floured parchment (one at a time). You need to brush off the excess flour and transfer the dough pieces to a baking sheet. Now freeze them for almost 20 minutes.  Using cookie cutters, cut the dough into desired shapes – reindeer, holly, Santa are some options. After cutting them, place them on the baking sheets and freeze them for another 10 minutes. Bake them until they turn golden brown. Make sure there aren't any bubbles on the cookies. Now let the cookies cool fully.
Place the icing inside a pastry bag. Make sure it is fitted with a tiny plain round tip. Now the artist in you needs to pipe the outlines and necessary details on the cookies. Let it set by keeping it uncovered overnight!
2. Santa Claus cookies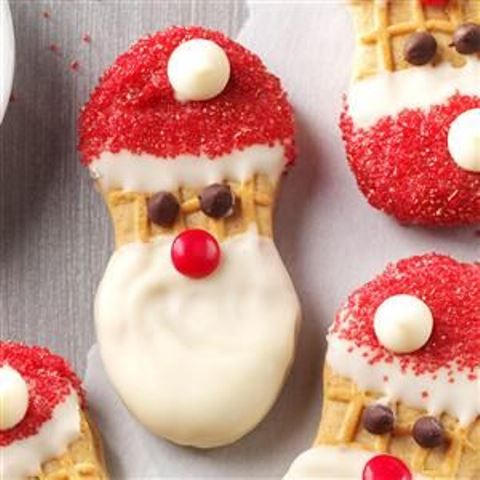 Image source: Pinterest
Using a microwave oven, melt some white chocolate. You need to melt it for one minute at 70% power. Now dip one end of each Nutter Butter sandwich cookie into this chocolate, letting the excess drip off. Place the cookies on wire racks. To create the Santa cap, you have to sprinkle red sugar on the top part of the cookie. For the pompom, you need to press a vanilla chip at the end of the hat and let it set.
Now, the other end of the sandwich cookie has to be dipped into the melted chocolate for the beard. Then, place it on the wire racks. Attach small chocolate chips for Santa's eyes and attach his red-hot nose with a dab of the melted white chocolate. Place them on waxed paper for 2 hours. Keep out of children's reach – because they will finish them off! 😀
3. No bake holly cookies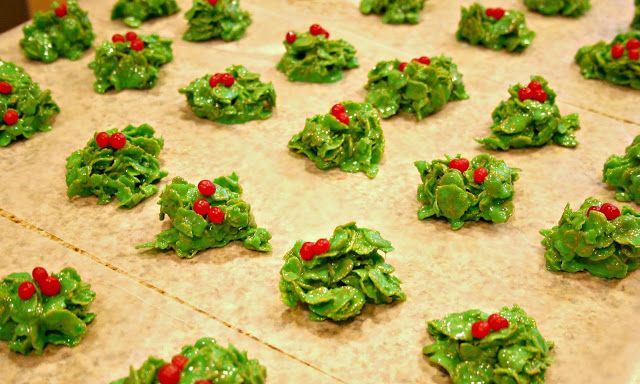 Image source: Pinterest
This is one of the easiest Christmas cookie recipes on the list.
Melt the butter in a saucepan on medium heat. Add the marshmallows and keep cooking. Stir the mix every 4-5 minutes. Once it melts, pour in the food coloring. Add the cereal to this mix. Stir it so that it is evenly coated. Now, place tablespoonful-sized molds from this mix onto a paper-covered baking sheet. Make sure you spray the baking sheet with cooking spray before placing the molds there. Next, press the candies into this cereal mix. You need to slowly flatten each of the molds and then let them stand for about half an hour or until they are firm. Your no-bake holly Christmas cookies are ready for you to indulge in.
4. Christmas tree cookies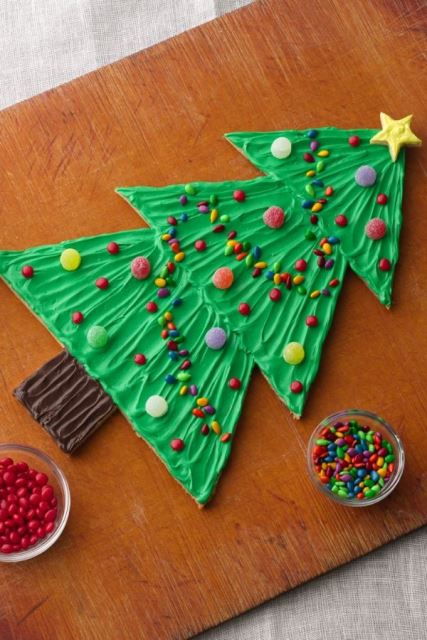 Image source: Pinterest
Preheat the oven to 350 degrees Fahrenheit. In a bowl, blend the green dough ingredients. Next, place this green dough in a bag with a small tip to write with. Use only half of the dough. Keep the other half in the refrigerator. Roll out this half of the dough to a thickness of around one-fourth of an inch. Now using a cookie cutter (shaped like a Christmas tree), create the trees. Place them on an ungreased sheet. Squeeze the decorating bag in order to pipe the outer edge and also pipe random dots on the trees. On each dot, you need to place candies.
Bake the cookies for about 10 minutes. Once you let them cool for a couple of minutes, remove them from the cookie sheet.
5. Reindeer cookies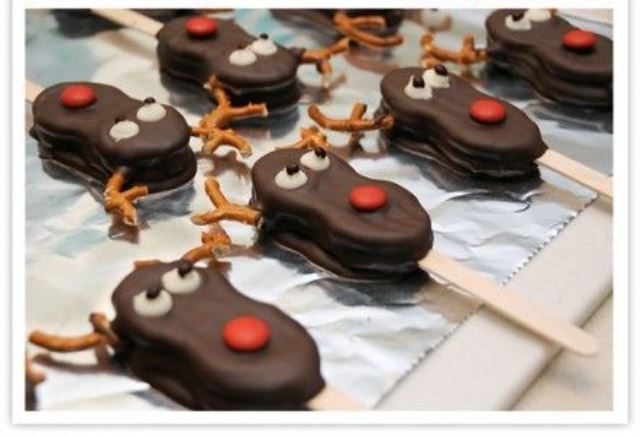 Image source: Pinterest
Preheat the oven to 350 degrees Fahrenheit. Now divide the dough into two. Use one and refrigerate the other. Using your hands, shape this dough into a long triangle. In case the dough is extremely soft, we suggest you put it in the freezer for an additional 30 minutes. Now, cut the triangle into smaller triangles. For the antlers, press two pretzel twists into the corners of the triangles. Bake them for 10 minutes. Once they set, place two chocolate chips for the eyes for each cookie and use a cherry for the nose. Remove your Christmas cookies from the sheets and let them set for around 20 minutes. The remaining dough in the fridge has to go through the same drill!
---
Suggested read: 15 gorgeous Christmas party outfits you can rock this holiday season
---
6. Date pinwheels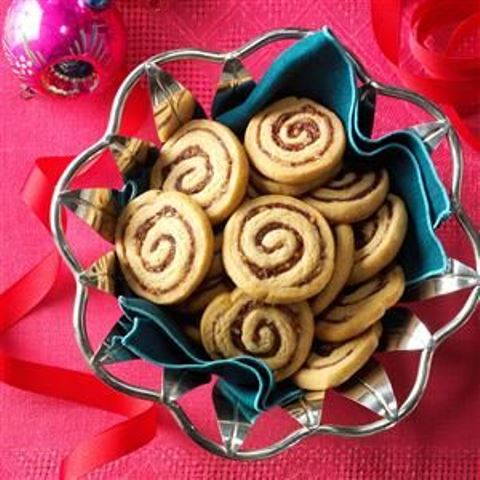 Image source: Pinterest
Among these Christmas cookie recipes, this is the tastiest item! You need to mix dates with water and some sugar. Cook the mixture for 4-5 minutes over a slow flame and keep stirring. Once the mixture has cooled down, add the walnuts and set it aside. In one small bowl, cream the butter with brown sugar. Add one egg and the vanilla essence, mixing well. Whisk the flour with some baking powder and salt and pour it into the sugar mixture. Refrigerate the dough for about an hour. The chilled dough has to be cut into two and rolled out using a rolling pin. Using half of the date mix, spread it on each piece of dough. Roll up the pieces and cover them in waxed papers. Chill until they are firm. Now slice them into 1/4th of an inch and bake at 375 degrees Fahrenheit for around ten minutes. This should make about 6 date pinwheel Christmas cookies.
7. Chocolate-dipped shortbread cookies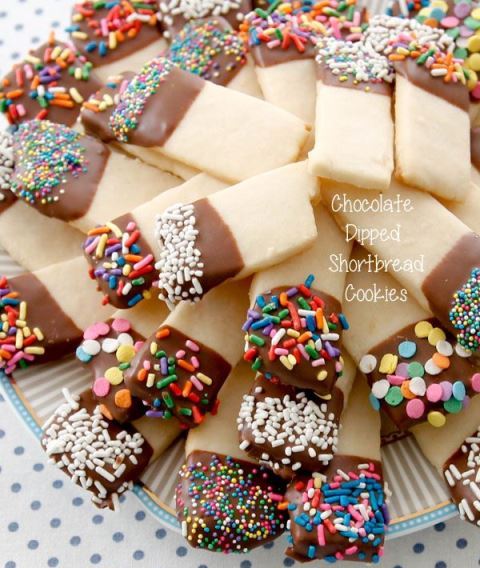 Image source: Pinterest
Now these are the prettiest Christmas cookies on the list. Just look at all the colors! And they taste better than they look! 😉
For chocolate-dipped shortbread Christmas cookies, you need a cup of butter, half a cup of sugar, 2 & 1/2 cups of flour, and a teaspoon of vanilla. You also need around 6 ounces of melted chocolate chips. Mix the butter and the sugar. Add in the flour along with the vanilla. Now pinch out balls out of the dough and roll them in the sugar. Place them on the cookie sheets. Using a fork, gently flatten the balls. Bake them for 15 minutes at 350 degrees Fahrenheit. Once done, remove them from the sheets. Allow the Christmas cookies to cool for 15 minutes. Dip in half of each into the chocolate you melted. Refrigerate to set the chocolate.
8. Mini Linzer Cookies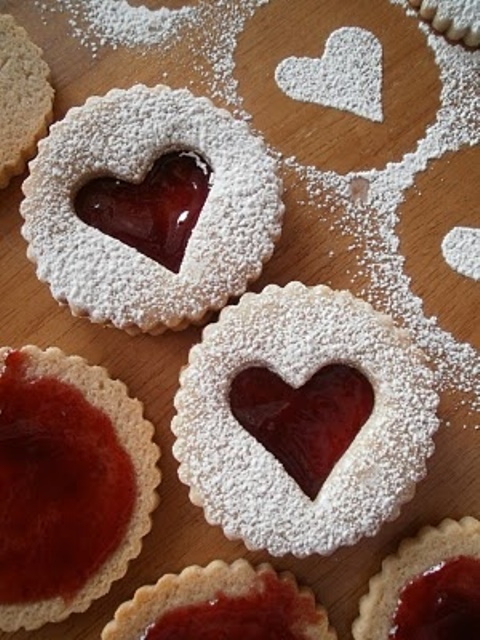 Image source: Pinterest
Preheat your oven to 350 degrees Fahrenheit. Use a bowl to mix the butter and sugar. Now add the vanilla. In another bowl, sift flour and salt, then add it to the butter mixture. Next dump the mix on a floured surface and shape it like a flat disk. Cover it with plastic and refrigerate for 40 minutes.
The dough now has to be rolled with a fluted cutter. Cut a circle out of the dough. Then, using a heart or club-shaped cookie cutter, cut a hole at the center of each cookie. Place your Christmas cookies on an ungreased sheet and chill for around 7 minutes. Bake them for half an hour then allow them to cool. The raspberry preserve has to be spread into the holes. Dust confectioner's sugar on the Christmas cookies and serve immediately.
9. Red velvet crackle cookies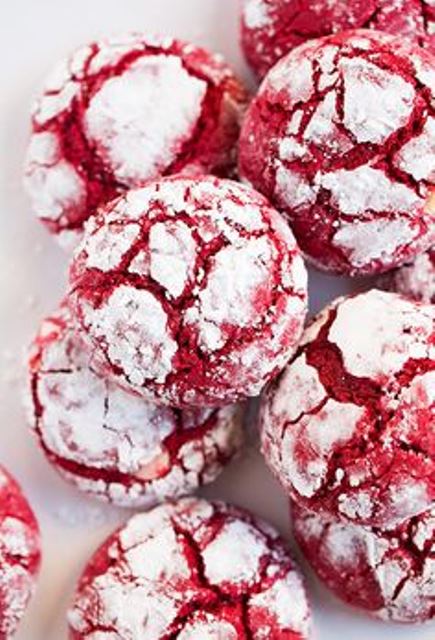 Image source: Pinterest
Now this is a real traditional Christmas cookie recipe!
You need red velvet cake mix, two eggs, and white oil. Mix them well. Scoop the dough out into small-sized golf balls. Place them on unbuttered baking sheets. Next, your red velvet Christmas cookies need to be baked at 350 degrees Fahrenheit for 15 minutes. Let them cool before you dig in!
---
Suggested read: 15 DIY wine bottle decorations you MUST try this Christmas
---
10. Peppermint stick cookies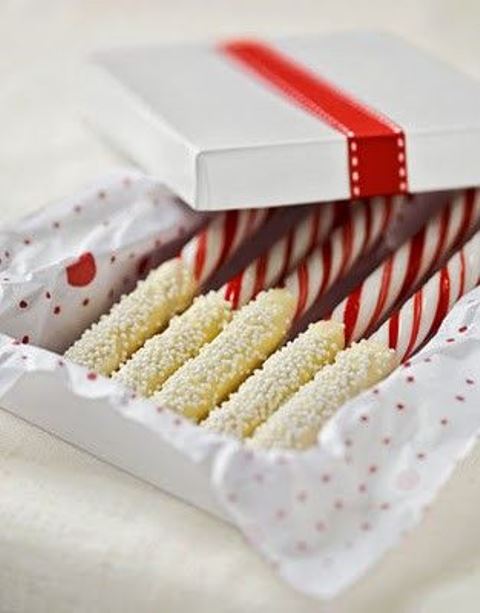 Image source: Pinterest
A list of mouth-watering Christmas cookie recipes has to end with peppermint stick cookies!
In a bowl, mix butter with sugar. Beat in the eggs and vanilla extract. Add the flour and salt to the mix. Stripe half of the dough with the food coloring (white and red), and wrap the dough. Place it in a freezer for 2 hours.
Preheat the oven to 350 degrees Fahrenheit and divide your white and red dough into 24 parts. Roll each into a rope and twist at the ends. Bake for 10 minutes and then let them cool. Now melt white chocolate chips and dip the cookie ends into it. Sprinkle your cookies with crushed candies. Keep them in an airtight container!
If there are other Christmas cookie recipes, both traditional and modern, share them with us in the comments section below. Let's start a confection connection!
Featured image source: Pinterest
Summary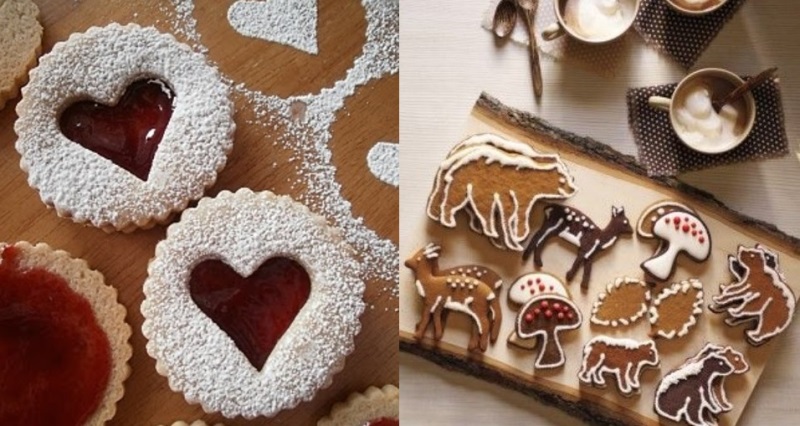 Article Name
10 Mouth-watering Christmas Cookie Recipes You Can Try
Author
Description
What is Christmas without some mouth-watering cookies to munch on? Check out these 10 amazing Christmas cookie recipes you MUST try this festive season.