The holiday season is literally around the corner, and it is time to dress for the occasion. This is that time of the year right before Christmas, when you get invited to a ton of parties, where it is absolutely imperative that you put your best fashion foot forward, and if you don't, you're going to be on the receiving end of a lot of criticism in dark corners of your office or secluded living rooms for several months to come. There are some primary tips and suggestions you can check out for great Christmas party outfits before you rummage through your closet for something to wear, or go out shopping.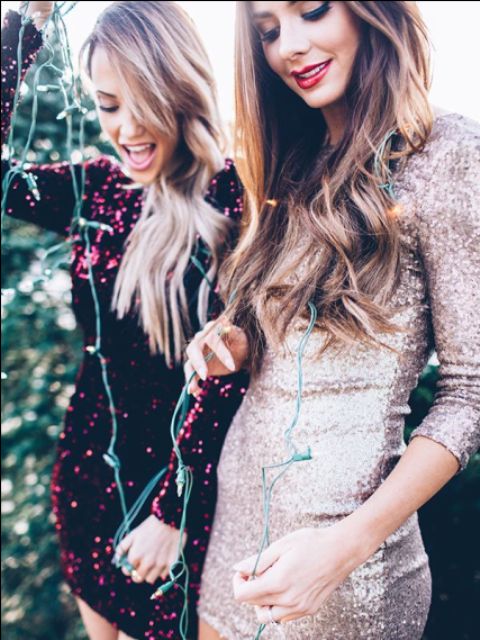 Image source: Pinterest
When it comes to holiday dresses, people seem to be at a loss; and the natural solution to being at a loss is to choose the first available black dress that you have. That is the first mistake which you should avoid. I know that black is really cool and it makes you look slim and it suits all ages. But there are several valid reasons why you should steer clear of black when it comes to holiday party dresses. First, everyone will wear black. Second, black does not suit everyone, no matter how popular the notion is. Third, it is Christmas! There is no need to dress so drably; and unless you are able to accessorize your LBD properly, it is going to look like you are attending a funeral!
As for accessories, this is the time to shimmer and shine your way through all the parties that come your way. Sequins, glitter, shine – bring out whatever you have, and you will have no trouble looking like you are the life of the party. Also, it is better if you go easy on the accessories. One statement piece, such as a necklace, a ring, a pair of earrings, should do. Let your jacket, your shoes, and your personality do the rest.
---
Suggested read: 10 amazing Christmas drinks recipes you MUST try this festive season
---
Now, I can't tell you what exactly to wear to your Christmas party, but here are some examples which are going to give you a comprehensive idea on what would look good on you, and what would be appropriate for the happiest season of the year. Based on these 15 examples of Christmas party outfits, you can rummage through your closet or hit the stores.
1. Contrasting Christmas dinner ensemble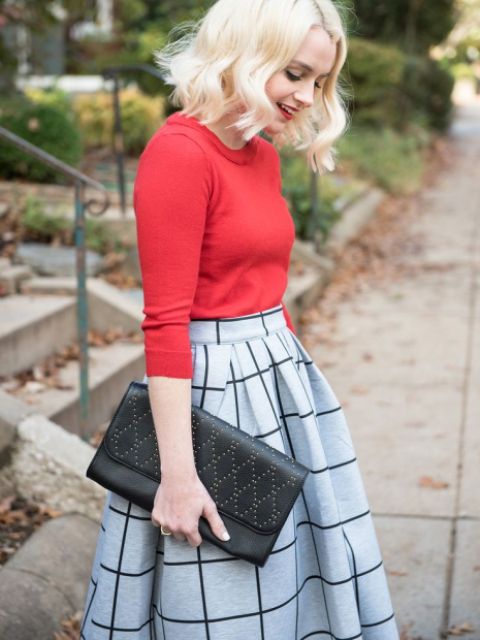 Image source: Pinterest
This outfit is completely in tune with the Christmas spirit, and it also shows how you can look festive and classy at the same time. Also, it is a surprisingly convenient ensemble. Getting hold of a red turtleneck is no biggie, plus it is super comfortable. Also, the printed midi skirt is oh-so-classic. You can pair this superb combination with a simple clutch (which can be the shimmer element in your attire) and either flats or heels would look absolutely gorgeous with this fun, semi-vintage get-up!
2. Velvet green, dark, and chic attire
Image source: Pinterest
If you want to put your most sophisticated fashion foot forward, yet look like you haven't resorted to the same old boring black to play safe, then looks like this is exactly what you should be referring to. The smooth velvet green of the dress is nicely offset by the broad metallic belt of shimmery gold, and the small thigh-slit adds all the sexiness that this dress needs. Accessorize with black or gold shoes, bags, and dark, dramatic makeup, and you are certainly going to take everyone's breath away.
3. Sexy shimmery body-con mini dress
Image source: Pinterest
There are two things that you cannot possibly go wrong with when it comes to Christmas party outfits, and that is body-con and sequins, and this has both. All the shimmery clothes that you had stowed away in the fall, finally have the chance to be showcased in all their glory. A body-con dress with amazingly symmetrical quarter-length sleeves and black stockings is everything that you need to stand out in a crowd. You can accessorize with subtle jewelry because your dress can do all the talking. Nail paint and shoes in popping colors, or even black, will go perfectly with this dress.
4. Super sophisticated red skater dress
Image source: Pinterest
If the Christmas party that you are attending is extra stylish and high-brow, then you can check out outfits like this, which reveal just the right amount of skin, so that you look fun, classy, and mysterious, all at the same time. The sweetheart neckline perfectly complements the skater skirt, and what makes the dress special is the ruffled tulle in black peeking out from the bottom. Pair this dress (or similar dresses) with black stocking and a beautiful pair of dark heels (to make your legs look endless), chandelier earrings or statement neck-pieces (because they were made for such necklines), and a shimmery clutch, and you are good to go!
5. Midnight blue gradient dress
Image source: Pinterest
Yes, yes, I know I said no black, and this midnight blue piece looks like it could almost belong to the black club, but come on! Who could say no to a dress like that? In addition to that, gradient dresses are highly underrated, so in all probability, no one else will wear anything like this as far as holiday party dresses are concerned. The pleats, the soft purple highlights near the midriff and the neckline, all are almost ethereal to look at. To make this look festive, you can leave your hair open, and add some silver accessories for the bling factor. A statement necklace would make this dress shine all the more.
6. Spunk, fashion, and monochrome shimmer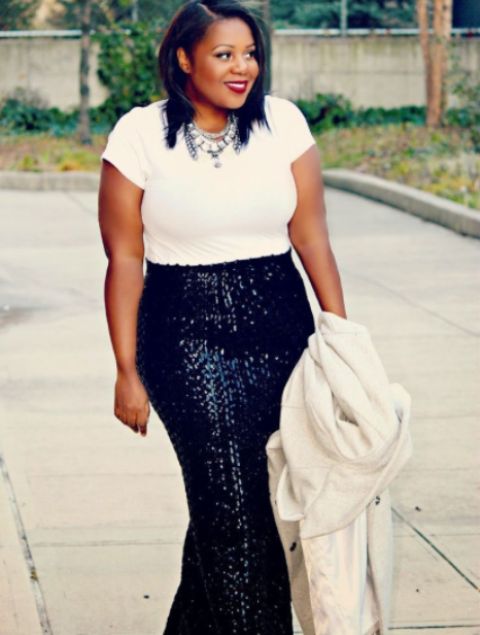 Image source: Pinterest
Nothing exemplifies the Christmas spirit more than this dress which is so simple, yet so elegant and fetching. Like I said, this is the season to bring out all the shimmer and glitter that you had carefully packed away, and this dress shows you how to balance simple and spunky in the most beautiful manner possible. The half-sleeves, chunky jewelry, dark lips, and white jacket work wonders for this look.
7. Pearl and ice Christmas look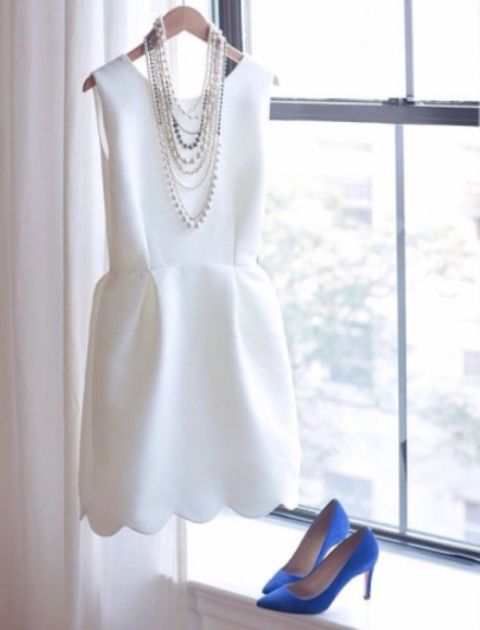 Image source: Pinterest
One of the most ignored colors during Christmas is white, which is sad really, because it is the colour to sport during the cold snowy months. This is one of those Christmas party outfits which is bound to make you look like a snow princess because of the structure of the dress, and the perfectly complementary accessories. With dresses like this, which are smooth and structured, you can wear chunky jewelry with pearls, rhinestones, etc., heavy red lips, simple eye makeup, and a pair of electric blue pumps which just makes the dress come alive.
---
Suggested read: 15 cool cubicle decoration ideas to bring in Christmas cheer
---
8. White and grey swan ensemble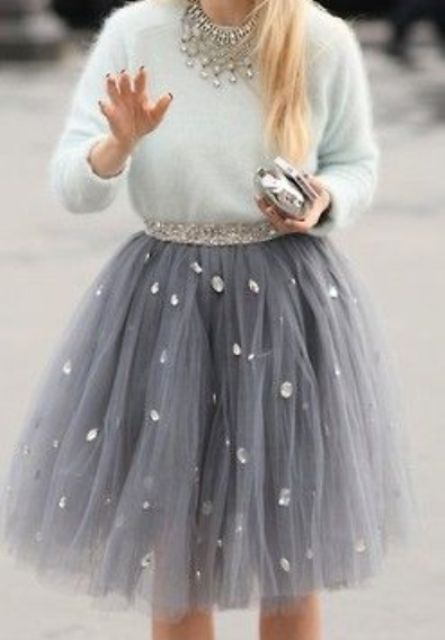 Image source: Pinterest
When we are talking about white, we might as well check out this gorgeous number, which is not as simple as the last one, but no less elegant. In fact, the soft grey tulle skirt along with the chunky embellishment along with the cardigan-like top adds so much more funk and excitement to the outfit. Add to it chunky silver jewelry, a silver clutch, and a pair of black, red, blue, or silver pumps, and you will immediately become the star of the gathering, without being OTT about it.
9. Semi-formal Christmas party attire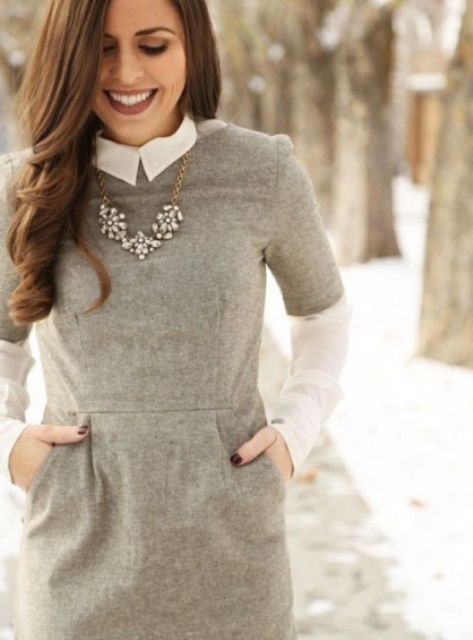 Image source: Pinterest
You might be stuck in one of those situations where you have to attend office in the morning and then directly attend a party right afterwards, without getting time to go home and change into something fancy. Whether it is that or a conservative dinner with friends and family, super chic, super simple holiday dresses like these can save the day. The goose-grey knit dress with a statement necklace, bold lips, black stockings, and black or red or dark velvet pumps are more than enough to make you stand out in a crowd, no matter what occasion you are dressing for.
10. Printed, modest, regal Christmas party look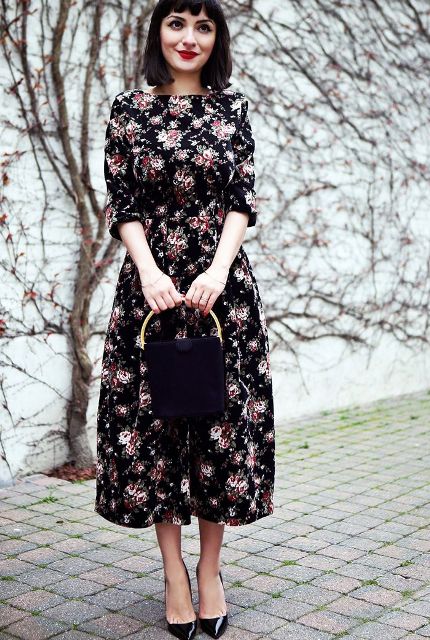 Image source: Pinterest
One common misconception that people seem to suffer from is that 'modest' implies baggy clothing which compromises tremendously on fashion. One look at this dress however, should sufficiently clear the clouds from your mind. If you want to stick to black, go ahead, but make sure you stand out with this printed midi dress, with a boat neck and quarter sleeves. Go all out with your vintage, bold makeup, and keep the accessories to a minimum because the dress itself is drop dead gorgeous. This goes for all printed dresses you might choose to sport this Christmas. If the print is loud, make sure your accessories don't compete with it.
11. Plaid and black Christmas combo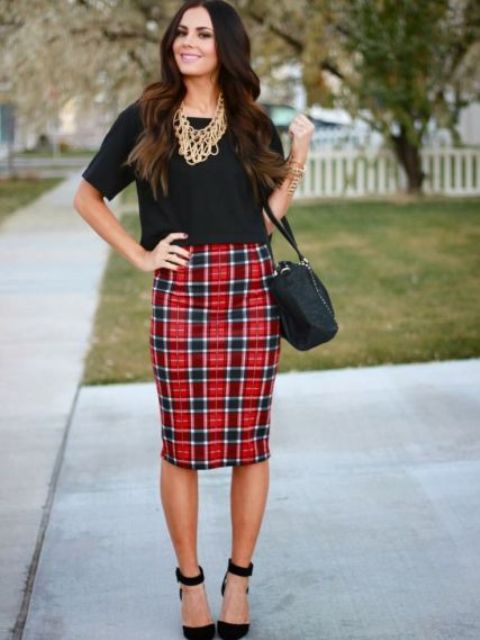 Image source: Pinterest
If you absolutely cannot do without black in your holiday party dresses, then at least make sure that you include sufficient amount of the Christmas spirit (in colors) in terms of your add-ons and accessories. Such as in this ensemble, the trick that seals the deal is the beautiful mid-length plaid pencil skirt, which flatters the almost-casual black top. Paired with that is the chunky metallic jewelry, and a pair of strappy heels, and you are ready to take on any Christmas party this holiday season.
12. Midnight blue magic for the casual chic look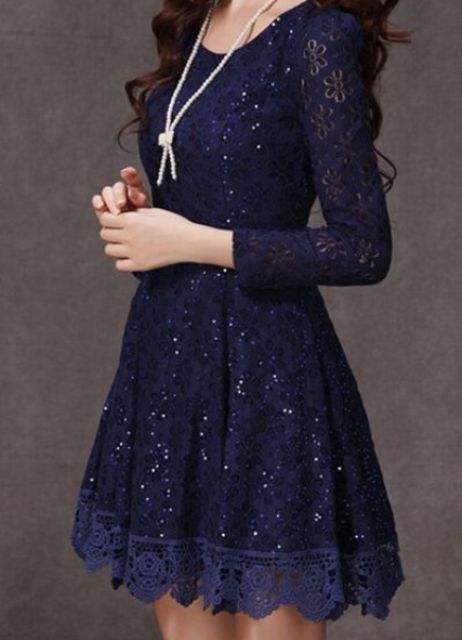 Image source: Pinterest
If you don't want to get too dressy, or if the occasion calls for simple attire, yet one that stands out, then a regular fit-and-flare is perfect. It is casual enough for you to comfortably move around in, yet fashionable enough for a semi-formal gathering. The lace detail on the hemline adds all the effect that you need. Pearls or dull gold accessories are perfect for the color of the dress. You can either go for matching pumps, or heels in nude, silver, or white.
13. Red hot cocktail dress
Image source: Pinterest
If you are feeling extra sexy, and you have occasion to dress your hottest, outfits like these definitely get the green signal. Despite the plunging V-neckline and the thigh-high slit, this dress still retains class and elegance, with a lot of sexiness which comes as a bonus. Accentuate your red dress with matching strappy heels, and a simple clutch. Go easy on the accessories and makeup because you don't want your attire to get too overwhelming.
14. Dreamy peach maxi dress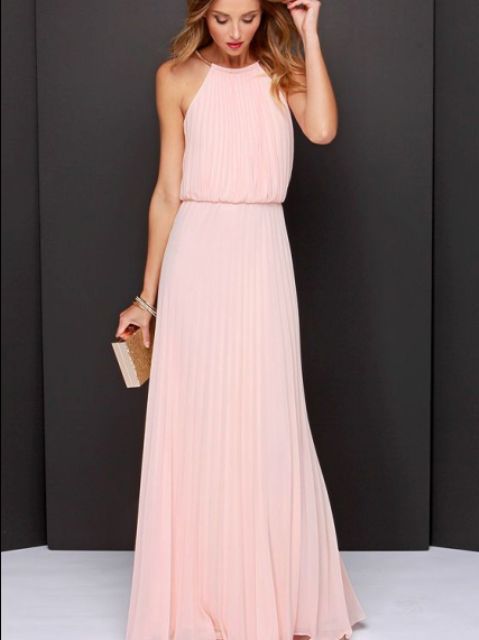 Image source: Pinterest
If you are not too fond of being over the top about your clothing choice, even when it comes to Christmas party outfits, then you can choose to opt for the simpler, yet infinitely more elegant maxi dress. This peachy number complements the bursts of dull gold wonderfully, whether it is the neckline, the belt or the accessories. If you are feeling brave, then you can up your makeup game with smoky eyes and bold lips, otherwise simple nudes, minimal accessories, and matching shoes should do the trick.
---
Suggested read: 10 romantic movies to watch this Christmas
---
15. Gorgeous tulle and sequin combination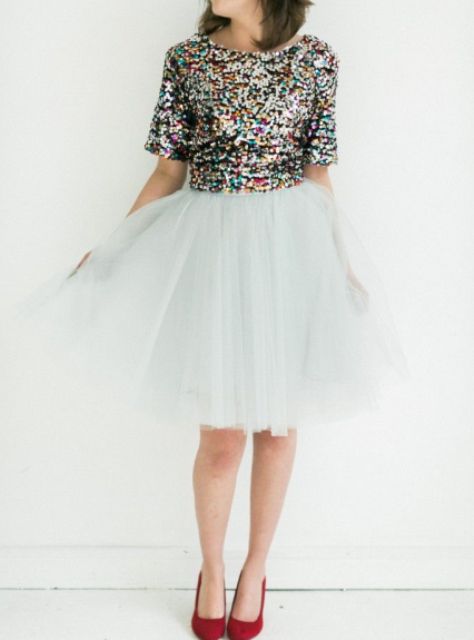 Image source: Pinterest
We've managed to avoid sequins for a decent amount of time, but it is time to finish off the list with one of the coolest, quirkiest, and most comfortable outfits – tulle and sequins fit-and-flare dress. The snow white skirt of ample tulle is demure, which brilliantly offsets the colorful sequined top, something that is bound to turn heads at your Christmas party. You can make this outfit even more fun with dark red suede pumps, matching makeup, and minimum accessories, because a sequinned top is way too gorgeous in itself.
Thus, whether you want to be fun or demure, quirky or classy, modest or sexy this holiday season, you can check out these fun, different, and certainly attractive options for your outfit ideas!
Featured image source: Pinterest
Summary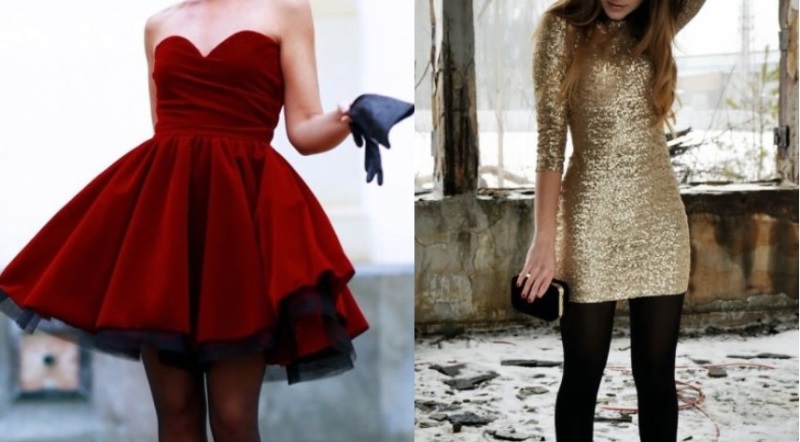 Article Name
15 Christmas Party Outfits You Can Rock This Holiday Season
Author
Description
Christmas and parties go hand in hand. So, this holiday season, put your best fashion foot forward with these gorgeous Christmas party outfits!