If you are looking for some fun this Christmas, I am sure you will be inviting a couple of besties over for a few drinks! Why not turn the ordinary shots into something that is tastier, looks fancier, and 'stirs' up some amazing conversation? Yes, I am talking about signature Christmas drinks!
Though most people nowadays stick to various white or red wines to keep the affair simple, I suggest that you try some of these delicious, easy-to-prepare Christmas cocktails! From the red hot Cherry bombs to the continental Kir Royales, these holiday drinks are going to be an absolute hit at your party! So how should you go about the jazzy affair of preparing them? Don't worry, we have that sorted. Just follow our lead and get ready to host the most amazing Christmas cocktail party at your place! Wishing you a "Bloody Mary Christmas" in advance! 😉
---
Suggested read: 10 must-read evergreen books for Christmas
---
1. Raspberry Limoncello Prosecco cocktail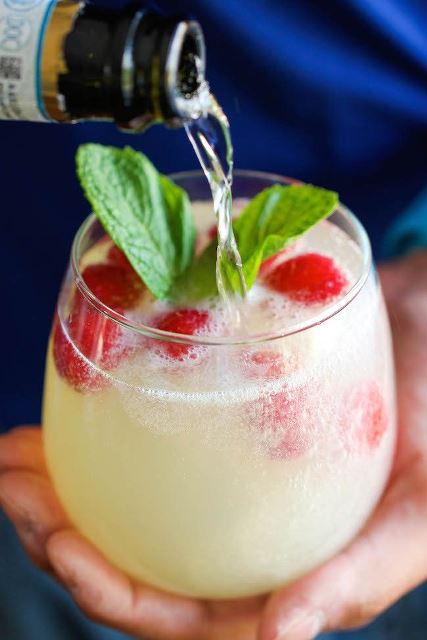 Image source: Pinterest
The name sounds tough and the drink looks magnificent, but did you know that one of the most amazing Christmas drinks only takes 5 minutes of prep time? You must try it out.
For the Raspberry Limoncello Prosecco cocktail, you need three cups of prosecco. Make sure it is chilled! You also need a cup of Limoncello liqueur (again chilled), a cup of frozen raspberries, and around six sprigs of fresh mint. Now we are ready to roll!
In one big pitcher, beat some prosecco with some Limoncello. Serve the drink over the raspberries and use the mint sprigs to garnish!
2. Southern Comfort punch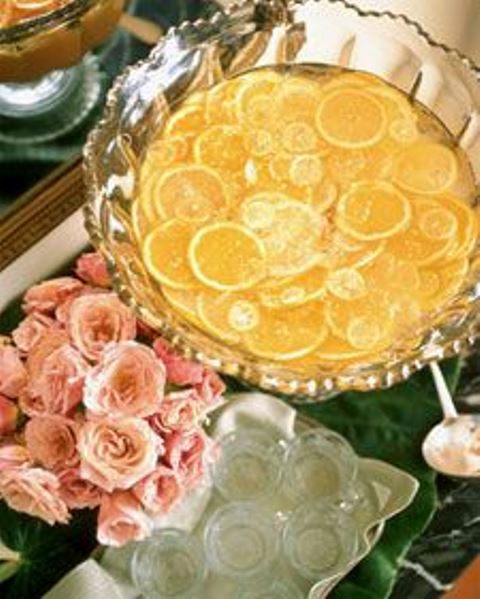 Image source: Pinterest
Say cheers with a Southern Comfort punch, one of the best drinks to start your Christmas festivities! First, line a couple of baking sheets with a plastic wrap. Set them aside. Now slice some lemons into round but thin wedges. Arrange these in tiers on one of the baking sheets. On the second sheet, layer the oranges. Place the sheets in the deep freeze for about 3 hours. The fruit slices must freeze.
Before you serve it, take a large punch bowl and open frozen orange and lemon juice cans. Add soda, some Southern comfort, and ice (lots of it!). Now dump in the frozen slices of lemons and oranges into the punch. The most important part: serve immediately! 😀
3. Christmas sangria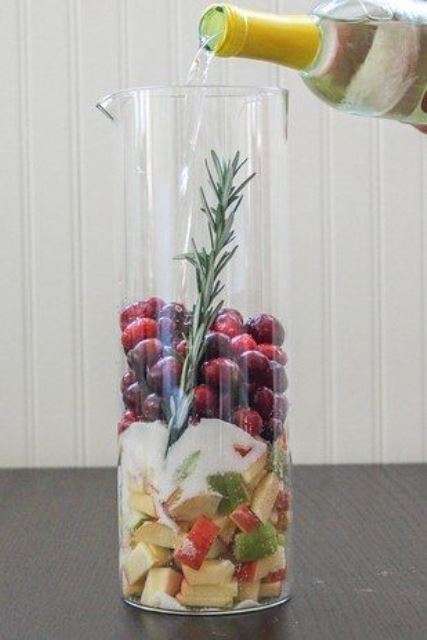 Image source: Pinterest
First, chop the apples into pieces and discard the cores. Now place them in a large pitcher. Slice some oranges and dump them in too. You can cut the whole orange into circular slices so that the drink looks prettier in the end. Now throw some cranberries and raspberries into the pitcher! Use a spoon to stir the contents, but make sure you don't break the raspberries!
Pour in some wine, sugar, and half a bottle white cranberry juice. Stir the contents lightly. Keep the sangria in the freezer for around 30 minutes. Before serving, fill the pitcher to the brim with some ginger ale or club soda. You can use fresh rosemary to pretty up the sangria!
4. Martha's classic eggnog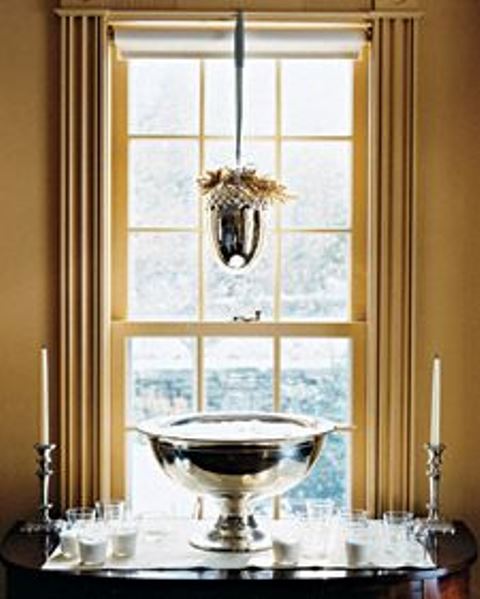 Image source: Pinterest
A traditional eggnog recipe cannot be ignored on a list of must-try Christmas drinks.
Begin by beating the yolks in a large bowl. Once it is thick and pale add sugar and beat slowly. Next, whisk in some milk and a couple of cups of cream. Blend some bourbon, rum and Cognac. Cover it and keep it in the fridge for a day.
A few minutes before serving, beat some egg whites until hard peaks form. Add the whites into the eggnog and whisk in one more cup of cream. Fold this into the eggnog. Shake in some nutmeg!
From the bartender's desk: remember that the egg yolks and whites are not cooked here. Also, this cocktail is not suitable for pregnant women, old people or people with health issues.
5. Cherry Bombs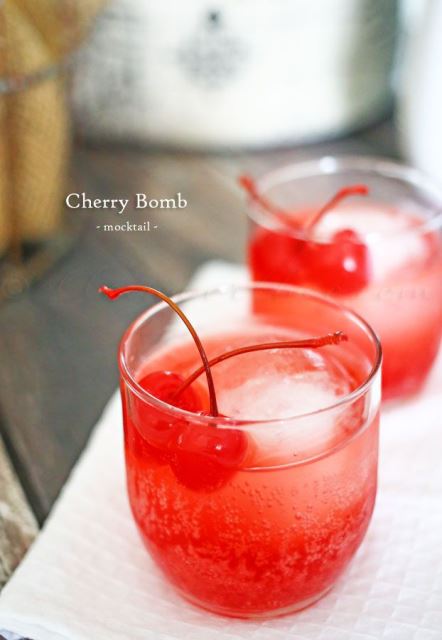 Image source: Pinterest
Doesn't this remind you of a Shirley Temple? Well, this one can be sipped on by the elderly and the little ones too!
To make six glasses of cherry bombs, place around 2 cups of water in a small saucepan. Bring it to boil over high heat. Now add grenadine and stir the combination. Next, pour the mixture into a couple of ice cube trays. Freeze the trays overnight so that the contents turn solid. Pour your grenadine ice cubes in six glasses and top it up with some soda. If you are a sucker for aesthetics, garnish the drink with cherries before serving. That is, if you can wait that long and not finish the drink on your way from the kitchen to the drawing room! 😉
---
Suggested read: 10 weird Christmas traditions from around the world
---
6. Classic Martini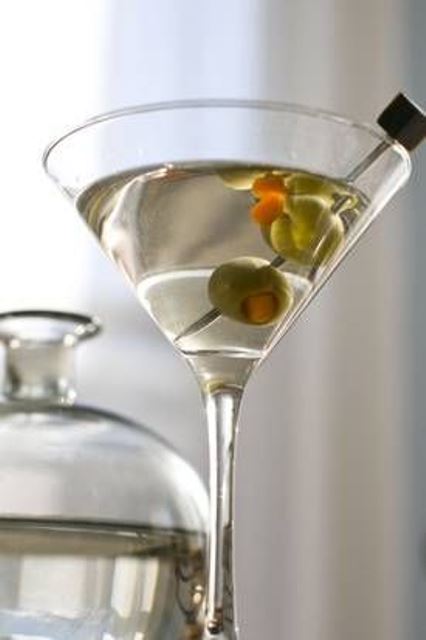 Image source: Pinterest
You can never go wrong with a classic Martini!
Martini with a twist? Let's make it simpler for you. All you need is a 3/4th cup of vodka or gin, two and a half teaspoons of dry vermouth, and cocktail olives.
Dump it all in a cocktail shaker with ice cubes. Now add some gin or vodka and shake thoroughly. Next, add the dry vermouth. Shake well and then strain the contents of the shaker into the Martini glasses. Garnish using olives. Serve right away!
7. Grinch Punch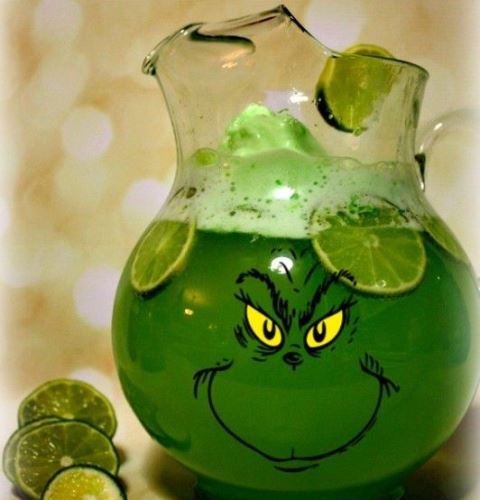 Image source: Pinterest
If your family is expecting a frothy beverage this Christmas, Grinch Punch is one the best Christmas drinks! For the punch, you need one-third of a cup of sugar, 6 tablespoons and 2 teaspoons of water, some evaporated milk, half a teaspoon of almond extract, around 12 drops of neon-green food coloring, and a bottle of lime soda (it needs to be chilled!). 2 cups of vanilla ice cream will help you seal the deal!
In one large saucepan, you need to mix some sugar and water. Now cook the sugar over a low flame and keep stirring. Once the sugar dissolves, remove the saucepan from the heat. Blend in the milk and add the extract. Move the mixture to a bowl so that the contents can cool to room temperature. Cover it and place it in the freezer until chilled.
Just before you serve the beauty, transfer the mixture of milk into a punch bowl. The food colouring needs to be stirred in with the soda. Top the drink with scoops of vanilla ice-cream. This will make you 16 servings!
8. Kir Royale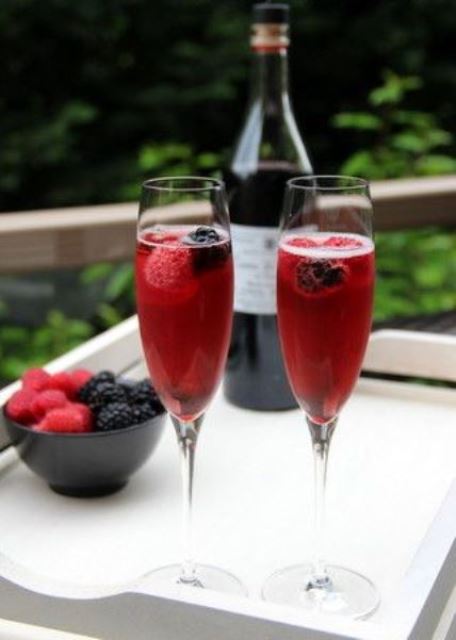 Image source: Pinterest
A favorite for many, this French cocktail is by tradition relished with a holiday appetizer for some continental taste!
The Kir Royale needs three ounces (or six tablespoons) of crème de cassis, a bottle of Champagne or some other kind of sparkling wine, and around six strips of tangerine or orange zest to garnish with!
Before serving, add a tablespoon of crème de cassis into each of the glasses. Now fill them with Champagne or some other sparkling wine. Use tangerine strips or orange zest to enhance the drink.
9. Mulled Cranberry Cocktail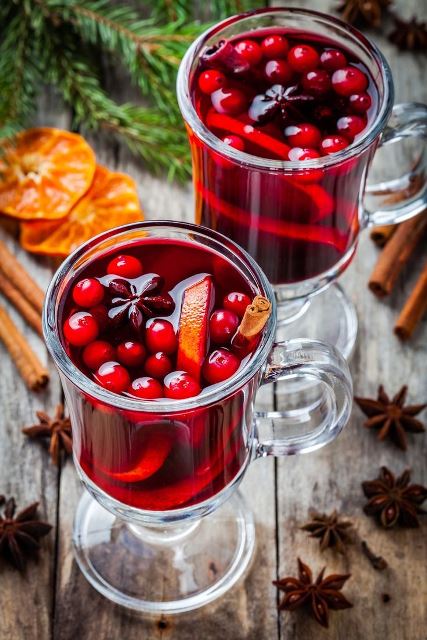 Image source: Pinterest
What can be better than a mulled cranberry and cinnamon sipper this festive season?! We promise it'll keep you warm inside and out!
In one medium saucepan, mix the cranberry juice with cinnamon sticks and cloves. Boil the mixture. When it starts to boil, simmer the heat. In the meantime, take a smaller saucepan and mix the cranberries with sugar, some ground cinnamon, and a few tablespoons of water. Heat this mixture over low heat. Gently stir until the cranberries pop. They will get properly covered with the sugar mixture. Once the mixture is cool enough, string around 3-4 berries on some decorative toothpicks. You can also use skewers. Pour this mulled cranberry juice into 4 mugs (yes, don't use glasses!) and adorn using cranberry swizzle!
---
Suggested read: 6 joyful Christmas activities to do with your partner this festive season
---
10. Blood orange Champagne Cocktail
Image source: Pinterest
You can transform an ordinary mimosa into more of a festive, ruby-colored cocktail by adding some tart blood orange juice! Amazing drink hack, eh?! Let's see how we got to go about this holiday drink!
For a Blood Orange Champagne Cocktail, you need two and a half cups of freshly squeezed blood-orange juice. If not, you could use frozen blood-orange juice. You also need two 750 ml Champagne bottles. Make sure they are chilled!
Pour 3 to 4 tablespoons of the blood-orange juice into each Champagne flute. Next, pour the champagne into the flutes. Serve it chilled!
These Christmas drinks are the reason for the festive season this year! With the year ending and a new year on its way, you may want to sit back and revel in the bittersweet feelings! So make a dry, dirty or a perfect Martini for yourself and your special someone and relax! Christmas is all about love, and you can express it better this season with a cocktail in hand. Cheers!
Featured image source: Pinterest
Summary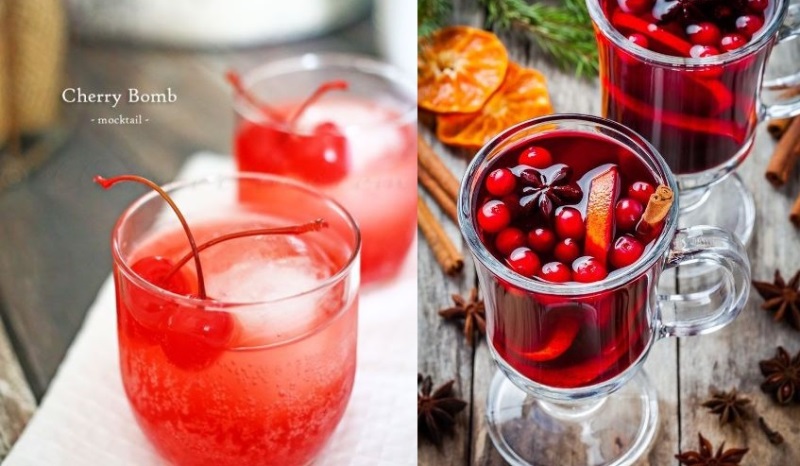 Article Name
10 Christmas Drinks Recipes You Must Try This Festive Season
Author
Description
What is Christmas without Christmas drinks to keep you hydrated? ;) Check out these easy holiday drinks recipes you can try this festive season!