Christmas is the time to celebrate, to dress up, to cook up a feast every single day, and to put up decorations which will light up your home and be the physical manifestation of the happiness you feel during the season of merriment. It is also the season of eating and drinking to your heart's content, and as a result, one of the things that you must have stocked up on over the years is several empty wine bottles. One cardinal mistake that people seem to make is throwing these empty wine bottles away, when they could be doing something much better with them. Wine bottle decorations are the new in thing, where you take old bottles of wine, wash them, and re-decorate them so that they become fabulous, unique, attractive decorations for your home during Christmas.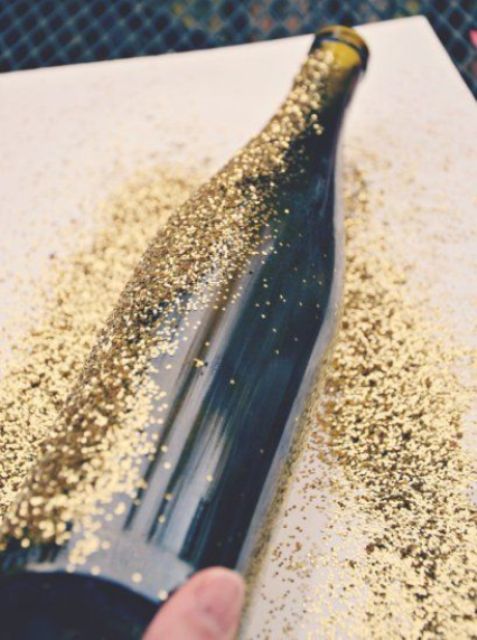 Image source: Pinterest
An empty bottle of wine can be used to decorate your home for several reasons. Firstly, it is made of glass, hence is aesthetically more appealing. Secondly, the nature of the glass used for making wine bottles is highly malleable, meaning that you can re-adjust them, paint on them, cut them, stick things on them, and alter them in pretty much any way you want. In addition to that, they are hollowed out from the inside, allowing you to place a lot of things in these bottles after you have decorated them, such as lights, flowers, marbles, oil, etc.
---
Suggested read: 15 gorgeous Christmas party outfits you can rock this holiday season
---
Here are 15 great DIY ideas that you can try out to make wine bottle decorations this Christmas.
1. White, textured dry flora holder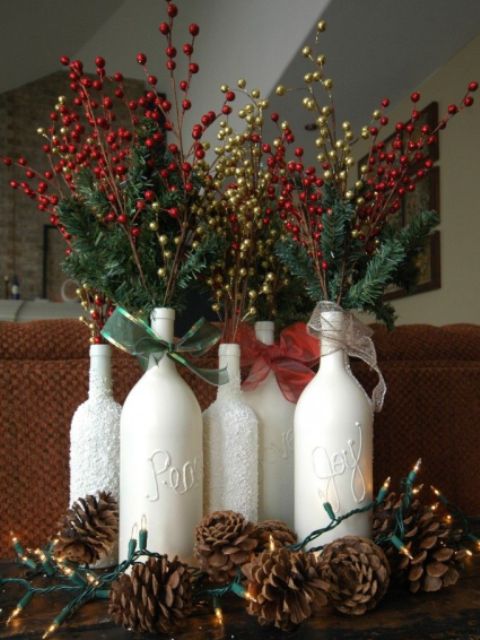 Image source: Pinterest
Wine glasses are the perfect shape for holding flowers, branches and things like that. Showcase your Christmas spirit with these bottles, which have been painted a stark white, with personalized messages, and even designs, which you can achieve with a glue gun. This is also an example of wine bottle centerpieces, which can be enhanced with further decoration with branches, wreaths, pine cones, and of course, fairy lights.
2. Wine bottle snowmen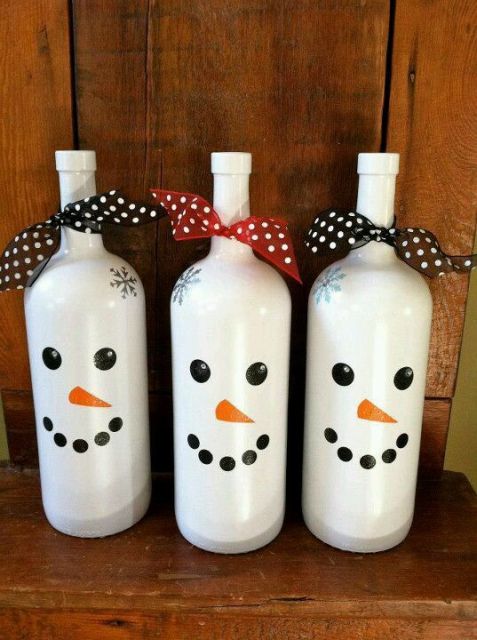 Image source: Pinterest
One of the most anticipated parts of Christmas is snowfall, and the snowmen that you can make with the snow. Even if it doesn't snow where you live, snowmen are one of the most recognizable symbols of the arrival of Christmas time. Paint your old wine bottles with a spotless white paint after you have washed them, and simply use stencils or a paintbrush or other appropriate objects to paint on the eyes, noses, and mouths. You can choose to keep the snowflake details or the bows, or you could even use them to store winter blooms.
3. Easy, classy gnome decoration with wine bottles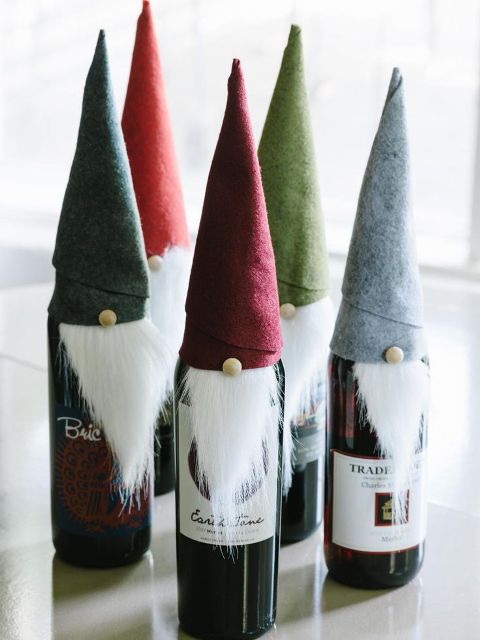 Image source: Pinterest
Another very recognizable symbol of the Christmas season is gnomes. People usually install artificial gnomes made of plaster in their backyards, but you don't have to go through all that trouble. For these decorated wine bottles, you don't even have to take off the labels, as they act as makeshift shirts for the gnomes. A semi-circular piece of colored fabric can be rolled into a cone-shape for their hats, a fabric button, and conically cut cotton swabs are all you need to create this super-cute, super easy Christmas decoration.
4. Quintessential Santa decorations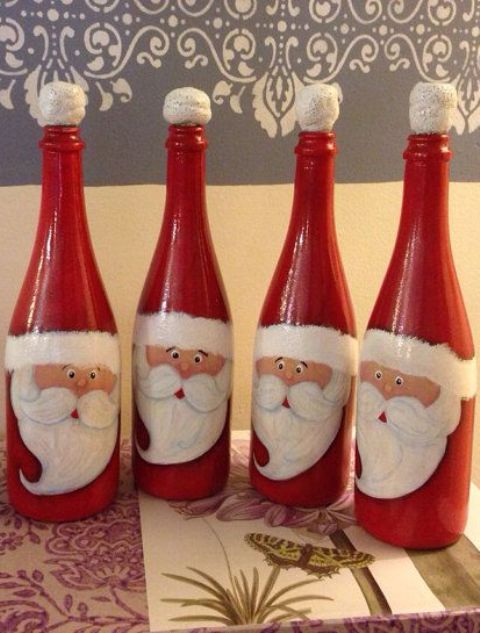 Image source: Pinterest
Christmas could not possibly be complete without the figure of Santa Clause adorning the inside of your house, and this is the one of the best uses of old wine bottles. This is also something kids could enjoy, and when you have multiple wine bottles decorated as Santas, they can be put up in various parts of the house as part of the festivities.
5. Golden flower holders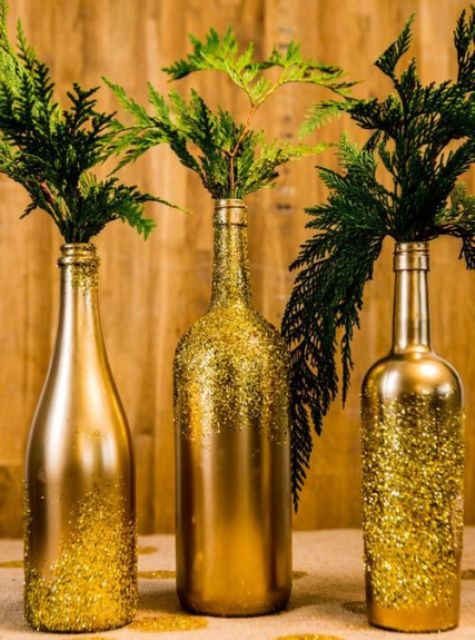 Image source: Pinterest
Like I mentioned before, wine bottles are hollowed out from the inside, making them great makeshift vases. They are especially convenient because they are economical, as you do not have to invest in new vases, and they can also be customized to look like whatever you want them to look like. Christmas time is abounding in colors such as gold and green, and this DIY project shows you how you can make use of simple things like branches of holly, gold paint and gold glitter (and some glue) to make the most beautiful wine bottle decorations this holiday season.
6. Christmas snowflake lamps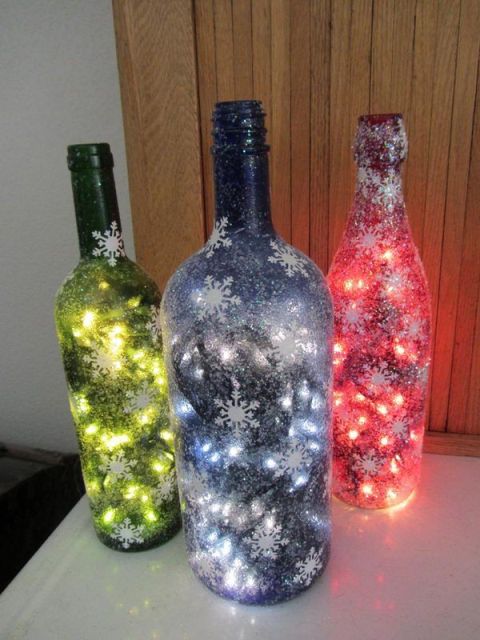 Image source: Pinterest
You cannot possibly spend December without fairy lights, and what better way to display your fairy lights rather than by putting them inside colorful old wine bottles. You get a lot of stick-ons and snowflake stickers and icicle designs which you can easily paste on your wine bottles. After that, all you have to do is insert the lights into the bottle, to make them one of the most attractive parts of your holiday décor.
7. Christmas lights for the lazy decorator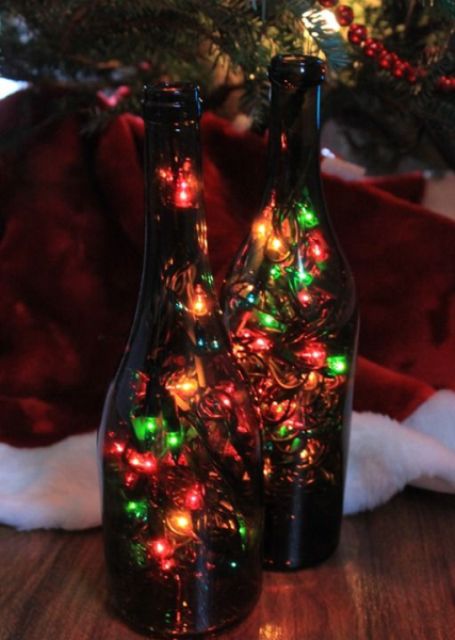 Image source: Pinterest
There may be several reasons why you may not be able to decorate the bottle itself. You may not get the stick on snowflakes, you may not have the right bottles which would suit the designs, or otherwise, you may just feel lazy. In that case, you can have your wine bottle lights without all the embellishments, and make your living room, or your patio, or even your Christmas tree look pretty. All you have to do is clean out your old wine bottles and insert those white, yellow, blue, red, green or multi-colored lights inside, to light up your Christmas.
---
Suggested read: 15 cool cubicle decoration ideas to bring in Christmas cheer
---
8. Suspended wine bottle lanterns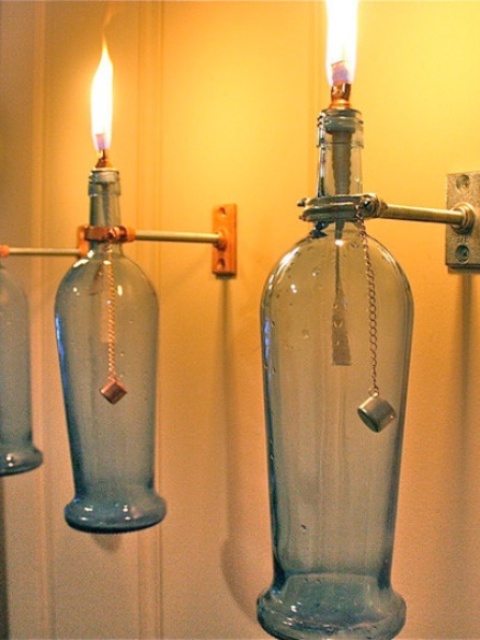 Image source: Pinterest
Another benefit of using old wine bottles as decorations is that they make fabulous lanterns, especially because they are able to hold oil, and the mouth is thin enough to accommodate the wick which will be lit to make a gorgeous lantern. If you have a candle bracket on your wall, or even if you have hooks from where you can suspend your work of art, then all you need is a wick, some cork, some oil, and you are good to go.
9. Twined red and white wine bottles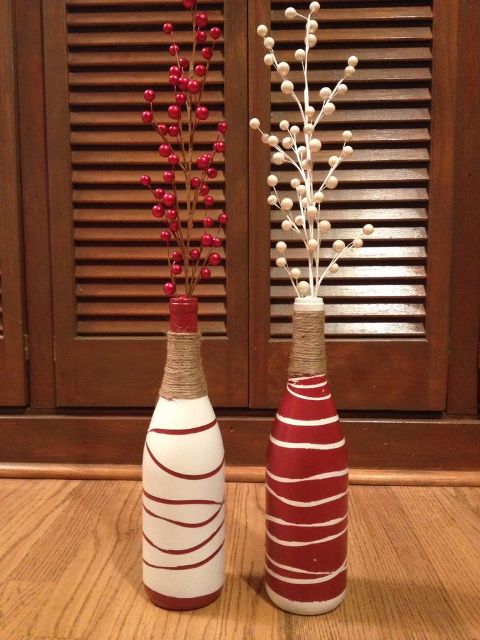 Image source: Pinterest
One of the most sought-after decoration methods for wine bottles is twining, which is wrapping materials such as jute or other strung fabric tightly around the wine bottle to give it a classy, rustic yet sophisticated feel, just like in the necks of these bottles. Bring out those festive Christmas colors and use string to paint your bottle and adorn them with holly stems to make amazing wine bottle centerpieces for your Christmas dinner table.
10. The Grinch who stole an old bottle of wine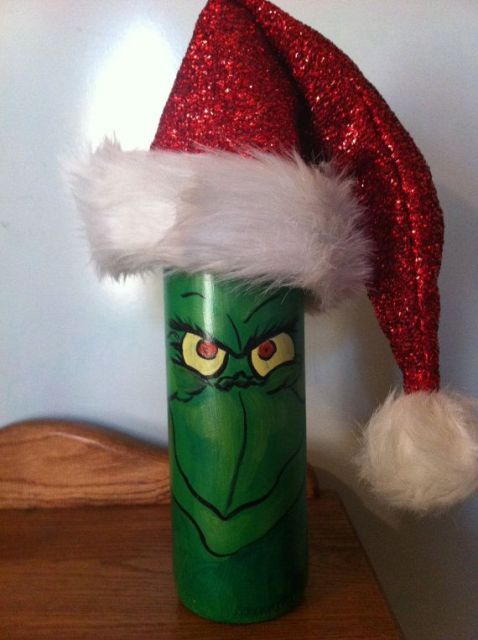 Image source: Pinterest
"The Grinch Who Stole Christmas" is a wonderfully entertaining, classic Christmas must-read as well as a must-watch movie, and getting your wine bottle decorated with the Grinch's face is bound to delight adults and children alike. Also, because of the simple, one-stroke lines, you can actually draw the face of the Grinch on your bottles on your own! The rest of the magic is taken care of by the Christmas hat strategically placed at the neck of the bottle!
11. Wine bottle goodie trays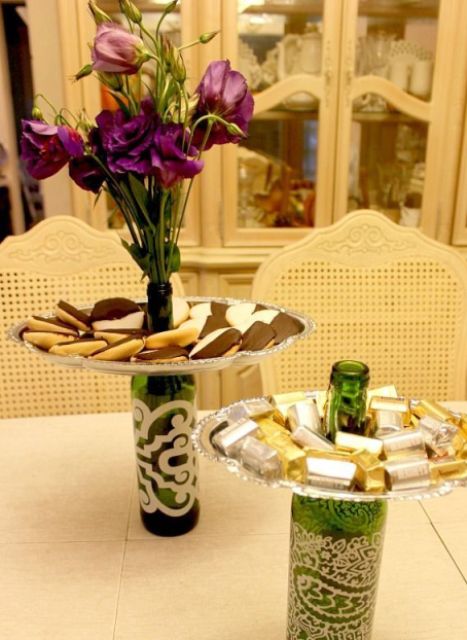 Image source: Pinterest
If you are going to recycle your old wine bottles, why not make something practical and useful out of them, instead of keeping them just for the sake of decoration? This ingenious DIY idea shows you exactly how you can achieve such a feat. If you are uncomfortable about making holes in your plates, then you can paint firm plastic ones with silver paint and then make the right sized hole for the plate to slide through. They are super convenient, space-saving, and beautiful too!
12. Personalized memory on a bottle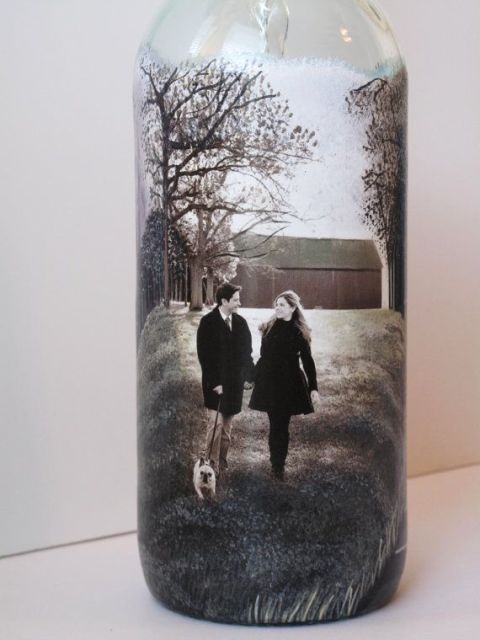 Image source: Pinterest
Christmas time is all about remembering your loved ones, spending time with those who are with you, and celebrating the spirit of love and friendship with them. You can turn your old wine bottles into unique, personalized photo-holders, where you can either get pictures printed on the body of the bottle, or you can ease one into the bottle, so that you can see it through the glass. Fairy lights in the back will make it look like an expensive photo-frame, whereas in reality it costs almost nothing!
13. Silhouette designs with lights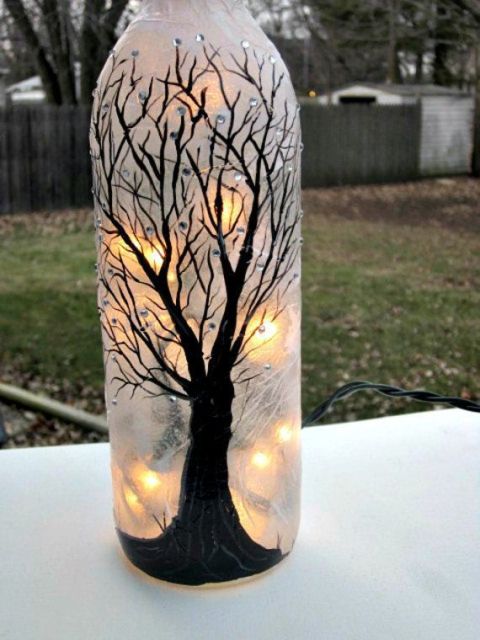 Image source: Pinterest
Another great way in which you can make use of old wine bottles is with lights and shadows outlining an image that would suit the rest of your decorations. If you don't have a picture, then you can cut out other shapes, or even use black paint for the same. In order to highlight it, paint the rest of the bottle white and insert lights into the bottle to make it look like an expensive centerpiece for your Christmas party dinner table.
14. Lace doily Christmas décor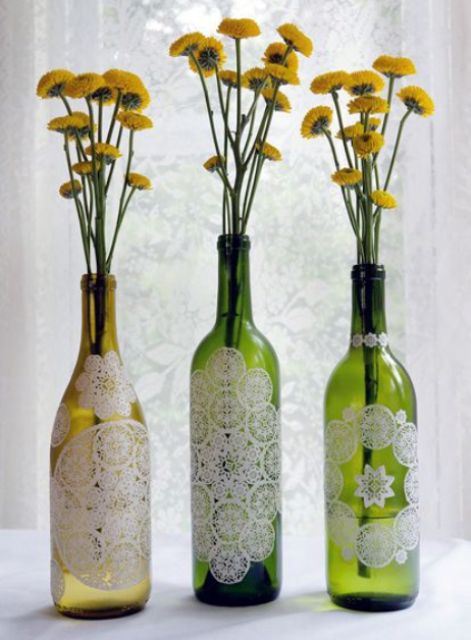 Image source: Pinterest
Doilies are some of the prettiest things you can put on a table, or on a piece of furniture. Wine bottles in themselves are also very pretty. When you combine the two, you have something as beautiful as this, which is going to make your Christmas decorations game so strong. Winter flowers in bright colors will just make the bottles look infinitely better.
---
Suggested read: 15 funny Secret Santa gifts that will make your colleagues smile!
---
15. Wine bottle complete Christmas tree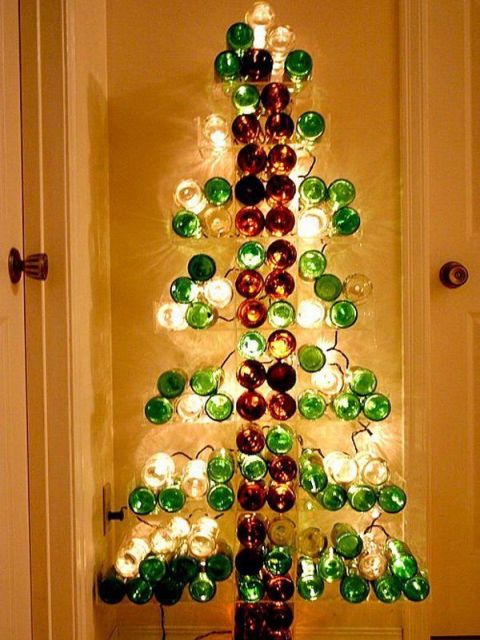 Image source: Pinterest
This is the latest trend that has gripped people all over the world, as they search for ideas on how to recycle their old wine bottles to use them as decorations. Making a Christmas tree (baubles and all) with wine bottles may not be as complicated as you think it would. All you have to do is install some shelves in the shape of the tree, pack your bottles with lights, and stack your bottles (mouths facing the walls) accordingly and you will manage to have one of the most stunning Christmas installations in the entire neighborhood.
For every Christmas enthusiast, dealing with all the empty wine bottles at the end of the season, after the New Year is a task which has to be dealt with separately. Instead of carefully disposing off these bottles, you can turn them into super cool DIY projects, which will allow you to install some unique, handmade, personal festive decorations in your home, this holiday season!
Featured image source: Pinterest
Summary
Article Name
15 DIY Wine Bottle Decorations You Can Try This Christmas
Author
Description
This Christmas season, put to use all those wine bottles that are collecting dust in your attic and turn them into beautiful wine bottle decorations!