When you hear the three words "I love you," you have to admit that the whole world seems to light up a tad bit and you just can't help but smile! Dropping the 'L' bomb is something everyone has done and experienced in their lifetime—it is truly a wonderful feeling!
This art of saying I love you can be done in so many ways, but everyone seems to stick to the same monotonous way of doing it. Come on, people! Where have all the romantic gestures and creativity gone? Have we become such a boring generation? Tsk tsk, such a shame this is.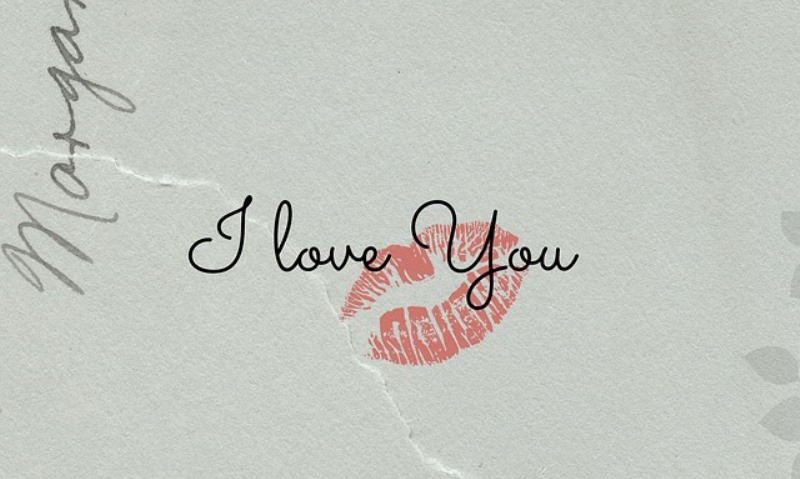 Image source: Pixabay, under Creative Commons License
It's quite sad that saying I love you to your partner is so common that the phrase is often overused. These three words are said a little too often, taking away from its meaning and thought behind it. Nowadays, it's mostly about saying I love you over posts on Facebook and Instagram which is, no doubt, awfully sweet. However, it takes away from the genuine feeling when the phrase is measured by likes and comments on social media posts.
What happened to the good old days where saying I love you was expressed in drastic ways that one could never forget? I miss those times! Well, I say it's time to bring back the old school ways of saying I love you! Just like Ed Sheeran says, "As long as I'm here, as long as you love me give me that old-school love right now."
---
Suggested read: 15 ways to make your 'I love you' the most special one
---
So go ahead and do that! It will really improve your relationship. So if you are looking to spice things up or are mustering up the courage to speak your heart out for the first time and you need a special way to do it, the old-fashioned way is the way to go!
The list below is going to help you do just that, so have a look!
1. The ever popular love letters
Image source: Pixabay, under Creative Commons License
This one is my personal favorite! Love letters are an all-time favorite. You don't have to be a fabulous wordsmith because when you just write down what's in your heart, the paper in front of you will showcase a masterpiece. All you have to do is put that pen to paper and get crackin'! This is a timeless hit when it comes to expressing matters of the heart. This is simply one of the most romantic gestures of all time. No number of text messages, Facebook posts or emails can even compare to the passionate power of a handwritten love letter!
2. The magic of mix tapes
Who doesn't love music? All of us are music lovers, especially when we are in love and can't get enough of those dreamy love songs that melt our hearts every time we listen to them. Keeping this in mind, a fabulous old school way to say I love you can be done through a mix tape. Mix tapes are a lot of fun to make and can be a very thoughtful way of sharing your feelings. Make a mix tape of your favorite love songs for that special someone. Nothing spells old school love better than a mix tape!
3. The power of poetry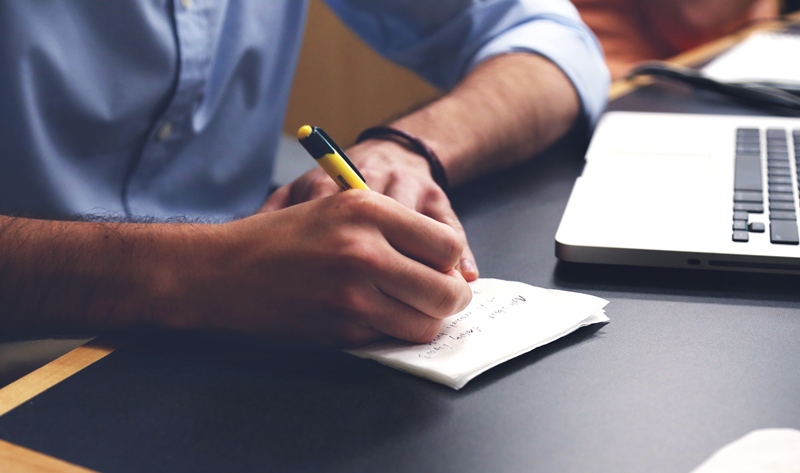 Image source: Google, copyright-free image under Creative Commons License
The language of love can truly be expressed through poetry, and the best part is you have a wide variety of poets to choose from, be it Lord Byron or Shakespeare. Go ahead and quote them to make your very own mix poem of sorts! Or even better, take inspiration from them and write a love poem of your own! Just find your muse (which, in this case, is your partner) and let those creative juices flow! It may not be as good the great love poets of the world, but remember, it's the thought that counts!
4. Make your mark
Wouldn't it be lovely to do something out of the ordinary to safeguard your love for years and then come back to find that the mark of your love is still there? You can achieve this by carving each other's names and initials on the bark of a tree. This gesture will leave a permanent mark in nature and the both of you can come back years later to that very same spot and find the symbol of your everlasting love for one another right there on that tree.
---
Suggested read: 10 new ways to say 'I love you' to your partner
---
5. Sing a song
Writing your own love song (or a love song by another artist) and singing it for your partner is a great old school way of saying I love you. Throw an instrument in there (if you know how to play one), and you've got yourself a perfect mix. Your partner will absolutely go gaga for you after this gesture. Believe me, I'm talking from personal experience – I was all tears and smiles! Here again, it doesn't matter if you're a very good singer because the other person will be too blown away by this gesture to even notice!
6. Radio love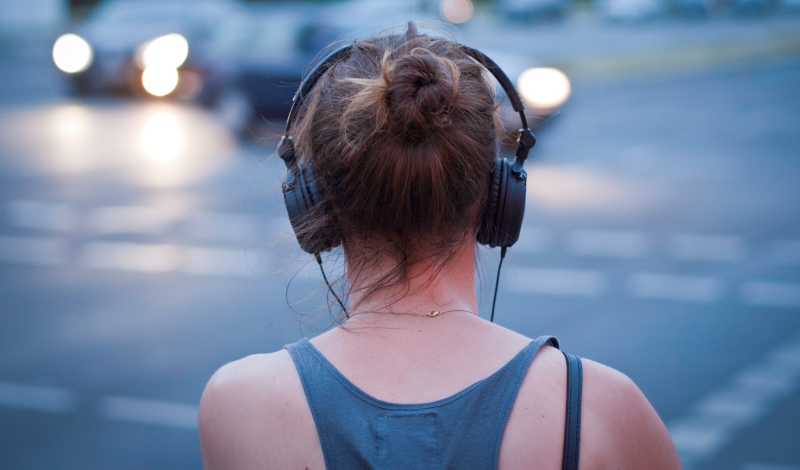 Image source: Google, copyright-free image under Creative Commons License
What is mass media there for, if not this? This saves you the trouble of holding a boom box outside your lover's window while a love song plays. Though, if you are really feeling up to it, you can execute the boom box stunt too! But if you think that's a little too bold and out of your comfort zone, you can go with dedicating a song to your sweetheart over the radio. This is an amazing way to let them know how much you love them. By doing this, you are also letting the world know about your love for that special someone. So go ahead, make that call to your love's favorite radio station, and dedicate a song to them on air.
7. Next comes the newspaper
Mass media to the rescue again, and this time in print! Newspapers to declare love, really? This is a totally out-of-the-box idea which is guaranteed to leave people feeling all mushy inside! Here's what you do: personal sections of the newspaper always carry things like wedding announcements, so why not place an ad there declaring your love for your partner? Yet again, another way to show the world how much you love your sweetheart! Not only that, you will be doing a good deed for others too, as this form of PDA will definitely be appreciated by all readers and leave them with big grins on their faces.
8. Breakfast in bed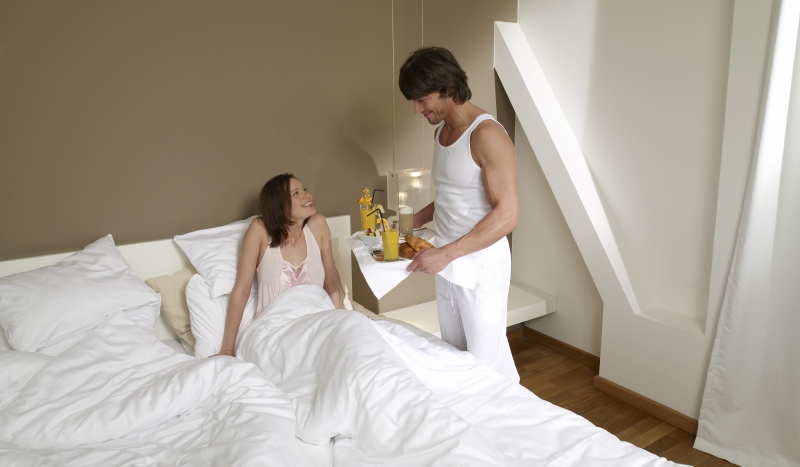 Image source: Shutterstock
With our hectic lifestyles, there is just no time to do something special for our loved one. The second the alarm rings, we are up and about getting ready to rush out the door to get to work on time. And on the weekends, all we want to do is sleep in late and just laze around in bed. The awesomeness of breakfast in bed has just died out, but it can once again be rediscovered. All you have to do is make that extra effort to give your sweetheart a lovely treat to start their day on a happy note.
9. Slow dance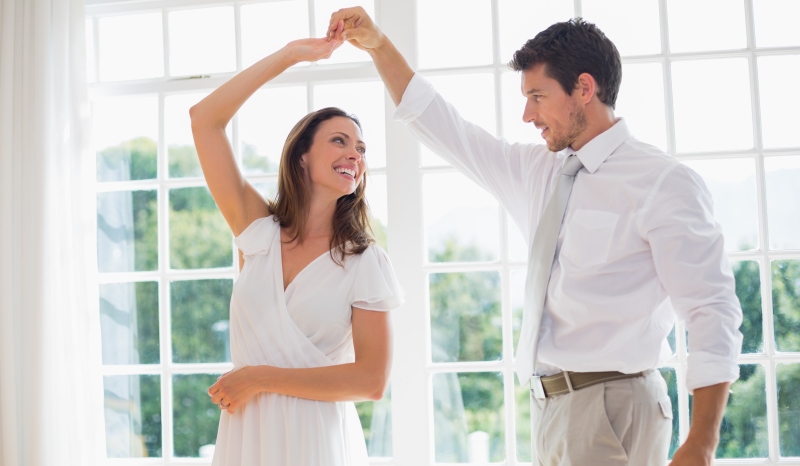 Image source: Shutterstock
It's all about fast music in this generation! Everything seems to be moving at such a rapid pace in our time. This is when you can take a moment to relive the old times when you had your first slow dance. Remember how romantic and beautiful it was? Bring this act back in to your lives and see the difference it will make. Slow dancing will rekindle that spark of love that went missing in this fast-paced life that we are leading. Also, for newbies in love, this can be one of the most romantic gestures that they can indulge themselves in.
---
Suggested read: 20 romantic gestures men make that are better than saying 'I love you'
---
10. Go for a romantic picnic
What are the things that come to mind when we plan outings now, especially for dates? Umm, let's see. Well, there are pubs, fancy restaurants, coffee joints, and movies. What about a romantic picnic? When is the last time you did that? Or have you even done that before? Here's your chance to plan a special outing for just the two of you. Find a nice romantic spot and have a nice old-fashioned picnic. People really don't go for picnics anymore; they prefer fancy restaurants and pubs. So go on back to the good old days and have yourselves a wonderful romantic time!
Well, this brings us to the end of very insightful and rather old school ways of doing things. Though we have progressed in life and have come forward to a different modern time, some things from the past still hold a lot of significance for us even today.
So from all the lessons learnt today, I think it suffices to say that all of you should abandon your love emails, love texts, love Snapchats, and lovestagrams in favor of the old-fashioned ways to tell someone you love them.
Featured image source: Google, copyright-free image under Creative Commons License
Summary
Article Name
10 Old School Ways Of Saying I Love You That Need To Make A Comeback
Author
Description
You don't have to stick to the same boring texts when it comes to saying I love you. You can do these with these charming old school ways.