Vacations aren't just to relax and unwind. They are a way to connect with your loved ones. This can be the spark of rejuvenation that your relationship needs. Just imagine – no work, no commitments, no responsibilities. Just you and your partner, a beautiful place, and all the time in the world for you to be intimate with your partner. Sounds amazing, doesn't it?
Taking trips as a couple opens up a whole other world of intimacy and love between the two of you. It brings you closer as a couple, all while helping you relax and unwind. You experience new things together, explore exotic things, learn new things – about the place as well as each other. Taking a vacation as a couple is the best thing you can do for your relationship. It brings forth a different sides of your personalities, allows you to spend time together without any distractions or interruptions, lets you appreciate what you've missing out on. What's not to like about a vacation, eh?
---
Suggested read: 15 best beach getaways for couples to soak up some sun
---
If you're planning to take a vacation with your partner, here are a few vacation ideas for couples that will allow you time to bond and become closer still.
1. Beach getaways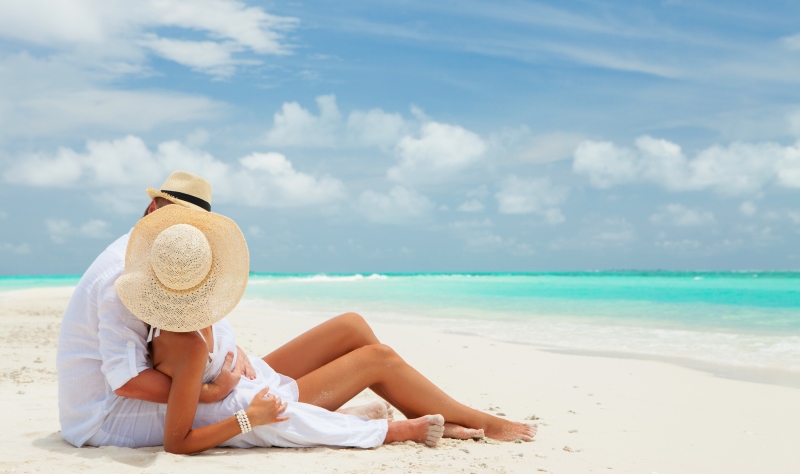 Image source: Shutterstock
When you think of a vacation, it's the picture of blue waters, cerulean skies, sandy beaches that comes to mind, right? You can either plan a beach vacation where you're holed up with your beloved in a cabana or soaking up the sun on the sandy beaches. You can't argue that you haven't got a great view, now, can you? Plus there are tons of activities that you both can indulge in. Whether you plan a beach getaway closer to home or in a different country altogether, it'll be worth it, for sure.
2. Snowboarding/surfing/kayaking/yachting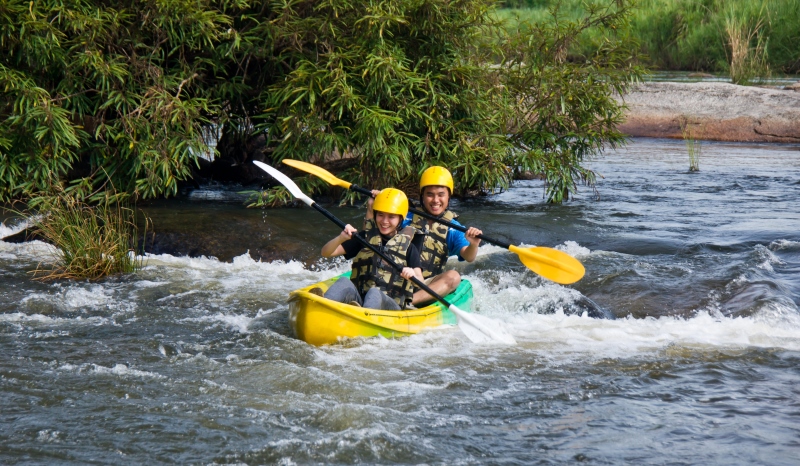 Image source: Shutterstock
There are tons of sporting activities that you both can enjoy on your vacation. If you're not the sporty kind, you can always take classes together and try your hand at them together. Whether you succeed or fail spectacularly, you'll have one heck of a holiday together that you'll be remembering for years to come, eh? And you don't have to restrict to the sporting activity solely; you can explore the place you've chosen and learn all about it too.
3. Backpacking through a country (or two or more)
Many people swear that backpacking your way through a country or two is the best way to soak it in. Even if you're not one of these, you should give this a try. Instead of doing it alone, like people usually do, you get to do it with your partner. Just one thing though, you need to practice carrying that huge backpack over your shoulder over long distances. And if you've picked a truly exotic country, then even communicating would be a challenge if you don't know the language. It's a great way to experience something truly exotic and new, ain't it? This experience is sure to bring you and your partner closer!
4. Hiking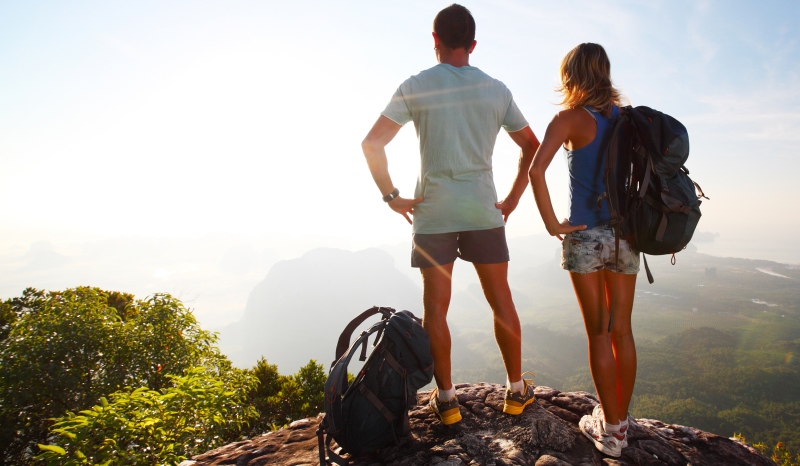 Image source: Shutterstock
Exploring the great outdoors with your wits alone – of course, your partner is with you too – is an altogether different experience. The sun warming your face, the wind blowing your hair into tangles, the birds welcoming you with their song. Sigh! The perfect picture would be complete with you and your partner in your hiking gear, soaking up nature in all its splendor. This would be a very different experience in today's day and age of excessive comfort and luxuries, but it would be worth it in the end.
---
Suggested read: 15 getaways for couples who love a stunning view
---
5. Camping in the wilderness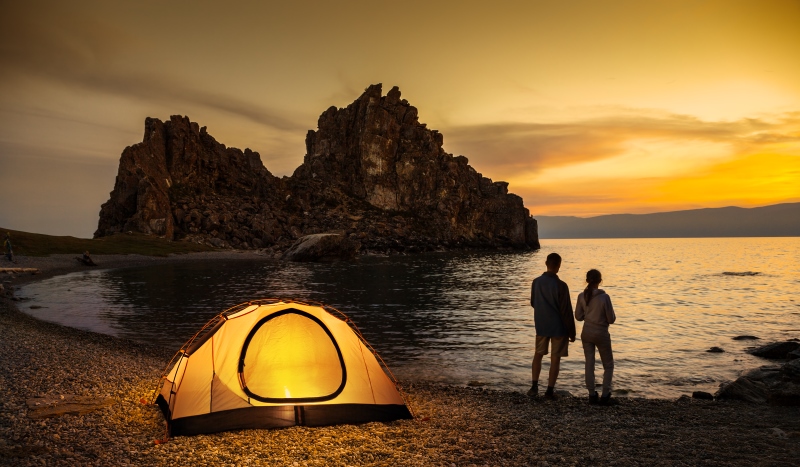 Image source: Shutterstock
Camping is another way of enjoying nature in all its glory, apart from hiking. It's one of the almost-cost-free vacation ideas for couples or anyone for that matter. You and your partner have to survive without the basic modern amenities that you're used to – answering nature's call in nature, cooking over a fire, no electricity, no cell phones, no mosquito repellants, no Keurig, no indoor plumbing – ah, nature at its best, no? 😉 Wouldn't you agree that this setting is perfect for you and your beloved to grow closer together by working as a team?
6. Unplanned road trips
Preferably cross-country. Imagine – it's just the two of you, in a car, for an indeterminate amount of time, driving, talking, making conversation, navigating, telling jokes, laughing, playing car games – what's not to love about road trips? It's just you both, the car, and the map to chart your course. Sounds utterly romantic, doesn't it? Apart from seeing new places, you get to experience different places as it was supposed to – on the ground, far away from the touristy places, and meet so many different people that you'd be richer for embarking on such a journey with your beloved by your side. Road trips are not about arriving at a destination, but experiencing and savoring the journey itself.
PS: Just don't pick up any hitchhikers. Who knows if they're an axe murderer or not? 😛
7.  Spacation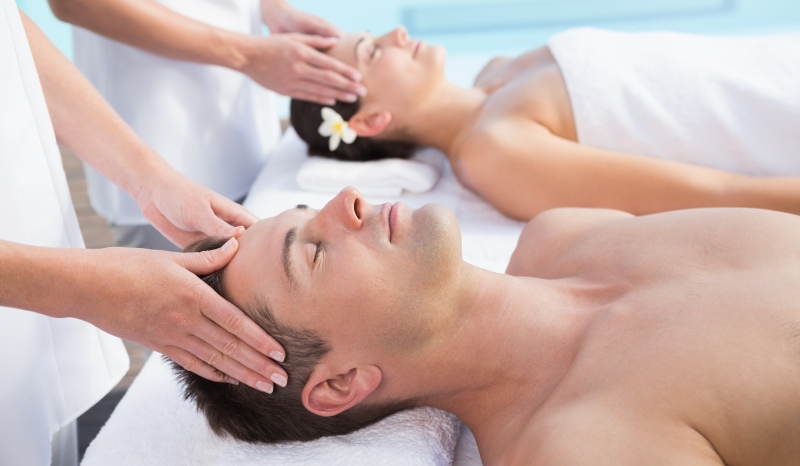 Image source: Shutterstock
A spacation is where you and your beloved indulge in nothing but truly relaxing and enjoying spa sessions – whether it's a couple's massage session or a chocolate one, or even a heated stone massage session. Even get mani-pedis, hair massage, foot massage and what not. But nothing more. Okay, may be explore the city where the luxury spa is located too. You know, for some necessary shopping and such.
8. Luxury jungle getaways
Plan a luxury jungle vacation at one of the premier resorts located inside a national park. Take early morning safaris in search of the elusive cat, click amazing pictures to your heart's content, gorge on local cuisine, swim away your weariness in your own private heated pool, with your beloved for company. Just this description is making me want to go to book a private jungle getaway – ASAP!
9. Adrenalin getaways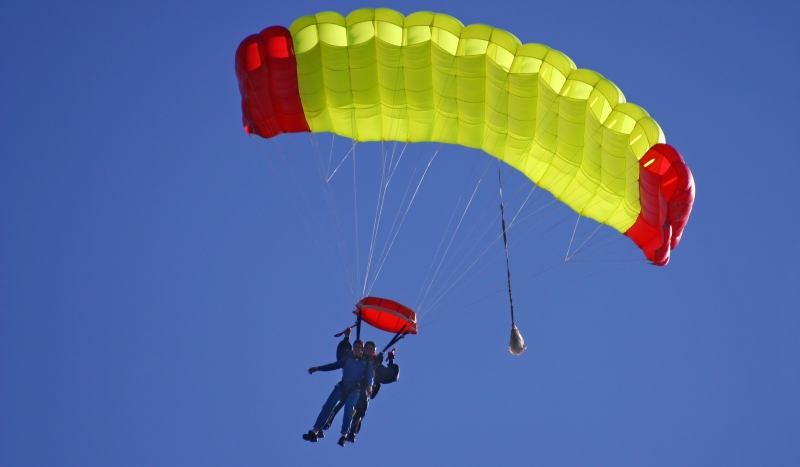 Image source: Shutterstock
If you and your partner are adrenalin junkies, then plan a vacation where you'd be sky diving in the morning, bunjee jumping in the evening, and zip lining the next morn! All you have to do is find the right vacation spot and indulge your daring side to the fullest. However, taking appropriate insurance and necessary precautions is a must. You won't experience such rush on any other vacation on this list, trust me.
---
Suggested read: 15 awesome adventure getaways for couples
---
10. Staycation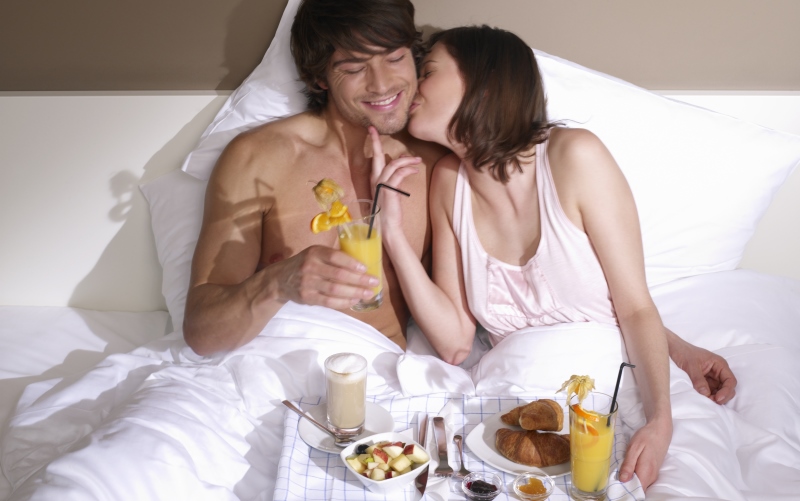 Image source: Shutterstock
This is perfect for those couples who either don't have the moolah to splurge on a vacation right now, or don't have the time, or both. One caveat though – you cannot, under any circumstance, switch on your cell phone. Inform your friends and family if you don't want to worry them, but absolutely no cell phones for the whole of the duration of the staycation, unless it's an emergency where you've cut your finger too deep or your partner fell in the shower and hit their head pretty badly. Talk to your heart's content, binge-watch all your favorite shows and movies on Netflix, cook something together, feed each other, listen to each other's favorite music, dance like nobody's watching, make love all you want, when you want, how you want, and where you want! All of this for the low price of nothing at all!
What are you waiting for then? Pack your bags and get ready to roll!
Which of these vacation ideas for couples appeals to you the most? Which one did you opt for? Tell us in the comments below.
Featured image source: Shutterstock
Summary
Article Name
10 Awesome Vacation Ideas For Couples That Will Bring Them Closer
Author
Description
If you and your partner are looking for vacation ideas for couples, you've come to the right place. We have 10 amazing ideas that will bring you closer!