Are you tired of having the same run of the mill home décor and would like to experiment a little to elevate the curb appeal of your place? If your answer is yes, you have certainly come to the right place. We know how particular you can get when it comes to your décor. These days, everyone likes to walk an extra mile in order to add a personalized approach to their home. From furnishing to even art, people like their space to have an individual appeal. After all, it is the best way to show the world your taste and preferences without saying a word.
Repurpose furniture is taking the entire world by a storm. There are certainly endless of things one can do from the most ordinary objects. From bottles to ladders and scraps to old wires, you can use almost anything to craft a creative piece of furniture. Repurposing has plenty of benefits. Not only it will let you save your hard-earned money, but will let you recycle those old products as well. Don't throw those everyday objects away. Instead, make something creative out of them. Repurpose furniture has its own charm. Anyone can go out and buy those mainstream artworks, but there are only a handful of people who can create something magical out of these neglected things.
---
Suggested read: 13 retro decor ideas for the home that harbors old souls
---
Redefine your décor without causing a dent in your pocket and be prepared to impress your guests. All you need to devote is your time and effort to create something everlasting and unique. Don't worry! We have got you covered and are here to help you with the best of ideas for crafting the kind of repurposed items that certainly can't be overlooked upon by anyone.
1. Don't throw that ladder away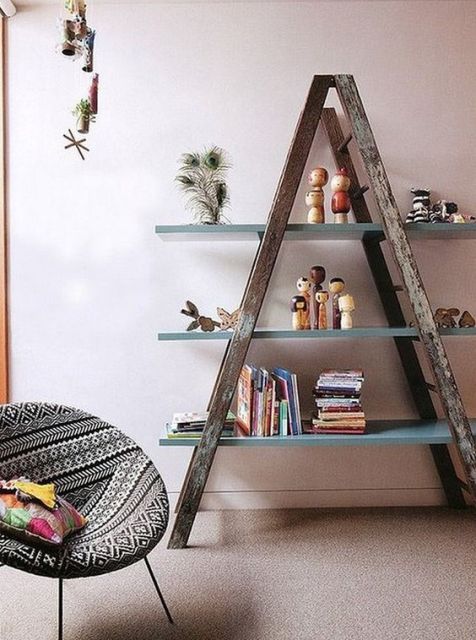 Image source: Pinterest
What do you usually do with those wooden ladders after they become old? Well, most of the people usually throw them away. Don't make the same mistake and create designer bookshelves and various kinds of upscale piece of furniture from your old ladder.
Ladder décor is the new big thing these days. You can simply give it a new life by painting it with contrasting colors and place it wherever you want. From a chic bookshelf to a place to keep your flower pots, it can serve various purposes. If you want to step it up a little, then give it a metallic hue and make it a work of art. Though, you can always keep things simple and given it a few hands of wood paint to keep it classy and refined.
2. Make use of old musical instruments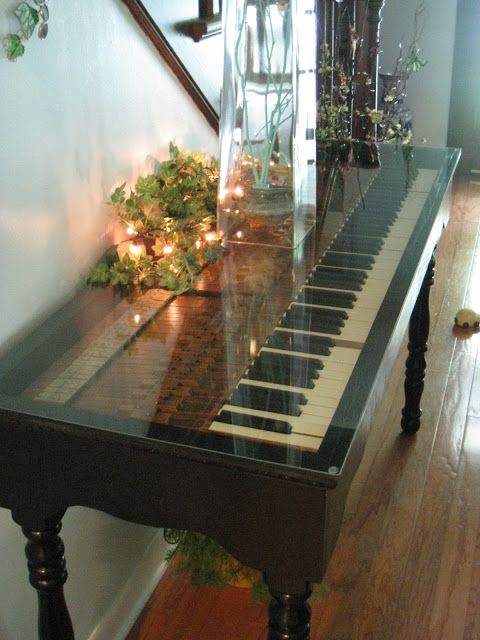 Image source: Pinterest
Do you have an old music instrument that is simply turning to dust these days? Use that high-quality wood and other material productively and create something ultra-stylish out of it. For example, you can always use your old piano to construct a bar cabinet or even a central table. Similarly, old guitars (or even guitar cases) can also be used to create unique shelves and other kinds of furniture.
3. Designer wall clocks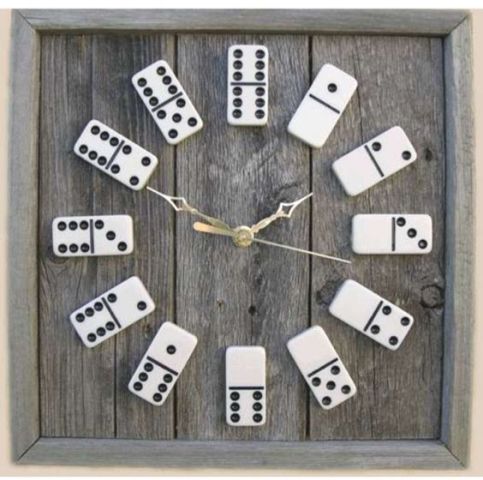 Image source: Pinterest
One can construct a wall clock from almost anything. From a broken piece of wood to ordinary household equipment, there are plenty of things that can be used to create a wall clock. Simply get a basic set of analog clock (the mechanical unit) that would barely cost you a few bucks. You can attach it with designer hands of your choice or paint it with contrasting colors.
Now, all you need is a base and some striking objects to denote the numbers. Though, if you want to keep things simple, you can just get rid of the objects and have a minimalist design as well. If you want to stylize it a little, then play with random objects and use super glue to paste it on the base. There you go! You have your new uber-cool wall clock ready.
4. Making the most out of those empty bottles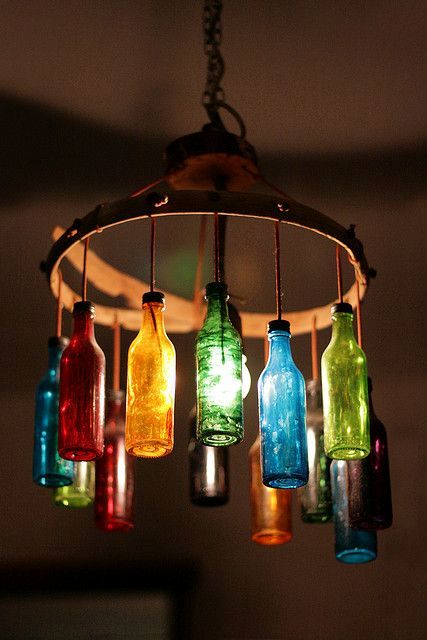 Image source: Pinterest
Yes, we know how much you love your favorite brand of wine or whiskey. Now, instead of simply throwing those bottles away in the trash, make something interesting out of it. There are plenty of things that one can make from those old alcohol bottles. From wall clocks to lamps and powder room accessories to chandeliers, when it comes to empty beverage bottles, the sky's the limit. All you need is a bit of creativity.
5. Photograph hanger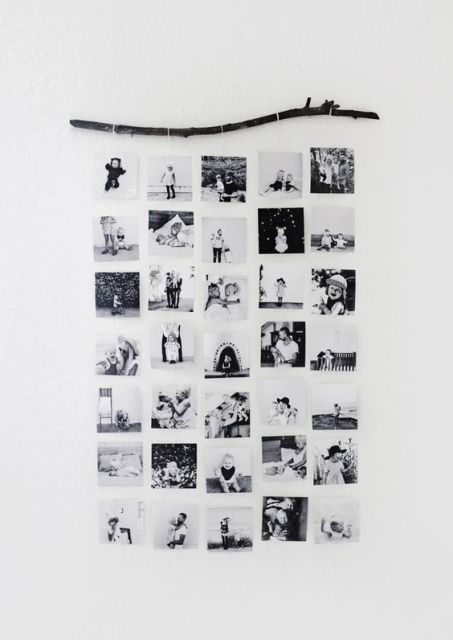 Image source: Pinterest
Your place would always remain a little incomplete without having a personalized display of some of those everlasting moments. Everyone likes to have a display of some of their most memorable moments in front of their eyes. Now, you can make your dreams come true with these minimalist photograph hangers. All you need is a solid tree branch, thread, and a few printed pictures. In a matter of a few minutes, you can come up with this designer piece. Experiment a little and make one for your loved ones as well. We are sure they would adore this for the years to come!
---
Suggested read: 15 cool cubicle decoration ideas to bring in Christmas cheer
---
6. Laundry baskets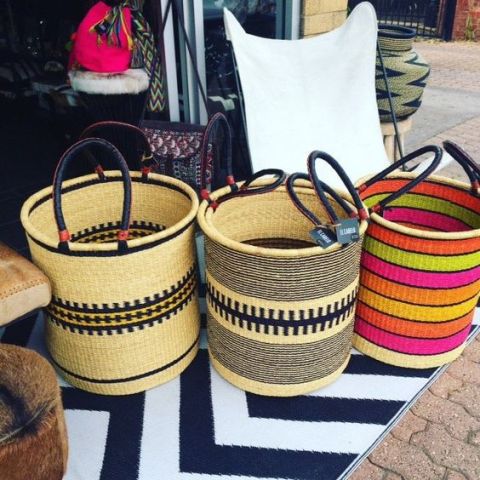 Image source: Pinterest
Yes, you have read it right. Even something as simple as a laundry basket can elevate the style quotient of your place. There are plenty of ways to create recyclable laundry baskets without spending your hard-earned money. Take one of those readily available jute bags and paint them in different shades. If needed, you can always customize them a little to meet your requirements.
7. An open wardrobe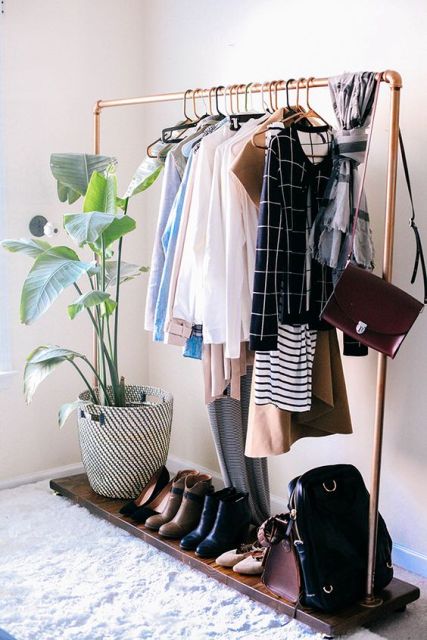 Image source: Pinterest
These days, everyone wants to make the most out of their space and don't like to include a separate wardrobe. The trend of having an open wardrobe is both chic and practical. Though, you can always experiment a little with those old scraps and create a stylish wardrobe with it. All you need is a few colorful hangers and a sturdy stand. You can use anything from a simple holder to even a ladder as a stand. Go ahead. Give this one a try!
8. Wall art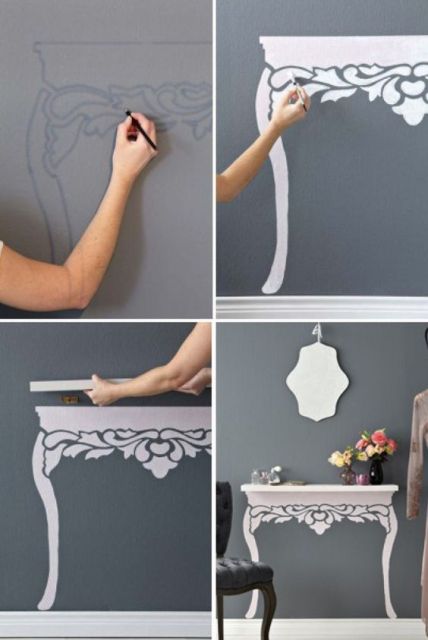 Image source: Pinterest
This will make your place look more expensive and chic without including those costly products. Mix an ordinary product with art and paint a story around a tangible object. Blend everything together into a single entity. Use simple objects and focus more on your art. This can be used to repurpose almost anything and won't require the over extensive use of hardware as well.
9. Repurposed benches and chairs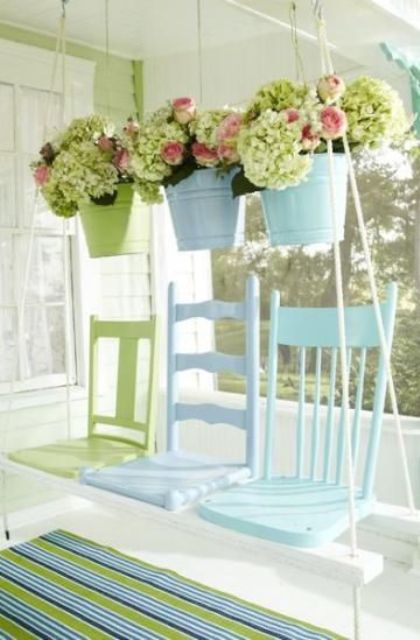 Image source: Pinterest
Don't just throw that old chair away yet! Yes, you might be thinking how possible you can repurpose an old chair and make something creative out of it. It might take some time and a little effort, but you can definitely combine a few natural elements to create something everlasting and trendy for your place. Try to implement one of these ideas and place your new sitting on your porch. Sip your morning tea with your loved ones without letting go of your favorite chair.
10. Make use of your old cutlery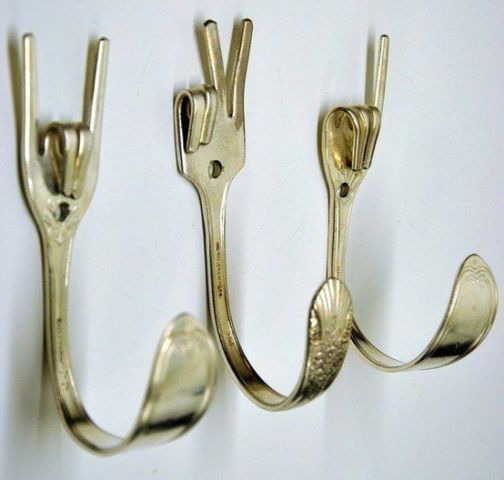 Image source: Pinterest
Don't simply get rid of your old cutlery just like that. There are so many unique things one can create from just forks and spoons. You can always assemble a few spoons together to create a one-of-a-kind windchime. Forks can be used to create holders as well. Take a step up and use your old tableware to create exquisite objects for your garden.
11. Shoe organizers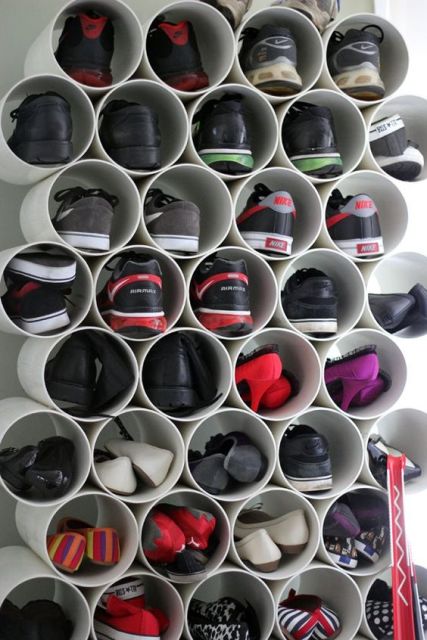 Image source: Pinterest
There are endless ways to create a shoe organizer from almost nothing. All you need is a support and a few levels to keep things organized. Though, you can take the help of an old piece of wooden furniture to do so, but you should think of something out of the box as well. One can also take colorful vinyl sheets and simply circle them together using super glue. Place them one over another using a support (or simply glue them together) and create a unique shoe organizer.
---
Suggested read: 15 DIY wine bottle decorations you MUST try this Christmas
---
12. Bookshelves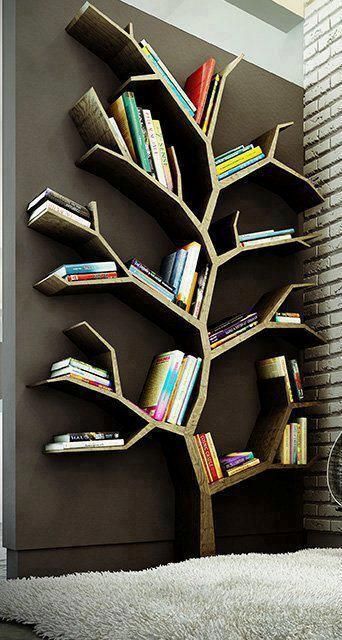 Image source: Pinterest
If you are a bibliophile, then you will certainly love these creative ideas for repurposed bookshelves. You can either create a minimalist corner bookshelf or experiment a little to make one of those randomly placed shelves as well. From symmetric ones to those colorful and chaotic shelves, there are almost endless of options. Mismatch things a little to let your newly designed furniture outshine everything else.
Who knew that something as upscale as these artistic products can be created from ordinary and neglected items! Before you decide to get rid of any furniture, try to think of the ways you can repurpose it into different things. There are so many things one can create from even the most insignificant of products.
Repurpose furniture will not only increase the overall longevity of a product, but will also let you add something personal and unique to your décor. Make use of your creativity and turn your place into an up-cycled haven without causing a big dent in your pocket. Now when you know of so many creative ideas, which one would you like to implement first – the open wardrobe or the photograph hanger? Let us know your pick!
Featured image source: Pinterest
Summary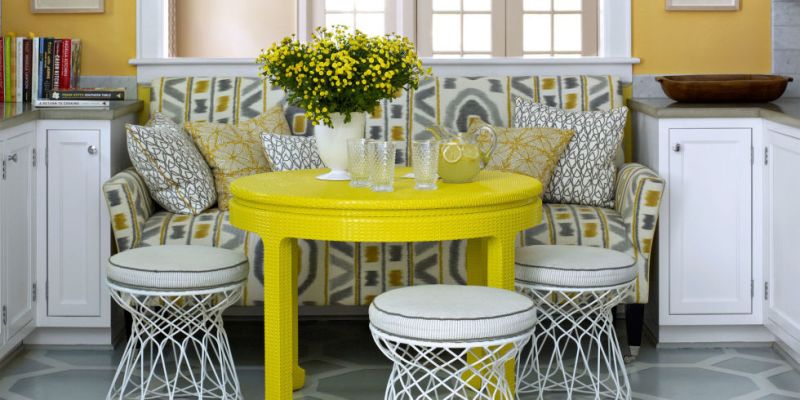 Article Name
12 Creative Ideas To Repurpose Furniture And Make Your Home An Up-cycled Haven
Author
Description
Redefine your décor without causing a dent in your pocket and be prepared to impress your guests- just repurpose furniture.