Christmas is just a couple weeks away, but the spirit is all around us! Don't you feel that life would be so much better if you were allowed to steal some of the good 'Christmas-y' mood in a jar and open it where you needed it the most? Of course I am talking about your workstation! Christmas itself will be a joyful holiday, but the thought of spending the days that lead up to Christmas in a box is such a drag! So, we at NLT, want you to go on a beautifying frenzy this holiday season with these decorative ideas we've got up our sleeves!
You may want to try these out and start a little friendly contest with your colleagues or maybe just do it by yourself, for yourself! Whatever your motivation, this holiday season you absolutely need to try your hand at these cubicle decorating ideas, and I can guarantee you that people will walk up to your desk just to see how beautiful it is or to take photos!
---
Suggested read: 20 quotes about Christmas that will brighten your festive season
---
Most offices allow Christmas decorations to be displayed. Some even offer various decoration items to their employees and organize contests to see who has the best display! Whether you are all out for flashy lights and splashy themes or only looking for a few festive touches here and there, these cubicle decorating ideas will help you with it! Convert your 'pressure zone' to 'pleasure zone' even if it is only for a week or two!
1. Fixing up the 9-5!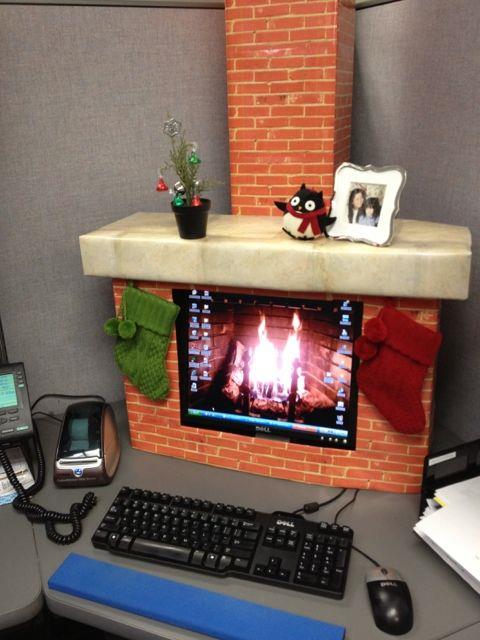 Image source: Pinterest
Working in your 'grey' office can kill your festive vibes, dude! To get back in the holiday spirit, all you need is a tall box, maybe use the one that your new chair mat came in!  Creating a chimney becomes easy once you get hold of this box. For enclosing the monitor, use another box, cutting the portion in front of the monitor out. Now print out some brick walls and cover each box with it. For the mantle, use the lid of the box of copy paper. Once the fireplace is added, place Christmas-y accessories on the mantle. Your cubicle is party ready! Get some marshmallows, the guests will arrive soon! 😉
2. The log cabin!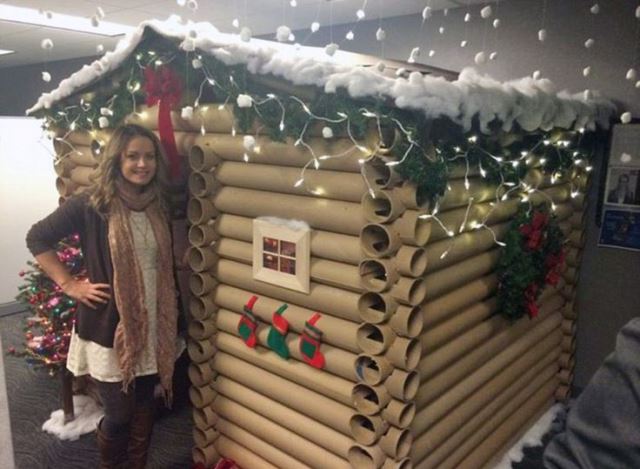 Image source: Pinterest
What more do you need when you make yourself a snow-covered garland and some fairy lights? I love how this office worker from Minnesota has transformed her cubicle into something that reminds me of Little Red Riding Hood's cottage in the woods!
3. The 'elfie' cabin!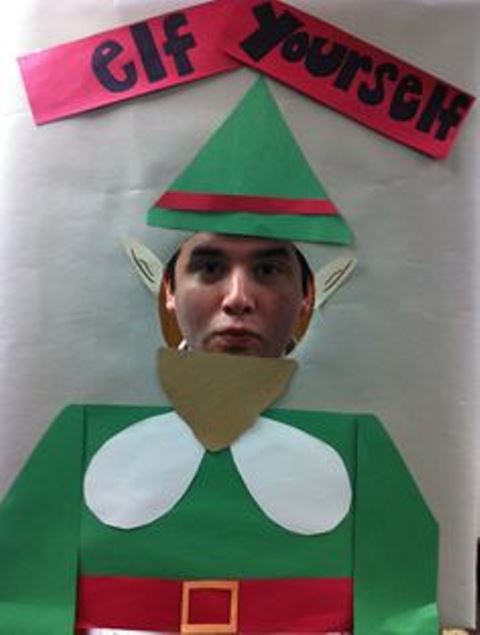 Image source: Pinterest
Making an 'elf yourself' is the easiest of all the cubicle decorating ideas! All you need to do is cut a hole in a cardboard and cover it in paper. Now cut an outfit out and paste it on the cardboard. You know you can use it as a 'curtain' on your cubicle door and whenever someone knocks, you stand behind the cut out and greet them! Innovative, right? I know!  😀
4. The firewall, quite literally!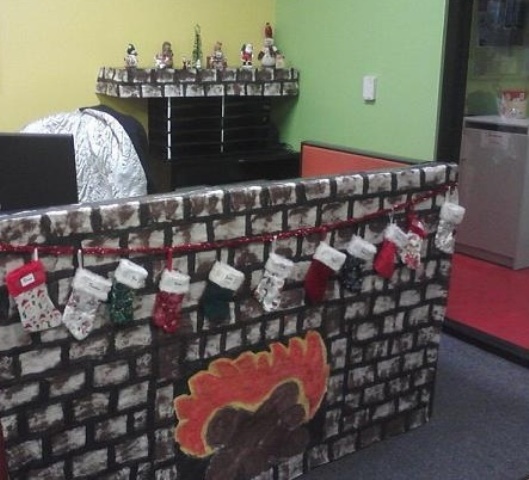 Image source: Pinterest
If you lack the patience to take boxes and convert them into a fireplace around your monitor, this is your best bet! Print out images of bricks and stick them to your cubicle walls. You can put in some effort and make a picture of a fireplace using bright orange and yellow crayons! If you know a young kid, they may even help you out 😉 Lastly, tie a funky string around your cubicle and clip Christmas socks to it! Simple, yet unique.
5. The Polar Express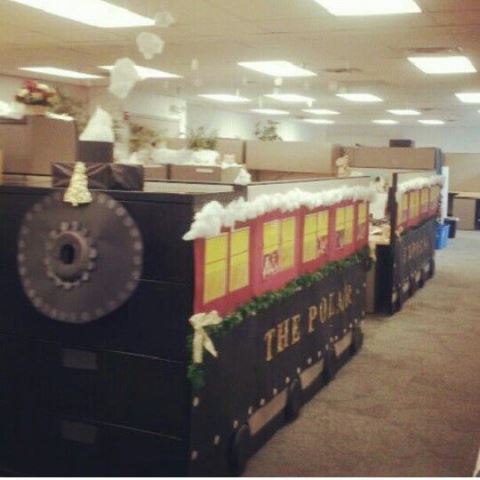 Image source: Pinterest
The train ride to North Pole to meet Santa before he visits us is a cool way of getting the gifts before anyone else does! 😉 Selfish? I would say, smart!
For this decoration idea, you need to work on the cubicle walls. You can either paste papers around the cubicle and paint them accordingly or even print the cut-outs and arrange them to create your Polar Express!
6. Charlie Brown Christmas decoration!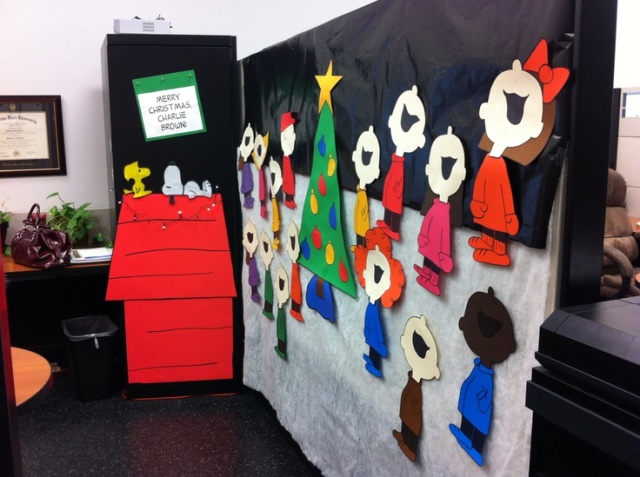 Image source: Pinterest
If you can draw these different Charlie Brown character cut-outs and then paste them on your cubicle walls, your decoration will not only look great but you will also have great fun doing it! However, do not forget to make a cut-out of Snoopy because Charlie is nothing without him.
Also, you could add a 'punny' quote like "We are 'Peanuts' about Christmas," and place it on your cubicle desk just for the 'pun' of it! 😉
7. A bright and not white Christmas! 😉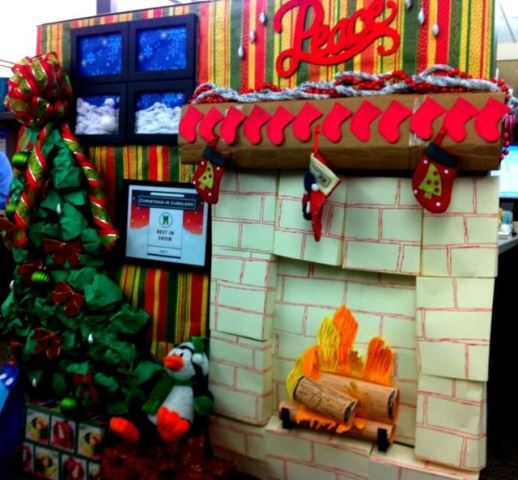 Image source: Pinterest
The colors used for decorating this cubicle have taken the entire festive mood to a different level! Also, since it's pretty cold outside, you can feel all cozy and warm in your cubicle as if you were by a fire at home! I love the addition of a window showing how cold and snowy it is outside, and that the best season is here! Using a Christmas tree always works wonders!
---
Suggested read: I'm getting a mom's day off for Christmas
---
8. Let there be light!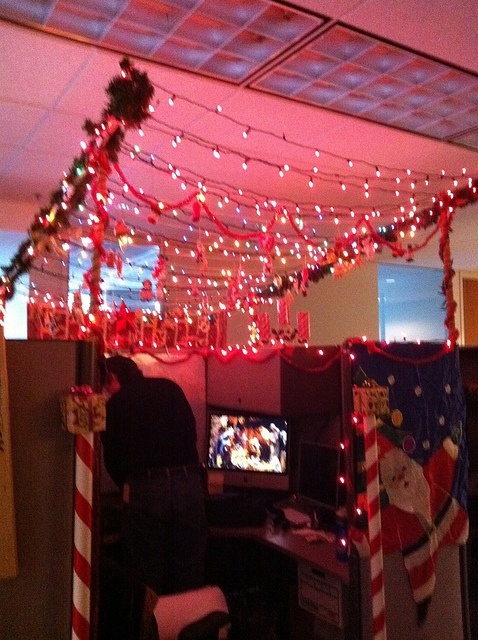 Image source: Pinterest
Creating a shade over your cubicle with red fairy lights can change the entire ambience of your little box. Here, this person has hung small little Santas on the fairy light wires. A picture of Santa on the cubicle wall and two candlesticks on either side of the entrance, seals the deal!
9. 'Floralove'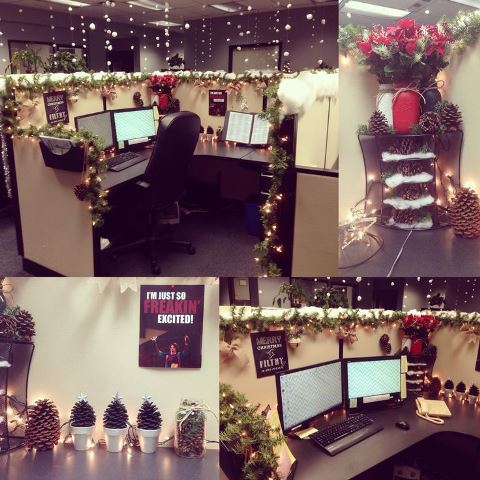 Image source: Pinterest
This is my favorite cubicle decoration idea. It is not over-the-top, yet still has a festive touch to it. The little Christmas trees on the desk and smaller plants hanging from the wall edges give it a serene and graceful air. The corner with the set of Christmas trees below the large vase of bright flowers is the showstopper!
10. All those little lights!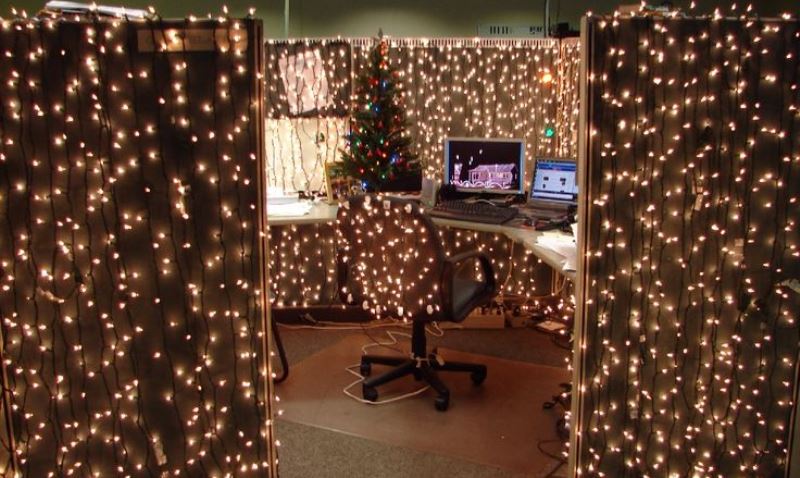 Image source: Pinterest
This guy seems to be high on 'light'! This is an easy decoration idea for your cubicle! Yes, it is relatively expensive, but it saves you the time, energy, and the need for being a DIY person! The Christmas tree on the desk is the cherry on top!
11. The final countdown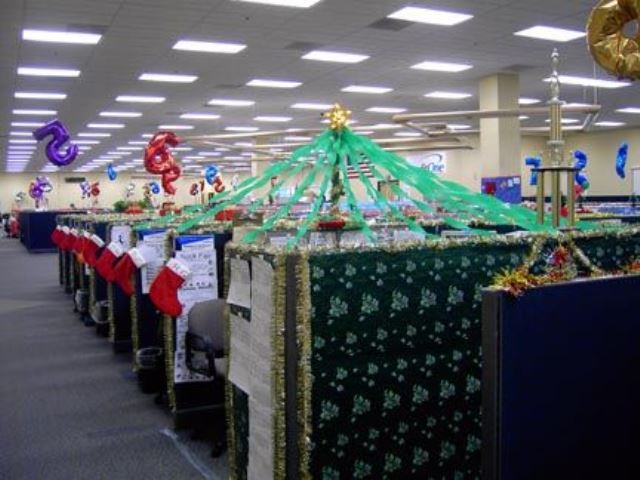 Image source: Pinterest
Now, this is more of a team effort. With numbers strung up among other lovely wall-hangings, this will make the entire office look fantastic! You know what? You could also make it a kind of a game and hang the number of days left for Christmas. Yeah, a Christmas countdown! Don't you think that is a cool idea? 😉
12. The snowman!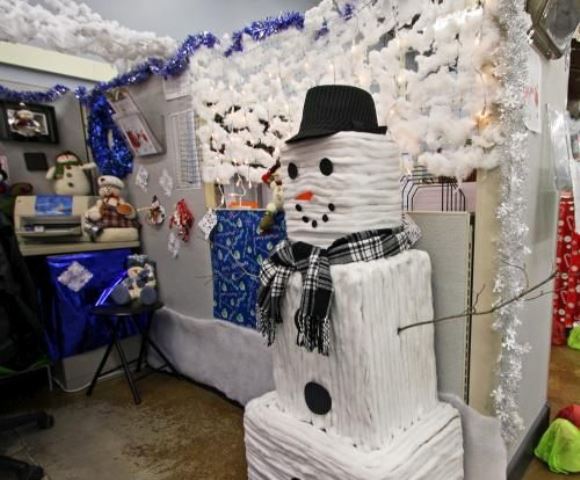 Image source: Pinterest
A list of the cubicle decoration ideas would be incomplete without a Do-It-Yourself Snowman welcoming people into your cubicle! All you need are two cardboard boxes: one that's a square and the other a rectangle placed longitudinally. You can cover them with white snowflake cut-outs! The whole cubicle could be decorated with cotton balls to give the hint that "winter is coming"! 😉
13. The gingerbread house!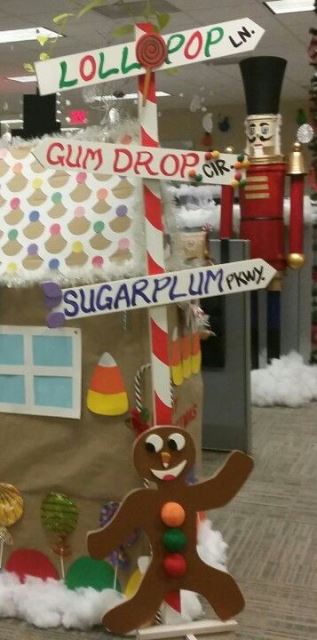 Image source: Pinterest
If it is getting hard for you to contain the Christmas spirit and you really want to challenge yourself, I suggest you take up the Gingerbread house project for your cubicle. This display will focus on the exterior of your cubicle and is perfect for those who occupy the corners, although scaling it down to cover any size is easy!
All you need is brown craft paper for your cubicle walls, a large candy cane, and a cut-out of Mr. Gingerbread! The crayons, scrap papers, and some creativity will do rest!
14. Santa's neighbor!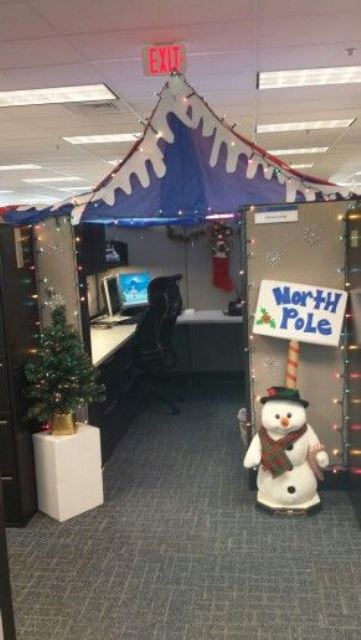 Image source: Pinterest
While the others were busy building the Polar Express, someone even pitched a tent beside Santa's home! Most of the things used here can be bought cheaply and once you pack them up from office you can use them for your drawing room, or even your patio!
---
Suggested read: 10 romantic movies to watch this Christmas
---
15. Deck that desk!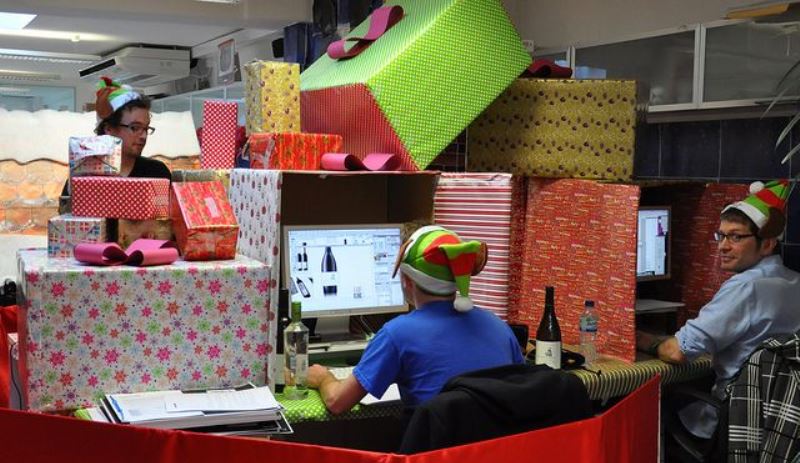 Image source: Pinterest
Place cardboards of different shapes and sizes and wrap them up as gifts on your desk and usher in the spirit of good times! Wearing colorful (or maybe rainbow-colored hats to make a statement!) Santa caps will only add to the party!
So are you ready to transform your cubicle and welcome Santa? These creative office cubicle décor ideas will help you express yourself! It is high time you get creative and let these ideas inspire you. It is time to beautify your cubicle with flair! You can begin with whatever you have at hand or can run to a craft shop and buy all that you need to decorate your little space. These holiday-inspired looks can be easily created if you follow the instructions we have jotted down for you.
However, most importantly, take lots of pictures of your masterpiece cubicle decoration and share it with us in the comment section below. Who knows, you come to our website looking for inspiration and end up inspiring us? Always up for miracles!
Featured image source: Pinterest
Summary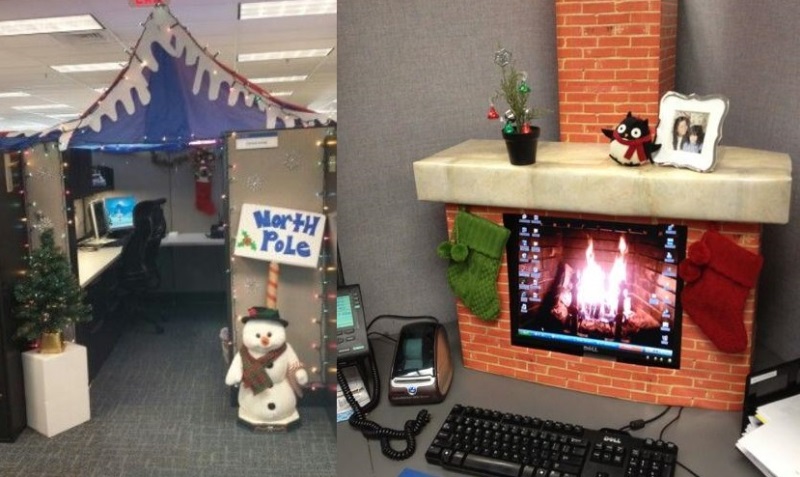 Article Name
15 Cubicle Decorating Ideas To Bring In Christmas Cheer
Author
Description
This Christmas, go all out to decorate your workspace with these cool and easy cubicle decorating ideas!