There is a kind of outlandish charm in retro and other types of timeless décor products that can elevate the curb appeal of your place to a whole new level. If you are an old soul and would like to surround yourself with the kind of products that never lose their charm, then you are certainly at the right place. Creating a perfect blend of retro decor ideas alongside modish functionality might seem like an impossible task, but with a little creativity, you can make the best out of your space.
In this fast-paced world, everyone is quite fascinated with modern and futuristic décor ideas. Take the road less traveled and instead of focusing on the same run of the mill products, take a walk down the memory lane and get inspired from your favorite 90s or 70s era. It does not mean that you have to add bright colors or patterns to your place. Keeping a perfect and adding a dash of something from your favorite era is the key to maintaining a perfect retro place. Add a little bling or a sophisticated vintage charm to your space and get inspired by your décor every single day. These colorful retro decor ideas will add something everlasting to your place and will certainly make your guests admire your bold choices. Most significantly, it will help you create a soothing and peaceful ambiance around you. Let's get it started!
---
Suggested read: 14 bombastic ways to rock this Diwali with your roomies
---
1. Start with your kitchen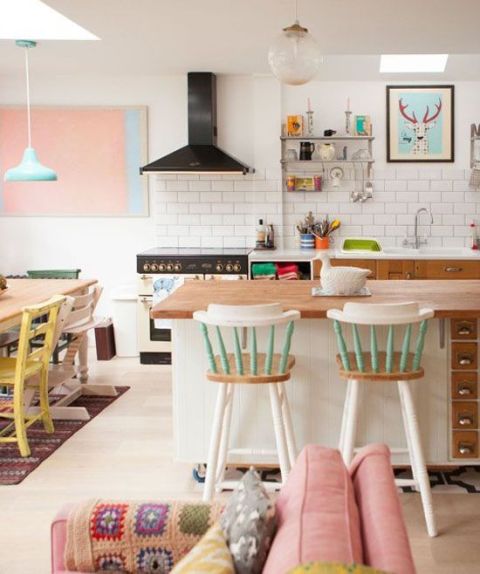 Image source: Pinterest
Giving a makeover to your kitchen can be the toughest thing to do, which is exactly why you should start with it. The process will let you come up with plenty of ideas of your own. You can always paint your cabinets with bright and contrasting colors. If needed, you can even get one of those old refrigerators as well.
You can always paint your modern equipment a little and make them look more retro. Try to mix and match stuff and don't follow a pre-set pattern. Place a few chairs over the counter and make your kitchen more cozy and welcoming rather than modern or uptight. Focus on the warmth and the ease of it instead of attaining perfection.
2. Use ladders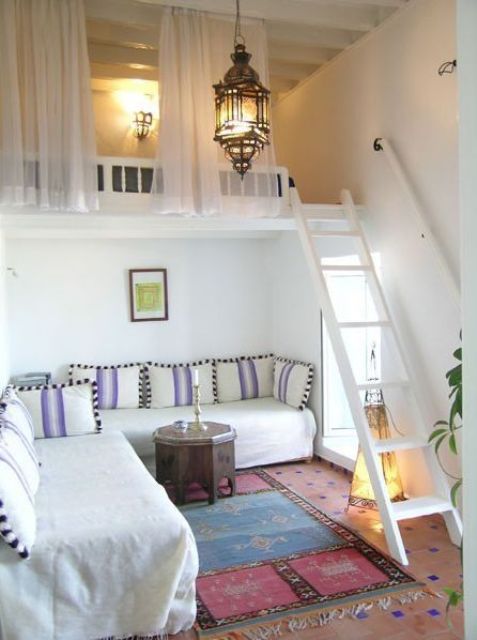 Image source: Pinterest
This might come as a surprise to you, but a simple use of ladders can add a lot of value to your place. Not only they consume less space, but they can be easily used to serve other purposes as well. You can always paint them with a bold color and create a statement piece out of it. If you have an attic or an extra floor, then instead of using modern stairs, give these striking ladders a try. You definitely won't be disappointed. Additionally, climbing a ladder would take you back to your childhood days!
3. Retro lamps and lightboxes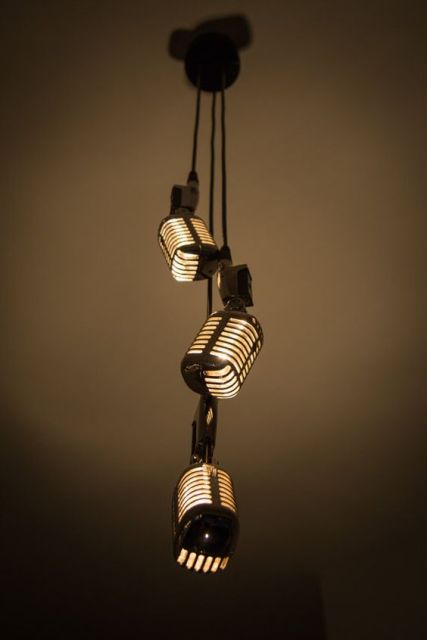 Image source: Pinterest
With just the right kind of lights, you can create a lot of difference to your space. Use your creativity and try to come up with something unique. Visit a local flea market and look for those forgotten retro lamps that can easily be fixed. Give them a new life or simply get a few of those colorful lightboxes that were once the life of every MTV party and award night.
4. Experiment with your crockery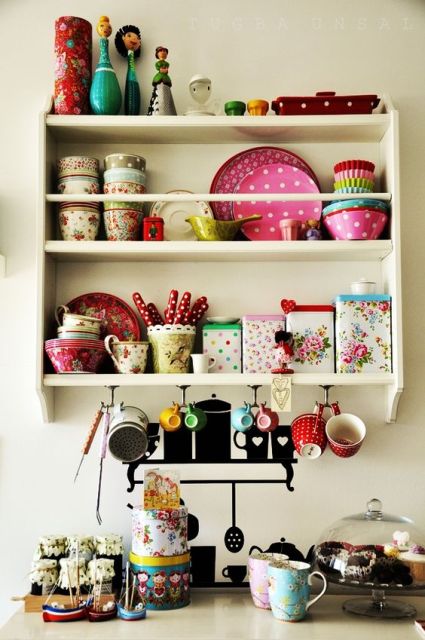 Image source: Pinterest
From tableware to cutlery and even the kind of crockery that you use every day, never hesitate to experiment a little to attain a colorful and diverse palette in your kitchen. Whenever you go out and shop, never pick the entire set. Instead, get individual pieces and display a blend of different colors. There are plenty of shops and even online stores that sell crockery in pairs instead of a set of 4 or 6. Always prefer the kind of pieces that are different from each other in print and shape.
5. Use wallpapers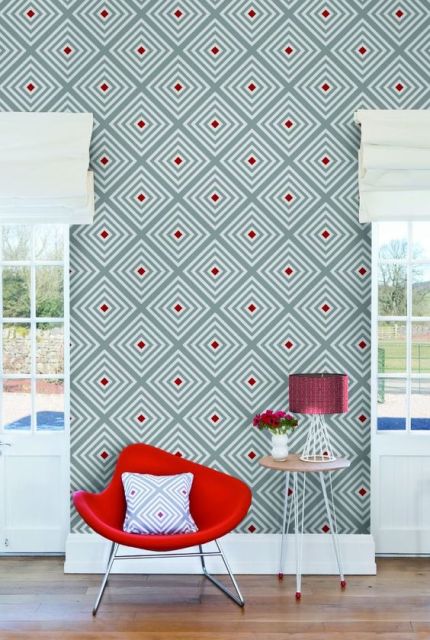 Image source: Pinterest
Wallpapers can certainly change the look and feel of any room. Instead of painting your favorite wall with any forgettable color, make it stand out by applying a designer pattern to it. Yes, there is no harm in going bold here. You can play around with your furniture a little and experiment with the color of the roof as well to create a perfect balance in the room.
If you have added a bold choice of wallpaper on your favorite wall, try to have a basic selection of furniture and paint all the other walls in simple shades as well. This will let the wallpaper shine out and grab the attention of every onlooker.
6. Get mirrors of different shapes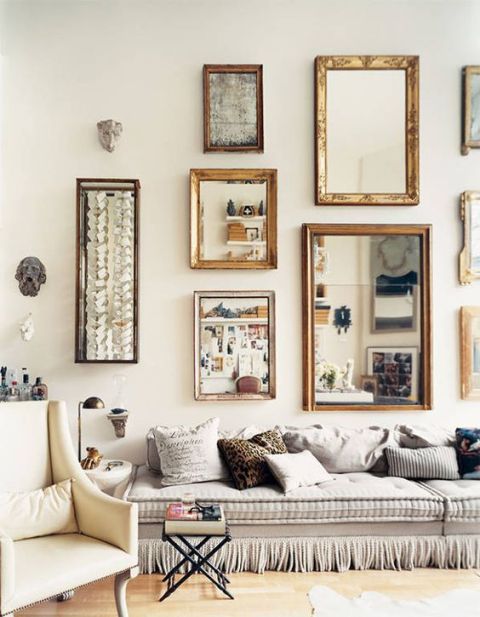 Image source: Pinterest
Mirrors are not just great to look at, but they can impart a breath of fresh air to your décor as well. Most of the people underestimate the power of mirrors and how they can be used to redefine the ambiance of almost any space. Host mirrors of different shapes and sizes and create an art on your wall.
---
Suggested read: Urban Ladder's short film, The Homecoming, made us smile through our tears
---
7. Place mismatched chairs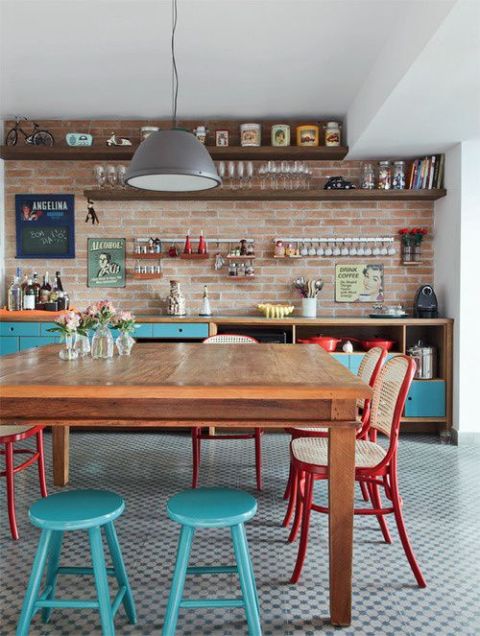 Image source: Pinterest
I know it doesn't sound pretty good, but it works remarkably almost every single time. Don't focus on getting the same kind of 6-8 chairs. No. It would only impart a mediocre ambiance to your place. Experiment a little and handpick chairs of different kinds. Place a few counter stools as well in between. You can also paint them in contrasting colors to make them stand out.
8. Cushions and retro covers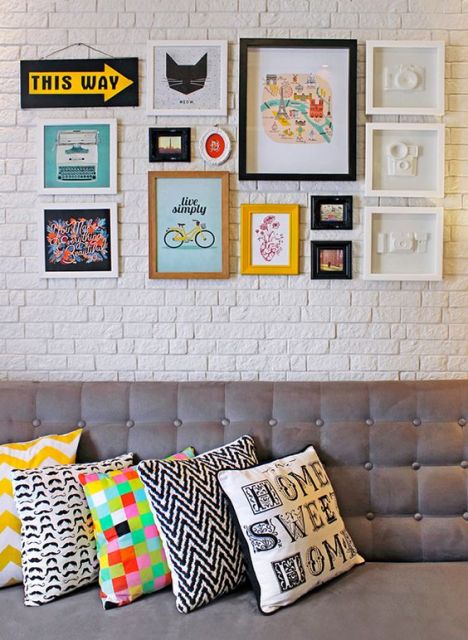 Image source: Pinterest
We know getting a new couch might be a costly affair. Instead, focus on cushions and try to buy covers of different types. The sky's the limit here and you can keep adding different types of cushions to attain a diverse set. If you place a set of 6 identical cushions, chances are that no one would remember either of them. Though, a diverse set will certainly get noticed by everyone, giving your space a unique retro appeal.
9. Rugs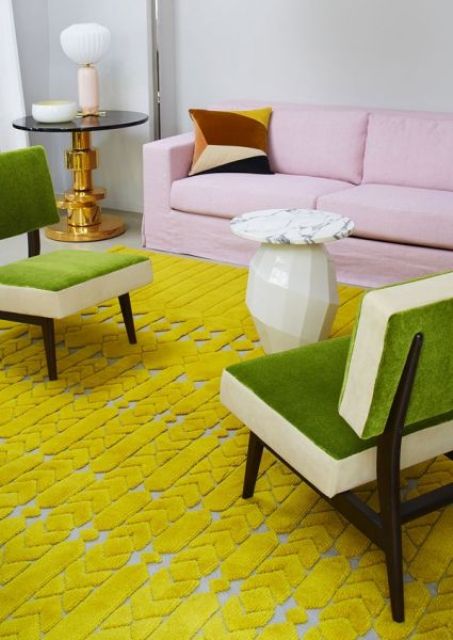 Image source: Pinterest
We know how costly it can get to install a brand new floor. Don't invest your hard-earned money and look for a better alternative instead. There are plenty of online shops that sell designer retro rugs. Think something out of the box and get a perfect rug for your place. Keep your furniture and the overall ambiance of your place in mind before ordering your new rug. It can easily create an impactful difference in your room without letting you invest a lot of money.
10. A pillow fort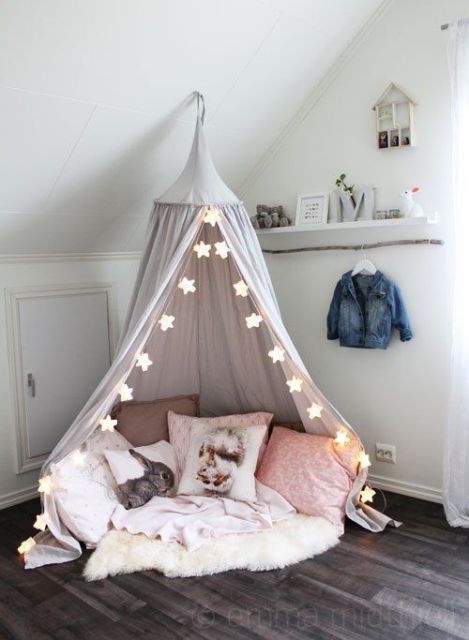 Image source: Pinterest
Yes, you have read it right. Pillow forts are essentially for kids, but there is certainly no harm in having them at your place as well. Though, if you have kids, then you can always create a small and cozy pillow fort for them.
Nevertheless, step it up a little and add a few fairy lights or colorful sheets while creating your fort. It could be a cozy place for you to read your favorite book. Your guests would also be reminded of their childhood days with a single look of it. Give it a try. We are sure you are going to love this one a lot!
11. Ombre-dyed wall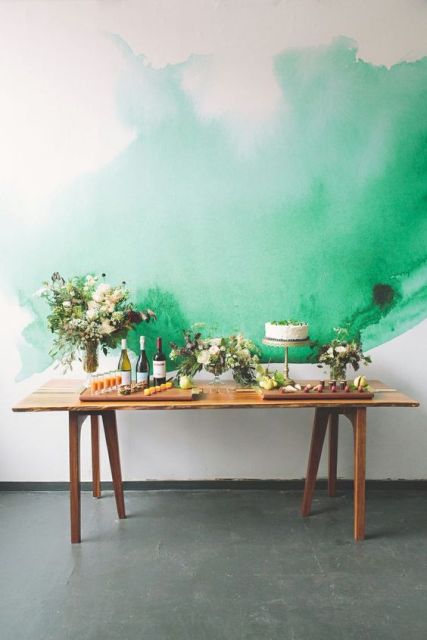 Image source: Pinterest
This might not be purely retro, but it will definitely give your wall a desirable and age-old feel. You can do it all by yourself and create a masterpiece on your favorite wall. Play around with your desirable colors or use a basic shade while painting a respective wall like this. Don't hesitate and pick all those bold choices of colors to create a unique statement on your wall.
12. Get inspired by nature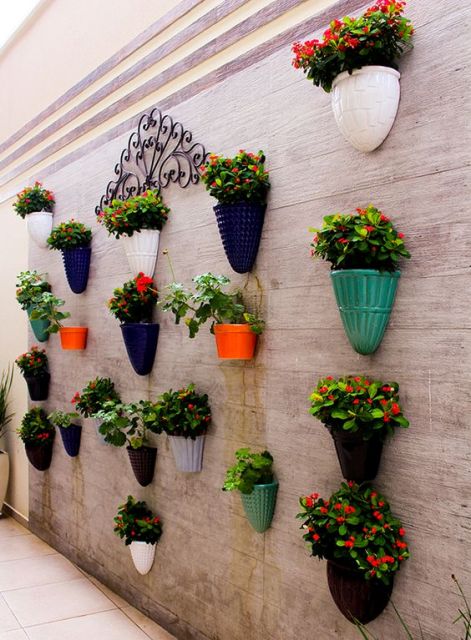 Image source: Pinterest
When people think of a retro decor, they mostly think of colorful walls and patterned rugs. Having stylish flower pots and including some exotic indoor plants in one of the most overlooked aspects of it. Though, no retro home is complete without having a touch of these adorable flower pots. Plant your favorite herbs and impart an enigmatic essence in your interiors. You would surely love the smell of citrus fruits or an exotic essence of lavender in your room. Plant them in colorful pots or even in your old crockery to master this art.
---
Suggested read: 20 stunning romantic home accents you must buy with your spouse
---
13. Repurposed furnishing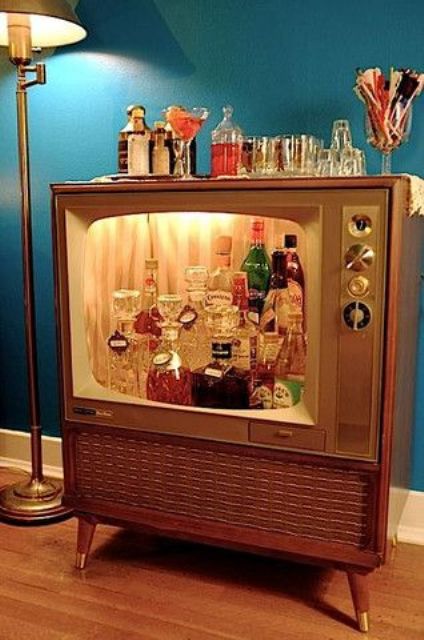 Image source: Pinterest
Repurposed furnishing is one of the best and affordable ways of giving your space a retro feel. Don't simply get rid of those old products. Instead, redesign them into something else. You might not know this, but you can repurpose old products into something even more useful at times.
Repurpose your old television set to a mini bar or even to your dog's bed. Redesign that old and bulky suitcase of yours into a couch. You can even use an old Polaroid camera of yours as a tissue holder. Give it a try and don't let go of those old precious things. Not that easily.
See, creating  new retro decor ideas retains that old world charm too! Just take one step at a time and keep adding new and unique things to your space. Be more dramatic and never hesitate to show it off. After all, it is your individual space and should depict your personality. Do whatever you think is right for your home and come up with something revolutionary to amaze all the onlookers.
Featured image source: eastsidehomelink
Summary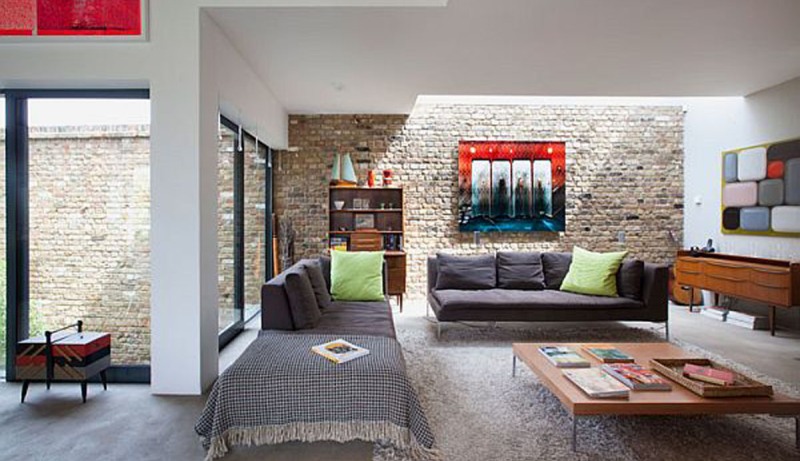 Article Name
13 Retro Decor Ideas For The Home That Harbors Old Souls
Author
Description
Because retro decor ideas never go out of style!