Books have been my friends since childhood. I don't remember ever being without them in my backpack or in my room, or actively reading them. They have always welcomed me into their arms and made me feel safe and cared for. If you're a consummate reader, you'll know how an inanimate object could make you feel this way. In fact, as you delve deeper into books of all genres, they will surely become your best of friends, instead of actual flesh and bones people. People you meet in life are not unlike the different genres of books there are. And there are plenty to choose from – contemporary, romance, fantasy, mystery, crime, suspense, paranormal, sci-fi, historical, memoir, self-help, literary, and a hundred others.
Among all of these, psychological thrillers have a special place in my reading repertoire. They make you wonder what happened and why, while also messing with your head, even long after you've put the book down. The best psychological thrillers have the capacity to leave saying, 'shucks!' even days, sometimes weeks, after you've finished the book.
---
Suggested read: The NLT list of books by women writers you MUST read, if you haven't already
---
The best psychological thriller novels to have on your to-read list
If you're looking for the next psychological thriller to mess up your already-messed up head, here's our ultimate list of best psychological thriller novels you MUST read ASAP!
1. Gone Girl by Gillian Flynn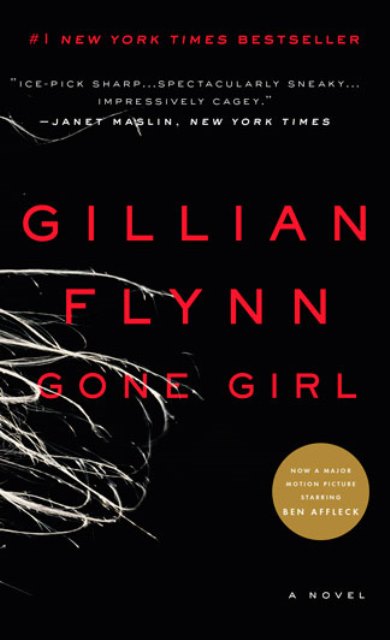 Image source: Gillian-Flynn
You think you know someone – your spouse, to be precise – but you slowly learn that you haven't even scratched the surface of their personality, let alone their psyche. It's Nick and Amy Dunne's fifth wedding anniversary, but Amy seems to have disappeared into thin air. Or not. As the cops investigate Amy's disappears, her diary seems to tell a very different story than the one others witnessed. What happened to Amy? Where is she? Did Nick really kill his wife? This book will mess with your head to such an extent that you might even start to look at your spouse differently!
2. The Girl on the Train by Paula Hawkins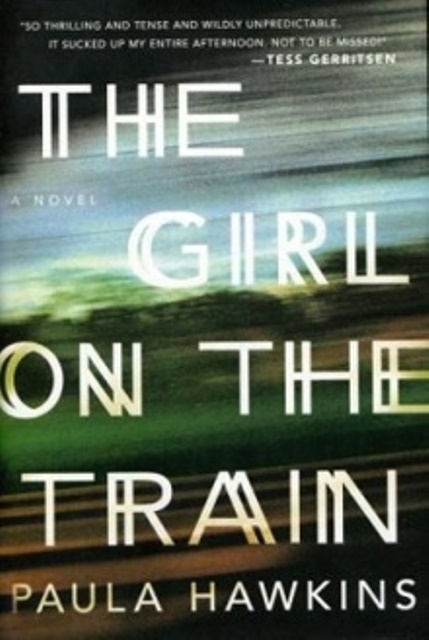 Image source: Wikimedia
As Rachel's daily train rattles down the track, she catches snatches from someone else's life. As days go by, she starts to feel like she knows them. It seems that they have a perfect life, not unlike the one she recently lost. However, on a seemingly innocuous day, something she sees is so shocking, that she goes to the cops. But what did she see in that flash? Is she as unreliable as they say she is? Or is there truth to what she saw from the train? Soon, Rachel in entangled in the investigation, and also the lives of those involved. What has she done?
3. Shutter Island by Dennis Lehane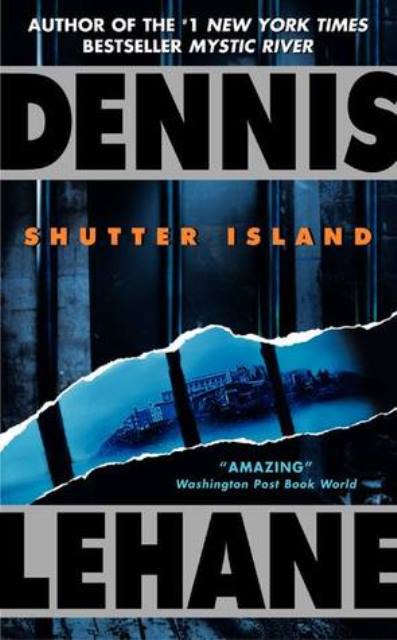 Image source: Goodreads
Set in 1954 during the cold war era, this psychological thriller takes us to Shutter Island, the home of Ashecliffe Hospital for the Criminally Insane, where US Marshal Teddy Daniels and his new partner, Chuck Aule, have come to investigate the disappearance of a patient. An inmate, Rachel Solando, is loose on the island, there are rumors about radical experimentation and horrific surgeries, and a vicious hurricane is brewing outside. Just the setting can raise the hairs on your neck! It's sinister, absorbing, and will leave you taking your time to actually process the book fully, even days after you've flipped the last page!
4. Before I Go To Sleep by S J Watson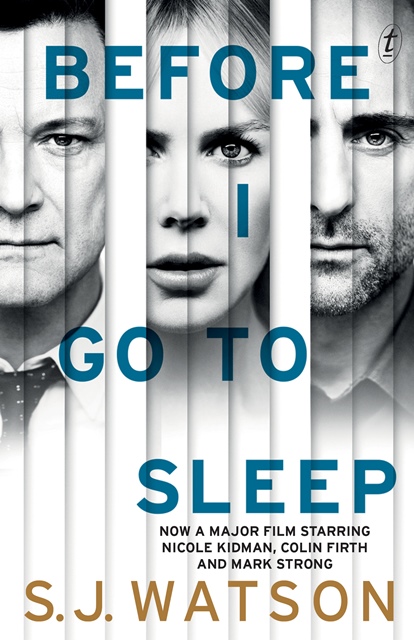 Image source: SJWatson-books
What if you wake up one morning and don't remember who you are, where you are, or even who is that person you're sleeping next to? Imagine this happening, EVERY SINGLE DAY! Yes, Christine wakes up every morning with amnesia. She figures out pieces of her life through pictures and her husband's help, every day. But a visit from a mysterious doctor will leave her second-guessing her non-existent memory, and as to who to trust, trying to figure out who could be lying.
5. The Silence of the Lambs by Thomas Harris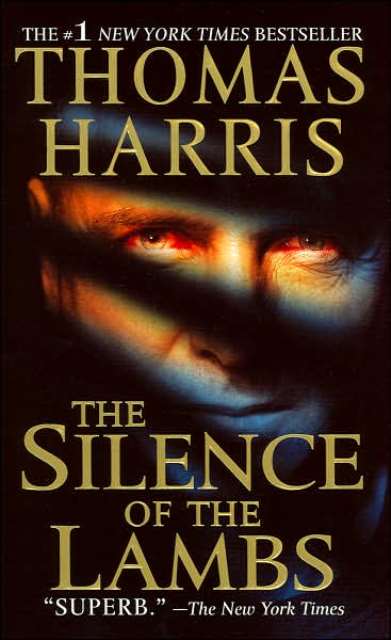 Image source: Hannibal wikia
An FBI agent, a twisted killer, and a cannibal who can help catch the killer. Seems like the start of a bad joke, no? Trust me, this book is no joke. The unlikely and unconventional relationship that FBI trainee Clarice Starling develops with convict and cannibal, Hannibal Lecter, to catch the twisted killer called Buffalo Bill, is thrilling and chilling in equal parts. You do NOT want to miss this masterpiece, even if you've watched the movie already.
6. Primal Fear by William Diehl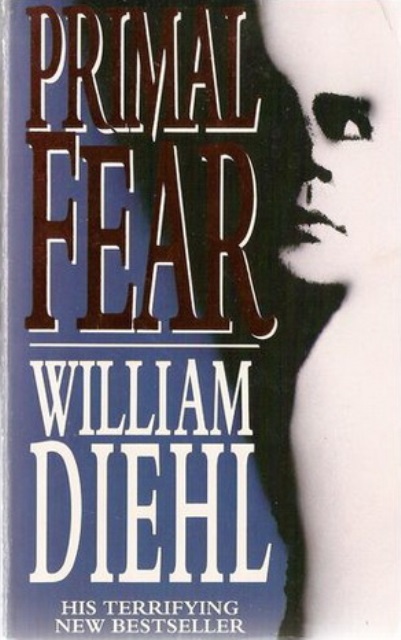 Image source: Wikimedia
Angelic-looking altar boy with a stutter, Aaron Stampler, is found holding a bloody butcher's knife near a murdered archbishop. And Martin Vail, a brilliant attorney is defending Stampler. Everyone expects Vail to lose, because it's a slam dunk of a case, with everything going against Stampler. But Vail and his legal team uncover truths during their investigation that help make a case to spare the electric chair for Stampler. But is that enough? Maybe. The heart-stopping climax will leave you reeling for days on end! You might want to read the book first, and then watch the movie, starring Richard Gere and Edward Norton.
---
Suggested read: 9 astonishing reasons for reading romance novels this summer
---
7. Rebecca by Daphne Du Maurier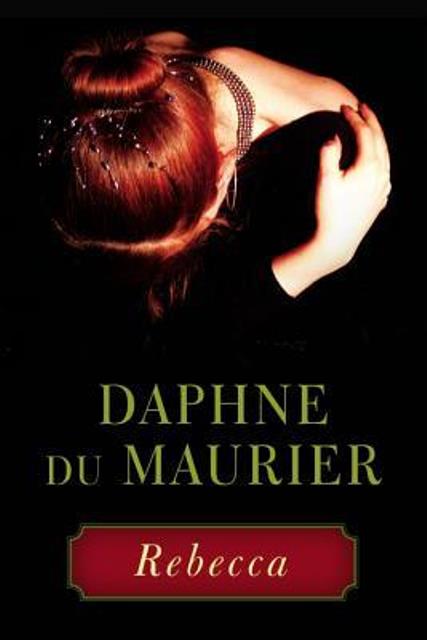 Image source: Goodreads
An oldie but a goldie. First published in 1938, this book starts off in Monte Carlo, where the dashing widower Maxim de Winter sweeps a mere lady's maid off her feet and proposes marriage. Thoroughly charmed, she accepts it. It's only after they arrive at his massive country estate that she realizes that the first Mrs Winter isn't quite out of their lives as she'd believed. A lingering evil threatens to destroy her newfound happiness. What really happened to the first Mrs Winter? Once you're done with the book, check out Alfred Hitchcock's masterpiece too. You won't be disappointed!
8. Defending Jacob by William Landay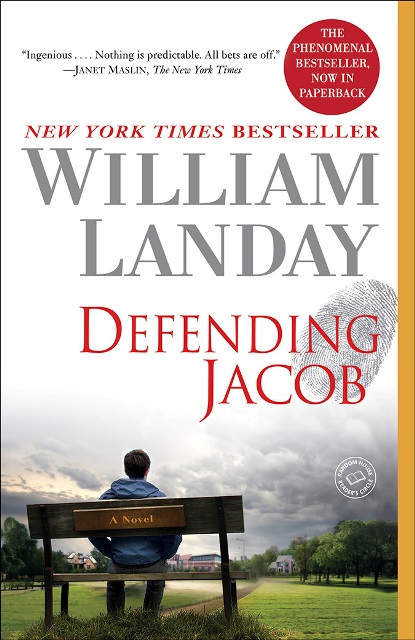 Image source: WilliamLanday
A quiet suburb is shocked by a gruesome death – a young boy stabbed to death. The accused is the 14-year-old, Jacob, the son of the assistant district attorney, Andy Barber. Jacob is shy, awkward, and mysterious. But is he a killer? While Andy believes in Jacob's innocence, the damning evidence mounts, while the public wants answers. How far would a parent go to protect their child?
9. In the Blood by Lisa Unger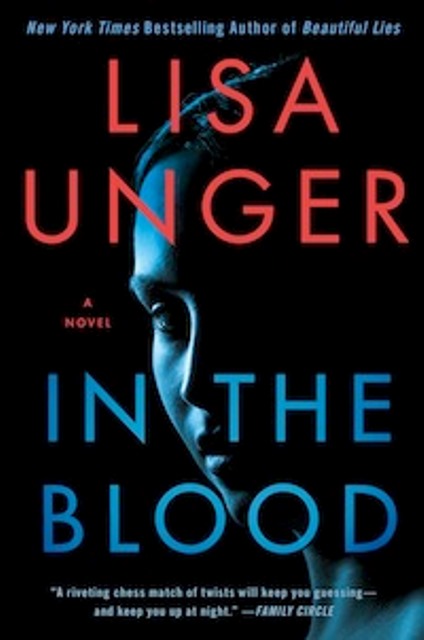 Image source: LisaUnger
College senior and compulsive liar Lana Granger seems to have met her match in a volatile and manipulative eleven-year-old boy whom she starts to babysit. Soon after taking up the job, her close friend Beck disappears mysteriously. As good as she is at lying, Lana seems to be fabricating stories – to friends, to cops, and to herself. What really happened that night? Why does Lana want to bury the truth?  Someone else knows her secrets, and he may not be interested in keeping them buried.
10. Mr Clarinet by Nick Stone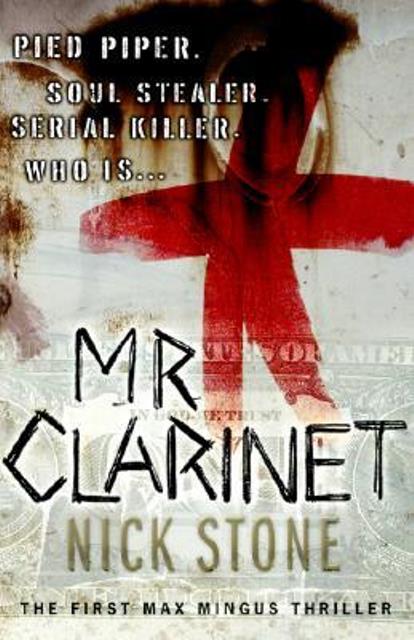 Image source: Goodreads
Max Mingus is on the trail of a billionaire's missing five-year-old, in Haiti. Every other PI and investigator who went in search of Charlie Carver, has either ended up dead or permanently screwed up. And for someone who's battling his own demons and darkness, Haiti seems like a reprieve from his haunting empty house. But as he hurtles down the path where Charlie could have gone, he discovers the corruption, manipulation, and evil that lurks in the murky depths of Haiti. Suddenly, Max is more concerned about staying alive than finding the missing Charlie.
11. The Ice Harvest by Scott Phillips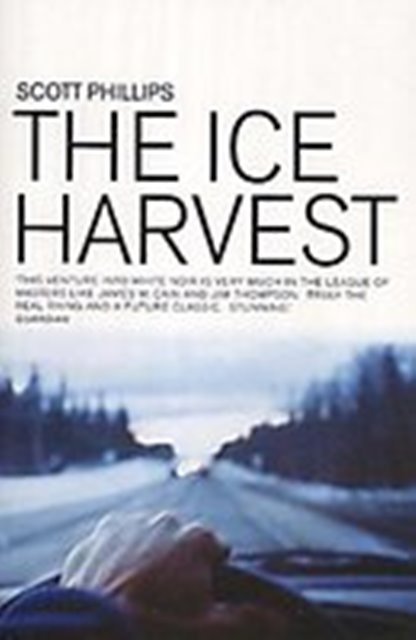 Image source: Amazon
Charlie Arglist, a crooked lawyer, holding a load of embezzled cash is awaiting his associate so that he can get out of Wichita, Kansas. But what follows is Charlie's parade through strip clubs, local bars, lowlifes, and massage parlors. It's only after the halfway mark of the book that you learn just what the heck Charlie is doing. But it's worth the wait, while the finish is that much more satisfying.
12. A Simple Plan by Scott B Smith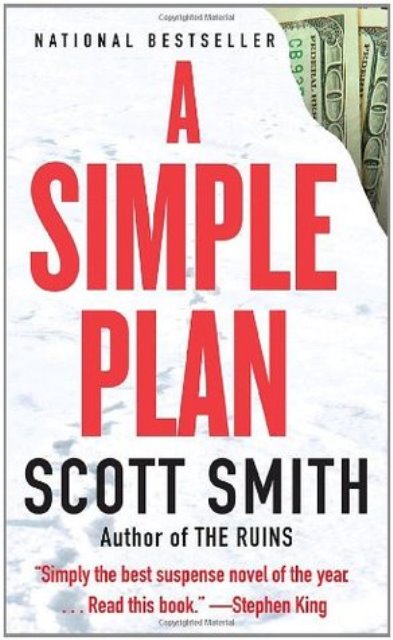 Image source: Goodreads
Through a freak accident, three men come upon a wreckage of a plane in rural Ohio's snowy woods. The pilot is dead, with a duffle bag that contains four million dollars in cash next to him. The three men decide to hide the cash till the plane is found after the snow melts, split it only if nobody raises questions about the missing cash. But will they get to keep the cash? What will happen when four million dollars – in cash – is involved, and three men out for themselves?
---
Suggested read: 8 scandalously erotic novels you MUST read today!
---
13. You by Caroline Kepnes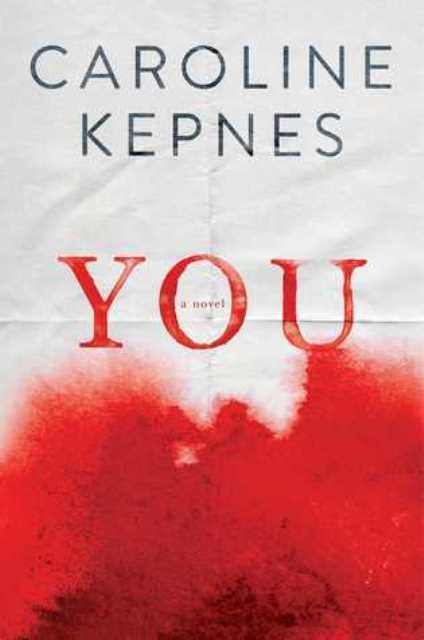 Image source: Goodreads
Joe Goldberg Googles the name of the beautiful, aspiring writer who waltzed into the NYC bookstore he works at, based on the info in her credit card. Guinevere Beck has an active social media presence, which means each one of her followers know what she's doing, where and when. And Joe is one of them. As he transforms himself into Guinevere's perfect man by doing anything and everything – including murder – to get what he wants, this psychological thriller told from the psychopath's point of view will leave you reeling! This one has a second novel in the series as well. Do check it out, but only after you've read this one.
There you have it – our list of best psychological thriller novels you MUST read as soon as possible!
Summary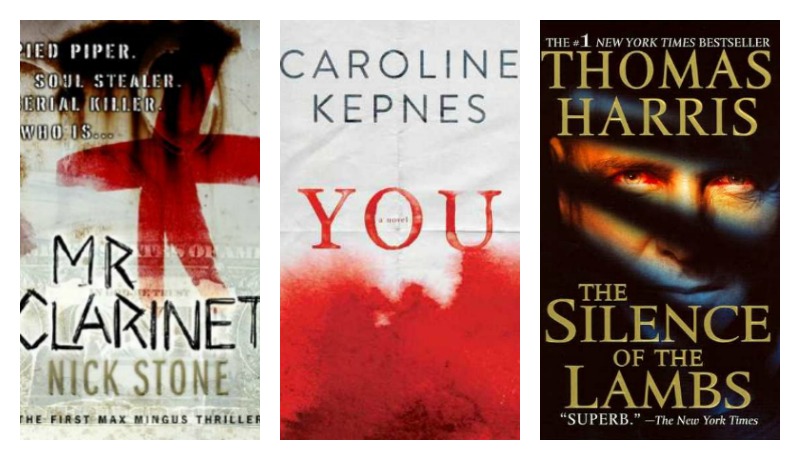 Article Name
13 Best Psychological Thriller Novels That Are Sure To Mess With Your Head!
Author
Description
If you're looking for your next book to mess up your already-messed up head, here's our list of best psychological thriller novels you MUST read ASAP!