Staying fit and healthy is now more important than ever. The reason you need these easy healthy snacks recipes in your life is because they will keep you full without adding to your calorie count or punishing your body.
Snacking is a very important part of our eating habits, something not many people realize. Even when we are careful about our meals, we tend to overlook the snacking part, and reach for snacks that are processed, packaged and loaded with fats and sugars which can cause more harm than good. Even though these processed foods are tasty, they are very unhealthy and barely have any nutritional value.
---
Suggested read: 15 Latest Food Trends On Instagram That Has The World #Obsessed And #Drooling
---
These are some easy healthy snacks recipes that have nutritional value and also satisfy your hunger cravings when you are feeling them munchies.
Buffalo Cauliflower Wings
Chicken wings in hot buffalo sauce have more calories than you think. Replacing chicken with cauliflower makes for a healthy, filling and nutritious snack that you can serve up at parties and on game days or even when you are feeling like a fancy snack. It is both vegan and gluten-free, and can be enjoyed by everyone.
Cream Cheese Toast with Berries
This sweet treat is something that you will want to have over and over again. It is healthy and filling and you can experiment with it by adding whatever fruits and berries you want. The toast adds a crunchy base to the cream cheese, which is a wonderful replacement for butter, while the berries add a hint of tart and sweetness to your snack.
Boiled Eggs
If you are looking for an instant snack which is both yummy and will keep you full for a long time and will also give you energy that will sustain you throughout the day, then all you need is one simple ingredient and you are good to go! An egg is loaded with all the right ingredients, including fats, proteins and vitamins, which are great or your body. One entire egg has about 78 calories, and you can have it hard boiled, soft boiled or anything in between, with a sprinkle of salt and pepper for taste.
No-bake Cereal Bars
Cereal bars are some of the best snacks ever, because they are filling, and satisfy exactly the kind of cravings you get when you want a snack. Making them is super easy, because all you need is your favorite cereal, and a sticking agent, such as maple syrup, or chocolate or peanut butter to bring them all together. You don't even have to bake them, and you can make a large batch at once and store them for weeks.
Avocado "Fries"
Avocados are the food of the year, and there is no end to the number of healthy, delicious snacks you can make with them. Of all the wonderful things that you can make with avocados, my personal favorite is avocado "fries" which are baked! All you need is a nice, ripe avocado, some panko breadcrumbs and flour slurry, and you have a snack which is loaded with nutrients, filling and super delicious.
Honey Roasted Chickpeas
Chickpeas are some of the best sources of protein, and if you are craving for something to munch on which has even lesser calories than popcorn does, and fills you up faster and for longer, then this is your go-to snack. The yummy honey flavor along with the creamy and crunchy chickpeas is the perfect snack for when you are feeling those hunger pangs. You can also add a pinch of cinnamon for extra flavor.
---
Suggested read: All The Numerous Health Benefits Of Broccoli, Another Superfood
---
Carrots and Hummus
If you are looking for an exciting snack, which is flavorful and literally everything that a snack should be, without being unhealthy, then check out this sweet combination. Carrots and hummus is on it's way to becoming an iconic combination, because even people who aren't health freaks cannot avoid this deliciousness. You legit just need a carrot, and if you want an extra sweet treat, then you can use baby carrots. Choose any flavored or classic hummus to use as a dip for your carrots, and munch away!
Energy Bars
People often shy away from energy bars because they think it is a lot of effort. In fact, energy bars is one of the easiest recipes on this list, because it legit requires you to dump a bunch of things into a food processor, and then store it in a tray. For a very basic energy bar, you can blend together raisins, almonds and dates. However, you can literally add anything in your energy bar, including chocolate and peanut butter and all kinds of nuts and dried fruits.
Here are a few ideas.
Apple cinnamon smoothie
I cannot begin to explain to you how yummy and filling this super simple snack is. Again, all you need to do is throw a bunch of common kitchen ingredients into your blender, and make a smoothie that is going to blow your mind, wake you up, satisfy your snack cravings and give you a hell lot of energy for the rest of your day. Also, this snack gets brownie points because it is full of healthy ingredients such as apples, cinnamon, milk and yogurt and tastes like an apple pie that you can drink.
Summary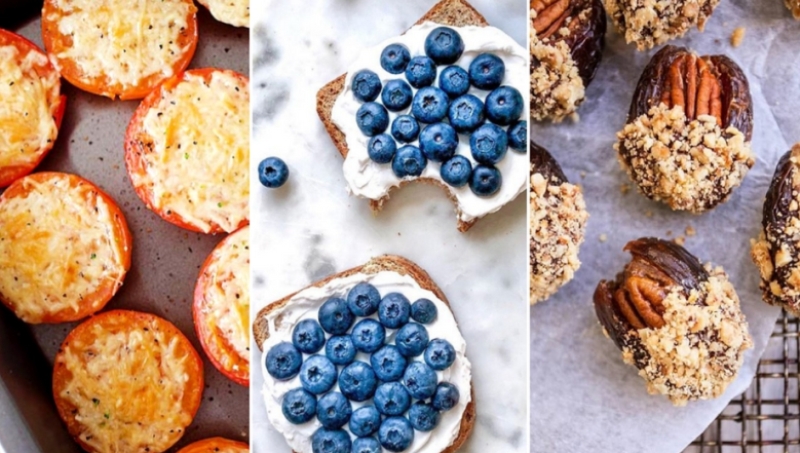 Article Name
14 Easy Healthy Snacks Recipes To Deal With Hunger Pangs
Author
Description
Check out these easy healthy snacks recipes to satisfy those hunger pangs, without piling on those calories and punishing your body!
Read the rest of the article:
Next