Drinking water is such a natural part of our existence that most of the time, we don't care enough for it. Even though everyone, starting from our gym trainers, doctors, and therapists to our mothers remind us constantly to drink more water, this advice seems to go unnoticed and uncared for, no matter how much we are told. One way to increase your water intake is by pimping your water, and I am going to tell you about the best detox water recipes ever.
Water itself is a wonderful source of nourishment. It flushes out the toxins from your system, keeps you hydrated and is wonderful for your body in general. Now imagine if you could make water better. That is exactly what detox water is. You add certain things to your water, so that the essence of the fruit or ingredients that you are adding gets infused in the water, and essentially makes it healthier and more nutritious.
---
Suggested read: Skin Food: Here's What You Need To Include In Your Diet For A Healthy, Glowing Skin
---
Detox water can help your body in all sorts of ways. It can help you lose weight, it can give you clear skin, it can help improve hormone balance in your body and help your internal organs function more dexterously. To achieve all this, you need to know what the best thing to add to your water is. Here are some of the best detox water recipes to help you live your best life.
Apple-Cinnamon-Honey Water
Apples are known to increase the rate of metabolism in your body, and they also help flush out the toxins from your system faster. Add to that honey, which has wonderful anti-inflammatory and antioxidant properties and cinnamon which regulates your blood sugar level, and you have a detox water which not only keeps your body in tops shape, but also helps you lose weight faster.
Blackberry-Sage Water
Any water which has herbs in it is going to be healthy and refreshing. Add to that the wonderful antioxidant properties of blackberries and you have detox water which is going to give you clear skin, and keep you hydrated for a long period of time, especially during hot summer days. Blackberry and sage detox water also helps improve your immunity, because of the natural properties of sage, and the blackberries turns the water into the most gorgeous shade of magenta.
Grapefruit-Apple Cider Vinegar Water
Apple cider vinegar has multiple benefits for your body. It acts as a natural antibiotic and soothes the lining of your stomach, thereby preventing indigestion and other stomach-related issues. Apple cider vinegar also increases the capacity of your body to retain water, and promotes weight loss because of its fat burning properties. Add to that the Vitamins and antioxidants that are present in the grapefruit, along with the sweet taste of the fruit, and you have yourself a wonderfully beneficial and tasty detox water.
Lemon-Cucumber Water
Popularly known as Skinny Detox Water, this is one detox water that you don't want to miss out on. All of the ingredients that are used in this water, including lemon, cucumber, mint and ginger are all natural energizers, which keep you refreshed and hydrated throughout the day. The natural properties of lemon and cucumber also help your body burn fat faster, and keeps you feeling full for longer.
Strawberry-Pomegranate Water
Strawberries are one of nature's superfoods because they have so many good properties. When infused in water with a handful of pomegranate seeds, they made for a wonderful detox water infusion which keeps your body feeling fresh, light and energetic. Both these fruits also contain Vitamin C and antioxidants, which removes the harmful free radicals in your system, and gives you fresh, glowing skin.
Lemon Water
There is nothing like fresh lemon in water. Even though this might sound simplistic, this detox water has some of the best benefits for your body, if you drink it at the right time and you drink it regularly. You can soak an entire lemon (sliced up) in a liter of water and drink the whole thing during your morning routine, such as while preparing breakfast or during your workout. You can also squeeze a fresh lemon in a glass of warm water in the morning and drink it on an empty stomach. The Vitamin C in lemons helps fight diseases and bacteria in your body, and it improves your immunity. It also helps you burn unwanted fat and gives you a lot of energy, which helps you plough through the entire day without feeling fatigued.
---
Suggested read: Stay Healthy With These Easy-To-Cook Immunity Boosting Foods
---
Cumin-Lemon-Mint Water (Jal Jeera)
This is a popular drink that originated in North India, and is usually consumed as a digestive because of the soothing and healing properties of cumin. Along with increasing metabolism and improving the condition of your digestive system, it also helps with weight loss, and contains important enzymes. This is usually made with lime, which also a potent source of Vitamin C, which we can all agree is just the best. Jal jeera also tastes like the bomb and you will want to carry around a bottle wherever you go.
Lavender-Chamomile-Lemon Water
Sometimes, you just need something that will soothe your system, cleanse your mind and make your body feel healthier than ever. That is the kind of effect this particular detox water has on you, because of the ingredients that are present in it. Chamomile has anti-inflammatory properties while the lemon and the lavender work together to flush out the toxins from your system more effectively.
Chia Water
https://.instagram.com/p/BCsgdyAOW85/?tagged=chiawater
Chia seeds are also considered superfoods, as consuming these seeds can have a number of health benefits for your body. They are some of the best sources of calcium and also fiber, which is important for the proper rate of metabolism for your body. They also have antibiotic properties which strengthens your immune system. When you eat chia seeds, then expand in y our stomach, keeping you full for longer and preventing you from binge eating. All you need is a tablespoon of chia seeds and a squeeze of lemon to make this refreshing detox water.
Summary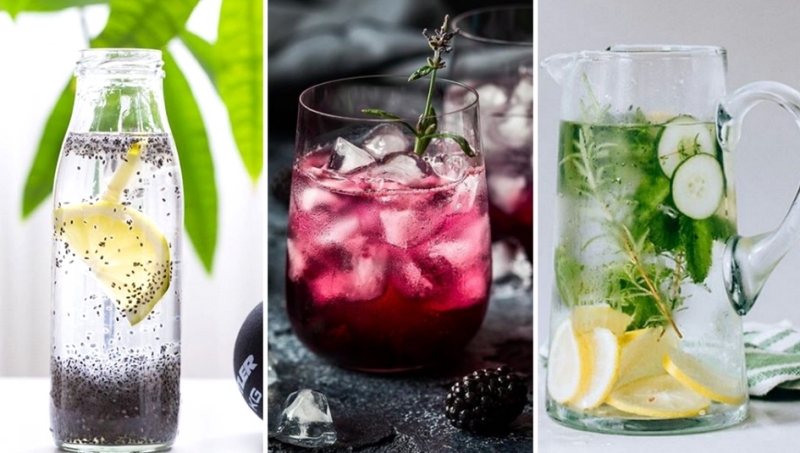 Article Name
The Best Detox Water Recipes Your Body Will Thank You For
Author
Description
Summer is here, and you need to be equipped with the best detox water recipes that'll not only keep you hydrated, but also take care of health and immunity.
Read the rest of the article:
Next