2015 was a great year for the LGBTQ community in the United States of America, when President Barack Obama legalized gay marriage, and pride parades broke out all over the world. It was a giant step for the community that has forever been ostracized and discriminated against, so for the world's most powerful country to recognize their right to get married for one of the most historical days ever.
Celebrities have always been a source of inspiration and envy, and everyone is curious about their lives. Whether it is fashion, or relationships, people want to follow them and know the goings on of the glamorous inside world of celebrities. Even before gay marriage became legal, we got to see some of the most iconic gay couples in the celeb-verse, and they have forever been relationships goals because of their awe-worthy PDA and their tenacity to defy all odds and love each other. Here are our favorite gay celebrity couples.
---
Suggested read: 10 Awesome Reasons Why Gay Guys Are Hot
---
1. Ellen Degeneres and Portia De Rossi
No gay celebrity couple list would be complete without Ellen and Portia, who are literally the two cutest people alive. In fact, this year marked 20 years of Ellen coming out on live TV, which changed the lives of several people in the LGBT community forever, because back then, homosexuality was pretty much a criminal offense.
They got married in 2008, in the cutest wedding ever, where Portia wore a backless Zac Posen wedding gown, while Ellen wore a Zac Posen three piece suit, both in white. They have been dating since 2004, and in the midst of messy Hollywood divorces, Ellen and Portia truly have become relationship goals.
2. Jesse Tyler Ferguson and Justin Mikita
Seriously though, how is this picture NOT relationships goals? Jesse is known for his role as Mitchell Pritchett on the popular TV show Modern Family where he plays a gay dad with his partner Cameron, and they raise their adorable little baby daughter Lily. However, his personal life is just as cute and adorable, because in 2013, he got married to his lawyer boyfriend of three years- Justin Mikita. Even though they don't have kids yet, they have a doggo called Leaf.
3. Neil Patrick Harris and David Burtka
Petition to award this family the most good looking fam in the whole damn world? Barney Stinson from How I Met Your Mother is not only legendary on screen, but he is also a legend in real life, for being the best dad and the cutes husband ever. His Instagram is full of pictures of his husband David Burtka (whom he married in 2014) and their two adorable babies- Gideon and Harper.
This is them for Halloween guys, could it get any cuter?
4. Cynthia Nixon and Christine Marinoni
Cynthia Nixon is one of the most recognizable faces in the world because of her role as Miranda Hobbes in Sex and the City. She identified as bisexual and married her second partern- Christine Marinone, an education activist in 2012, in one of the most gorgeous Carolina Herrera dresses ever, in pale green. They have three beautiful babies, two from her previous marriage, and a son named Max who was born in 2013.
5. Ricky Martin and Jwan Yosef
I am not too happy about including Ricky and Jwan (I'd like to believe we are on first name basis) on this list, because by getting engaged to each other, they shattered the dreams of many lusty women, and left their ovaries high and dry. Still, I can't help but fawn over their collective beauty. So here is another picture of their perfect family, with their twin boys. Please appreciate.
6. Ruby Rose and Jessica Origliasso
Ruby Rose is considered one of the most beautiful people on earth, and Jessica is a singer for the Veronicas, so when they two come together, you are well-equipped to handle the onslaught of beauty that is to inevitably follow. The Orange is the New Black star started dating Origliasso in 2008, and after a brief breakup, they got back together in 2016, and one look at both their Instagram feeds will show how totally full of mush they are.
7. Jim Parsons and Todd Spiewak
Sheldon Cooper from The Big Bang Theory had the most gorgeous NYC wedding ever in May 2017 when he married his partner of a whopping 10 years- director Todd Spiewak. What makes them ultimate relationship goals? Well, this quote from Jim right here- "Our relationship is an act of love, coffee in the morning, going to work, washing the clothes, taking the doges out- a regular life, boring love." BRB crying.
---
Suggested read: 30 Stars Who Came Out Of The Closet With A Bang
---
8. Elton John and David Furnish
 Elton John and his husband, David Furnish are probably the most iconic gay celebrity couple ever, and they have been dating since 1993. After spending 23 years together, they finally got to marry in 2014. They have two sons- Zachary and Elijah. If that isn't relationship goals for you, I don't know what is. Fun fact: Sir Elton John is also the Godfather of Sean Lennon, two of David Beckham's sons- Romeo and Brooklyn and also to Damien, Elizabeth Hurley's son.
9. Samira Wiley and Lauren Morelli
Here is another hot AF Orange is the New Black star, who got married to the creator of the show, and are now basically the hottest couple alive. I mean, looking at their combined fierceness makes me want to cry tbh-
Lauren proposed to Samira in the fall of 2014, and they commemorated the moment with even more Instagram updates. Following that, they got married in the most gorgeous wedding in March, last year, with both of them looking like the Goddesses that they are in Christian Siriano wedding dresses.
10. Matt Bomer and Simon Halls
Everyone fell in love with Matt Bomer back when he was the smooth con-artist named Neal Caffrey in White Collar. The man is an LGBT rights activist, he has three beautiful babies with his husband Simon Halls, and he is hot AS HELL. He married Simon in a secret ceremony back in 2011, but the world got to know about his orientation only in 2012, and of his marriage in 2014 during the acceptance of a humanitarian award. There is no end to the perfection of their relationship, to be frank.
11. George Takei and Brad Altman
In 2005, George Takei, Star Wars legend, revealed that he had been in a relationship with his partner Brad Altman for over 18 years. He finally announced their marriage in 2008, and on June 17th of that year, they became the first couple in West Hollywood to be granted a marriage license, thereby creating history with their relationship. What kind of relationship would be if it didn't change the lives of a million people all over the world, duh?
12. Ellen Page and Samantha Thomas
Ellen Page is the sexiest vegetarian alive according to PETA. She is also a pro-choice feminist and acting stalwart because of iconic roles like Juno. Samantha Thomas is a surfer, an artist and an LGBTQ rights activist. Together they are literally the most gorgeous two people alive and in love, and apart from conquering the world and breaking down one social barrier after another, they are also killing it at being the most loved up couple ever.
13. Domenico Dolce and Stephano Gabbana
What happens when two hot Italian men come together, fall in love, and use their combined awesomeness and channel it into creative expression? One of the most iconic and legendary fashion brand is born. In this case, it is Dolce and Gabbana. Along with being owners of an on-point fashion game, they have a fortune to their name because of the brand that they have built together, and as a result have several houses in several countries, making all other relationships look sad.
14. Kristen Stewart and Stella Maxwell
Let's be honest here- whoever part time actress and full time Goddess Kristen Stewart decides to go into a relationship with becomes couple goals. After engaging in several relationships with several important and semi-important people, Kristen Stewart has finally fallen for super model and general badass- Stella Maxwell, who is perhaps best suited to match Stewart's overwhelming gorgeousness. They started dating in late 2016, and have since been spotted canoodling in various places on the streets of LA. When two gorgeous and talented and people come together, we can't help shed tears of joy, because Kristen and Stella are everything a couple could aspire to be.
---
Suggested read: Meet Dhee, Bangladesh's First-Ever Lesbian Comic Heroine
---
Gay celebrity couples are not only brave and beautiful, they are also an inspiration to every single person in the LGBTQIA community, who are trying to fight for their love, and trying to find a place in a society that is growing increasingly intolerant and hateful. Plus, these couples are also relationship goals for straight couples and are totally gorgeous together, so it's a win-win.
Featured image source: Instagram
Summary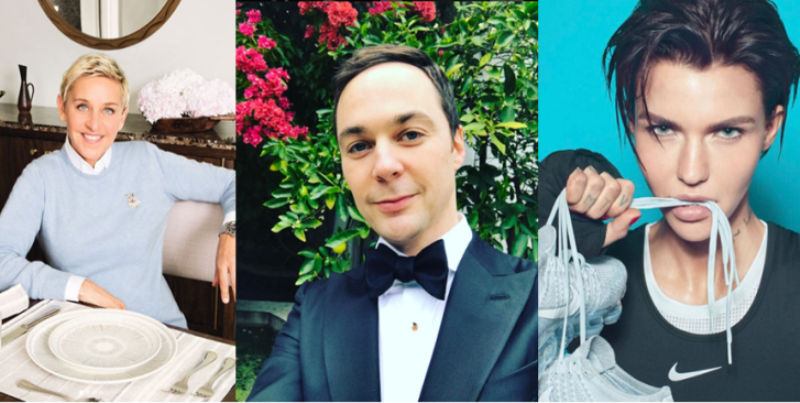 Article Name
14 Gay Celebrity Couples Who Are Ultimate Relationship Goals
Author
Description
Gay celebrity couples are showing us how to do love right, and here are our favorite couples who give us major relationship goals.