Three-time Pulitzer Prize winner Carl Sandburg said, "A baby is God's opinion that the world should go on." How true are these words!
A child is a child, God's creation, no matter the means used for its conception. Be it a natural progression of a straight couple's relationship or IVF for those millions of straight and gay couples who want kids of their own. And now, two fashion gurus and celebrities in their own right, have revealed their antiquated and archaic views on love, life, and family, dividing social media opinion with outrage on one side and support for freedom of speech on the other.
Image source: Google, copyright-free image under Creative Commons License
In one of the recent interviews for the Italian magazine Panorama, founders of the famous Italian fashion house, Dolce & Gabbana, Domenico Dolce and Stefano Gabbana, have stirred a hornet's nest with their sanctimonious opinions. Disagreeing with in-vitro fertilization, Dolce said that conceiving a child "must be an act of love," adding,
"You are born to a mother and a father – or at least that's how it should be. I call children of chemistry, synthetic children. Uteri [for] rent, semen chosen from a catalog. Life has a natural course, there are things that shouldn't be modified."
---
Suggested read: Same-sex couple after 72 years of being together
---
Further, speaking about non-traditional families, Gabbana commented,
"We oppose gay adoptions. The only family is the traditional one. The family is not a fad. In it there is a supernatural sense of belonging."
He went on to explain,
"I am opposed to the idea of a child growing up with two gay parents. A child needs a mother and a father. I could not imagine my childhood without my mother. I also believe that it is cruel to take a baby away from its mother."
The designers who have made such antiquated and dated statements, were romantically involved until 2005, making them one of the most noted gay couples in the fashion industry. Although they broke up in 2005 after 23 years together, they have remained close friends, even working together. The pair has been vociferous in making it known to the world that they reject same-sex marriage in the past too.
---
Suggested read: Sir Elton John requests your presence at his wedding
---
This interview has created a controversy testing the limits of free speech, all while sparking outrage from several prominent gay celebrities, including and not limited to Sir Elton John.
Image source: Google, copyright-free image under Creative Commons License
The 67-year-old Candle in the Wind hitmaker has lashed out at the duo, going so far as to call a boycott of the fashion house. The entertainer has two sons Zachary, 4, and Elijah, 2, with partner and husband David Furnish. The two kids were born to the same surrogate mother in California in 2010 and 2013. Sir Elton and partner David Furnish married in a low-key, star-studded ceremony in December 2014, with the likes of Victoria Beckham, David Beckham, Elizabeth Hurley, and David Williams in attendance.
---
Suggested read: Goa Government seeks to 'cure' homosexuality!
---
Taking to his Instagram account, Sir Elton wrote a scathing post, going off against the designers, saying,
"How dare you refer to my beautiful children as "synthetic". And shame on you for wagging your judgemental little fingers at IVF – a miracle that has allowed legions of loving people, both straight and gay, to fulfil their dream of having children. Your archaic thinking is out of step with the times, just like your fashions. I shall never wear Dolce and Gabbana ever again. #BoycottDolceGabbana "(sic)
Fans have extended overwhelming support to the star, with one commenter saying:
"Sir Elton! You are a true inspiration to me and millions of people! As a father of 4 i know what the fantastic feeling of a child means. You are the best patents for your children. DG are not even worth commenting! They have probably not experienced that special love from a child to a parent and vice versa. Keep up your great work." (sic)
By Sunday afternoon, the hashtag #BoycottDolceGabbana had been used more than 14,000 times on Twitter by supporters including Ricky Martin, Courtney Love, and tennis star Martina Navratilova.
.@dolcegabbana ur voices R 2powerfull 2B spreading so much h8 http://t.co/30Oe2hcxNt Wake up,Its 2015 Luv urselves guys #boycottdolcegabbana

— Ricky Martin (@ricky_martin) March 15, 2015
Just round up all my Dolce & Gabbana pieces, I want to burn them. I'm just beyond words and emotions. Boycott senseless bigotry! #boycottD&G

— Courtney Love Cobain (@Courtney) March 15, 2015
Right on Elton and David http://t.co/qmORSvTnUe My D&G shirts are going in the bin- don't want ANYONE to wear them

— Martina Navratilova (@Martina) March 15, 2015
On the other hand, Gabbana also took to social media to defend his comments, citing 'freedom to speak,' calling Sir Elton a 'fascist' in an Instagram comment, which was later deleted. One commenter extended his support to the fashion guru, saying,
"It's a shame that you are not allowed to say what you like. You have every right to say what you want, especially as you weren't disrespectful nor immature like Elton was. His comments are unnecessary, cheap and childish." (sic)
It's sad to think that in this day and age, renowned people like Dolce and Gabbana carry such antiquated views about love and family. The shape and nature of 'family' has evolved so drastically in the past few years, that there's no one strict definition as to its perimeter. You cannot draw a circle and say this what family is and should be and must be. It's a fluid circle that adds and deletes as times change.
Featured image source: Google, copyright-free image under Creative Commons License
Summary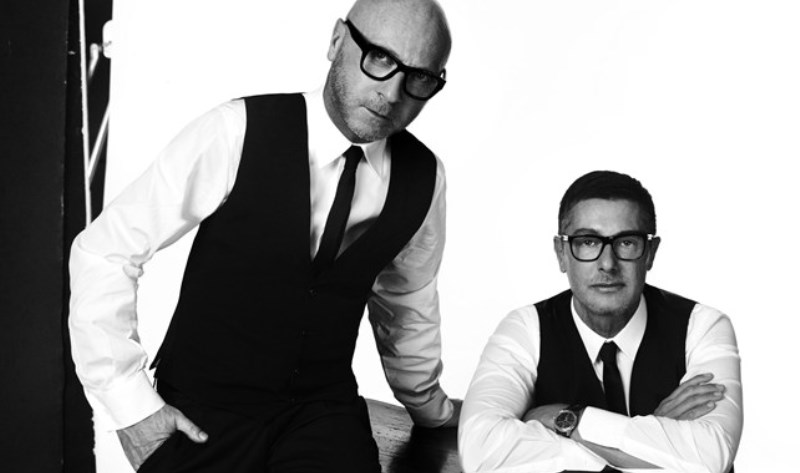 Article Name
Designers Dolce and Gabbana have termed IVF as 'synthentic'
Author
Description
Designers Dolce and Gabbana's antiquated views on family have sparked outrage. Sir Elton John has lashed out at the duo, calling for boycott of the brand.