Amidst a long list of same-sex couples – both commoners and celebrities – Sir Elton John, 67, and his lover/partner of 21 years, David Furnish, 52, have become the latest couple who has tied the knot yesterday, December 21st, 2014. And who all do you think were on the coveted wedding invites? All of his followers on Instagram! Unbelievable? We were surprised too!
Here's the wedding invite on his official Instagram account:
"Sir Elton John and David Furnish request the pleasure of your company to celebrate their wedding on Sunday the 21st of December," reads the invite.
Image source: Instagram
Apparently, the singing legend's wedding ceremony, which was held in front of family, friends, a number of celebrities, and not but not least, the couple's two sons, Zachary, 3, and Elijah, 23 months, was live-blogged on his Instagram account, which was announced thus: 'Please join us this Sunday @DavidFurnish and I will be posting special moments from our big day. #ShareTheLove #EltonJohn #DavidFurnish'
Image source: Instagram
Every moment beginning from the signing of official marriage certificates, till the moment the couple said their vows, was posted via pictures on Elton's Instagram account. Among these pictures, one beautiful picture snapped by Zachary, the couple's eldest son, of his brother, Elijah, was promptly uploaded as well. In this particular snap, Elijah is seen hugging his father's leg, while holding a stuffed toy, which was captioned: 'Zachary grabs David's iPhone and takes a photo of his brother while we exchange our vows. #ShareTheLove.'
Image source: Instagram
The dashing couple wore matching dark suits, as did their adorable sons. Not to forget his legendary sunglasses, Elton wore them to his wedding too!
Image source: Instagram
Although the couple has been in a relationship for the last 21 years, they entered a civil partnership on December 21st, 2005, the day that the Civil Partnership Act came into force in the UK. And when same-sex marriage was legalized in the UK in March 2014, they got married on the anniversary of their civil partnership, December 21st, adding an element of poignancy to the ceremony.
Image source: Instagram
As for who all were in attendance at the wedding ceremony, celebrities including David Beckham and wife Victoria, Elizabeth Hurley, Ozzy Osbourne and wife Sharon, were present.
Image source: Instagram
Well, in whichever way the couple have celebrated their marital union, we give them our hearty congratulations! Happy married life, you two!
Featured image source: Instagram
Summary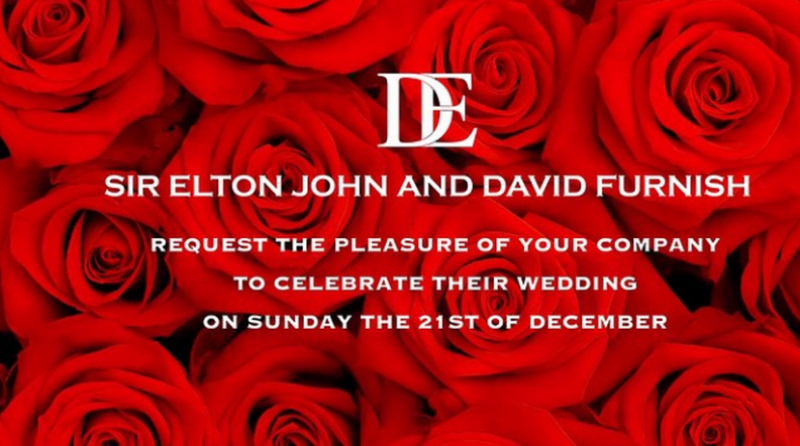 Article Name
Sir Elton John requests your presence at his wedding
Author
Description
Sir Elton John, the legend who sang at Princess Diana's funeral, has tied the knot with his longtime partner, David Furnish. Here's the full scoop.