People are different, and so are their ways of letting the other person know what they mean to them. Don't try to imitate what someone else is doing to please their loved ones this Valentine's Day. Be yourself in order to make your partner feel special. We have thought of 15 different ideas for Valentine's Day that are unique, creative, and definitely very romantic! The ideas are divided into two sections to make sure that your pocket is taken care of! The first section will help you out if you are in a little financial crunch! We know the financial year will be ending in March and there are so many bills to pay off, but we have that sorted for you! The second section is a splurger's Valentine's Day list!
I. Creative ideas for Valentine's Day on a shoestring budget
Loving with diamonds or a seven course meal in a posh restaurant is not necessarily meaningful! It might, on the other hand, take away that personal touch from the expression! If you are worried that Valentine's Day ideas have to come with a huge price tag, you are wrong! So you cannot stretch your funds too far and yet want to make it special this February 14th? NLT has everything under control, mate! Here are 6 Do It Yourself ideas for Valentine's Day that you can try within a low budget.
---
Suggested read: 10 Valentine's Day food ideas you can whip up for your partner
---
1. The DIY card love book

Image source: Pinterest
This Valentine's Day, make over a deck of cards into something beautiful: 52 things I love about you! Create a table on Microsoft Word. Experiment with cute fonts. Type in the 52 reasons and print them on some card stock. You can use scrapbooking tape to fix the cards onto your playing cards. Lastly, cover each with two coats of glossy finish! Don't forget to tie a ribbon around your present! 😉
2. Bake a heart-shaped red velvet cake!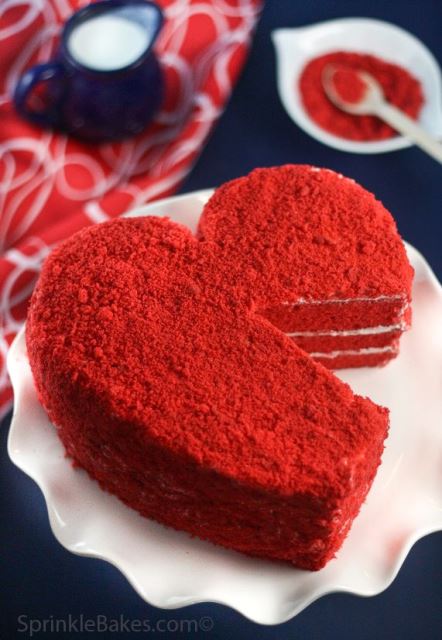 Image source: Pinterest
Here's how:
Preheat the oven to 350 degrees F. Now grease the cake pan. Sieve flour and some salt together. In a bowl, mix butter and sugar. Add the eggs. Mix until fluffy. Add the first mixture (flour) into the second. Then pour in the buttermilk and blend in the vanilla.
In a smaller bowl, take 2 tablespoons of the food coloring and cocoa powder to form a paste. Add this to the other mixture. Next, take baking soda and cider vinegar and put them in a condiment cup. Add it immediately to the batter once foam appears. Blend it all together.
Bake for 30 minutes, and then let it cool. I'll leave the frosting to you, and of course, the message that you want to write on this love cake! 😉
3. Fancy a science project?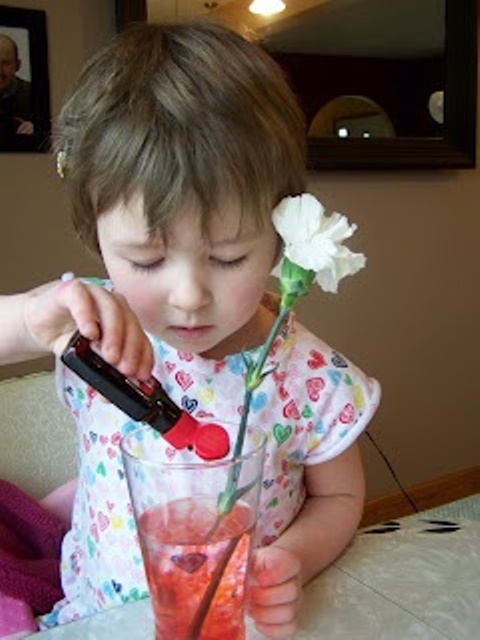 Image source: Pinterest
One of the most magical ideas for Valentine's Day is also one of the easiest and cheapest!
Take some fresh carnations. Now cut the base of their stems. Next, place them in a transparent vase filled with water. Add red food coloring in it (the same one you used for the red velvet cake ;)). In a few hours, you will notice that the flowers are turning red. How cool is that?!
4. A love note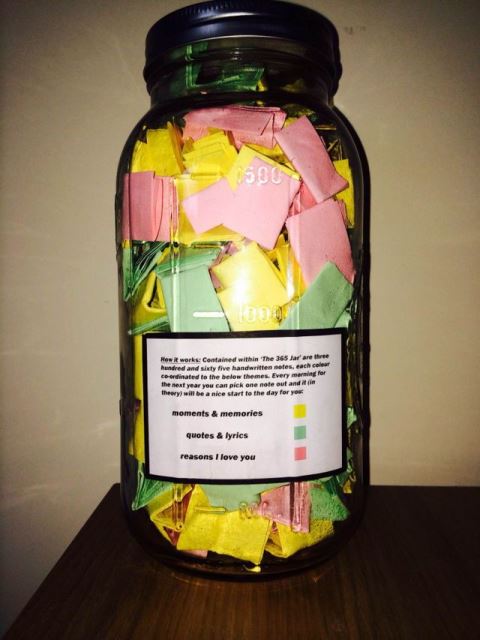 Image source: Pinterest
Take a jar and fill it with 365 love notes for your partner. Make it even more special by coordinating the colors with memories or quotes or lyrics! Isn't this one of the most fantastic ideas for Valentine's Day?!
5. DIY lovopoly!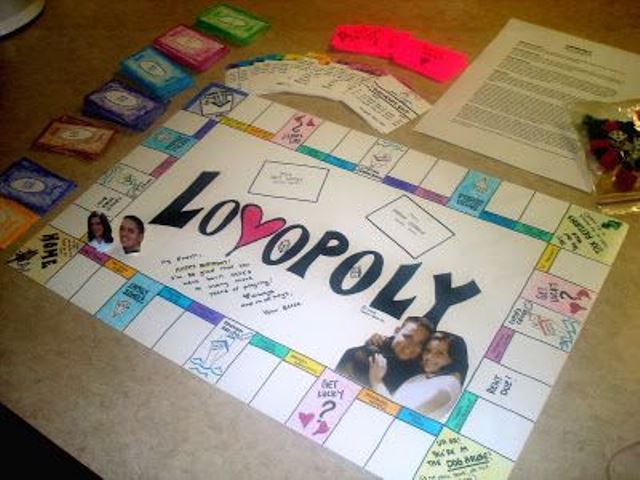 Image source: Pinterest
Here's how:
Take a game board and paint it black to hide whatever was on the board originally. Once it dries out, use some white cardstock to cut out 36 square pieces and 4 rectangular pieces for the corners.
Now, type some relationship goals and print them out. This could be a mix of tangible and emotional ones. Instead of railroads, you can place the names of different luxury cruises you want to go on. Creatively swap the jail for a dog house!
Those on a shoestring budget usually have a tough time because creative ideas for Valentine's Day still seem to require a bit of cash! However, I hope these ideas will prove that notion wrong!
II. Creative ideas for Valentine's Day that might cost an arm and a leg! 😉
If you are willing and in a position to go a little berserk this Valentine's Day, this section is dedicated to you! Below are 9 luxurious ideas to treat your sweetheart to this Valentine's Day. Yes, they are outrageously pricey, but that's definitely required if you want the 14th of February to be top notch this year! C'mon, if love is not worth spoiling and indulging for, then what is!? 😉
6. Gallery of love!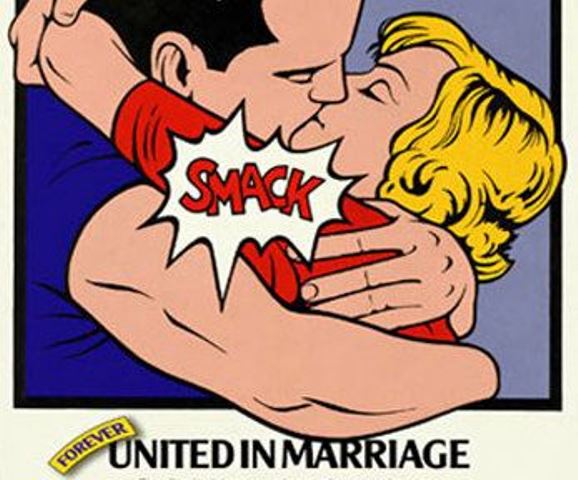 Image source: Pinterest
The slightly expensive, yet totally worth it, ideas for Valentine's Day must include making a display! A personalized "pop art" certificate will be mailed to you if you are willing to spend 40 dollars. This will be a comic-book art-like certificate that your babe can and will hang on their wall as a memory of your love! With the framing and shipping, the gift will come to around 120 dollars! Pricey, but love is invaluable, right?
---
Suggested read: History of Valentine's Day: The origins
---
7. Announce it to the world!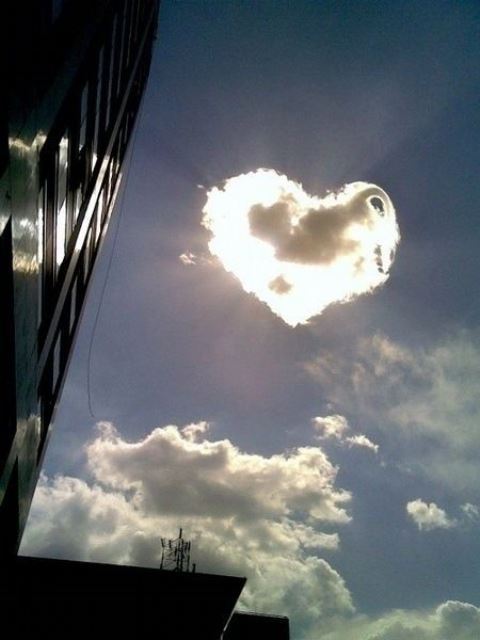 Image source: Pinterest
This is definitely one of the most expensive ideas for Valentine's Day! Emblazing a love cloud or an "I love you" message will cost you around 2000 dollars. For a cheaper option, you can go with a billboard! If that's also out of your budget, you can get your message displayed on the scoreboard at a professional or college sports event! I have another fabulous idea – you can pay the local cinema guys to display your love message on the movie screen after the advertisement and before the movie starts! Thank me later!
8. Whisk her away!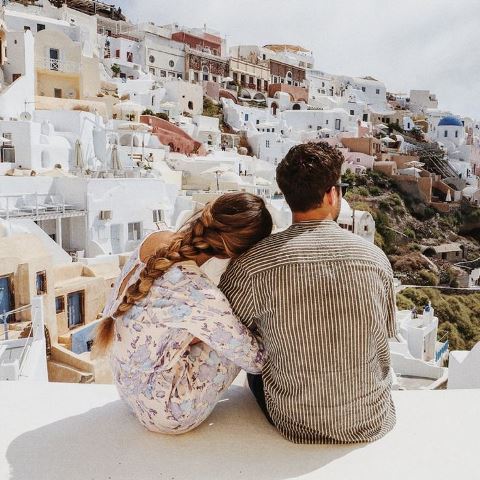 Image source: Pinterest
Plan a world trip with the love of your life! Around the world in 80 days and 80 ways! Nothing better than a getaway with your bae! If you want some big-time bonus points, we suggest you take a portable stereo with you and play your song when you enter the hotel room! Another hint: In case you guys are a married couple with kids, do line-up a babysitter well in advance! Now that's what she is going to appreciate the most!
9. Designer candles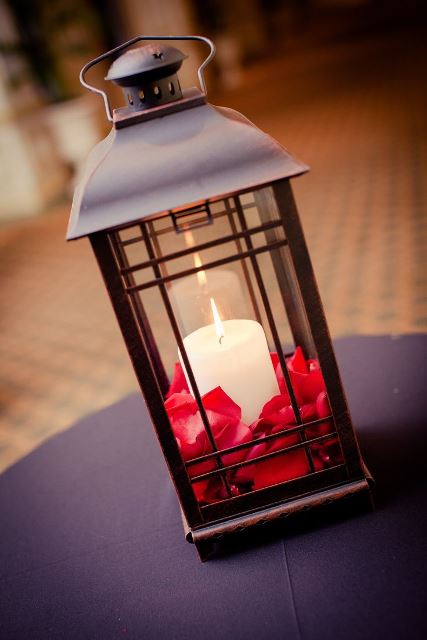 Image source: Pinterest
Each pop will cost you around 65 dollars! Yes, this is not what you call a bargain, but I promise you won't regret this! Splurge on these designer candles and flood your bathroom with these. Then it will be time for a warm bath with your sweetie. Do I have to get into details here? Use your creative bones! 😉
P.S.: Rose petals, though not compulsory, are highly recommended! 😉
10. Skydiving lessons!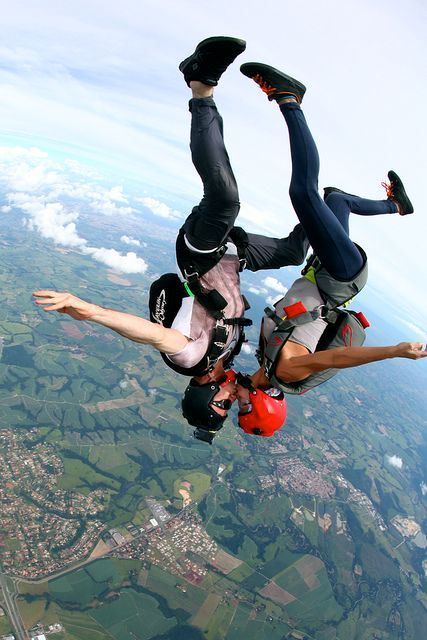 Image source: Pinterest
You only live once, and you might only love once too! Why not mash up the two? Go for an experience of a lifetime with your significant other this Valentine's Day. It need not only be skydiving. You can go for bungee jumping, scuba diving, snorkeling, or all of them! It will be terrifying of course, but you both will be terrified together! 😉
11. Flowers each month!
Image source: Pinterest
While everybody is busy flaunting their love only on Valentine's Day, you believe that every single day is a day of love. You are genuinely one of a kind and this is one of those unique ideas for Valentine's Day for people just like you!
Get a subscription worth 180 dollars that will ensure that your Valentine has fresh blooms at their place throughout the year! There is an array of monthly delivery services to choose from! All you have to do is do some research and shell out some money – what's money when it comes to keeping your honey happy, eh? 😉
12. For those with a sweet tooth!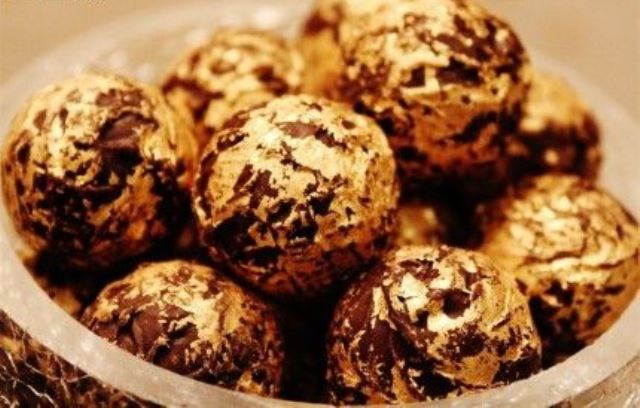 Image source: Pinterest
If you are more of a 'bouquet' of chocolates kind of person, we suggest you go for Switzerland's finest milk chocolate topped with gold (pure 24 carats, just like your love!). Mmmm!
The World Delafee is one of the most famous lines of exquisite chocolates that you can pick from. They are made from cocoa beans, flakes, and edible gold. Yes, you have to shell out around 600 dollars for a box of two, but you were looking for something rare, right?
13. 50 shades of Grey bear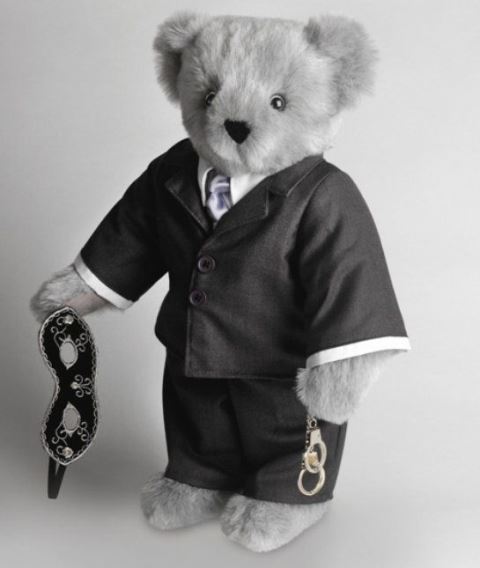 Image source: Pinterest
How about celebrating his inner Christian Grey this Valentine's Day? A Vermont teddy bear is a limited edition line of teddies which feature smolderingly hot grey eyes, a suit, and a lustrous satin tie! Oh! I just forgot to mention the most important feature of this bear – it has a pair of handcuffs in its hands. I mean, paws! 😉
---
Suggested read: 20 mushy Valentine's Day love quotes to make you go weak in the knees
---
14. Queen Bey concert!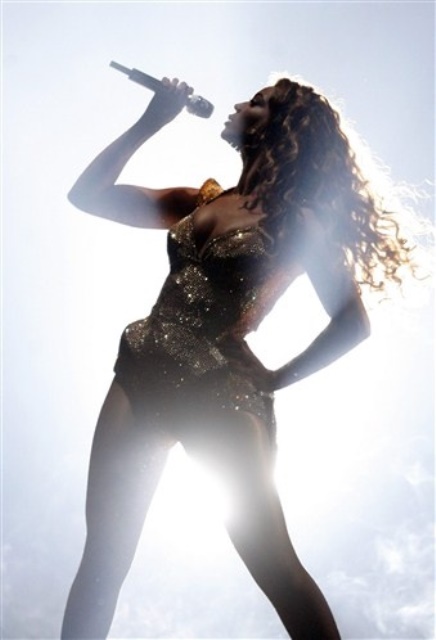 Image source: Pinterest
Since this is the last point on the list, I think I am allowed to get insanely pricey! (What was I doing all along? Nah! All that's nothing!)
Schedule a private Beyoncé concert for you and your lover! The price tag it comes with is a mere 1 million dollars! I would definitely pick this if money wasn't my concern!
So you just have a few weeks before the big event. Start working on your creations, your reservations, or your purchases! Remember the main purpose is to make your lover feel loved.
Do share pictures of your significant other's first reaction when they receive their gift or the news of it!
Featured image source: Pinterest
Summary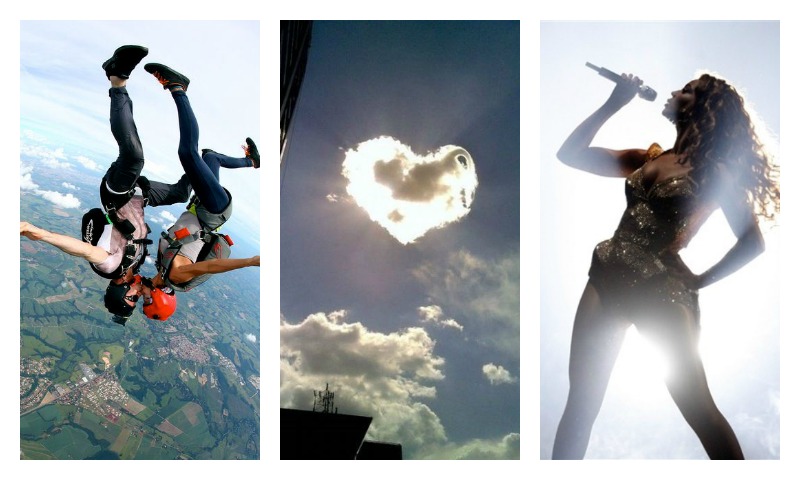 Article Name
14 Ideas For Valentine's Day To Make It Extra Special
Author
Description
Wondering how to make this February 14th especially special? Worry not, for here we have the most creative ideas for Valentine's Day to make it special! :)