Valentine's Day is less than a month away, and I am sure you are looking forward to sharing your gooey, lovey-dovey feelings with your babe. Especially if you both have just started going around, I am certain, you are looking for ways to make the other feel very special! In my food-loving opinion, I believe that the best way to do so is by cooking for your better-half!
Let 2016 be a little different. Skip buying an assortment of the most exquisite chocolates. Rather whip something up for them with your own two hands. There can be nothing more unique or precious than you cooking for your bloke or lady! Picture this if you want: There is a roaring fire under the mantle, there are candles all around, there is a romantic table with flowers at the centre, and you both are having dinner together, a dinner you cooked for your love! Can there be anything better than that? Of course not!
---
Suggested read: 20 musty Valentine's Day quotes to make you go weak in the knees
---
So let's set the mood by picking the delectable recipes that will feature on your menu from this list of Valentine's Day food! Remember there is nothing that can ever say "I love you" more beautifully than food!
Let's take a look at 10 recipes of Valentine's Day food that will set the ball rolling!
1. Beef and broccoli take out!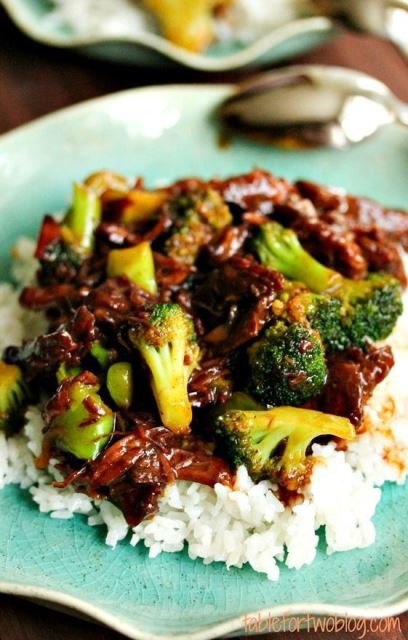 Image source: Pinterest
Beat beef consummé, soya sauce, sesame oil, some garlic, and dark brown sugar together. Now place the beef slices in it and coat it. Turn the crockpot and cook for about 6 hours. Now, in a bowl, mix corn starch and cooking liquid. Pour the mixture into the crockpot, Cook for 30 minutes. Toss in the broccoli florets and serve the dish on hot rice! Chef's note: Crockpots may differ, so cook the dish for only 4 hours and only go in for 6 if you think that the beef is not tender yet. Also, frozen broccoli florets must not be defrosted before they are dropped into the crockpot. Just add them at the same time that you pour in the corn starch. In case the broccoli is fresh, do not steam it before it's put into the crockpot. Again, just add them with the corn starch slurry.
2. Lemon fettuccine with bacon and chives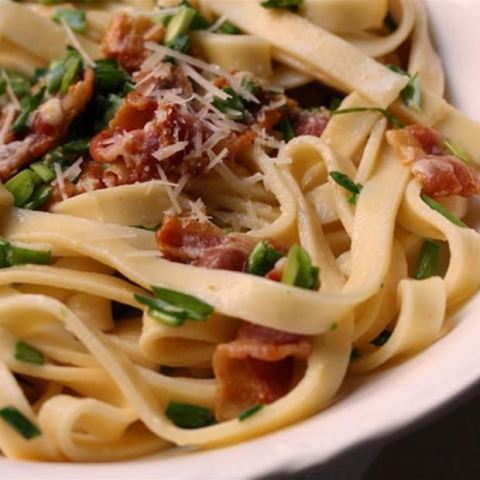 Image source: Pinterest
In a non-sticky skillet, place the bacon and cook it until it is brown and crisp. Set it aside and crumble it using your fingers. Deglaze your pan with white wine and cook it for 2 minutes. Pour it in a bowl. Now, bring salted water to boil. Cook your pasta in it for around 3 minutes. Pour in the wine and add the bacon with some chives, lemon juice, and salt to taste, cheese and red pepper. Serve ASAP!
3. Pork chops with brown sugar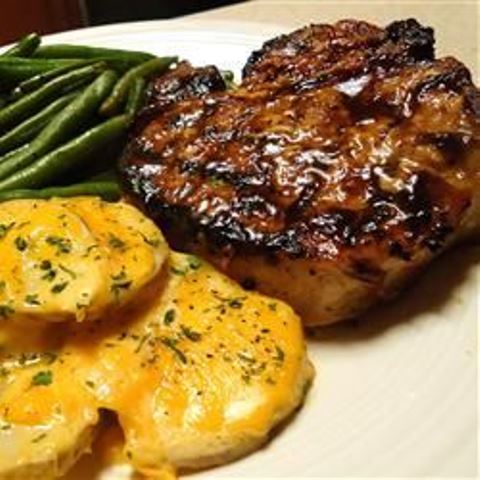 Image source: Pinterest
Heat a cup of water and add salt and sage in it. Pour in another cup of cold water and keep it aside for it to cool. Take the pork loins in a small dish and empty the brine solution on it. Cover it and put it in the refrigerator for about 3 hours.
Now place a stainless steel skillet inside the oven and heat it to 400 degrees F. Discard the brine solution after removing the pork loins from it. Pat the loins dry. Take the skillet out of the oven and place it on the stove. Rub the loins with vegetable oil. Place them on the skillet and cook until they are golden.
Next, remove the chops from the pan and wrap them in aluminum foil. Pour some pan juice on the pork before serving!
4. Avocado pasta with roasted beet salad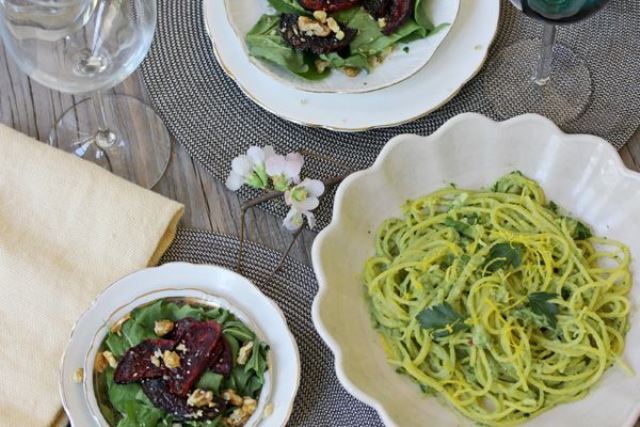 Image source: Pinterest
First, roast the beet. Then place them on a baking sheet. Now toss them with oil and balsamic vinegar. Also season them with pepper and salt to taste. Bake the beets for about 50 minutes at regular temperature.
Boil a large pot of water and add in the pasta. Place some lemon juice, garlic, and olive oil in a blender. Add the avocado, salt, and pepper, and blend well. Once the pasta is cooked, pour the avocado sauce over it. Garnish with freshly ground pepper and some lemon zest.
For the salad, toss some arugula with garlic lemon dressing. Place the beets that you baked in the beginning on top and top it with crumbled walnuts.
Make sure you serve this Valentine's Day food immediately!
5. Ricotta gnocchi in bleu cheese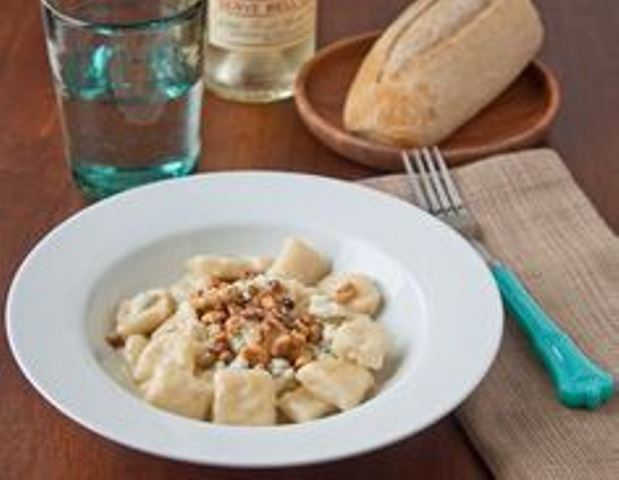 Image source: Pinterest
Food for Valentine's Day cannot be complete without the mention of ricotta gnocchi bleu cheese!
Stir some ricotta, eggs, Parmesan cheese, garlic, and some salt together. Stir in the flour. Roll the dough and then cut it into gnocchi pieces. Place them on a floured tray. Boil salted water and toast some walnuts alongside. Lower half of those gnocchi into the salted water. Meanwhile, melt some butter in the skillet. Now place the gnocchi on the skillet over the melted butter. Cook them for a while. Once the butter turns brown, remove the dish from the stove and add bleu cheese and the toasted walnuts. Serve immediately!
---
Suggested read: 12 amazing tips on how to be single on Valentine's Day
---
6. Chicken pot pies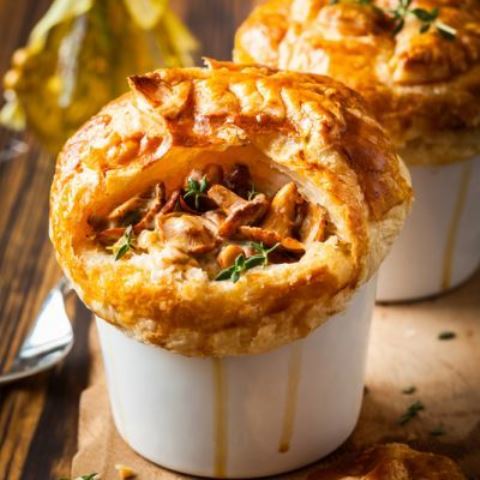 Image source: Pinterest
Mix flour, salt, and baking powder in a bowl. Now add cold schmaltz and break the fat into bits to resemble small peas. Add water to it and mix. Dump your dough in flour. Knead again so that it comes together. Form a disc and wrap it in a plastic cover. Put it in the fridge overnight!
Chef's notes: In case your mart does not have schmaltz, you should not worry! You can make do with duck fat instead. You will easily get that in any grocery shop. The deli section is your hunting ground. Also, if that is unavailable, replace the schmaltz with diced butter. Make sure it is cold though.
How do you render your schmaltz for the Valentine's Day food?
Here's how: Take some chicken fat. You can easily get it from a butcher. Now place it in a baking container. Transfer the dish to a 350-degree preheated oven. Bake the fat for about half an hour. You will notice that the fat renders out. The leftover fat will turn crispy. Remove these crispy bits and run the fluid bit through your sieve. Sieve it into a container. Make sure that the jar is airtight. Transfer it into the refrigerator and use it the other day!
7. Weeknight cobbler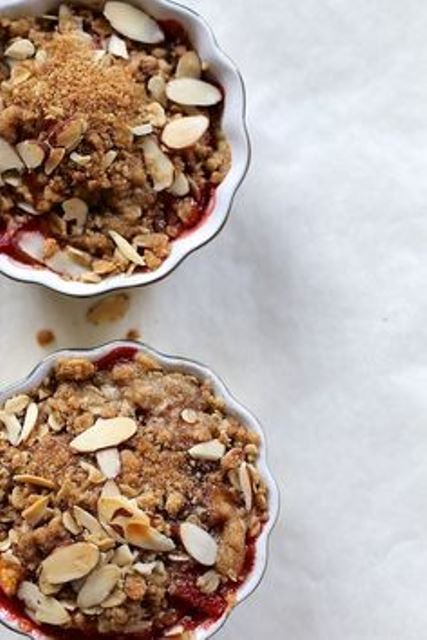 Image source: Pinterest
Toss peach chunks and strawberry slices in a bowl. In another, mix some flour, brown sugar, spices, salt, and oats. Add some butter chunks as well. Add the sliced almonds. Fill an oven ramekin with peach and berries and then a handful of the crumble topping. Put the uncooked cobblers in the fridge for about 20-odd minutes. Place your ramekins on a baking pan and bake for 30 minutes or until they are golden brown. Remove them and drizzle almonds over them when they cool down. Top them up with whipped cream or a side of vanilla ice cream.
8. Peach pistachio caramel crumble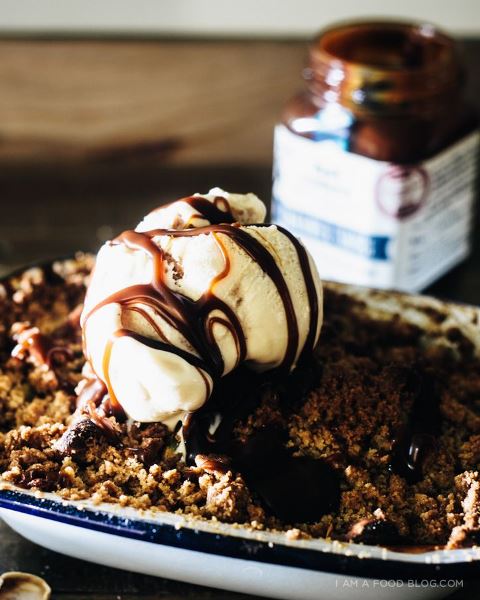 Image source: Pinterest
In a pan, toast your pistachios for about 6 minutes. Now rub the skins off them using a kitchen towel. In a bowl, toss peaches with caramel, cinnamon, and corn starch. Place the peaches in a baking dish.
In a separate bowl, beat some flour with sugar, salt, and cinnamon. Add cold butter to it. Now throw in the roasted and chopped pistachios, evenly spreading this topping over the peaches.
Bake your crumble for 40 minutes at 350 degrees F. Now add a scoop of ice cream and warm caramel, and your dish of love is ready to be devoured!
9. Chocolate cake cups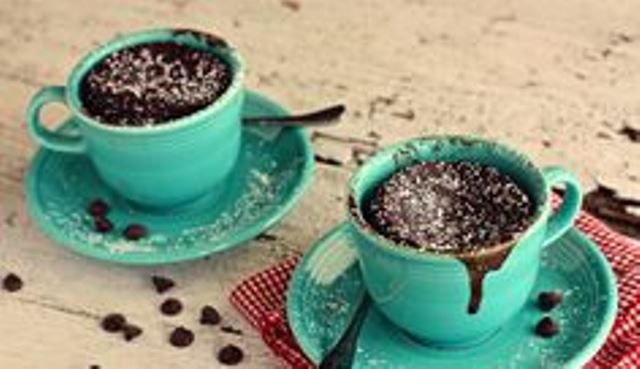 Image source: Pinterest
Take a small bowl, and add flour, sugar, cocoa powder, and some salt. Now blend them well. Pour in some milk, spoons of butter, eggs, and vanilla. Beat them together. Fold in the chocolate chips. Divide your batter into two and pour them into 2 different microwave-safe cups. Make sure that the cups hold about 6 fluid ounces. Now sprinkle them with more chocolate chips! Microwave them at the same time and on a high temperature of about 400 degrees F for a period of 2 minutes. The cake is going to rise up and come above the rim and then slowly settle down as it starts cooling. Make sure your cakes are cooked properly though. Once your cakes have cooled for about 20 minutes, sprinkle powdered sugar over it. As the cake cools, you will notice that the chocolate chips on top have hardened. So your cakes are more likely to be less gooey. That's a good sign when it comes to chocolate cake cups for Valentine's Day.
---
Suggested read: History of Valentine's Day: The origins
---
10. Vanilla cupcakes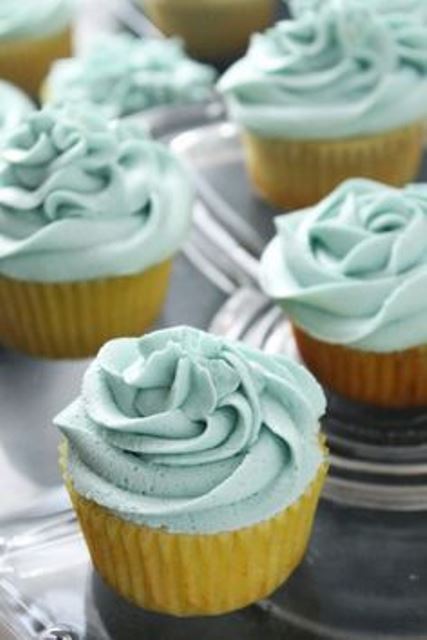 Image source: Pinterest
Preheat your oven to around 350 degrees F. Line your muffin pan with 2 liners. Now, in a bowl, pour some egg whites and sugar. Mix them together until they combine properly. Add the vanilla and melted butter. Stir to mix the contents. Add flour and baking powder. Keep stirring. Drop a pinch of salt and blend in some milk. Divide your batter into two equal halves. Pour them in between the 2 cupcake liners. Bake for about 15 minutes. Make sure that the cake has set well. Now let it cool down completely. Use white chocolate for the frosting.
So which dish (or dishes) is it going to be? Do let us know the experience of cooking or baking a Valentine's Day food on our list. You can also share the pictures in the comment section. You can hashtag them as #Foodporn and #Foodgasm! For more updates on Valentine's Day subscribe to our newsletter.
Featured image source: Pinterest
Summary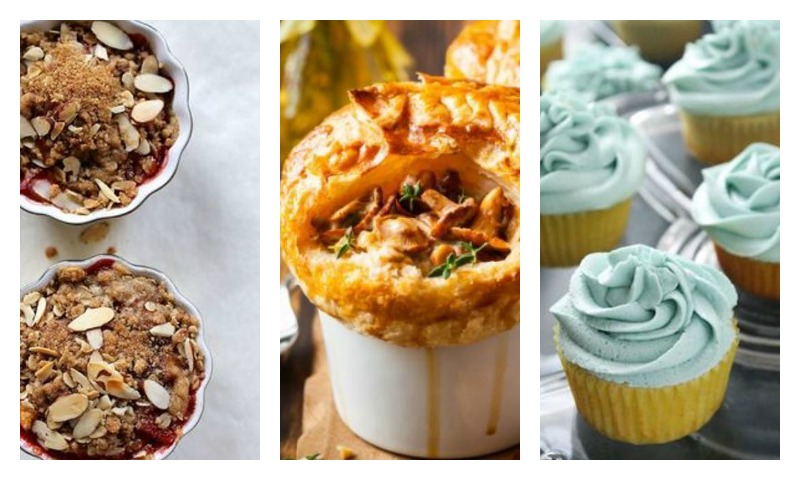 Article Name
10 Valentine's Day Food Ideas You Can Whip Up For Your Partner
Author
Description
This February 14th, instead of chocolates and flowers, whip up these delectable Valentine's Day food ideas for your partner, and surprise them!