"Bah, Humbug!"
If this is your favorite quote about Christmas, my friend, I think we need to send the Ghosts of Christmas Past, Present, and Future to your apartment soon(er)! Nah! Since we at NLT are high on the Christmas spirit, we have decided to forgive you. We have thought of an easier way to brighten up your festive season: We will shower you with quotes about Christmas!
---
Suggested read: 10 amazing Christmas drinks recipes you MUST try this festive season
---
It does not matter whether your Christmas ritual involves chowing down a whole turkey, kissing a special someone under the mistletoe, or humming Christmas carols, it is always important to know the true message behind the whole jazzy Christmas affair and then do your thing! For all of you who are looking forward to spreading the love and the happiness that this festive season brings with it, we have 20 quotes about Christmas! Share them with family and friends and get into the Christmas spirit more than ever before! 😉
1. "It's beginning to look a lot like Christmas;
Soon the bells will start,
And the thing that will make them ring
Is the carol that you sing
Right within your heart."
– Meredith Willson, "It's Beginning To Look A Lot Like Christmas"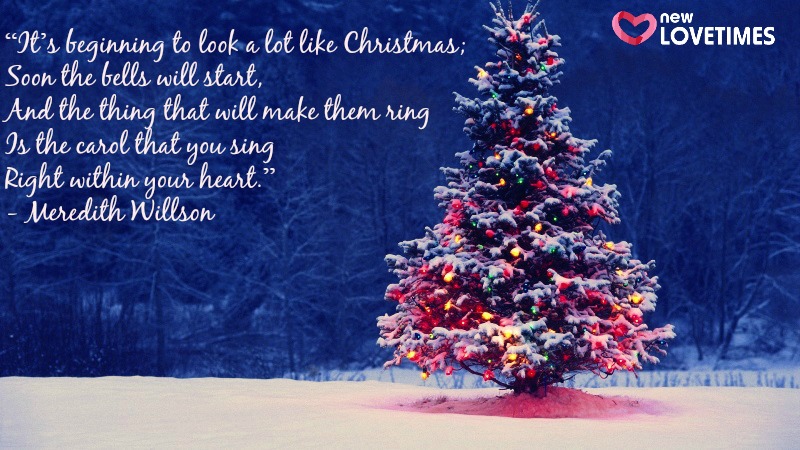 …And when the clock strikes midnight, Thanksgiving ends, and then Bam! Christmas carols everywhere! 'Christmas' is in the air!
2. "I sometimes think we expect too much of Christmas Day. We try to crowd into it the long arrears of kindliness and humanity of the whole year. As for me, I like to take my Christmas a little at a time, all through the year. And thus I drift along into the holidays – let them overtake me unexpectedly – waking up some fine morning and suddenly saying to myself: 'Why, this is Christmas Day!'" – David Grayson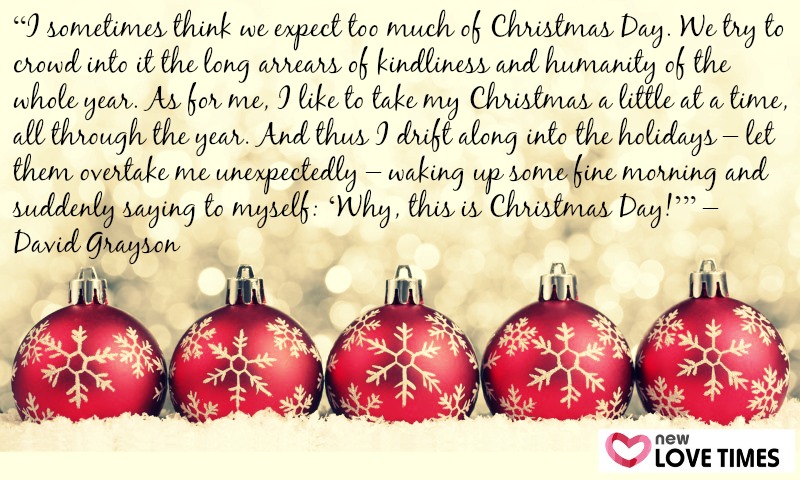 Like they say, you don't need a day for love, forgiveness, and compassion. Christmas should be an in-built mechanism! However, having a day to celebrate the love that has been present throughout the year? I am game for that!
3. "Christmas gift suggestions: to your enemy, forgiveness. To an opponent, tolerance. To a friend, your heart. To a customer, service. To all, charity. To every child, a good example. To yourself, respect." – Oren Arnold
This one's for all the Secret Santas in the house! A gift does not always have to be material, it can also be a thought or an act of forgiveness, tolerance, gratitude, or respect. However, before you start distributing these to other people, shower a little on yourself too.
4. "He who has no Christmas in his heart will never find Christmas under a tree." –Charlotte Carpenter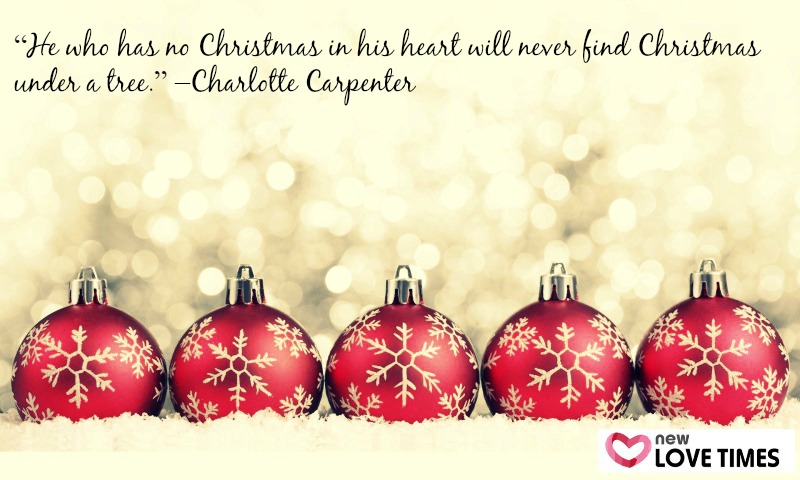 Now this is deep! Happiness isn't something that can be bought. Though there are things that you can buy that will momentarily give you pleasure, the real deal is what lies in your heart. Christmas is a feeling!
5. "Instead of being a time of unusual behavior, Christmas is perhaps the only time in the year when people can obey their natural impulses and express their true sentiments without feeling self-conscious and, perhaps, foolish. Christmas, in short, is about the only chance a man has to be himself." – Francis C. Farley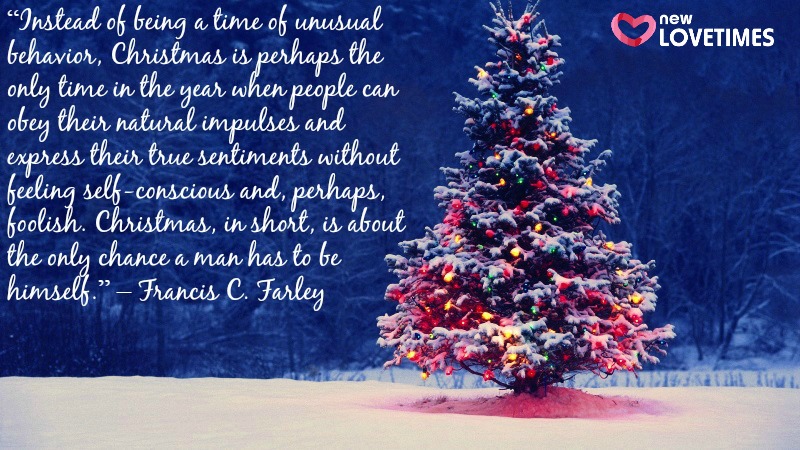 I once read somewhere (I think it was Camus) that there are some who are made for living and some, for loving. However, in my view, 'to love and be loved' is the only true philosophy that we humans know!
6. "Blessed is the season which engages the whole world in a conspiracy of love!" – Hamilton Wright Mabie
'A conspiracy of love' couldn't be a better way of putting it! This is definitely my favorite of these quotes about Christmas.
7. "I wish we could put up some of the Christmas spirit in jars and open a jar of it every month." – Harlan Miller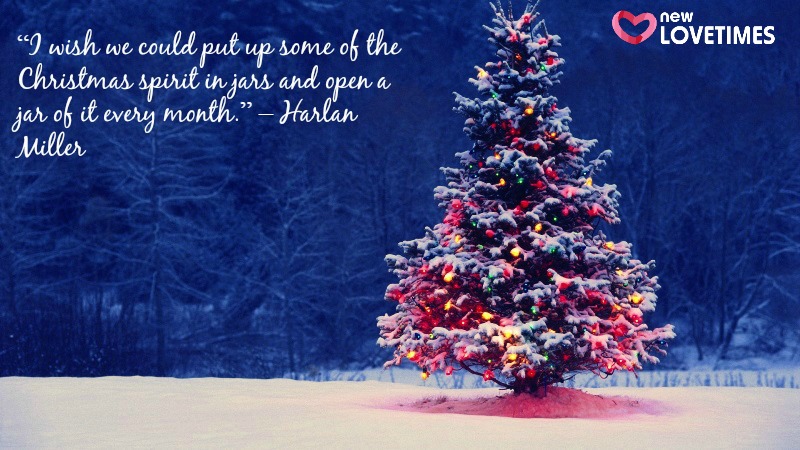 If we can remember the spirit of this beautiful festival and open our hearts a little every month, imagine how warm we would all be the next time December 25th comes around?!
8. "The best of all gifts around any Christmas tree: the presence of a happy family all wrapped up in each other." – Burton Hillis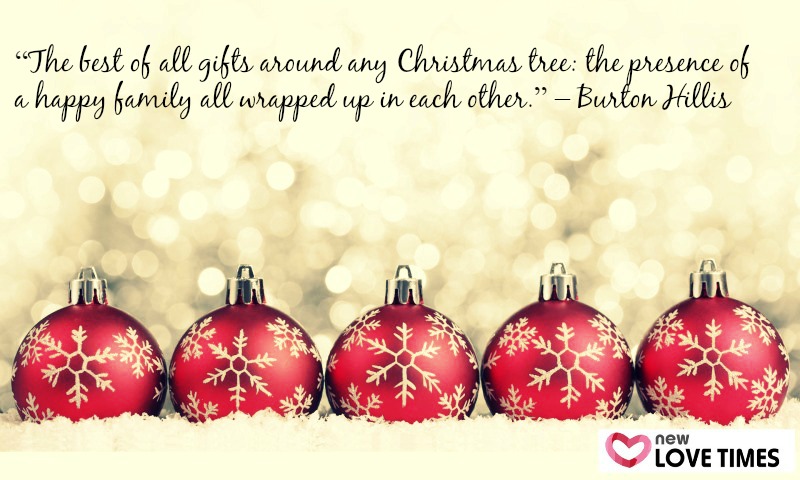 I am sure you love this one. For me, living away from home, family is what I miss most every Christmas. At the end of the day, home is where you return to in order to be with the people you love the most!
9. "Christmas is not just a time for festivity and merry making. It is more than that. It is a time for the contemplation of eternal things. The Christmas spirit is a spirit of giving and forgiving." – J. C. Penney
Christmas is not only about wining and dining and going to Church in our best suits! While those things are no doubt part of the Christmas season, there is something else that also requires our attention. Whether we are on the right path, one that involves charity and sympathy or not is something only we can figure out through deep contemplation. Christmas encourages that thought.
10. "And the Grinch, with his Grinch-feet ice cold in the snow, stood puzzling and puzzling, how could it be so? It came without ribbons. It came without tags. It came without packages, boxes or bags. And he puzzled and puzzled 'till his puzzler was sore. Then the Grinch thought of something he hadn't before. What if Christmas, he thought, doesn't come from a store. What if Christmas, perhaps, means a little bit more." – Dr Seuss
Dr. Seuss has a knack of getting things right every single time, doesn't he? This list of Christmas sayings wouldn't be complete without including the Grinch's epiphany!
---
Suggested read: 10 must-read evergreen books for Christmas
---
11. "Want to keep Christ in Christmas? Feed the hungry, clothe the naked, forgive the guilty, welcome the unwanted, care for the ill, love your enemies, and do unto others as you would have done unto you." – Steve Maraboli, Unapologetically You: Reflections on Life and the Human Experience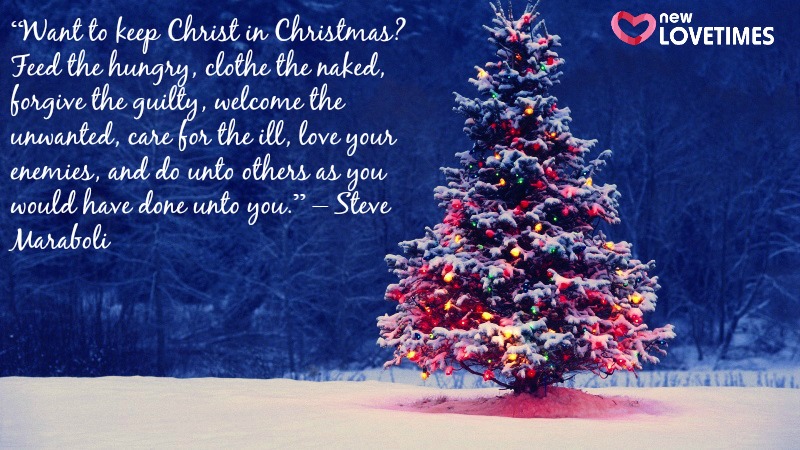 Speaking of quotes about Christmas, how could we forget where it all began?! The holiday is about Christ and what he stood for all His life. To be more like Him, that is the Christian way of life!
12. "The smells of Christmas are the smells of childhood." – Richard Paul Evans, The Christmas Box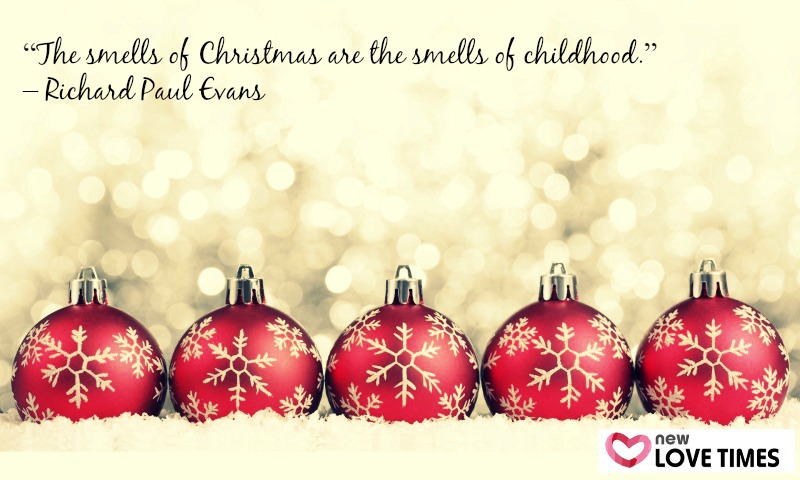 Isn't Christmas filled with nostalgia? I am sure it reminds you of the days when the first thing you did on the morning of the 25th was check under the tree for what Santa left for you from his sleigh!
13. "Christmas waves a magic wand over this world, and behold, everything is softer and more beautiful." – Norman Vincent Peale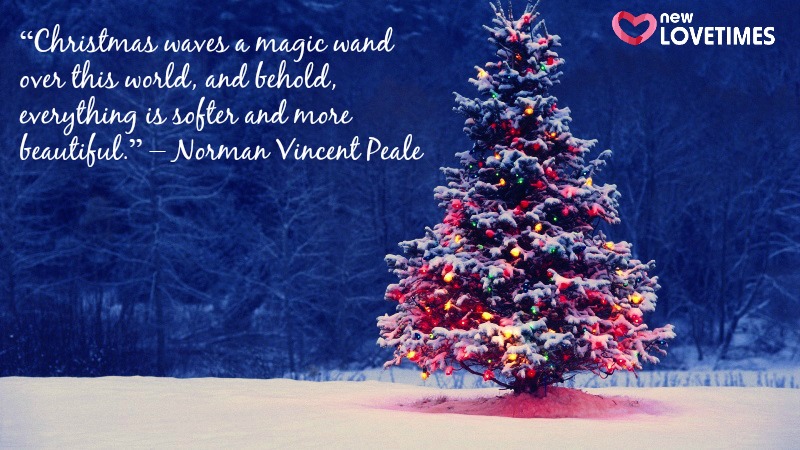 With the snowflakes softly swirling to the ground and making the leaves rustle like they were people, you brace yourself. Christmas is coming!
14. "A lovely thing about Christmas is that it's compulsory, like a thunderstorm, and we all go through it together." – Garrison Keillor
Hahaha! Or is it Hohoho? 😉
15. "Christmas is a necessity. There has to be at least one day of the year to remind us that we're here for something else besides ourselves." – Eric Sevareid, CBS News journalist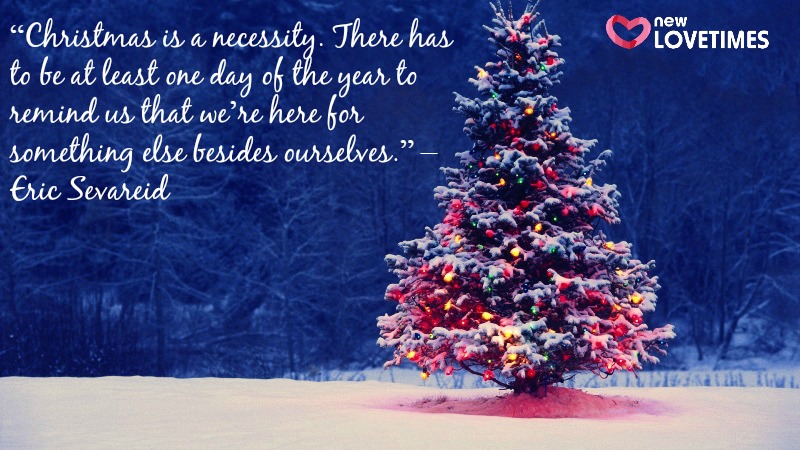 Selfless love is something we need to cultivate and there is no better day to start than on Christmas, considering Christ's sacrifice for us!
16. "Never worry about the size of your Christmas tree.  In the eyes of children, they are all 30 feet tall." – Larry Wilde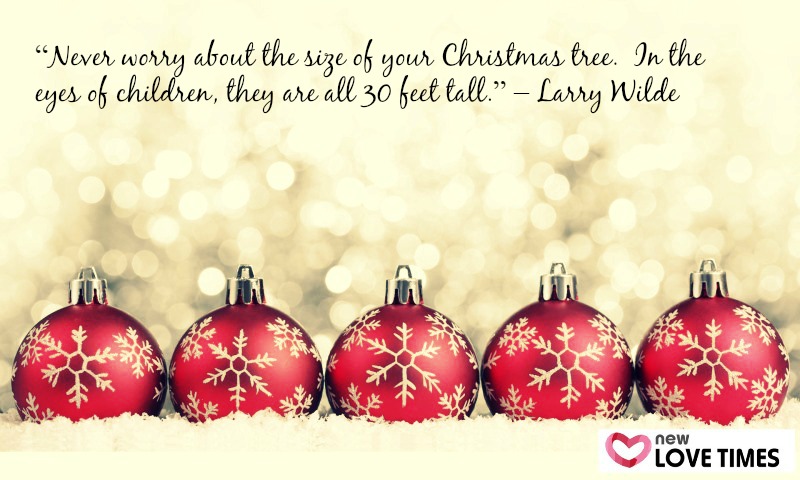 Also, it is not about the amount of dollars you spend on a Christmas gift but the thought behind it. A gift is an expression of the fact that the person was remembered! Now that's what  matters.
17. "Christmas is for children. But it is for grownups too." – Lenora Mattingly Weber, Extension
Yeah, why should kids have all the fun, eh? 😀
18. "The rooms were very still while the pages were softly turned and the winter sunshine crept in to touch the bright heads and serious faces with a Christmas greeting." – Louisa May Alcott
Nothing more cheerful than the Christmas spirit.  No need to be so serious! 😉
19. "Christmas, children, is not a date. It is a state of mind." – Mary Ellen Chase
A state of mind more fun than the Weekender, I am telling you!
---
Suggested read: 6 joyful Christmas activities to do with your partner this festive season
---
20. "I will honor Christmas in my heart, and try to keep it all the year." – Charles Dickens, Ebeneezer Scrooge, A Christmas Carol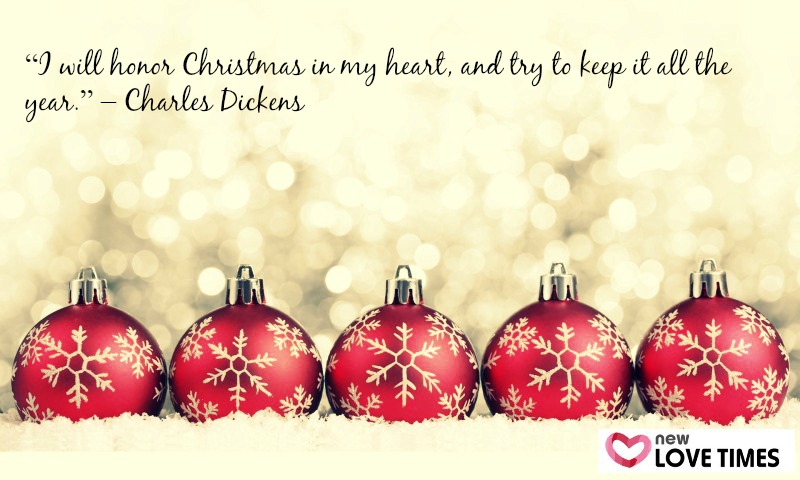 For the Scrooges who have gone through these quotes about Christmas, I hope you have had a change of heart too!
P.S.: We still have the ghosts on standby! 😉
With Christmas just around the corner, containing your excitement is next to impossible! There is so much happening that you're always in your 'happy mode'! However, for those who are not feeling that way, this list of Christmas quotes is an attempt to brighten up your festive season and give you a reason (if not many) to feel happy, grateful, and loved!
Summary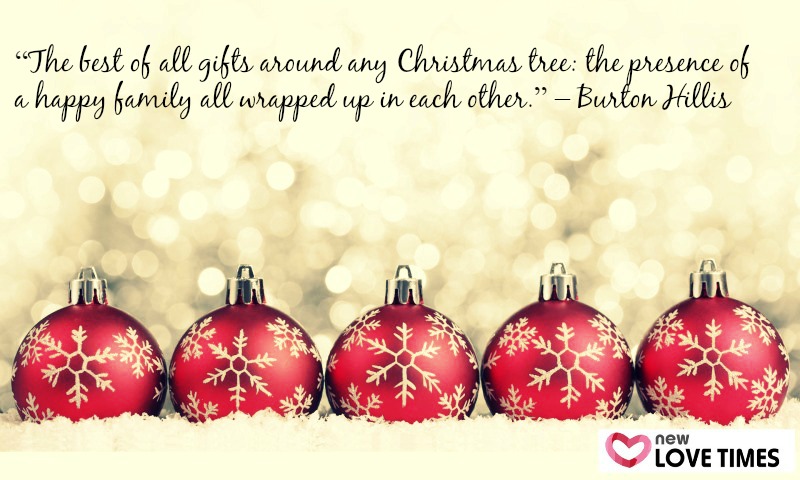 Article Name
20 Quotes About Christmas That Will Brighten Your Festive Season
Author
Description
Christmas is a time to be around family and celebrate being together. Share these quotes about Christmas with your loved ones this festive season.