The festive bells are ringing their melodies and the crackers of Diwali excitement have already started sparkling in your hearts, right? Let's embrace the insane thrill you're feeling right now with the out-of-the-world fun of rangoli-making. rangoli is one of the most beautiful forms of Indian traditional folk art, thriving in all parts of India. Our rich culture takes Rangoli as a symbol of auspiciousness and creating beautiful rangoli designs for Diwali is believed to bless us all with the best of luck.  
The meaning of rangoli has evolved with the exquisiteness of its design and techniques over the years. Today, it plays a sweet role in our lives as the whole family comes together to make these welcoming tokens of festivity on the floors of our homes. So, here's a list of exquisite and super-easy rangoli designs for Diwali to make your artistic fantasies come true with your family's help!
---
Suggested read: A dress for every occasion under INR 1500/-
---
1. The evergreen circle of happiness in peacock colors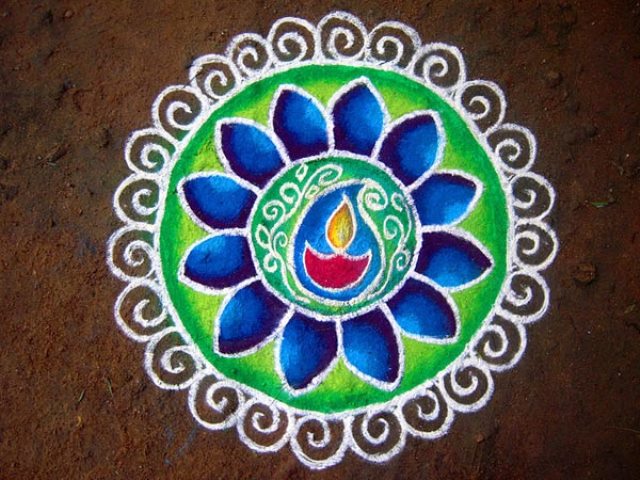 Image source: toptentrend
Perfectly reflecting the festival of lights, this is a super-easy design that even you can make. Just gather some rangoli colors of peacock shades (Gulaal would also do just fine), some rice flour and you're good to go. If you're in a fun mood, you can start free-hand or you can use a chalk to draw the basic design first. Once done with the outline, fill the entire pattern with the base color. Then add the beautiful shades by adding the deeper tones. The final touch of thick outlining with rice flour will add a contrasting charm to the happy design.
2. Fragrant blessing forevermore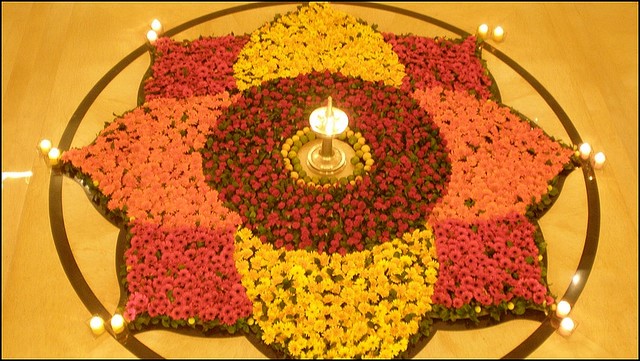 Image source: thedailyindia
When you're expecting to receive your family and friends this Diwali, believe me, a beautiful fragrant rangoli pattern like this in the entrance will set their spirits high like no other. It feels like a little garden of bliss. Don't pluck the petals, but use a variety of whole beautiful flowers this time. Once you've figured the outlines out, fill the patterns by placing each flower, one by one. Isn't the overall form just fabulous? Just finish this design by adding lit lamps in the center and corners of the petals of design, and experience the wonderfully magical ambience you get.
3. Brighten up every corner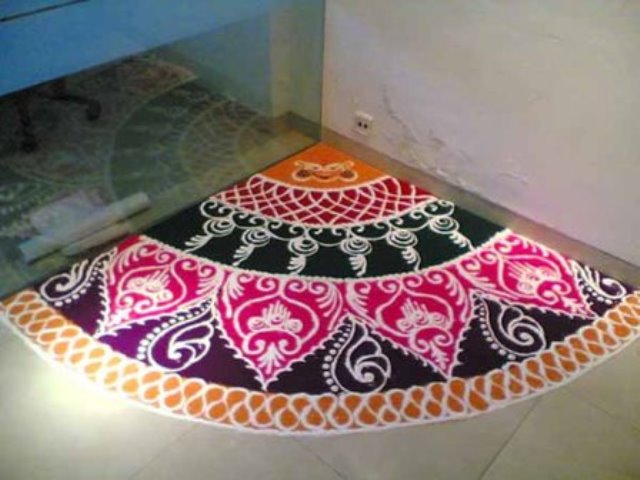 Image source: starsricha
Diwali is as happy as any festival gets. There's no way we're leaving even any single corner remain untouched from this colorful delight this year. Beautiful rangoli designs for Diwali like these are going to add a radiating charm to the corners of your room. Don't worry; making this design is not that hard. Just draw a simple and basic geometric pattern in succession of arches and fill them in with your favorite colors. The appeal of the intricate design is in finishing it by making thick outlines and fine details with white rangoli powder or rice flour.
4. The auspicious colors of rangoli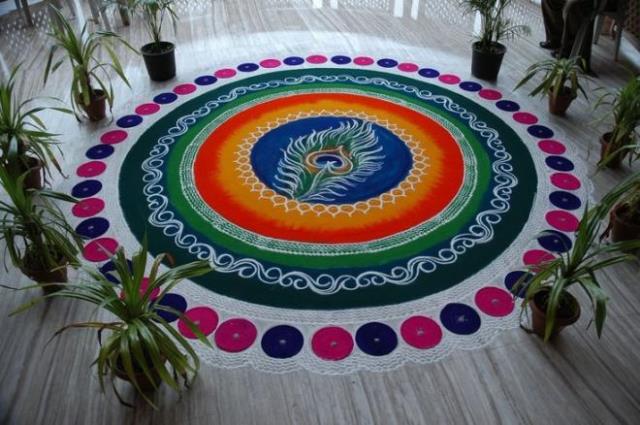 Image source: webneel
The bright circle of this rangoli design brings an instant smile to your face. This is a perfect design to try with your kids and friends. You just have to gather vibrant and sparkly rangoli colors, and start by making circles one after the other. Once done, fill some rava in a cone-shaped plastic bag. Just cut a hole in the piping bag, and see the fun begin. Your kids are just going to love finishing this rangoli with the beautiful thick lines of white sprinkling from the magic bag.
5. Floral magic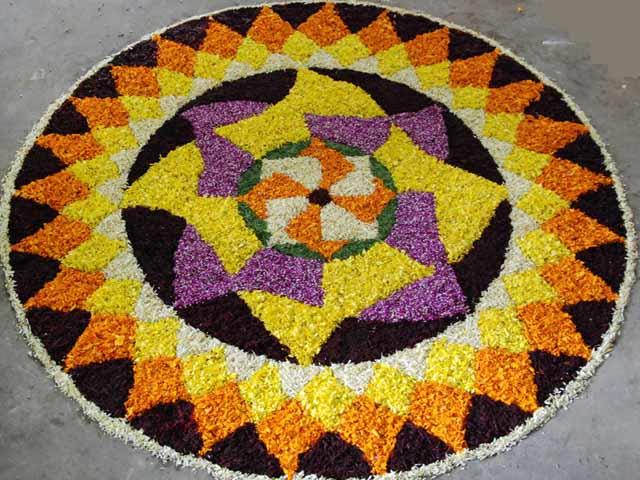 Image source: Pinterest
Flowers play an essential part in every Indian festive celebration. You can add their colorful sweetness to your Diwali with this simple yet fabulous rangoli design. It uses an exciting variety of different flowers. You can pluck the petals of all flowers and get ready with the floor drawing. It'll be best to take the help of a ruler in making the perfect intersections. Once you have the basic design, enjoy the rangoli-making by filling each pattern up with a nice layer of lovely flowers, and I'll accept your thanks graciously when your house smells with a heavenly happiness this Diwali.
6. Your crafty-side up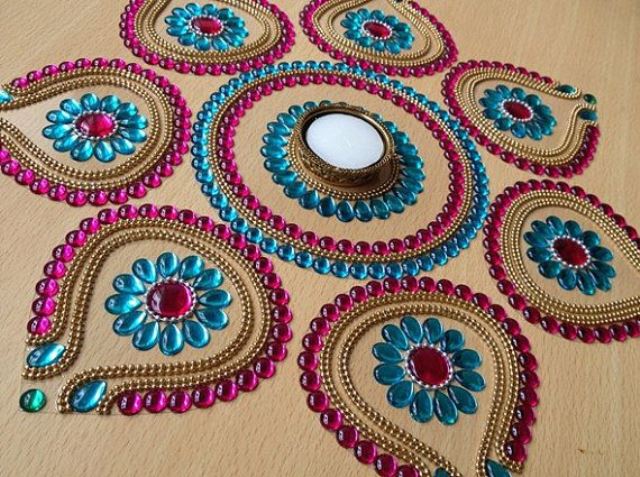 Image source: thedailyindia
All you creative people out there, looking for modern and outlandishly rich Rangoli designs for Diwali, here's just the pick you need. If you're into crafts like me, nothing's gonna make your Diwali preparation more exciting than this. Just gather all your shiny craft supplies and create this amazing design by gluing them up on a durable base. The best perk of this rangoli design is that you can use it over and over again. That's motivational enough to get started, right?
7. Vibrant blend of colors and space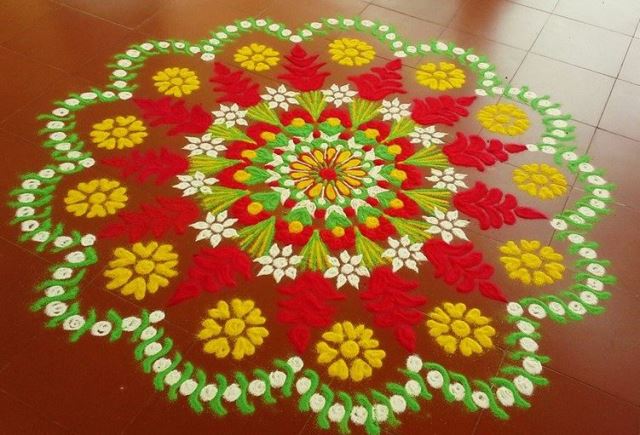 Image source: homemakeover
This is a very peppy and one of my personal favorite festive-perfect rangoli designs. The beauty of this design lies in the negative space you leave between every succession in the design. But since you're not going to fill the whole circle, I suggest you use plastic piping bags to create the fine linear design rather than pinching the color through. Have fun!
---
Suggested read: 10 must-have shoes this festive season
---
8. Blossoms beyond this world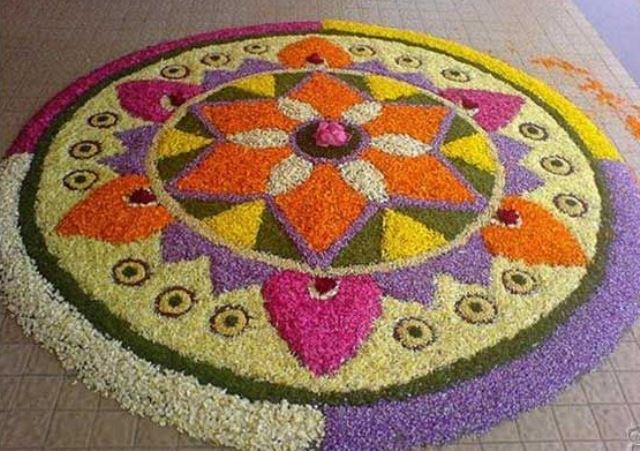 Image source: Pinterest
Here, I have the most exquisite floral rangoli design to make your festive parties more graceful. This design is perfect to impart a sense of magnificent ethnic shine to your homes. Gather your favorite flowers, do not forget the must-have whites, and pluck and pile the petals. For the extra amazing effect of green, you can use scissors to work some leaves in fine shreds. Put all these together in this delicate design, and you'll end up falling in love with your own artwork for sure!
9. Magical magnetism of delicacy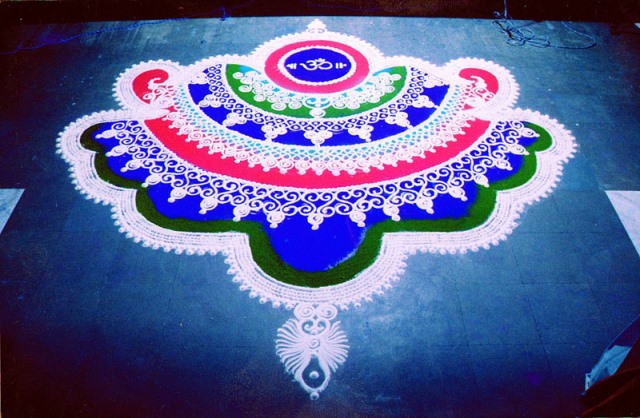 Image source: webneel
This is one of the rangoli designs for Diwali to die for! It may not appear so at first, but it's a very easy rangoli design. All you need are rangoli colors, chalk power, and ready-made rangoli stencils. Draw the basic floor design with chalk and fill in your favorite colors. Bring out your stencils, pour some flour on the trays, and proceed with gentle jerking movements to see the magical finish come to your rangoli!
10. Mesmerizing geometry of sweet aroma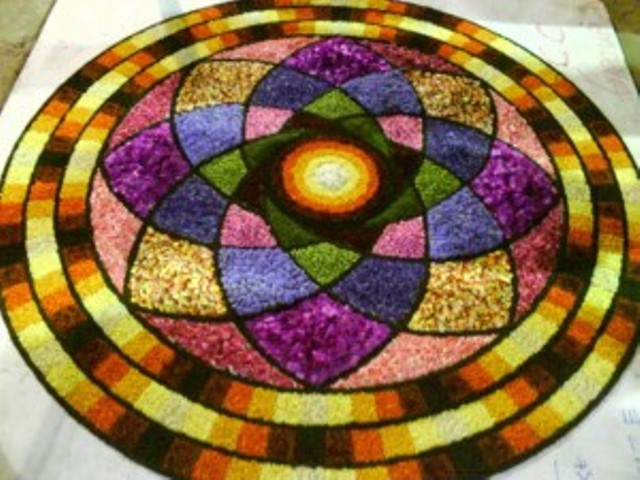 Image source: happydiwaliwishesquotes
Geometric designs are always the best choice for Rangoli. This design particularly blew my mind off with its awesome artistic attraction. You can have fun by blending colorful stones with bright flowers and the green of leaves in this design. Just draw the basic drawing on the floor and fill the patterns in variations of stones and flowers. This will give you a fantastic finish with softness, fragrance, and shine.
11. Simply bright and beautiful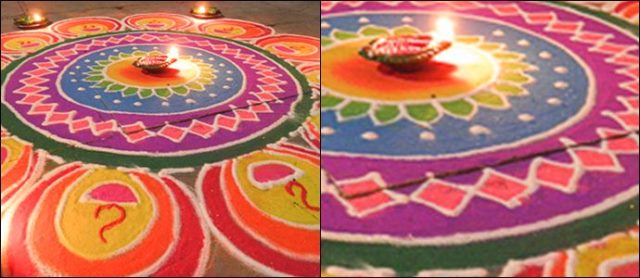 Image source: letscreatecrafts
Nothing could be a better magnet for luck and good fortune than this wonderful rangoli design with its brightness of color and simplicity of design. This design lets you experiment with your favorite shapes and hues. All you need to do is finish the rangoli with the authentic touch of Diwali-perfect diyas, and you'll be just fine.
12. The traditional floral beauty
Image source: easyday
Flowers can brighten any day up, and when it's the festival of Diwali, how can we do without their captivating beauty? This so-easy-to-make traditional circular rangoli design uses the effervescence of flowers and a lit lamp to bless your homes with luck and pious vibes. If you're a religious at heart, decorate your Puja ghar with this lovely rangoli this Diwali.
13. Thinking out of the box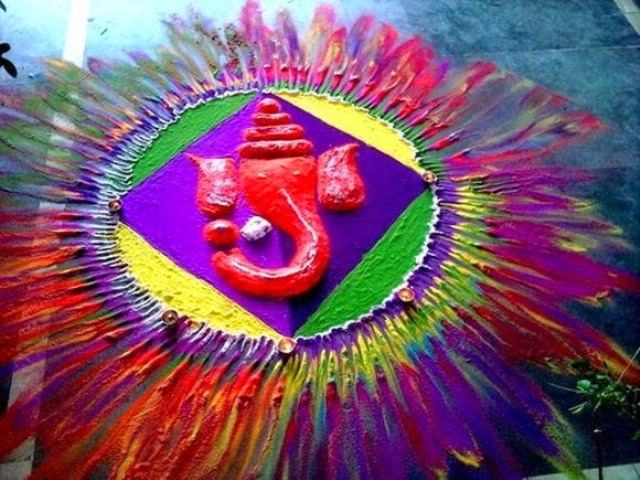 Image source: diwali2014wishes
Here comes the perfect pick for all of you who love to experiment. This is one of the unconventional rangoli designs for Diwali, with the pure essence of the festival. You can develop a basic geometric rangoli design with Lord Ganesha in the center to bless you with fortune. The magical fun part comes when you put nice quantities of colors at the boundary of the design, and play your way through it by spreading it outwards with your fingers. Enjoy the colorful rays and the aura of your art!
14. Beauty of flowers at its best
Image source: rangolidesignsfordiwali
This is a pretty rangoli design that brings out the fun artists of your family by engaging you all in creating a spot of festive ecstasy using the soft touch of flowers. This pattern plays with the traditional authenticity of rangoli-making and the modern choice of design together, making your home alive with celebration.
---
Suggested read: 25 amazing lazy girl beauty hacks that will get you looking fab in no time!
---
15. Majestic colors and design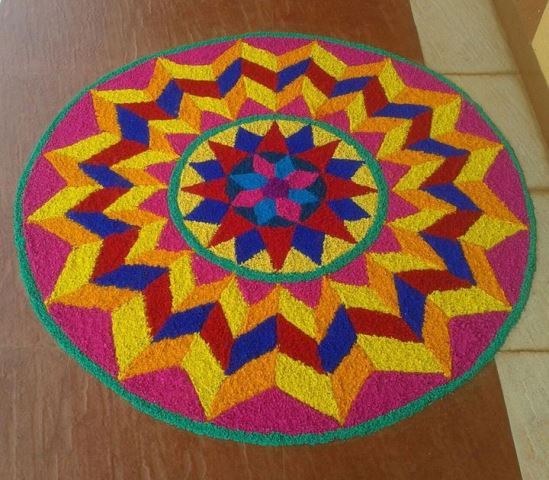 Image source: homemakeover
Here's one of the most brilliant rangoli designs for Diwali. Just gather some wood shaving powder, add your favorite colors to it, and you're ready with the prime ingredients of this fine beauty. Just start with the basic design using a ruler for perfection, and you'll get a never-before attraction in your place once you're done filling this design up!
Rangoli is the soul of the festive spirit of Diwali. It adds true meaning and joy to the auspicious festival of bright lights and happy get-togethers. Just let your heart have its share of enjoyment with rangolis. Armed with these beautiful rangoli designs, you're all set to steal hearts this festive season. Have a happy, colorful, and safe Diwali this year!
Featured image source: Pinterest
Summary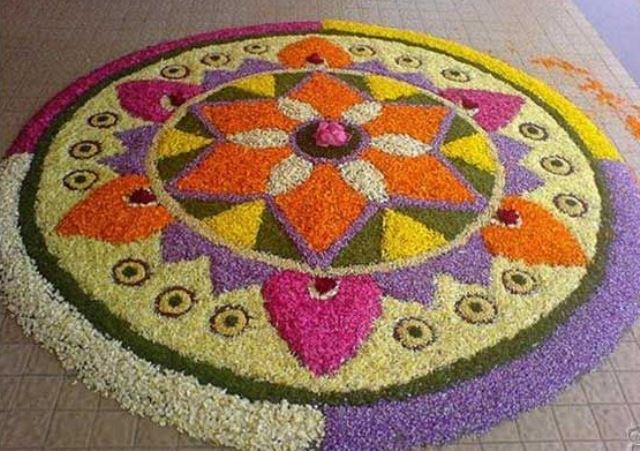 Article Name
15 Easy Rangoli Designs For Diwali You NEED To Try This Festive Season
Author
Description
With Diwali just around the corner, you need to brush up your rangoli-making skills. Check out these super easy rangoli designs for Diwali you must try.