Sometimes the entire makeup and hair styling routine can be too much for us lazy girls. So, we guarantee you that with these beauty hacks, you can skip all the complex steps and still achieve a beautiful finish. Go ahead and try some of these tips out. You have our word!
---
Suggested read: 12 makeup hacks that will change your life!
---
1. Dry your makeup with blow dryer
It may seem strange, but a blow dryer can be used for multiple purposes. After applying tanner, moisturizer, or toner you may not have time to let the fluid to dry on your face. If that is the case, then you can speed things up by blowing your hair dryer on your face and drying out the liquid in a matter of seconds. You can also use this tip if you want your makeup to dry and set instantly.
2. Get the glamorous cat eye look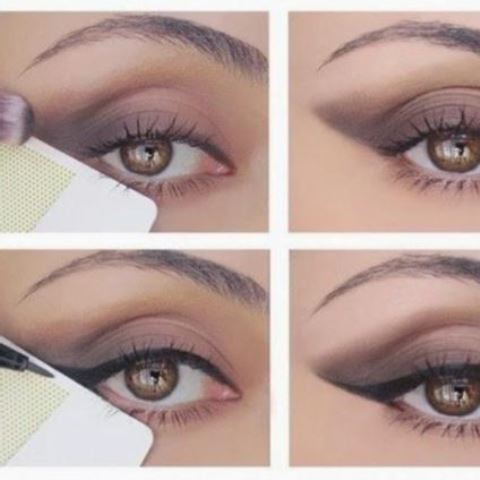 Image source: Pinterest
One of the most famous beauty hacks is using a credit card to create a flawless line while applying eyeliner. A business card can also give you a perfect mascara line.
3. Use mascara as liner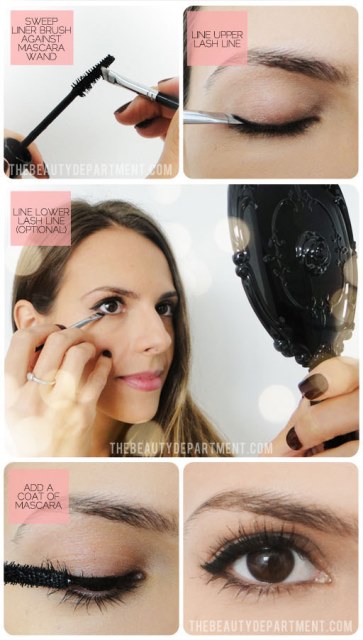 If you are out of eyeliner, just dip your liner brush into your mascara and apply it as needed.
4. Don't throw away dried mascara
If you have mascara that has dried up but is still within the expiration date, stick it in your bra to warm it up. A few minutes should do the trick. Not only will this work like magic on your lashes, it'll also curl them so much better.
5. Longer eyelashes without 'faking' them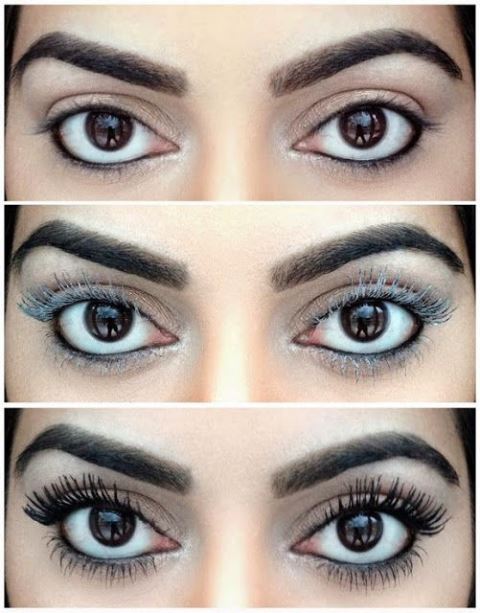 Image source: Pinterest
Any girl will tell you that she'd love longer eyelashes. But you don't have to go for the fake ones when you can achieve the same with a bit of baby powder. With a cotton swab, dab some baby powder to your lashes in between mascara applications, and you'll have longer, thicker, better-looking eyelashes in no time.
6. Focus on just one feature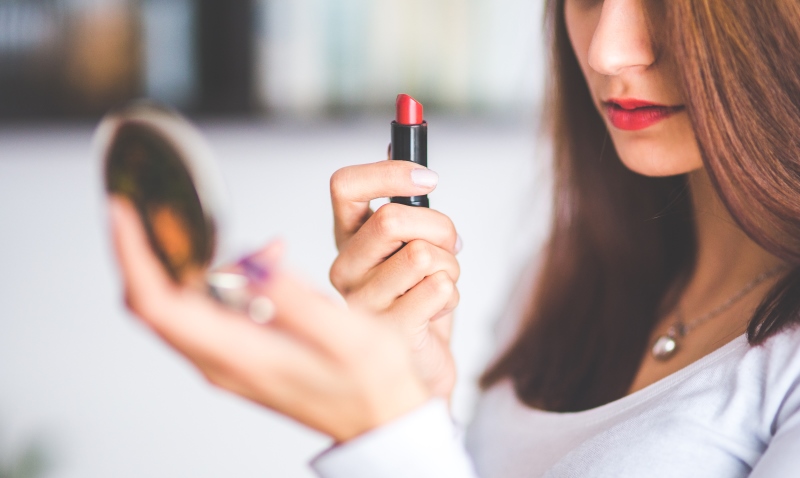 Image source: Google, copyright-free image under Creative Commons License
If you are not feeling energetic enough to apply full makeup, make sure to focus on either your eyes or your lips.
7. The shortcut to looking drop dead gorgeous
Who said you need to spend a lot of time and effort to look great? You can achieve this goal simply by following some easy steps that don't take much time or effort. If it is one of those days when you don't feel like spending hours in front of the mirror, you can grab your favorite lipstick and use it to add some color to your cheeks, lips, and eyes. After applying it, you just need to blend it all with your fingers to get an even shade. This is a beauty hack that will give your face an envious yet subtle glow.
8. Contouring hacks for the lazy girl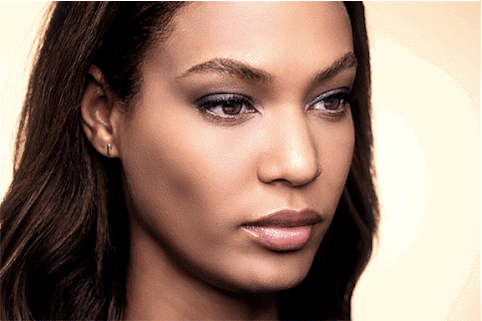 We all know that contouring can change the appearance of your face, if it is done properly. The normal procedure can get extremely complicated. We have a great beauty hack for this that takes the complexity out of the whole process. All that you have to do is take your concealer and draw a '3' on the line right above your brow, in the line just above your cheekbone, and along the line above the jawbone. But make sure that the shade of your concealer is two shades lighter than your natural skin tone.
9. Get fuller lips in no time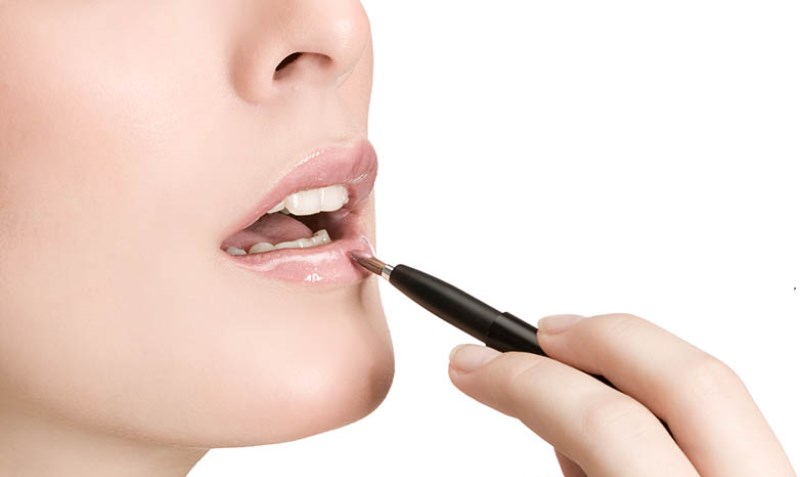 Image source: Google, copyright-free image under Creative Commons License
Mixing a little peppermint oil into your lip gloss will give your lips that much-needed plumpness. Cinnamon oil works well too.
10. The right tone of foundation
Accidentally purchased a foundation that is too dark for your skin tone? Worry not, you just need to add a bit of moisturizer to it, which will lighten it in not time. But you need to keep the quantity you add to a minimum if the foundation is just a tad bit darker than your skin tone.
11. Lazy girl's guide to highlighting
If you are looking for the highlighted look without all the fuss, then we have some advice for you. Just draw an 'E' on your face with a toner that is two shades darker than your natural complexion. The top line will be on the temple, the middle line under your cheekbone, and the last line will be drawn right under the jawbone. Finally, all you have to do is mix the two shades and blend the lines.
12. Remove your makeup at night
Image source: Shutterstock
No matter how lazy you feel at the end of a tiring day, make sure to remove all your makeup before going to bed. To make this easy, we suggest that you keep makeup remover or makeup-removing towelettes right at your bedside. This will save you the excruciating pain of standing at your sink and using a lot of effort to wash all your makeup off. This is one of those extremely valuable beauty hacks for all the lazy girls out there as going to sleep without removing your makeup may lead to harmful infections and ugly skin breakouts. However, we suggest that you only use this option on rare occasions. It's best to take the time to fully remove your makeup at the end of the night.
---
Suggested read: How to remove makeup naturally
---
13. Removing makeup, the easy way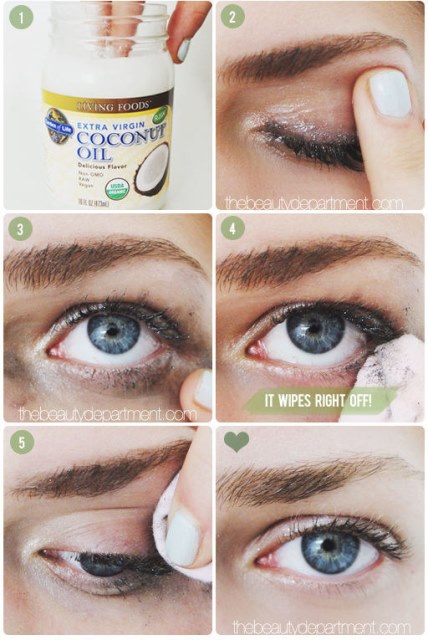 If you're too tired to go through the hassle of removing your makeup fully, just use coconut oil, which acts as a natural way of removing makeup, without any chemicals.
14. Cleaning hair the lazy way
Sometimes you just don't have the time to wash your hair even if it desperately needs it! In such a scenario, all that you need to do is take some baby powder and apply it liberally to your scalp before going to sleep. The powder will absorb the grease and dirt and you will have clean hair that will look silky and perfectly washed.
15. Tame those pesky flyaways
If your hair has the tendency to throw up flyaways that annoy you no end, just spray some hairspray on a toothbrush and tame them in no time.
16. Bobby pins in hairspray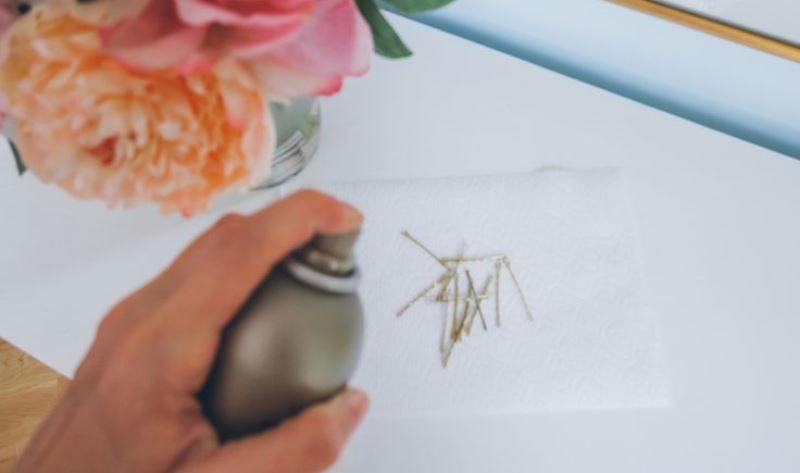 Image source: Pinterest
Fixing and refixing your hair throughout the day can be a pain in the neck. So, to avoid it, spray some hairspray on the bobby pins before you put them in your hair. And voila!
17. Lazy girl's curls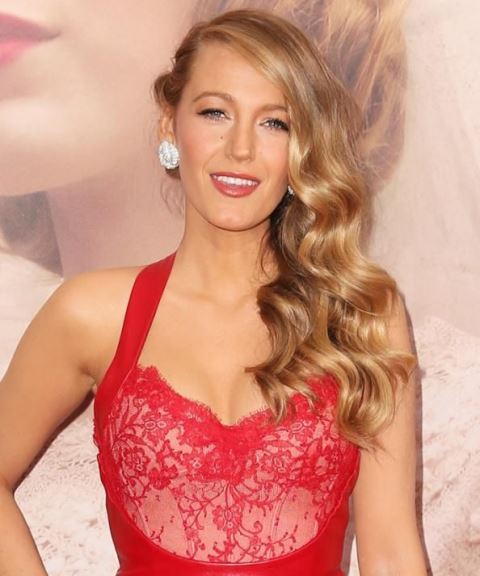 Image source: Pinterest
We all have whimsical phases in our lives when we want to make a certain look happen, but may not be willing to put in the time. This can be especially true when trying to achieve those perfect curly locks. We have an easy procedure that will help you achieve your purpose. All you have to do is make a loose braid before going to bed. Doing this will give you perfect mermaid-like waves when you wake up in the morning. However if you have thin hair, make sure that your braid is loose as this will give you softer waves.
18. T shirt instead of a towel
Dry your hair with a cotton T shirt instead of a towel, and see how quickly your hair dries. This is because the cotton in a T shirt is a lot more absorbent than a towel.
19. Longer hair in minutes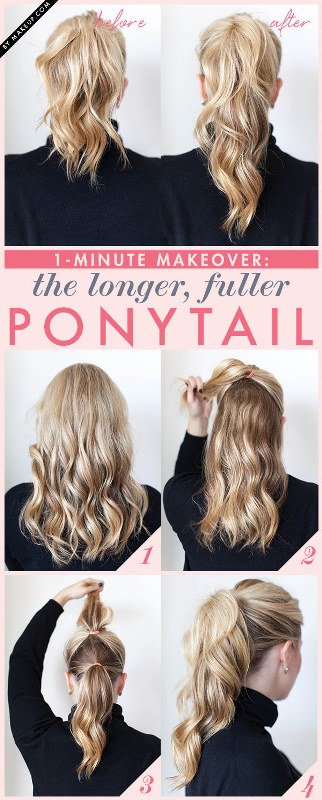 Faking longer hair has never been so easy. You can get longer hair by tying two ponytails instead of one. You just need to hide the second, lower ponytail below the first, which will make your hair look longer and fuller. Just take a look at the picture above.
20. The eye shadow trick
If you think your hair isn't looking thick enough, here's a simple beauty hack to try. Just brush some eye shadow on your hair's part. This will make your hair look deceivingly thicker.
21. Hair dryer stand
As many girls know, sometimes holding a hair dryer gets tiring! You can make your job easier by buying a funky hairdryer holder.
22. Turban or scarf for those lazy days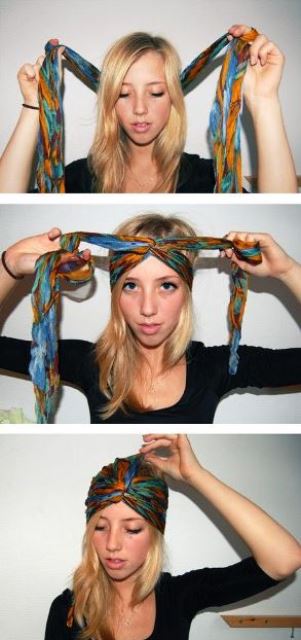 Image source: Pinterest
Not feeling like spending those precious morning minutes on combing and styling your hair? Hide that tangled mess in a scarf or under a turban. This is a perfect lazy girl beauty hack for you!
23. Add glitter to your manicure
This is a typical lazy girl hack if you need to hide a not-so-great or chipped manicure. All you have to do is give your manicure a glittery ombré look by adding glittery nail polish to your existing manicure starting from the very base of your nails. This will help any girl camouflage an ingrown manicure.
24. Glossy polish to matte in no time
Are you in the mood for matte nail polish? But you just have glossy ones in your drawer? Worry not, just add a little bit of cornstarch to a glossy nail polish to give it a matte finish.
---
Suggested read: 10 must-know makeup tips for beginners
---
25. Remedy for cracked heels
Are you suffering from a bad case of cracked heels but are feeling too lazy to give yourself that much-needed pedicure? Worry not, for we have the easiest remedy to give you smooth feet in no time. Before sleeping, generously rub some oil, foot cream, or some lotion on your feet and wear a pair of socks overnight. Upon waking up you will be surprised to find out that your cracks have been cured. Voila!
Did you find this post on beauty hacks for lazy girls useful? Did we miss out any other beauty hacks? Tell us in the comments below!
Featured image source: Google, copyright-free image under Creative Commons License
Summary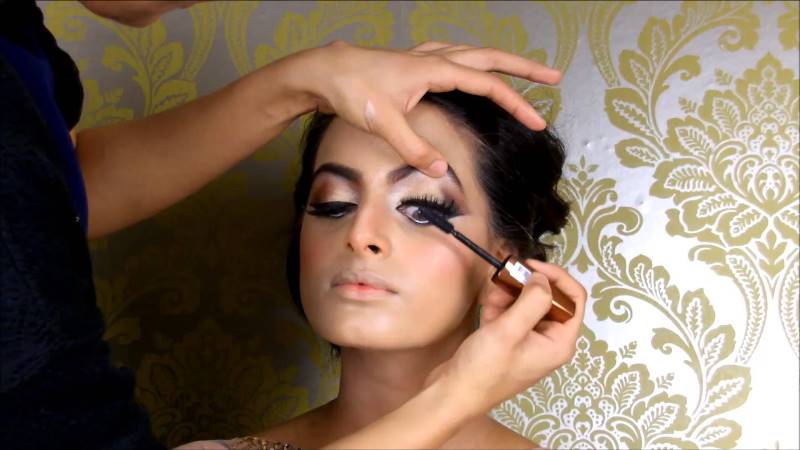 Article Name
25 Amazing Lazy Girl Beauty Hacks Nobody Told You About
Author
Description
Check out the most amazing beauty hacks nobody every told you about. Whether you're a lazy girl or not, you'll thank us for these! :)