Romance is in the words. Truly. If you're a true romantic at heart, you'd know what I was getting at. And that is one of the most important things that popular media like books and movies have taught us. That words are powerful. While they have the capacity to hurt someone, they also have the ability to set afire a blaze of passion. That's why you need to be careful what words come out of your mouth. Think before you speak, for just a single word is capable of ruining something precious.
This is especially true when it comes to romantic relationships. One kind word when needed, one bad word held back on your tongue, has the power to make or break a relationship. And if you're a fellow romantic at heart, then this list of most romantic lines from Hollywood movies will surely make you all mushy.
Here goes.
1. Pride and Prejudice (2005)
'You have bewitched me body and soul. And I love … I love … I love you. I never wish to be parted from you from this day on.'
---
Suggested read: Most romantic lines from literature
---
2. Love Actually (2003)
'… But for now, let me say, without hope or agenda, just because it's Christmas – and at Christmas you tell the truth – to me, you are perfect. And my wasted heart will love you until you look like this … [picture of a mummy].'
3. Dirty Dancing (1987)
'Me? I'm scared of everything. I'm scared of what I saw, I'm scared of what I did, of who I am, and most of all I'm scared of walking out of this room and never feeling the rest of my whole life the way I feel when I'm with you.'
4. Juno (2007)
'Look, in my opinion, the best thing you can do is find a person who loves you for exactly what you are. Good mood, bad mood, ugly, pretty, handsome, what have you, the right person will still think the sun shines out of your ass. That's the kind of person that's worth sticking with.'
5. Sleepless in Seattle (1993)
'It was a million tiny little things that, when you added them all up, they meant we were supposed to be together … and I knew it. I knew it the very first time I touched her. It was like coming home. .. only to no home I'd ever known … I was just taking her hand to help her out of a car and I knew. It was like … magic.'
---
Suggested read: Most romantic couples in Hollywood
---
6. Meet Joe Black (1998)
'Love is passion, obsession, someone you can't live without. If you don't start with that, what are you going to end up with?'
7. City of Angels (1998)
'I would rather have had one breath of her hair, one kiss of her mouth, one touch of her hand, than eternity without it … Just one.'
8. Ten Things I Hate About You (1999)
'I hate the way you talk to me, and the way you cut your hair. I hate the way you drive my car. I hate it when you stare. I hate your big dumb combat boots, and the way you read my mind. I hate you so much it makes me sick; it even makes me rhyme. I hate it, I hate the way you're always right. I hate it when you lie. I hate it when you make me laugh, even worse when you make me cry. I hate it that you're not around, and the fact that you didn't call. But mostly I hate the way I don't hate you. Not even close, not even a little bit, not even at all.'
9. Gone With The Wind (1939)
'You should be kissed, and often, and by someone who knows how.'
---
Suggested read: Best relationship advice from 10 Hollywood celebrity married couples
---
10. When Harry Met Sally (1989)
'I love that you get cold when it's 71 degrees out. I love that it takes you an hour and a half to order a sandwich. I love that you get a little crinkle in your nose when you're looking at me like I'm nuts. I love that after I spend the day with you, I can still smell your perfume on my clothes. And I love that you are the last person I want to talk to before I go to sleep at night. And it's not because I'm lonely, and it's not because it's New Year's Eve. I came here tonight because when you realize you want to spend the rest of your life with somebody, you want the rest of your life to start as soon as possible.'
11. Sweet Home Alabama (2002)
'Why would you wanna marry me for anyhow?'
'So I can kiss you anytime I want.'
12. Notting Hill (1999)
'And don't forget, I'm also just a girl, standing in front of a boy, asking him to love her.'
13. As Good As It Gets (1997)
'…I might be the only one who appreciates how amazing you are in every single thing that you do, and … I watch them, wondering how they can watch you bring their food, and clear their tables and never get that they just met the greatest woman alive. And the fact that I get it makes me feel good, about me.'
---
Suggested read: 10 Hollywood movie notions of love and romance 
---
14. Brokeback Mountain (2005)
'I wish I knew how to quit you!'
15. Jerry Maguire (1996)
Hello. I'm looking for my wife. Alright. If this is where it has to happen, then this is where it has to happen. I'm not letting you get rid of me. How about that? This used to be my specialty. I was good in a living room. Send me in there, I'll do it alone. And now I just … I don't know … but our little company had a good night tonight. A really big night. But it wasn't complete, it wasn't nearly close to being in the same vicinity as complete, because I couldn't share it with you. I couldn't hear your voice, or laugh about it with you. I missed my wife. We live in a cynical world, and we work in a business of tough competitors, I love you. You complete me. And I just …
Dorothy: Shut up. Just shut up. You had me at hello.
Featured image source: Google, copyright-free image under Creative Commons License
Summary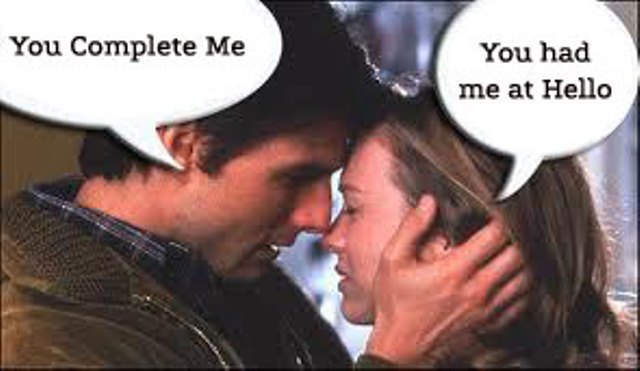 Article Name
15 Most Romantic Lines From Hollywood Movies
Author
Description
Romance is in the words. To prove that to you, we've come up with this list of 15 most romantic lines from Hollywood movies. Take a look!