Not only is art a reflection of life, life draws its inspiration from art too. And you might call me crazy to pick the predictable and cliché romantic flicks of 90s cinema to drill the point home – but believe you me, each of them is a dilly of love lessons – that are completely applicable. No wonder then that a 'Pretty Woman' or 'Sleepless In Seattle' run on daytime television also gives me a chance to stretch out on the couch and watch until the closing credits roll away!
And just so you can believe me, I will provide you with ample proof from these 90s movies from Hollywood. Here are the love lessons that I picked whilst watching these delightful snippets of life, once, twice, thrice … and umm … lost count. Check  out these love lessons from some of the top 90s romantic English movies:
1. Pretty Woman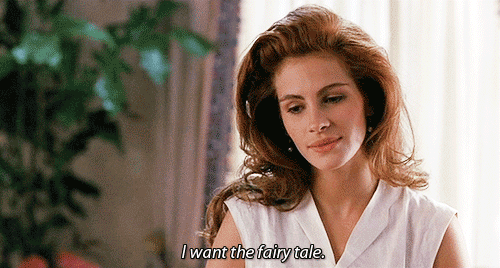 Image source: Google, copyright-free image under Creative Commons License
If you didn't find a precious pearl of wisdom roving about the streets just like the enchanting Vivian (Julia Roberts) in this perennial favorite, I'd have to be questioning your judgment. What – a romance between a hooker and a millionaire relevant, you scoff? Well – did you find this in there??
LOVE LESSON: Love needs as much investment as business/job or anything else you are passionate about. If you do not invest time and effort into making your relationship blossom, you shall stand the risk of making it wilt and die! MAKE LOVE A PRIORITY – magic, too, does not happen unless you flick the wand!
2. Sleepless In Seattle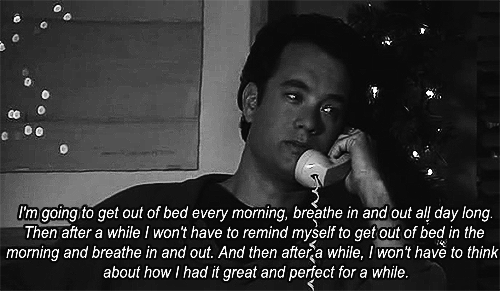 This was one of the best movies of the 90s. This one taught us that 'falling in love, falling hard' might be the best thing ever. When Sam tells us about the time he fell in love with his wife, "I knew it the very first time I touched her… It was like magic," my heart melts into a mush-ocean!
LOVE LESSON: You just know IT when you meet the right person. Hold on tight.
---
Suggested read: 9 Weird love lessons that Phoebe Buffay taught us
---
3. My Best Friend's Wedding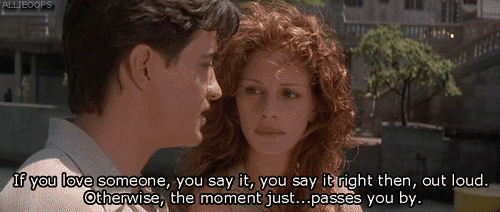 Now this one gave me a scare! No, really! I have the world's best-est friend and he is now my to-be-hubby! But it took me a long, long while to figure it out. Honestly, it took me all the time up until he brought his Cameron Diaz-esque fiancée to meet me that I realized that both him and the rock he put on her finger should be mine! True story!
LOVE LESSON: A best friend can double up as a great life partner with whom you can enjoy grocery shopping or doing laundry or even whisking egg whites! Coz only with an EPIC friendship can you enjoy living 20,000 wonky Wednesdays or forgettable Fridays! You know best friends have a way of making you enjoy doing 'nothing.'
4. Clueless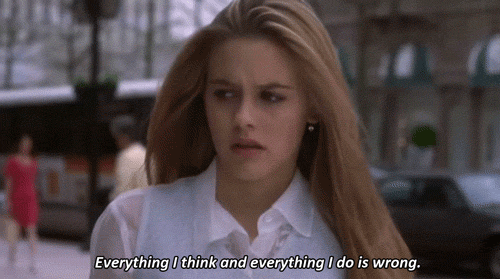 One of the more popular adaptations of Jane Austen's Emma, Clueless was one of best teen 90s movies. Now this one might not have taught us what to do – but it definitely taught us what NOT to do! You cannot push yourself into relationships. They have a way of unfolding on their own.
LOVE LESSON: Let love happen to you. Do not jump signals to force your way down the love-road!
5. Runaway Bride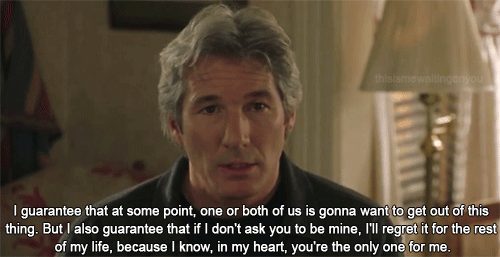 This one was so REAL I cried! We are so caught up in the thrill of walking down the aisle that a moment's pause at the altar can make us fear all that shall follow. A penchant for weddings may not necessarily translate into wedded bliss in MARRIAGE. This movie taught us to marry for the right reason – and that is, out of love.
LOVE LESSON: Marry when you are ready; marry when you aren't afraid of what shall follow; marry when you know you cannot spend the rest of your life not being married to the person waiting at the altar! <tissues please!>
6. While You Were Sleeping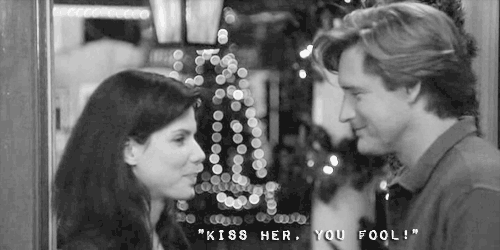 This might have pushed the boundaries a tad bit too far but Sandra Bullock more than makes up for it with her sweet, endearing ways! So, when she falls for her fake ex's brother (only because she was in her previous relationship for the wrong reasons – because it wasn't a real one!), I was nodding in agreement and egging her on to follow her heart. Coz love, like life, isn't all black and white. And not all greys are dark and ominous – some are billowy swathes that pour down on your parched heart.
LOVE LESSON: Listen to your heart. It does not lie, ever. Greys are beautiful too – whoever ruled them out, huh? And who said you'd need to follow the rule-book, huh? <whatever that is, rolled eyes>
7. Jerry Maguire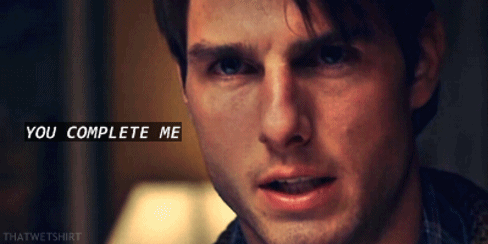 This is one of the most underrated and best 90s romantic English movies. How can you not love a movie in which Tom Cruise just has to look at Renee Zellweger with his loving eyes whilst she intercepts with a flood of emotions condensed in one single LOVE-ly line, "You had me at hello."
LOVE LESSON: Never let go of the person who exhorts you to be the version of YOU you'd always wanted to be.
8. There's Something About Mary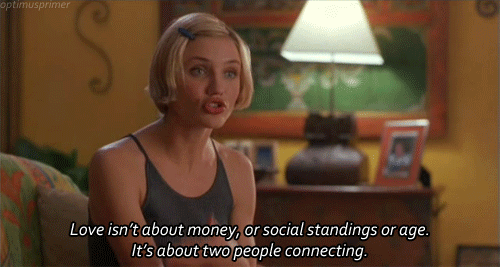 Sometimes, love comes knocking around a second time. Really. Love can happen in the most unexpected of ways, at the most unexpected times. Keep your eyes and ears open. Actually, the doors too!
LOVE LESSON: Coz true love is for a lifetime!
---
Suggested read: Most romantic lines from English movies
---
9. Shakespeare In Love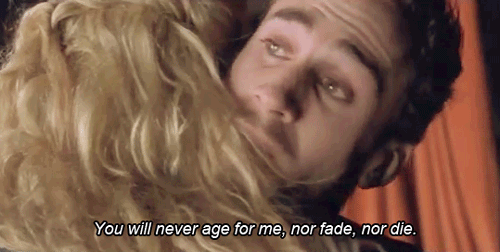 Star crossed lovers, insurmountable barriers, fiery passion- nothing new, right? It is in the novelty of the emotion that the heart welcomes its old friend, the feeling of love and cares not about anything else. <Sorry about getting into that mode, :P>
LOVE LESSON- True love transgresses all fetters- of body, mind and soul!
10. Notting Hill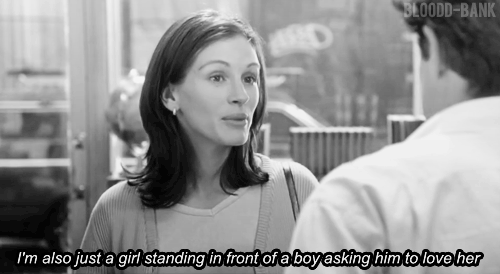 This one is the one of the most endearing romances and popular 90s movies. I slip this DVD ever so often into my player (yep, I have a DVD for this one!) and watch the flow of funny, happy and sad moments gush through the distance between Anna (Julia Roberts) and William (Hugh Grant)- and it is in watching the current drive them toward each other that the beauty of this film lies. It is REAL to see Anna struggle to let go of her past and William come to terms with his feelings about a woman whose life is splashed on the front pages of newspapers every time she steps out, even for coffee!
LOVE LESSON: Love deserves a chance, a REAL chance- even when it seems improbable and unlikely!
And lo, I am wearing my victory grin! Told ya! 😀
So, these are our picks of the 90s movies that we loved and learnt lessons from. Which one is your favorite? Tell us in the comments below!
Featured image source: Google, copyright-free image under Creative Commons License
Summary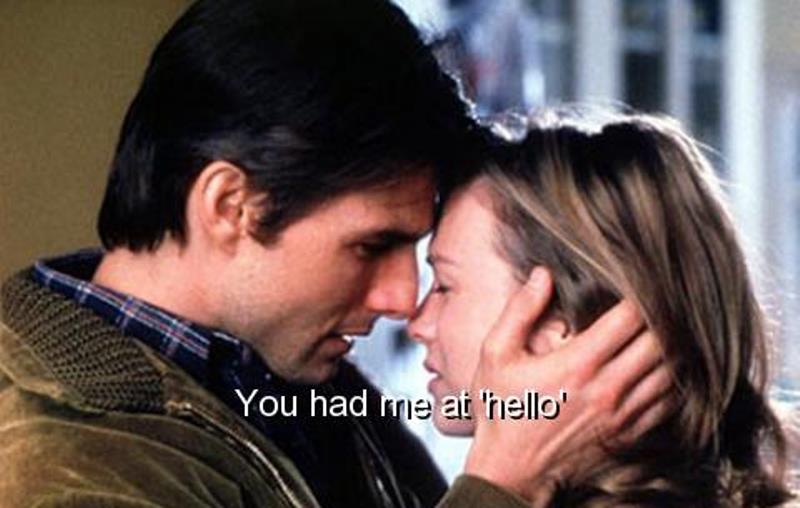 Article Name
10 Love Lessons The 90s Movies Taught Us
Author
Description
These romantic 90s movies chock-full of love lessons! Don't believe me? Read on and you will.