When you are preparing for the last party of the year, you have to give everything you've got, in order to shine through the night, and make it a memorable New Year's. However, one common mistake that people tend to make is that they fix their outfits, makeup, accessories, shoes, etc., weeks beforehand, while they leave the choice of their hairstyle for the last minute.
What you have to keep in mind is that choosing one from among hundreds of New Year's Eve hairstyles is not easy, and you have to decide upon one prior to the 31st night itself, otherwise you may end up in a soup. In a hurry, you may end up choosing a hairstyle which is boring, or does not go well with the rest of your outfit, and that might turn out to be quite a damper on your New Year party spirit.
Image source: Pinterest
However, if you are still short of time, and you still haven't been able to figure out one of the New Year's Eve hairstyles you should be going with, then you can check out these 15 hairstyles, which you can cook up all by yourself in a matter of minutes. You just have to ensure that they suit the shape of your face, and the mood that you are trying to dress for (formal, informal, wild, sober, et al).
---
Suggested read: 15 New Year's Eve dresses to rock the last party of the year
---
1. Bouffant and undercut for short hair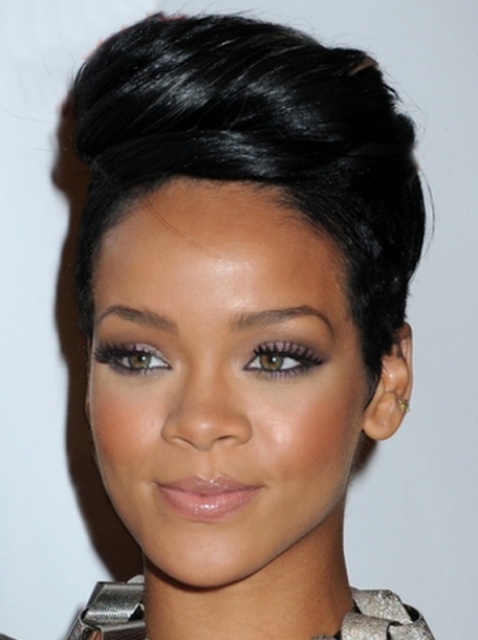 Image source: Pinterest
Who says undercuts have to be reserved for men only? Take a leaf out of Rihanna's book here and look sharp on New Year's Eve with this rad hairstyle, which is bound to make your outfit look a hell of a lot better if you have short hair. Also, this is the perfect time to get a haircut and experiment. To get that super volume on top of your head, brush your hair from the back towards your forehead, and keep all that volume in place with some hairspray. The crew cut around your ears is just going to accentuate the bouffant perfectly. Super easy, super chic.
2. The messy bob and fringe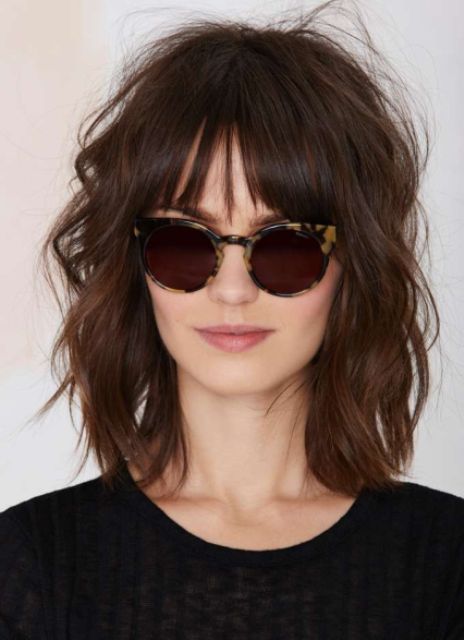 Image source: Pinterest
You have to keep in mind that you are attending a party that is likely to be wild, exciting, and full of activity, and in all probability, your carefully put together, pristine hairstyle is not going to last for the entire night. Embrace the mess that is your hair, and use that as your unique hairstyle to go with your fun New Year's outfit. Arrange your bob in loose waves and keep the mess in place with some hairspray. If you have bangs, then it will only add to the charm.
3. Mini hair puffs for the sweet dresser
Image source: Pinterest
Sometimes, the length of your hair is way too awkward for you to be able to do anything too extraordinary with it. People whose hair length reaches the end of their ears will probably turn up at the New Year's Eve party wearing their hair down, with varying partings, at the most. How do you stand out? By adding volume to your hair with a textured puff of course! Collect the entire section of your hair that extends from the extreme ends of your eyebrows, and place them either slightly to the right, or to the left, so that the rest of your hair can fall in an adorable mess around your ears, while the front bangs stay out of your face as you party your way into the New Year.
4. Sleek backbrush for the grown out pixie
Image source: Pinterest
Pixies were one of the hottest hairstyle trends of 2015, and it is only fitting that you bid goodbye to the year with a statement pixie hairstyle. However, pixies need regular grooming, and if you are going about in a grown out pixie, then you may not be able to pull off the style you started off with. One of the coolest ways to deal with a grown out, slightly out of shape pixie cut is by back-brushing it into a sleek hairstyle, so that it looks like sleek, semi-wet hair that has been finger combed to party perfection.
5. Vintage side-swept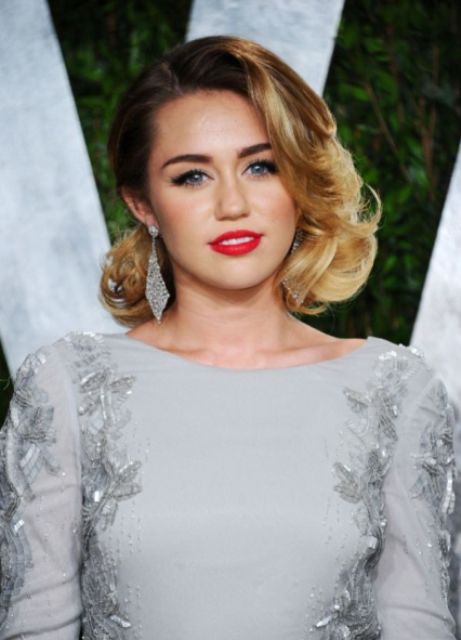 Image source: Pinterest
One of the greatest advantages of having short hair is that you can rock vintage hairstyles, especially with regards to New Year's Eve hairdos. You can add some attitude to your hair with an extreme side parting and romantic waves. ?You might have to re-highlight your hair before you attempt New Year's Eve hairstyles like this. Pin back the hair on the side which has lesser hair, to look like you have stepped out of a nice little Fitzgerald novel.
6. The ballerina bun for mid-length hair
Image source: Pinterest
This is one of the most comfortable and stylish hairstyles for a New Year's Eve party that entails a lot of dancing, and fancily dressed people. Also, this hairstyle takes two minutes to create and adds length and volume to your mid-length hair. All you have to do is collect your hair right in a ponytail right on top of your head, get yourself a donut hair band, slip all of your hair through the holes, and instead of wrapping a tiny section of your hair to complete the bun, wrap a longer section of your hair. Keep everything in place with a couple of bobby pins and hair spray, and you are ready to party with ease!
7. A twist on the classic half and half hairstyle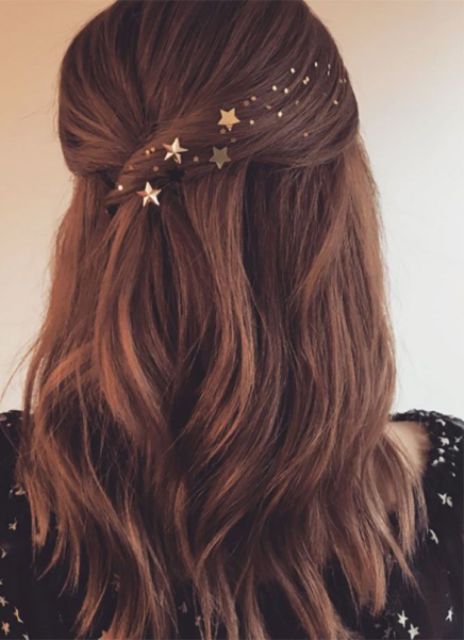 Image source: Pinterest
Instead of going for the same old boring half-up, half-down hairstyle, why not add an interesting twist to look more festive and exciting for the year end party? Take a section of your hair from behind your ear and pin it up at the back. Take the adjacent section from behind your other ear and give it a small twist before pinning it at the back of your head. Make this super simple, party hairstyle all the more exciting, by placing stick-on stars and sequins on your hair for the ultimate New Year's party look, because it is all about the bling!
---
Suggested read: 10 awesome New Year's resolutions for single girls
---
8. Layered fish-bone side braid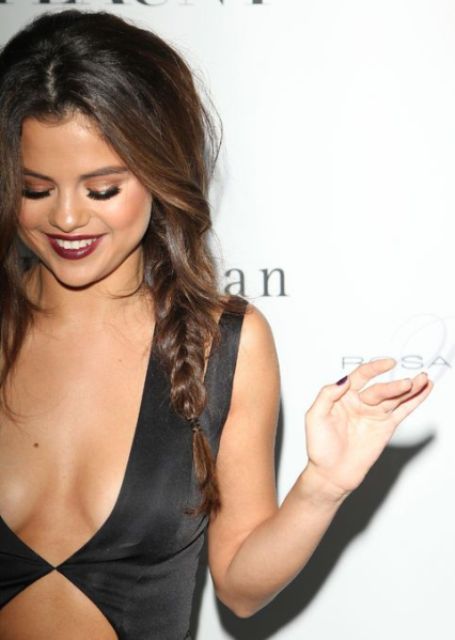 Image source: Pinterest
Braids may not be the ideal hairstyle for parties like the ones you have on 31st December. However, when you have layered mid-length hair, and you are absolutely short of inspiration, then Selena Gomez is here to provide you with some with her supremely sexy and classy side braid style in a fish-bone pattern. Let your hair fall around your face, and without forcing your locks, braid the amount of hair you can gather in your fist starting from right under your ear, and voila!
9. Braid crown half updo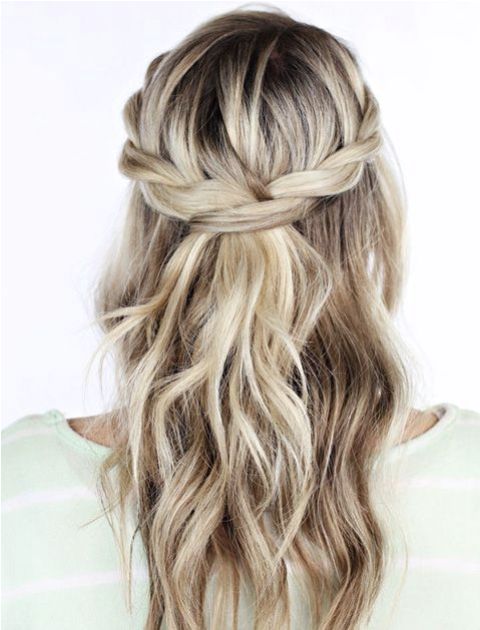 Image source: Pinterest
If you want a fast and easy hairstyle which you can knock up in a very short time with your medium-length hair, then you can check out this half updo which lets you show off your hair, your highlights, and also the little work you do with your braids adds all the party you need in your hairstyle. Just braid two separate sections of your hair from behind each ear and pin them back with bobby pins at the back of your head.
10. Fish-tail top knot for the ultimate stunner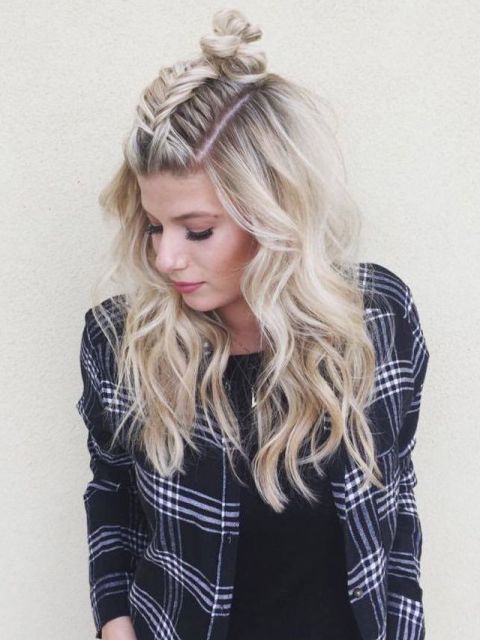 Image source: Pinterest
For those who want to go all out with their hairstyles while ushering in the New Year, this hairstyle is the way to go. It looks deceptively complicated, but it actually just takes about 10 minutes and some patience to pull off. Take a section of your hair in the middle of your head and start braiding it fishbone style towards the back. To keep it in place, you can insert a bobby pin. Take some more hair from adjacent areas, and then twist it into a simple top knot, leaving the rest of your hair down.
11. Cute schoolgirl-style half-updo for long hair
Image source: Pinterest
If you have semi-long hair, and you want to go for a simple hairstyle which makes you look cute and stylish at the same time, and one that goes with your dress as well, then you can check out this hairstyle, which is basically a half, high ponytail with a ribbon detail. The ribbon gives you that youthful charm which goes with the spirit of the New Year, and also goes with most of your outfits!
12. Pinned back romantic hair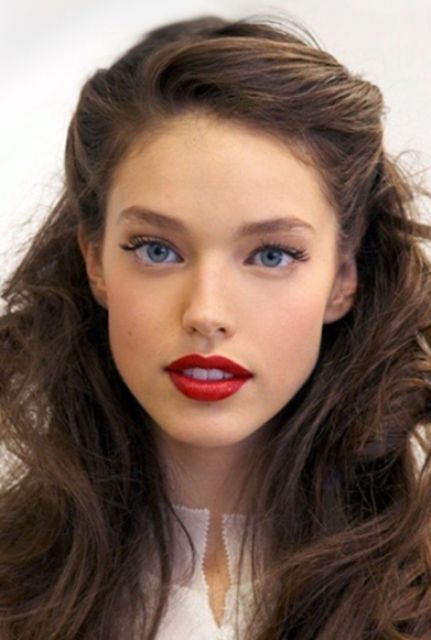 Image source: Pinterest
One problem that people with long hair face when they attend parties where a lot of hyperactive activities (such as dancing, running around, etc.,) are involved is that their hair keeps getting in their faces, and by the end of it, they have no other option other than to put it up in a messy bun. However, if you go to the party with your hair stylishly pinned back, then the problem is solved before it appears. Twist your hair back in romantic French twists and leave the rest of your locks open for the ultimate glam girl party look!
13. Messy milkmaid braids
Image source: Pinterest
If you want to keep your hair up, without dressing like a prude, you can definitely check out milkmaid braids, which are super easy to pull off. Divide the entire volume of your hair into two sections and braid them as far back as your hands can go. Take the ends of each, and pin them behind the opposite ear, so that it looks like a hair band made of braids, but with infinitely more texture. Leave some strands loose for an appealing New Year's look.
14. Braided rose pinned back hairdo
Image source: Pinterest
This is another one of those hairstyles which look super complicated, but is actually super simple. But, if you think this is too dressy, then trust me, this is the perfect time to sport a hairstyle that is all pretty and looks like a lot of effort has gone into it, because hey, this is the New Year's Eve party we are talking about! Just take sections of your hair from the back of your ear and tie them into a loose ponytail at the back of your head. After you are done with that, tease out your braid so that it becomes broad, and roll it up to the source of the braid (like a yoyo) and secure it with a bobby pin!
---
Suggested read: 12 New Year's resolutions married couples NEED to make
---
15. The classic braid-to-ponytail hairstyle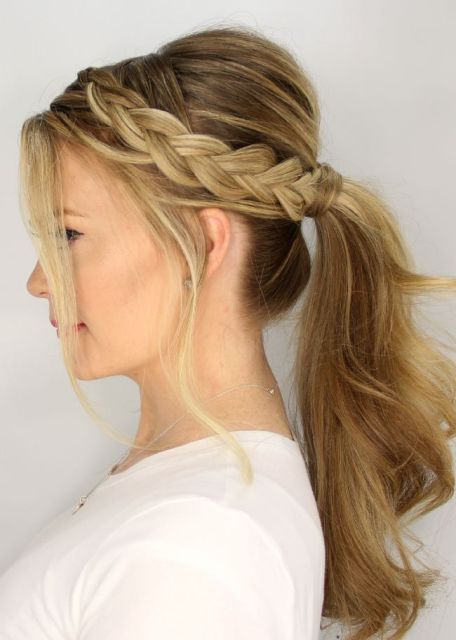 Image source: Pinterest
The whole point of doing your hair for a New Year's Eve party is so that you look young, youthful, fun, and stylish, all at the same time, and there is no harm in going back to the basics when it comes to looking your best in parties like this. French braid one (or both) sides of your head, and then gather the rest of your hair into a high ponytail for the ultimate party girl, glam look this New Year's!
Take inspiration from these suggestions for hair of all types and all lengths, which you can whip up without having to visit the hair dresser's last minute!
Summary
Article Name
15 New Year's Eve Hairstyles To Get You Party Ready
Author
Description
Check out these simple yet elegant New Year's Eve hairstyles for all hair lengths - short, medium, and long, that will get you party ready in no time!