New Year's one of those times when you have to dress to impress, because you are definitely attending some party or the other to usher in another year, and bid adieu to the last one. However, you are not the only one who is going to be out and about, painting the town red as the New Year arrives.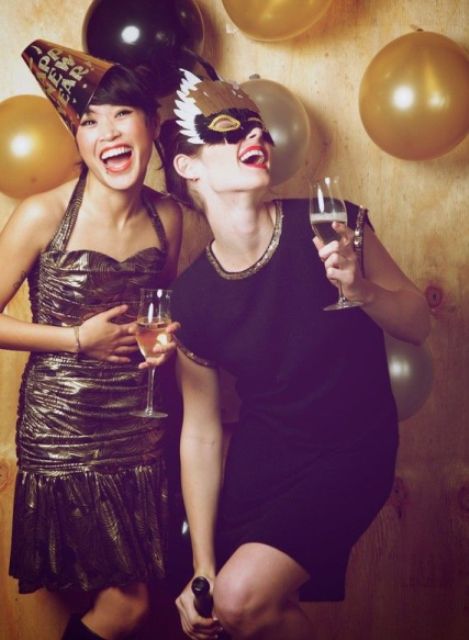 Image source: Pinterest
Even though fashion trends change every year, some basic dressing rules still hold strong when it comes to the year-end parties. One thing that you have to keep in mind always is that there will be a lot of activity, a lot of moving around, and possibly a lot of dancing. So when you are picking your New Year's Eve dresses, you have to take care to dress comfortably, while not compromising on your style, because you cannot possibly bid goodbye to 2015 in dungarees and sweatpants if you have come out to party.   
Some of the most sought after colors for a New Year's Eve party are white, black, and gold. Obviously, other elements like shimmer and glitter are a given, and no matter how many other people are wearing glitter on their outfits, you are going to stand out, because too much glitter is only going make you look festive. However, just because black is the go-to color for New Year parties, does not mean that your options are limited and you run the risk of becoming just another face in the crowd. Even black can be made to look unique and different when paired with the right colors and worn with the right amount of layering. However, that does not mean that you cannot wear other colors to a New Year's party.
---
Suggested read: 10 times Taylor Swift gave everyone major outfit goals in 2015
---
Here are 15 suggestions that can help you put your best fashion foot forward when you usher in the New year.
1. Princess-style New Year's party dress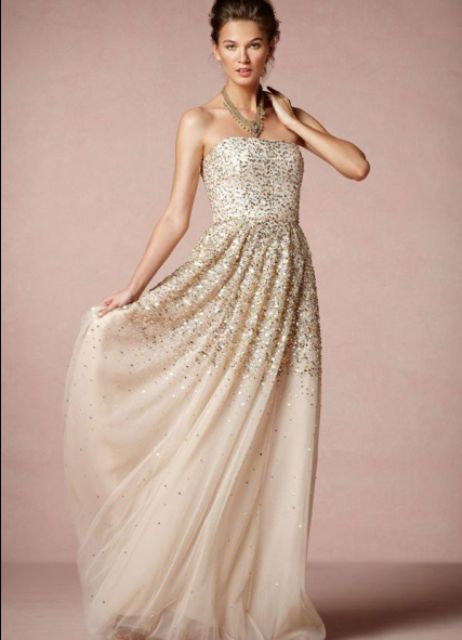 Image source: Pinterest
Just because I said that you have to look fun and dress comfortably on New Year's Eve, does not mean that you can't look pretty, and not look like a princess. This pale pink glitter number is one of the most appropriate dresses for a party that should give a proper homage to the year that you are about to bid goodbye to. This strapless, flowy number is complete with a statement neckpiece and blingy heels and minimal makeup.
2. Festive tulle for the classy dresser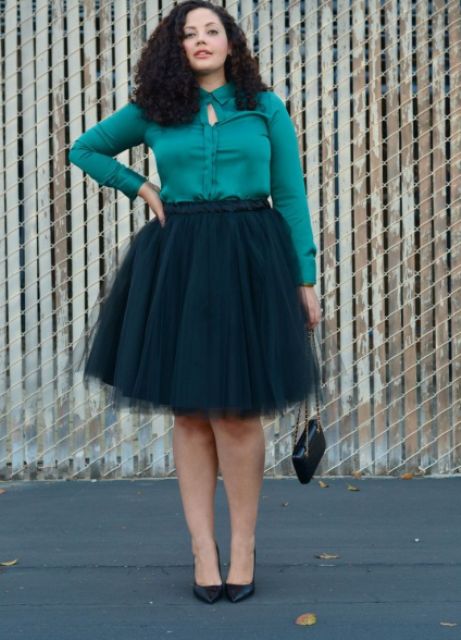 Image source: Pinterest
Sometimes tulle can get a little overwhelming, when it doesn't fit properly, or flares too much, and when you don't need to look that dressy for the occasion, it can become quite an OTT number. However, if you find the right color combination, such as this teal and navy combination, then you will definitely stand out in a sea of blacks and whites and shimmers. You can either choose to accessorize with a pair of simple and classic black pumps, or you can bring out your inner party animal and accessorize with pop colored lips, bags, and shoes.
3. Layer your way to fashion glory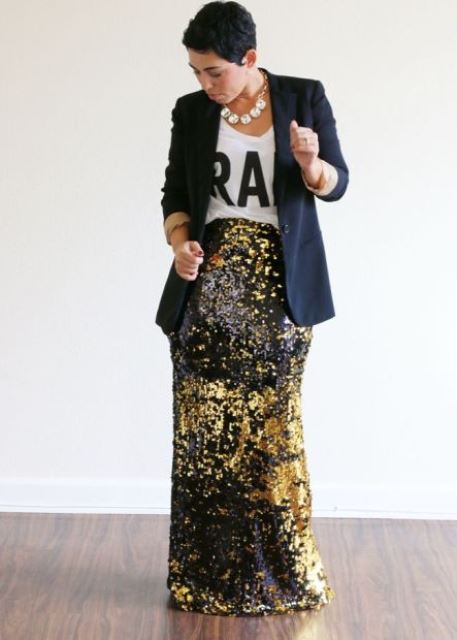 Image source: Pinterest
This is the kind of OMG dress you want to impress people with on New Year's Eve. The sequined long maxi skirt is all the party you need in your outfit, but wait. There's more. You have the super-casual t-shirt as well as the tailored jacket to add more swagger to your already amazing outfit. You know what would make your party dress absolutely perfect? A fedora. *heart eyes emoji*
4. Smart and sexy with black lace
Image source: Pinterest
Here is the quintessential New Year's Eve party dress. A little LBD with a lace back is something that you cannot possibly go wrong with. And to complete the look, there is the broad metallic gold belt, gold accessories, and casual hair and makeup, so that your New Year's is fun and comfortable and stylish, with just the right amount of sexy.
5. Lakota print magic on New Year's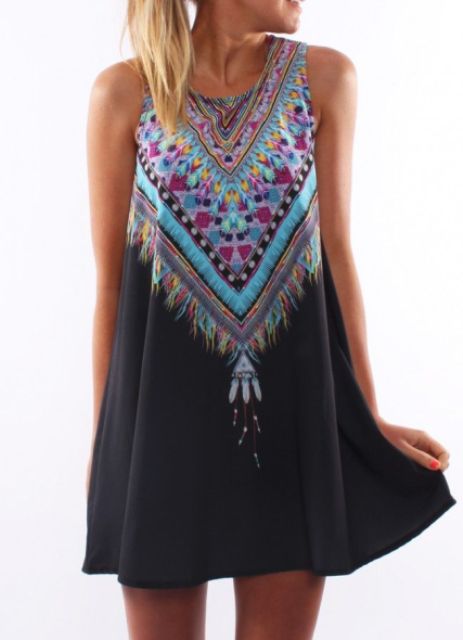 Image source: Pinterest
A little black dress with colorful Lakota print for a fabulous New Year's party never hurt anyone. In fact, it is the recipe to dress different and get noticed. This de-structured short dress is the way to go as you usher in the New Year, as it is both comfortable and fun. I may be getting too specific, but mini-dream catcher earrings would go perfectly with this, and no other accessories are needed. However, if you are unable to get your hands on them, large rings or some bling would do perfectly, as well!
6. Showstopper dress in red
Image source: Pinterest
There is no rule saying that you cannot be super sexy when you are ushering in the New Year. A red hot dress like this would probably fit best on a list of New Year's Eve dresses, because no other occasion could possibly do justice to its sheer gorgeousness. Pair a stunning sleeveless number like this one with the unique midi hemline with chunky silver jewelry and nude pumps, and you are bound to become the center of attention at any gathering.
7. Classic LBD with chandelier style embroidery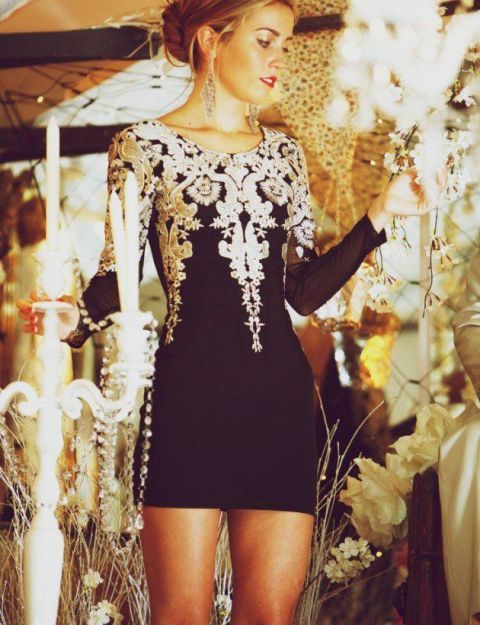 Image source: Pinterest
If you think things are getting too dressy, then think again, because New Year's is the time when you bring out all the things that you had kept hidden away in your closet, for fear of looking OTT in case you decided to wear them. However, this example shows you how a simple, long-sleeved LBD can look drop dead gorgeous, paired with heavy makeup and a pair of black/silver heels. The chandelier earrings accentuate the dress perfectly.
---
Suggested read: Top 10 sizzling Hollywood red carpet looks of 2015
---
8. Sleek pastel and black party girl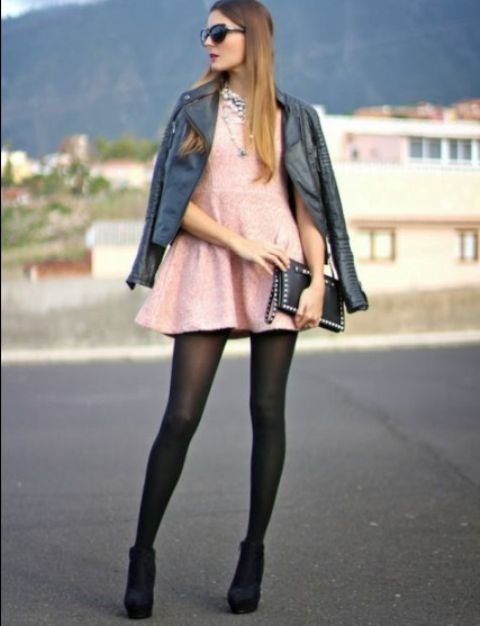 Image source: Pinterest
Like I said in my introduction, you can make black look un-boring if you know how to layer your clothes properly, and this is one stunning example which can give you a lesson or two. The pastel fit-and-flare skater dress is all the comfort you need to sail through the New Year's Eve party with absolute ease, while the style quotient is added with the sheer black stockings, the black boots, and of course, the stellar leather jacket. Who would think chunky silver jewelry would look this good with an ensemble like this?
9. Powder blue ombré perfection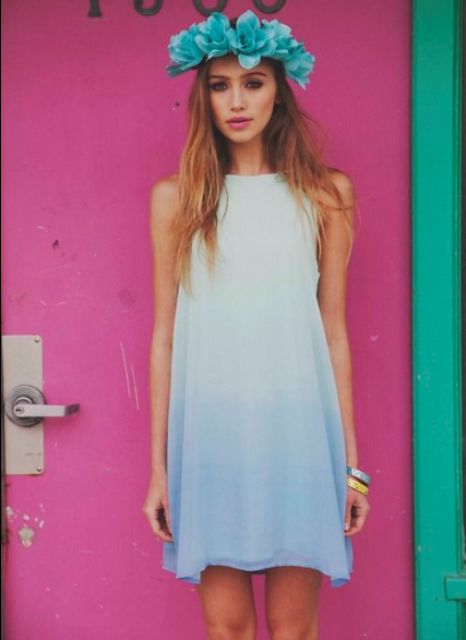 Image source: Pinterest
I cannot emphasize enough how terribly underrated gradient dresses are. They look practically ethereal, they are definitely unique, and you look like a vision, no matter what color combination you choose to wear. This magical powdery blue and white de-structured dress is perfect for your New Year's Eve party which gives off nice Coachella-like vibes. Accessories in colors like gold, a darker blue, silver, and white would highlight the attire, while you sashay your way into the New Year.
10. Midi magic on New Year's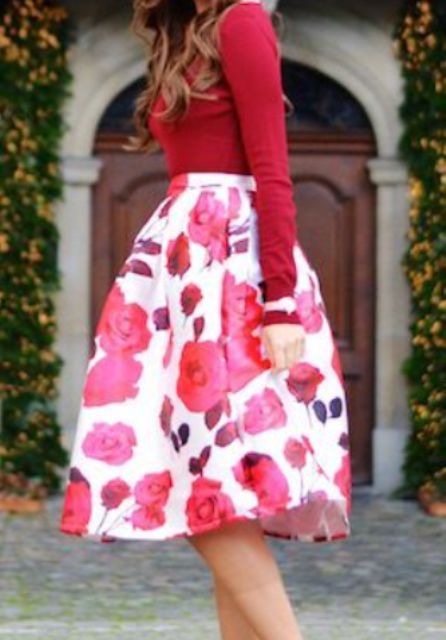 Image source: Pinterest
Here is a dress that is going to make you look fresh, youthful, festive, and gorgeous, all at the same time. All this is attributed to the midi skirt with gorgeous floral print, which is complemented by the full-sleeved wine red shirt/cardigan. You can increase the level of cuteness with a pair of red pumps, and simple makeup and minimal accessories, because your skirt is the focal point of your outfit.
11. All that glitters is basically perfection
Image source: Pinterest
What is the problem of dressing from top to bottom in glitter and shimmer? Nothing! A New Year's bash is the time to bring out all the bling in your cupboard and dress like you have no regrets. And what could possibly be better than glitter? Peacock blue and green glitter, of course. Pair your gorgeous dress with some sheer stocking, glittery or plain black pumps and misty makeup to complete your New Year's look.
12. Classic white and gold combination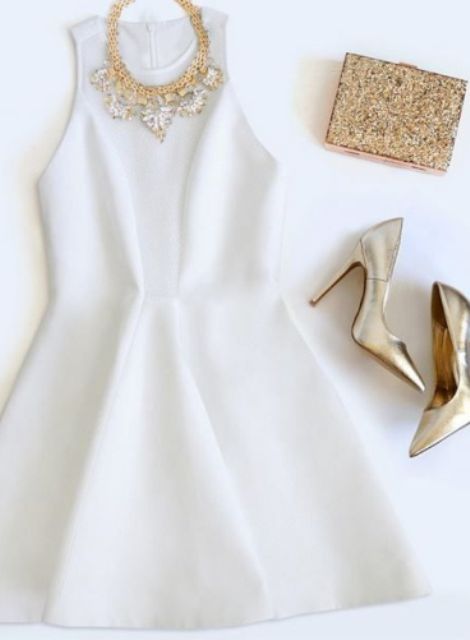 Image source: Pinterest
If you are not willing to dress in bling and florals and elaborate embroidery, then you can always turn up in one of those New Year's Eve dresses which make you look like a princess, with a dash of fun, such as this stark white skater dress. Because it is so absolutely simple, you can practically do whatever you want with it. Highlight the neckline with a dull gold statement neckpiece, matching platforms, and a shimmery clutch bag, and you are good to go.
13. Colorful, spunky mini-dress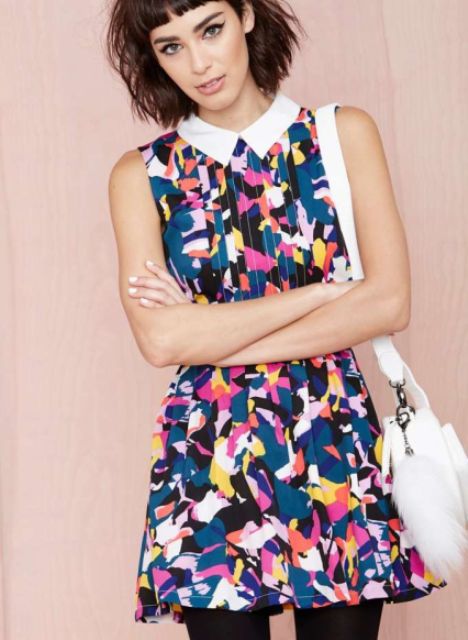 Image source: Pinterest
What is the best, most symbolic way of ushering in the New Year? By dressing in a manner which looks like you are confetti personified, of course. Who says you have to limit your party mood to the last 60 seconds of the previous year and the first 10 seconds of the New Year? You can very well look like you are celebrating throughout with this mini-dress, with colorful print and a simple white collar, which brings the whole look together. Accessorize with a pair of sheer black stockings, and all white bags and shoes for the perfect New Year's party look!
14. Fuchsia fit and flare skater mini dress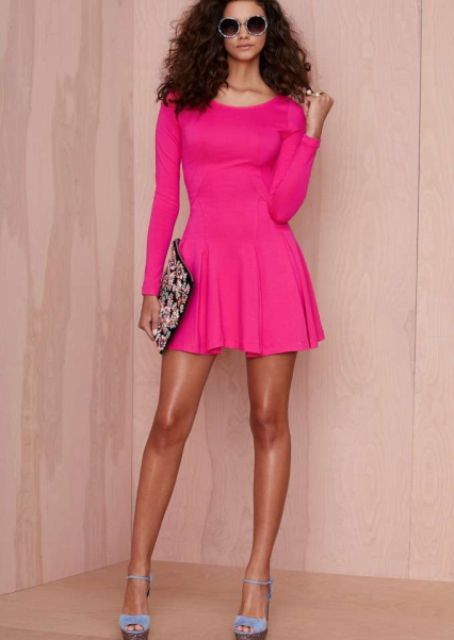 Image source: Pinterest
Is pink too cliché a color for you to sport to your New Year's Eve party? Not anymore, because this short dress in fuchsia shows you how badass a color so pretty can actually look. One style that people seem to ignore in their hurry to get hold of some glitter this party season, is color blocking. It is one of the most effective ways to dress different and look gorgeous, without going over the top with your colors and accessories. Minimal accessories, a great pair of shoes, and a lot of attitude is everything you need to pull off this number at a year-end party.
---
Suggested read: 10 best Bollywood red carpet looks of 2015
---
15. Red velvet magic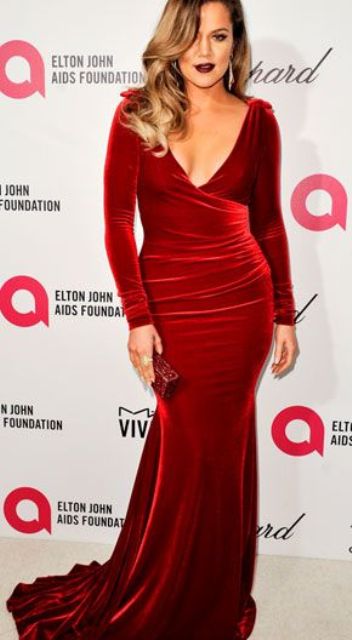 Image source: Pinterest
This is one of those moments when we have to resort to the Kardashians for some fashion advice, because holy cow does Khloè here look gorgeous! Imagine stepping into any New Year's Eve party wearing this. The dress gets extra brownie points for the red velvet bodice, long sleeves, mysteriously low neckline, and the hint of a train which makes us swoon. Dramatic makeup, a hot red mouth, vintage hairdos, and silver accents are going to make this dress shine all the more.
These are some of the suggestions which will hopefully guide you wardrobe-wise so that you can stand out in a crowd of people you will be ushering in the New Year with. Happy shopping!
Summary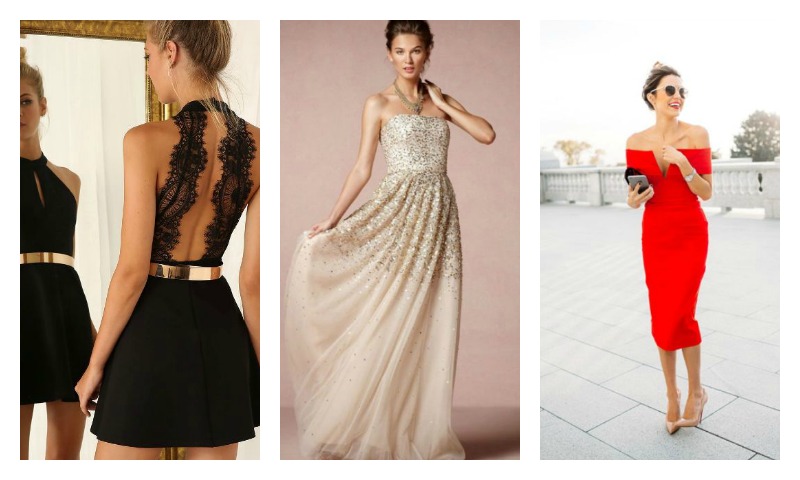 Article Name
15 New Year's Eve Dresses To Rock The Last Party Of The Year
Author
Description
What are you wearing for the last party of the year? Having trouble deciding what to wear? Take a look at a few suggestions for New Year's Eve dresses.