There are weddings, and then there are weddings. This one is definitely of the latter category. This woman chose a unique way to make her wedding a truly memorable one. How, you ask? Read on!
Yep, this is the longest train of bridesmaids you will see – well, until someone else decides to knock the record off another time! The former Guinness Book World Record of 127 bridesmaids has been knocked down with a spectacular wedding procession of an added 48, making the new bridesmaids count 168!!
Tina Ackles, a Texas woman, has broken the former Guinness Book Record for the maximum number of bridesmaids by shooting up the former record number by 48 new bridesmaids! Yes, she decided that the way she'd want to make her wedding to boyfriend-of-twelve years, Thomas Rodgers, unique was to have 168 bridesmaids make her wedding procession one of a kind!
On a trip to the Tampa Bay region last week for a business conference, she asked fellow members of the American Businesswomen's Association, who were also in Safety Harbor for the conference, if they would be willing to be bridesmaids at her wedding ceremony. Needless to say, the group was more than happy to be a part of the union of two crazily-in-love people at the Safety Harbor Spa last weekend.
While a blushing and beaming-with-joy bride expressed her happiness in no uncertain terms,
"He's my soul mate so I trust my heart with him and I'm blessed to be where I am today."
---
Suggested read: These underwater wedding photographs are absolutely stunning!
---
The official bridesmaids count was confirmed and documented by the Safety Harbor Mayor Andy Steingold and City Commissioner Janet Hooper.
"You want the real picture of what I was thinking? I was thinking when is this going to stop? They just kept marching in and kept marching in with carnations. It was a very difficult task to count bridesmaids the way they came in together," said Steingold.
Hooper expressed the same sentiment, albeit with a feeling of immense satisfaction at what they did:
"It was not an easy job to count them all as they came in because they were all excited as well. We had to count them more than once but I think we did a great job."
The long train of 168 excited and enthusiastic bridesmaids, who showed up for the wedding, were brimming with joy too.
"It's an amazing thing to see two people that are passionate for each other and have the same goals and want to live and love forever. It doesn't get any better than that," said one of the bridesmaids, Mia Anderson.

"I have known the Bride two days … But we are sisters so we have been together a lifetime," said bridesmaid Momma Mia.
Well, with so many people sending in their good wishes, the couple is all set to 'live and love forever' in a land of 'happily-ever-after!'
We, at NLT, wish them a lifetime of joy too!
News Credit: WFLA
Summary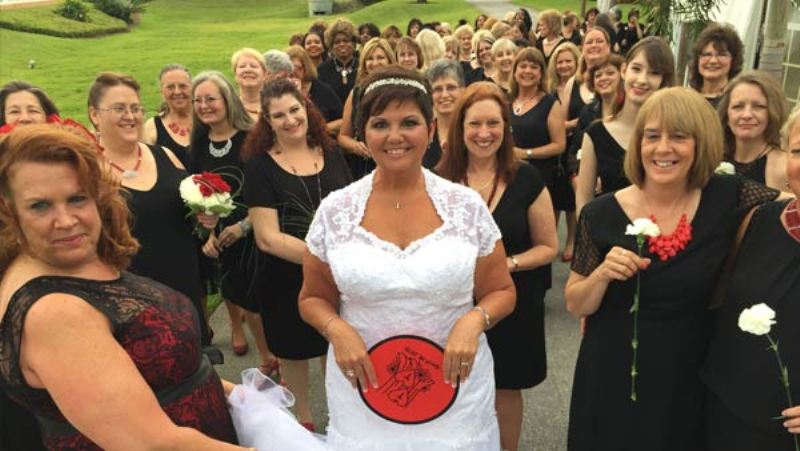 Article Name
168 Bridesmaids Set Record At Safety Harbor Wedding
Author
Description
Texas woman Tina Ackles has broken the former Guinness Book Record for the maximum number of bridesmaids by with a whopping 168 bridesmaids! Check it out!