"I want to do with you what spring does with the cherry trees."
"I wake up at dawn and even my soul is wet."
                                                                                                                                   – Pablo Neruda
Hailed by Marquez as the 'greatest poet of the 20th century in any language,' Pablo Neruda was indeed South America's gift to the world. A poet who always wrote in green ink, Neruda made sure the symbolic drift of hope in the choice of his ink color splish-splashed in his verse. Love was an oft-repeated theme of his work and Pablo Neruda poems, often a dedication to his wife, are replete with the beats of a heart in love. His verse carries so much truth for any honest heart that has loved that they could have the hands of time hold the universe in one palm and still not outweigh the love in another.
---
Suggested read: These long distance love quotes will help you brave the distance
---
If you have been in love, are in love or wish to feel the gripping novelty of the emotion that is love, but haven't read Pablo Neruda poems, you might want to pause now and head straight to a bookstore or the library. Why?
Well, coz we will make it darned hard for you to not want to.
Behold below the choicest snippets from Pablo Neruda love poems – to feel love the way Love intended for you to feel:
1. "I am everybody and every time, I always call myself by your name."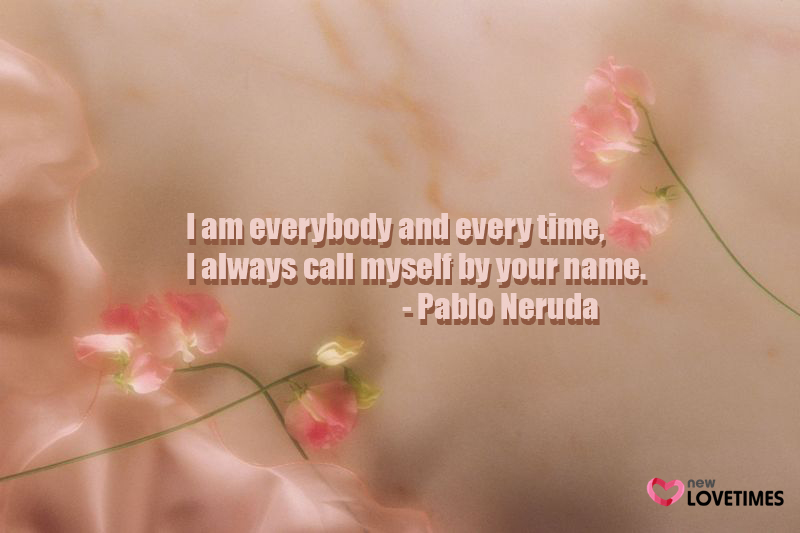 Because the hands of the clock twist time and space to be but the ONE heartbeat of two hearts in love…
2. "I love you without knowing how, or when, or from where. I love you simply, without problems or pride: I love you in this way because I do not know any other way of loving but this, in which there is no I or you, so intimate that your hand upon my chest is my hand, so intimate that when I fall asleep your eyes close."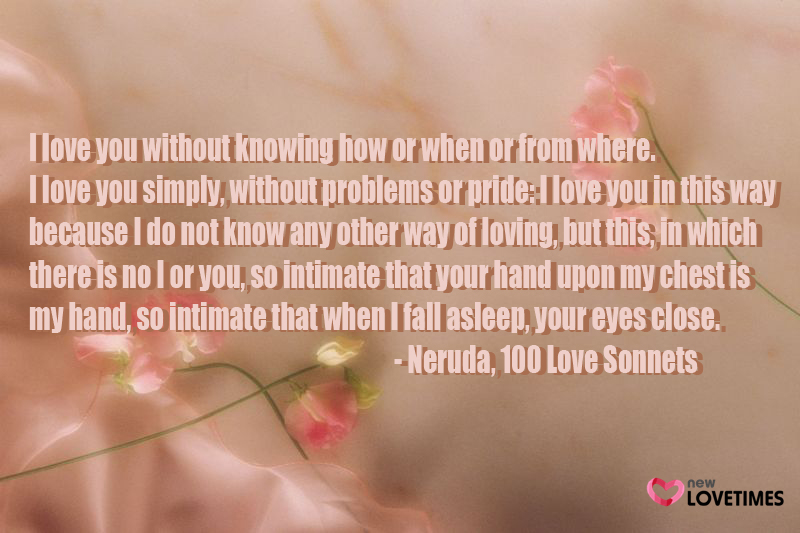 The union of our souls!
3. "I love you as certain dark things are to be loved, in secret, between the shadow and the soul."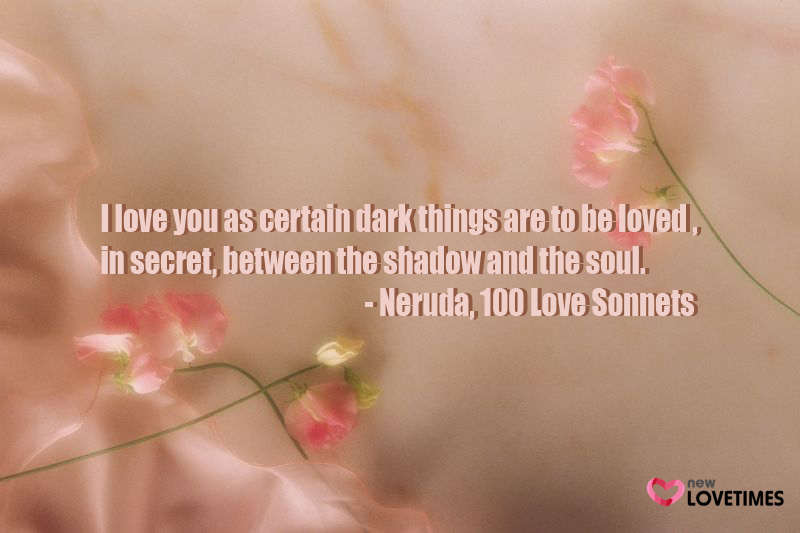 When someone is your beautiful secret…
4. "Tonight I can write the saddest lines … I loved her, and sometimes she loved me too."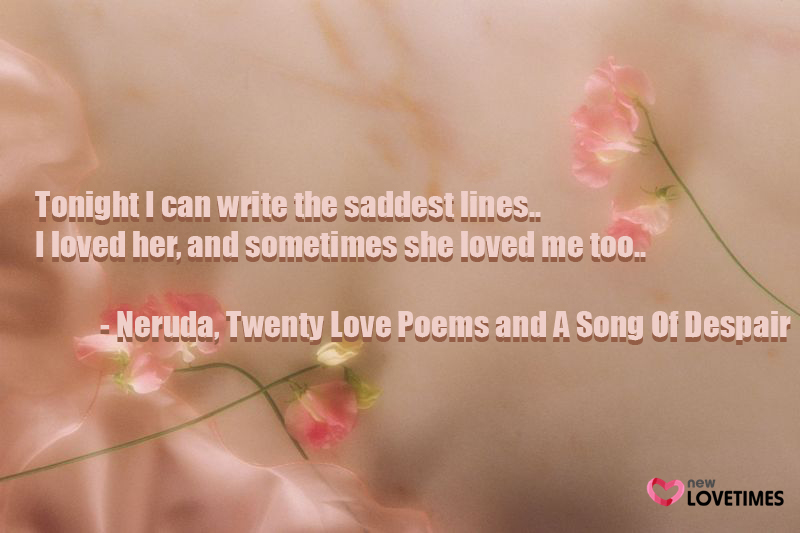 Coz there is no agony worse than the one of love unreturned.
5. "So I wait for you like a lonely house
      till you will see me again and live in me.
     Till then my windows ache."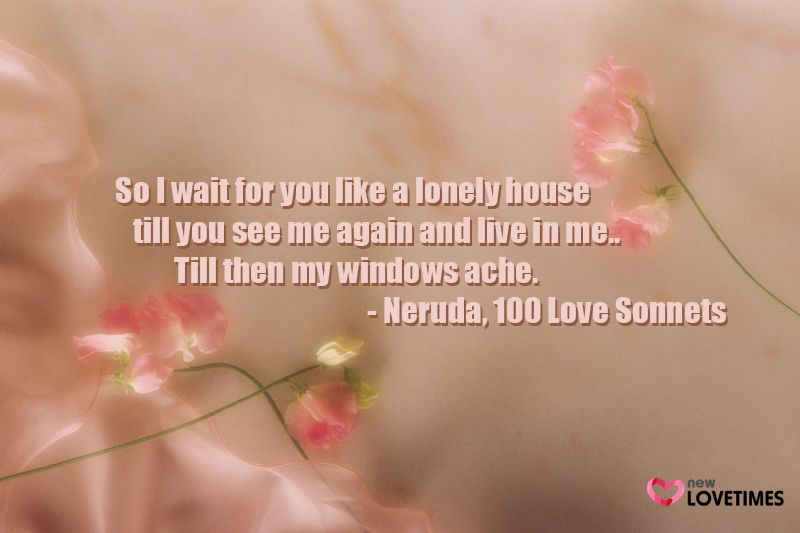 When home goes from being a place to being a person…
6. "But I love your feet
      only because they walked
      upon the earth and upon
      the wind and upon the waters,
      until they found me."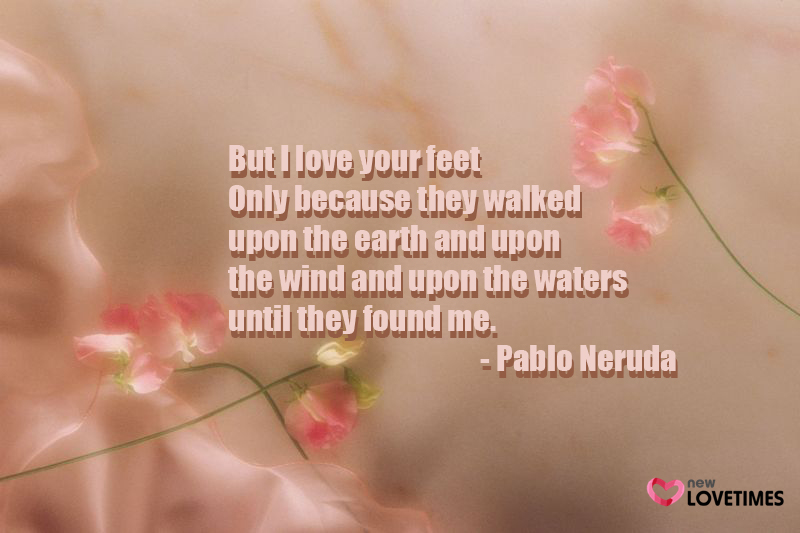 Coz LOVE has but one destination – the heart it loves.
---
Suggested read: 30 troubled relationship quotes that will break your heart
---
7. "I crave your mouth, your voice, your hair.
     Silent and starving, I prowl through the streets.
    Bread does not nourish me, dawn disrupts me, all day
    I hunt for the liquid measure of your steps."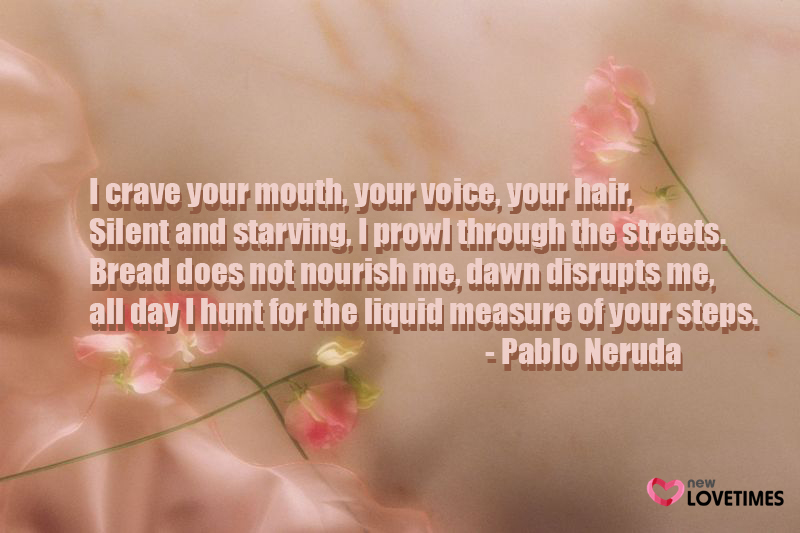 Nothing brings respite to a heart in love save the sight of the beloved.
8. "…if each day,
      each hour,
      you feel that you are destined for me
      with implacable sweetness,
      if each day a flower
     climbs up to your lips to seek me,
     ah my love, ah my own,
     in me all that fire is repeated,
     in me nothing is extinguished or forgotten,
     my love feeds on your love, beloved,
     and as long as you live it will be in your arms
     without leaving mine."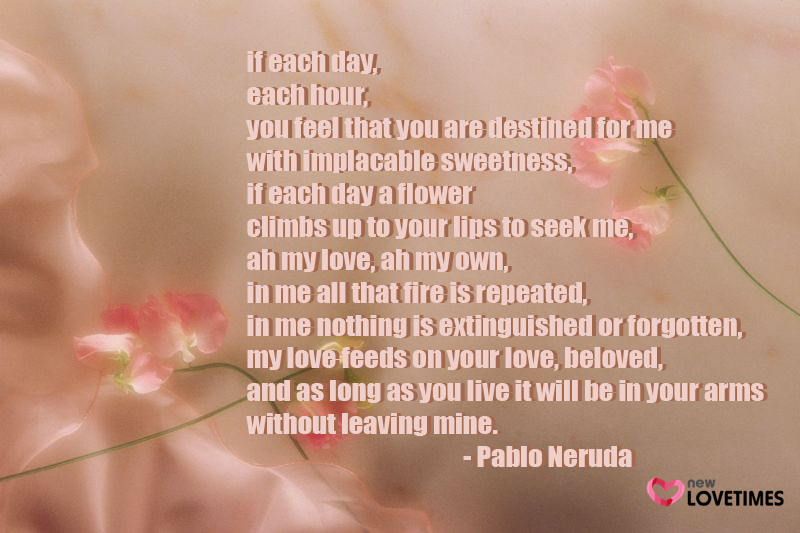 As Neruda himself said, 'To feel the love of people whom we love is a fire that feeds our life.'
9. "Because of you, in gardens of blossoming
      Flowers I ache from the perfumes of spring.
      I have forgotten your face, I no longer
     Remember your hands; how did your lips
     Feel on mine?
     Because of you, I love the white statues
    Drowsing in the parks, the white statues that
    Have neither voice nor sight.
    I have forgotten your voice, your happy voice;
    I have forgotten your eyes."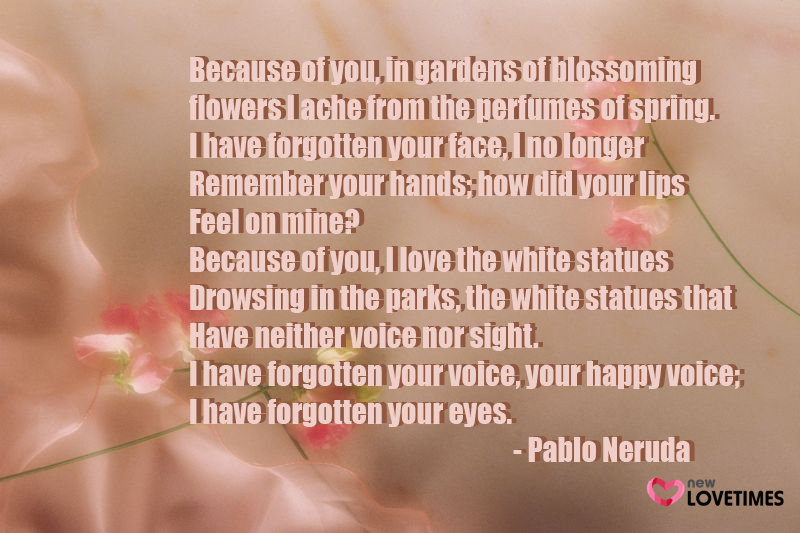 Distance can make the loving heart weary but it tires not of loving still.
10. "I no longer love her, true, but how much I loved her. My voice searched the wind to reach her ear."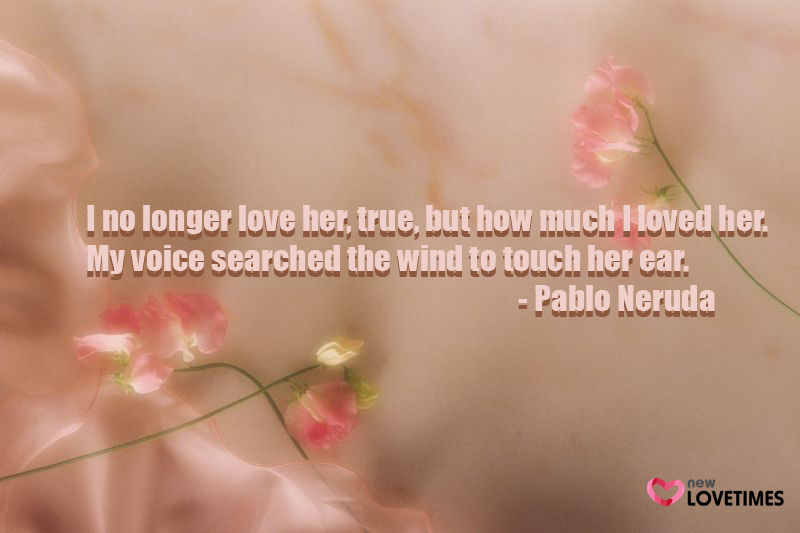 By night on my bed I sought her whom my soul loveth and behold, she was within me all the while.
11. "Only do not forget, if I wake up crying
        it's only because in my dream I'm a lost child
        hunting through the leaves of the night for your hands…"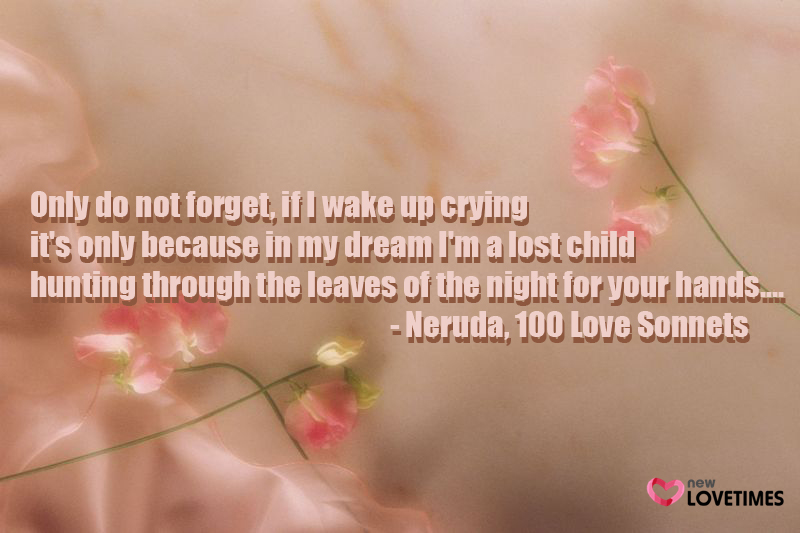 Our heart seeks out the heart who beats in the rhythm of our own..
---
Suggested read: 50 cute love quotes to take inspiration from
---
12. "And one by one the nights between our separated cities are joined to the night that unites us."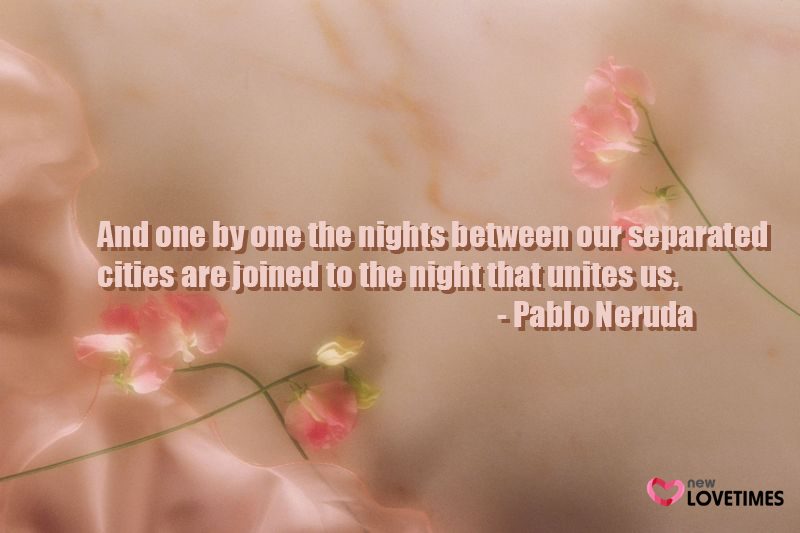 Ever feel the silence of the night bring to you whispers from your beloved?
13. "Don't go far off, not even for a day,
        because I don't know how to say it – a day is long
        and I will be waiting for you, as in
        an empty station when the trains are
        parked off somewhere else, asleep."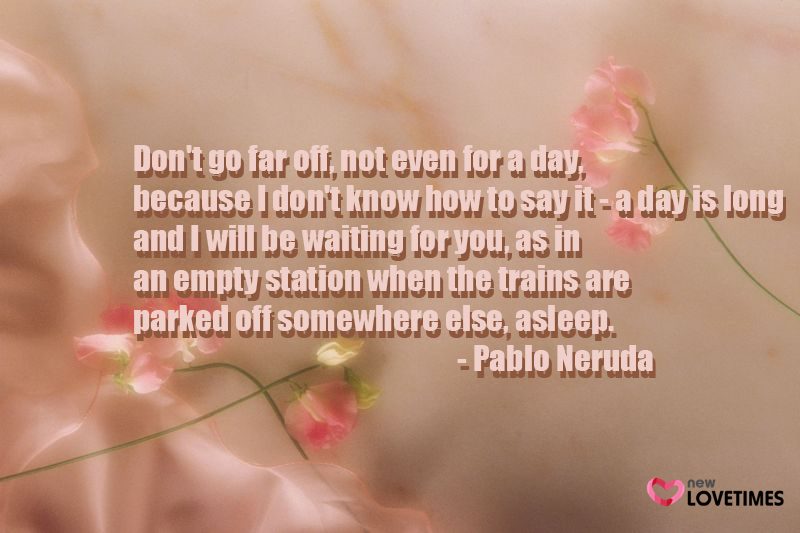 For every heart that waits…
14. "We shall always be alone, we shall always be you and I, alone on earth to start our life…"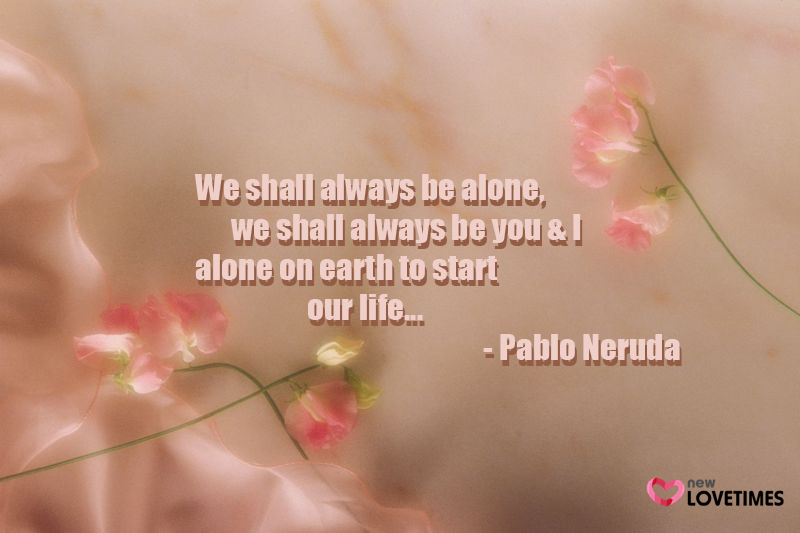 Coz the world matters little to two hearts that love…
15. "In one kiss, you'll know all I haven't said…"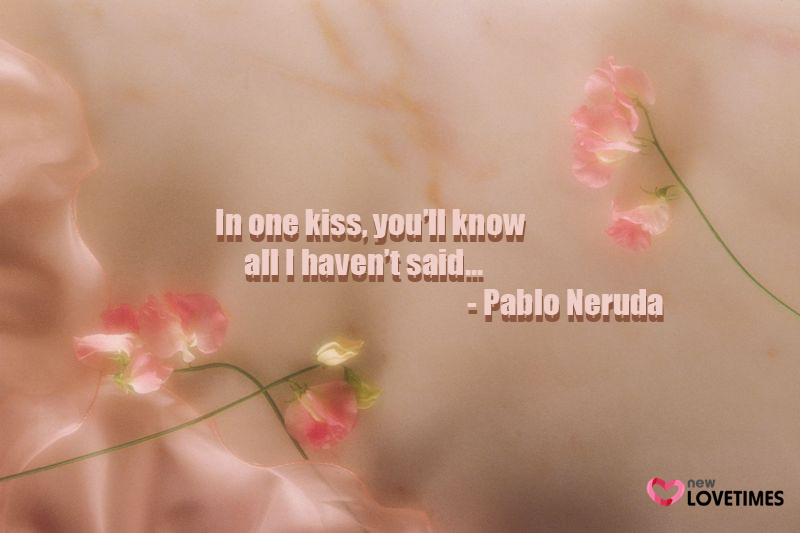 Hon, are you listening?
16. "I do not love you except because I love you;
        I go from loving to not loving you,
       From waiting to not waiting for you
       My heart moves from cold to fire.
       I love you only because it's you the one I love;
       I hate you deeply, and hating you
      Bend to you, and the measure of my changing love for you
      Is that I do not see you but love you blindly."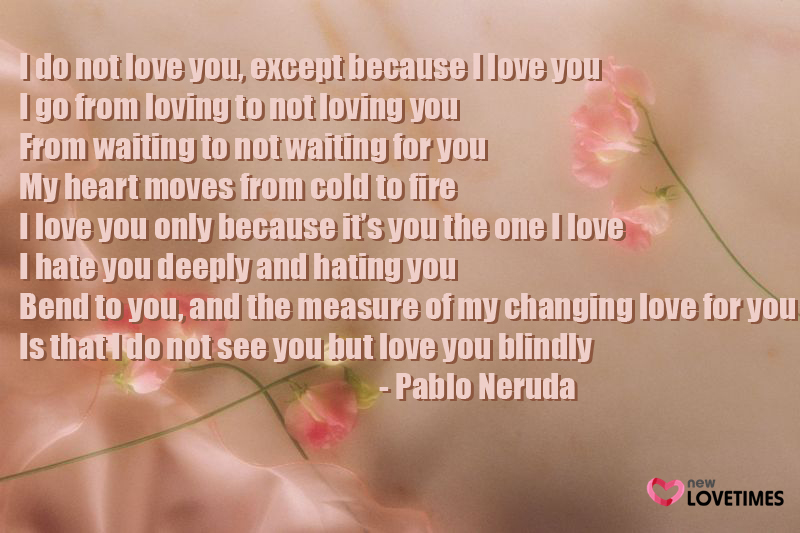 Coz loving isn't an absolute… LOVE is…
---
Suggested read: 20 mushy marriage advice quotes that will make you love him all the more!
---
17. "From sorrow to sorrow love crosses its islands and establishes roots that are watered by weeping."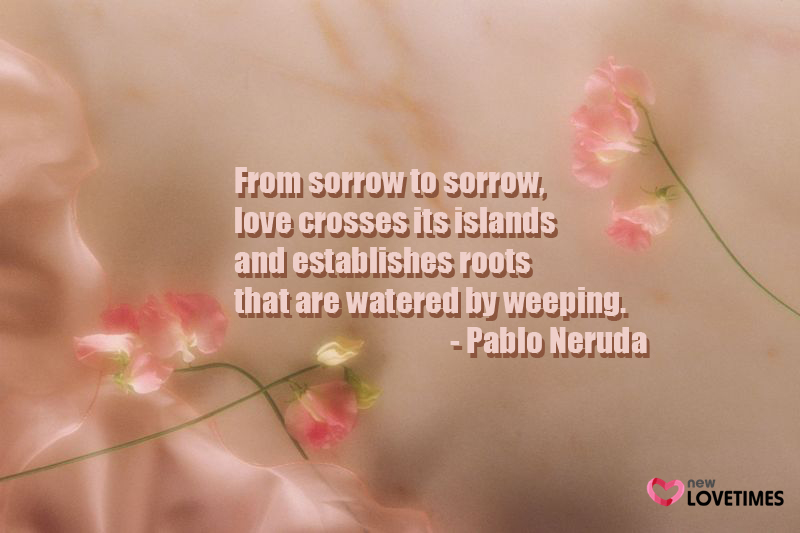 Coz true love grows stronger with each sorrow braved…
18. "If suddenly you do not exist, if suddenly you no longer live, I shall live on… I do not dare to write it, if you die. I shall live on. No, forgive me. If you no longer live, if you, beloved, my love, if you have died, all the leaves will fall in my breast, it will rain on my soul night and day, the snow will burn my heart, I shall walk with frost and fire and death and snow, my feet will want to walk to where you are sleeping, but I shall stay alive…"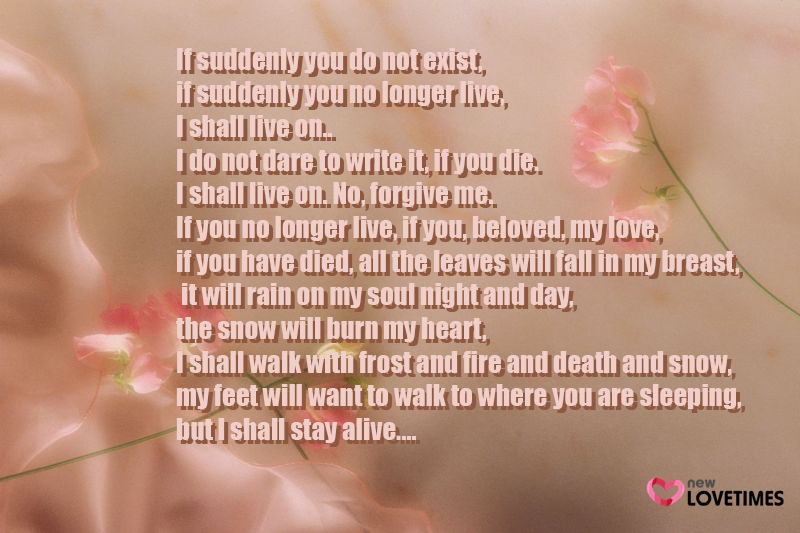 Coz love to keep alive the heart that taught it to love…
19. "You know how this is:
       if I look
       at the crystal moon, at the red branch
       of the slow autumn at my window,
       if I touch
       near the fire
       the impalpable ash
       or the wrinkled body of the log,
       everything carries me to you,
       as if everything that exists,
       aromas, light, metals,
       were little boats
       that sail
       toward those isles of yours that wait for me."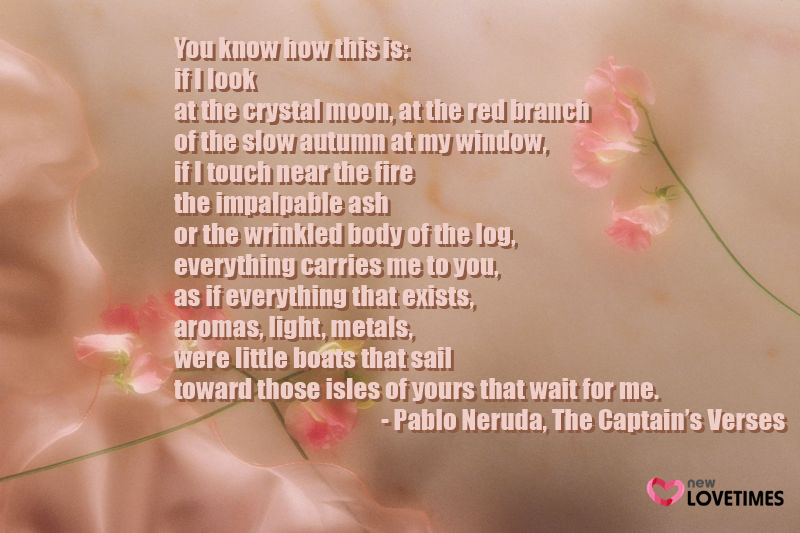 Never felt the entire universe steering you in the direction of your one true love?
20. "I have slept with you all night long while the dark earth spins with the living and the dead, and on waking suddenly in the midst of the shadow my arm encircled your waist. Neither night nor sleep could separate us."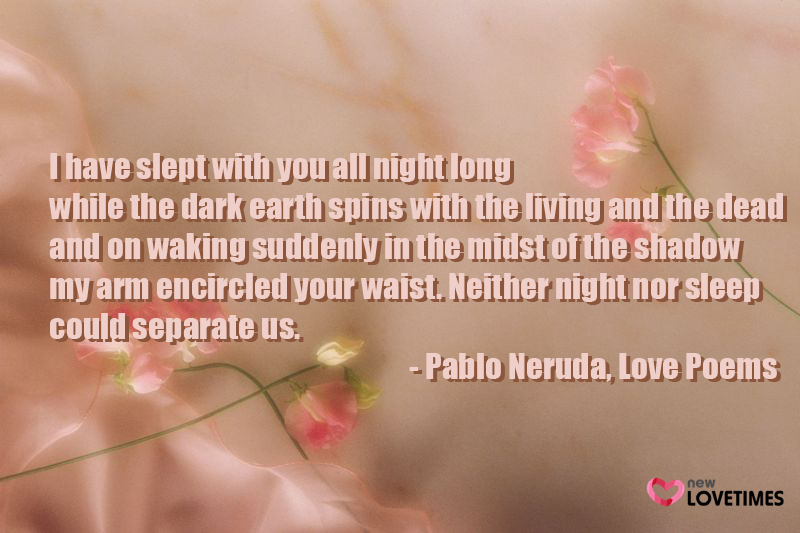 Coz nothing is strong enough to part two hearts in love…
Tell us which one made your heart melt? There's a comments section right below.
Summary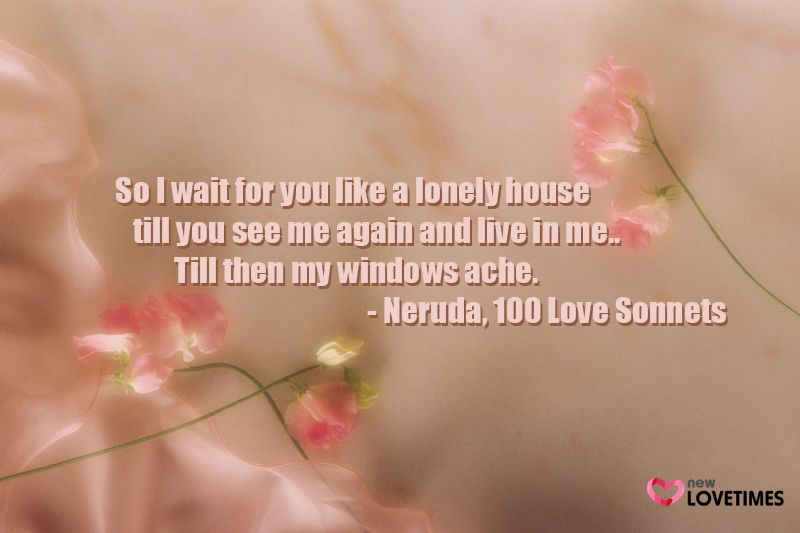 Article Name
20 Most Romantic Snippets From Pablo Neruda Poems
Author
Description
Ever felt verse crawl under your skin and flow through your veins? If not, then Pablo Neruda poems on love are a MUST-read for you.